After a long working week, it's Friday evening and finally an opportunity to reflect back on last weekend, and our second mounting of Multi-Story Water's mobile performances. We were blessed with fine weather, and some miraculous, unrehearsed moments such as when this magnificent heron appeared on Hirst Weir right at the climax of our final run of Green Route on Sunday…
I didn't witness this myself (I was over on the boat getting ready to perform in the last showing of Blue Route), but I'm told this sublime moment was shortly preceded by a ridiculous one, as some prancing horseman went galloping past in the water, preening himself at the audience like some wannabe Mr. Darcy. These are the joys of live, outdoor theatre…
One of the hardy audience members who undertook all three legs of the tour on the Friday night, and then e-mailed a response to us, described the experience as "really unexpectedly special and magical, with a (good) increasing sense of unreality towards the end, particularly when the free beers appeared!" You can't do much better than that for feedback, but I can also say without big-headedness that know exactly what he means… That's because, even as one of the people who did most to devise this event, I found that it continually took me by surprise, as the light and weather conditions interacted differently with the acting and narratives to create different moods and conditions. And Friday night's Red Route, in particular (i.e. "towards the end" for the respondent above), was just glorious… It had been a scorching hot week, but the cool of the evening was great for walking even as we benefited from the last of the golden sunshine. We had a great turn-out for the walk that evening, and sights I'd never seen before – as when, walking through Victoria Mills with "Andrew Mason", we were confronted with a courtyard full of residents basking in the sunshine (when 9 times out of 10 that whole intererior area of the Mill complex seems deserted). Actor Rob Pickavance took this brilliantly in his stride, hailing the residents and even briefly name-checking one of them he'd previously met. It looked, for all the world, like he really did own the place (and indeed, another e-mail respondent who had not seen Green Route before Red – and thus not encountered Rob before – admits to having briefly thought this was Andrew Mason…). The journey onward from there that evening did indeed seem to become "increasingly unreal" as we journeyed across Baildon Bridge to hear stories of the flood chaos in 2000 (on this balmy summer evening with the river at minimum flow!), and then along that broken riverside path towards Lower Holme, to hear the bleak story of the residents there… Cutting our way along that path, through all the overgrown summer riverbank foliage (I keep seeing purple amongst green!) was just amazing… And in a sense all we'd done was to "frame" this pre-existing space as an "event" in this particular moment in time… Of course on other runs of Red Route during the weekend, as solid cloud cover set in, the whole atmosphere was much less golden — a cool wind started whipping at us (visible in the play of Lynsey's skirt in the shot below, again taken by Milan on Sunday afternoon), and that too seemed eerily appropriate to the tales of mill demolition and lost community that come towards the end of the tour… Yet it made for a very different audience experience!
When we mounted MSW first, last September, I think all of us were in too much of a state of panic about it (fresh off the drawing board, downpours threatening, would anybody come, would anybody like it?) to really take in these subtleties. So one of the really valuable things for me personally in reviving the piece was being able to take a bit of a step back and really see what we'd made… and becoming more aware of all the environmental and atmospheric factors that seemed to variously interact with the performances was very much a part of this for me. I mean, one could have expected this to be the case, given that we'd made a piece about environmental themes, but it's a very different thing to know something theoretically as opposed to really experiencing it physically and emotionally…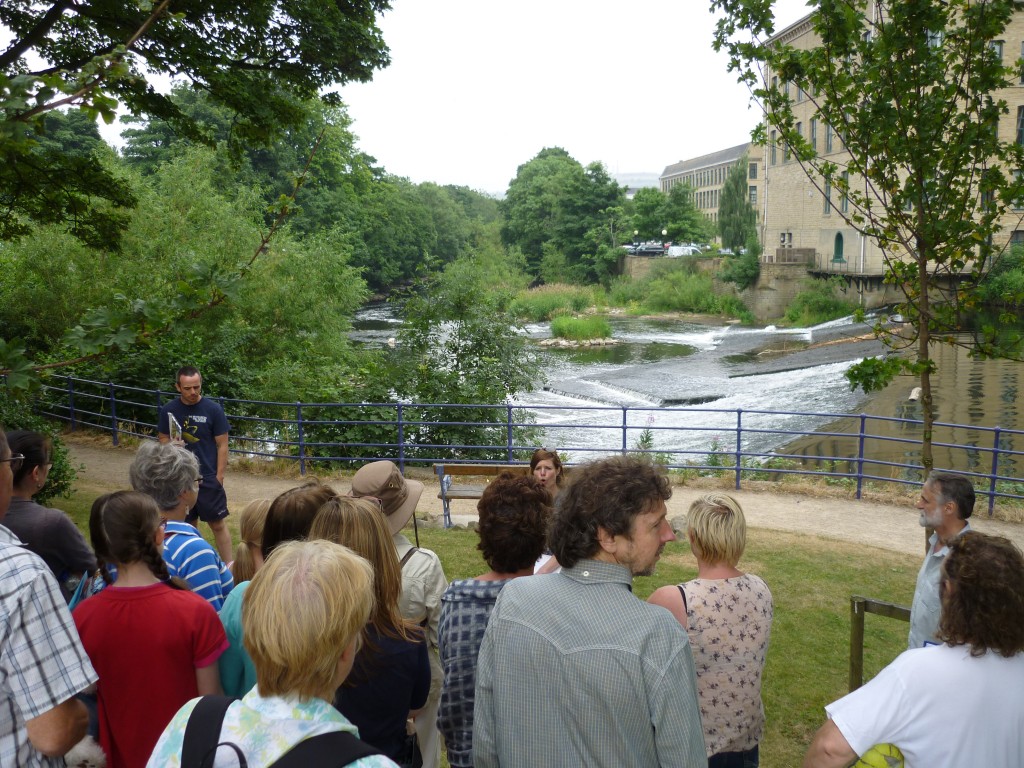 Completing a little trilogy of weir pictures, here's Saltaire weir at the start of Green Route, showing clear the very low water flow (including a whole central chunk where there's hardly anything going across it at all). This was another strange thing about reviving the show this July… Last year, which turned out to be the wettest on record in the UK, the conditions were generally soggy and green, and the stories of flooding seemed quite immediate (indeed, there was major flooding elsewhere in Yorkshire, on the Ouse, within two days of our last performance!). This year, July had mostly consisted of a heatwave up to the point of us performing… the ground was parched, grass barely green at all in places, but you could see this as the other hydrological extreme that "Bradford Council" warns us (in the "hydro" scene at this weir) may occur more frequently with a changing climate… Indeed, playing "Neill Morrison" in this section, Paul was able to throw in a reference to something I'd heard on the radio — that this July was on track to be the driest since 1825! (Of course that probably all changed with the thunderstorms we've had in the week since the performances — but even these are arguably indicative of a change towards more "tropical" weather…)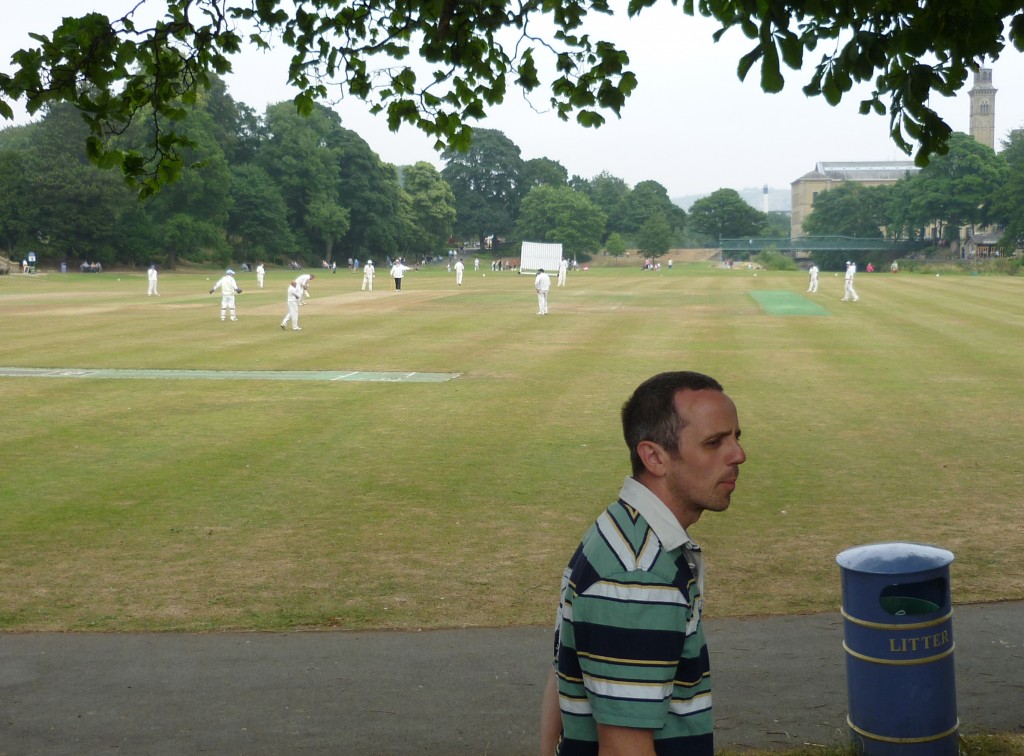 Leaving aside the scary stuff, there's also the fact that – it being July – there was a lot more cricket on than when we staged the piece in September. In Roberts Park, we several times had to move the "Billy Wizz" moment from where it had been rehearsed – on the bench outside the cricket pavilion – because the benches were full of cricketers! This minor inconvenience was more than offset, however, by the presence of Billy Wizz himself (groundsman Billy Ricketts), who was invariably present watching the games, and would interact briefly with "himself" as Paul came past in role…  "Eh up Billy Wizz!" Billy really could be an actor himself, becuase these interventions were always perfectly judged… just enough to "authenticate" the actor as playing a real person who was supportive of what we were doing (Simon's word – thanks Simon!)… and still more important, Billy's comic timing was invariably perfect! Miraculous moments all…
It would be remiss of me not to mention here, though, that Paul's timing was spot on as well. One of the things that really transformed the performances this year was his presence in the cast… Which is not to suggest that there was anything wrong with Richard Galloway's origination of the same roles last year (Richard did a great job in creating and shaping a whole range of characters during the devising process), but Paul brought with him a real confidence – even a certain swagger! – about ad-libbing in character. He could also do this more naturally since he's a Yorkshireman himself, whereas Richard (an Irishman) needed to stick more carefully to the rehearsed "voices". If I was a textual purist (and OK, I did write/edit the text…), I might quibble about Paul's sometimes liberal interpretation of what was on the page — and to be fair to him he'd had only a very limited time to learn a lot of lines while also rehearsing the parts from scratch. But what he lost in "verbatim" accuracy he more than made up for in the sense of characterisation, and his interaction with those around him… always there with an apt quip or sharp comment, and (as "Philip") mercilessly teasing Lynsey (as "Lynda") along the riverside walk between Victoria Mills and Baildon Bridge… He's really quite brilliant at this kind of semi-improvisational performance, in which the distinction between what's scripted and what's spontaneous at times became invisible (almost!) even to me.
The other new addition to the cast was Rob Pickavance, who brought something very different — but equally fresh and welcome — to the roles he inherited from David Smith (who, by the way, turned up to watch Green Route on Sunday morning – and apparently enjoyed it very much, while also finding the experience slightly strange!). Rob is a very experienced actor (notice I didn't say "old" – the issue of his age became a running joke among the company, which Rob did nothing to discourage!), and brought a classicist's craft to his delivery of the material… deftly paced lines, beautifully textured distinction in characterisation. I feel like some of that is captured in this shot below, taken during his brilliant "David Attenborough" moment during Green Route… it's almost Prospero in The Tempest…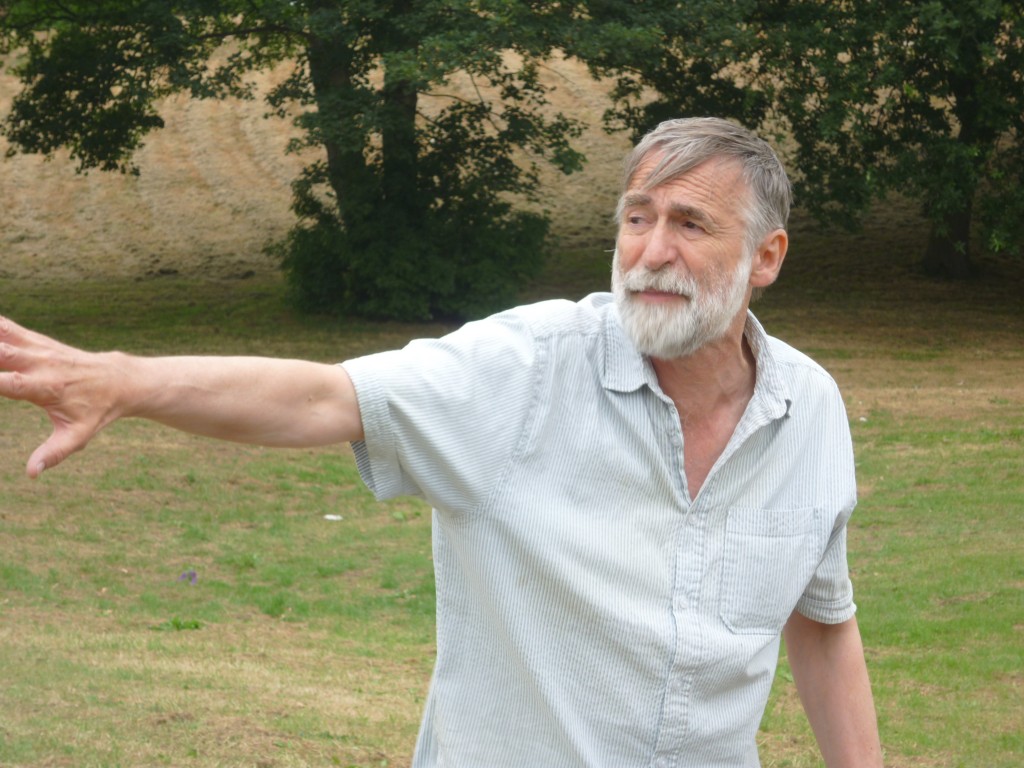 Although it should be noted that Prospero is arguably somewhat bonkers, and Rob also went whole hog with this in his creation of "Steve" – another of his narrator figures towards the end of Green Route…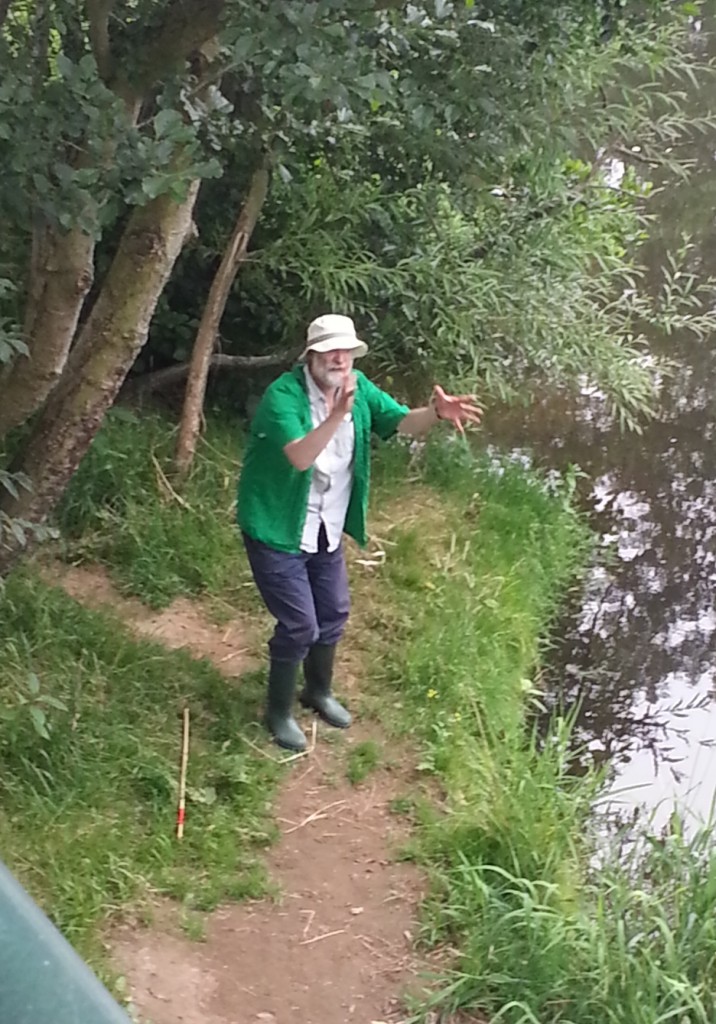 "Steve" was originally "David" – named for one of the residents on the Coach Road estate whose words the character uses (and also for David Smith, who contributed some lines of his own last year) – but since the character is very much a composite of different people's voices/comments, Simon proposed changing the name so as to "legitimate" the character going off in directions that would be difficult if he was based on a real person. Crazy Steve (named, I blush to say, after me) was an inspired creation — completely barking mad, laughing like a fool, and yet somehow maintaining the vocal technique needed to project every word with perfect clarity from ground level up to the footbridge the audience was standing on (one of the significant blocking changes from last year). "Steve" injected a fantastic bit of manic energy into Green Route just at the moment, towards the end, where it is most needed… Genius.
It would be remiss for me not to point out, however, that Rob's own favourite moment, again on Green Route, was getting to play Billy Glover, the 92-year-old former footballer, former prisoner-of-war, who lives on Troutbeck Avenue. This had been a key moment in David's performance last year too, and Rob didn't disappoint with a quite different but pitch perfect rendition that, again, had spectators dabbing away tears. And one of those spectators was Billy Glover himself who, in another of those miraculous moments over the course of the weekend, came out of his house on Saturday afternoon to start interacting with Rob… even correcting him on some of the details! (I've since asked Billy for clarification on this, since the script has it that he was 8 stone when he came back from the war, and yet the real Billy told Rob he was 6 stone 2! Apparently, the latter was his weight when he left the POW camp in Burma… and he'd got back to 8 stone 7 when he got back to England… still well below his "normal" weight of 11 stone.) Rob coped brilliantly with being knocked off stride in his monologue, and I did manage to persuade Billy (who had his arm round my waist in a vice-like grip the whole time!) to let him finish without further interruptions… Once Billy started really listening to his own words coming back in Rob's performance, he was clearly moved by it (I could feel it – he still had hold of me…), and at the end he declared to everyone that "every word of what he said is true!" To which Rob responded, "that's because it's your words, Billy". And Billy went to give him a big hug. The audience was clearly caught up in this impromptu moment of metatheatre too… And then somehow Lynsey and Paul had to follow that…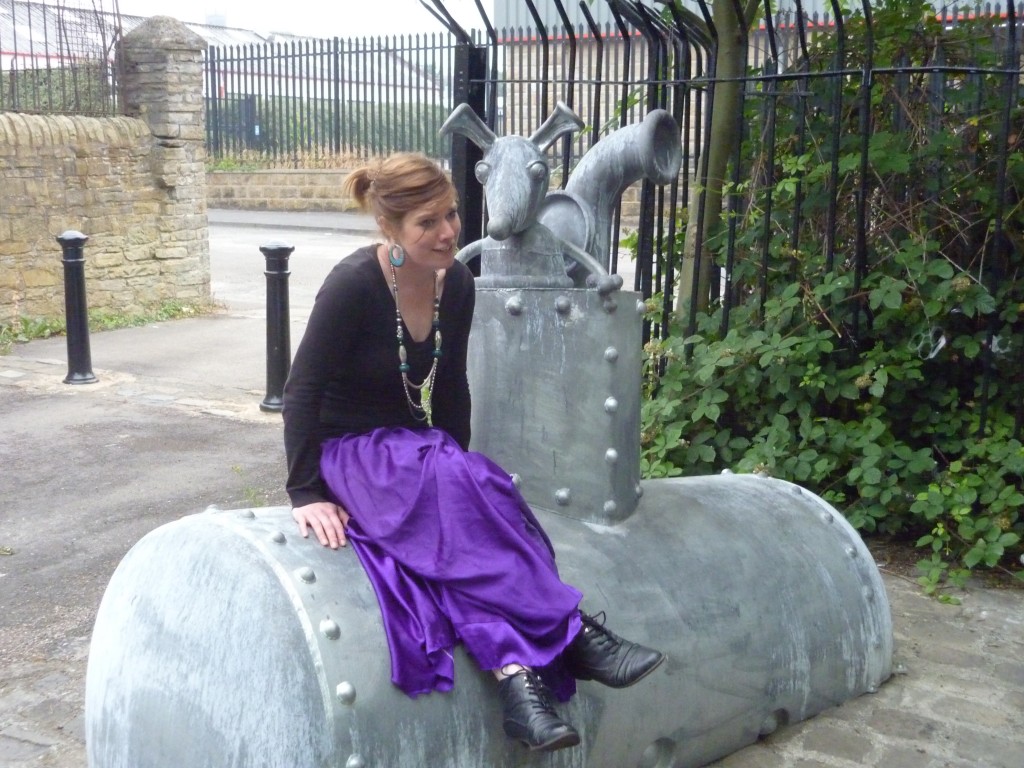 And that, of course, leaves Lynsey… Our only returning performer this year (unless you count me and Eddie on the boat, and that's a whole other blog entry… maybe). And this was one of the really wonderful things about doing it again, because Lynsey really seemed to have grown into her roles since last year — she knew the material, she understood how the show worked, and she'd clearly matured further as a performer too. Her performances last year were great, but she sometimes seemed slightly in the shadow of David, in particular – as the most experienced of that original cast. This time she was able to command things because, goddamnit, this was her show… Rob and Paul were very strong, but she matched them pound for pound (improvisational spontaneity with Paul, especially on Red Route, subtlety of characterisation to match Rob's – especially as "Jill" and "Sarah" on Green Route). Indeed, one friend said that she felt Red Route in particular was Lynsey's show, that she pulled it along seamlessly from start to finish… And what I always loved, especially, was Lynsey's "Lynda" finally coming into her own during the climax at Lower Holme… banging that "Mandale" fence with contempt, twirling in the wilderness asking why nothing had been built… filling in the goddamn pothole outside Margaret's back gate…
Of course, Margaret herself also became a performer of sorts! One of our greatest supporters through this whole thing (despite walking difficulties, she even came out for Green Route – as well as Red – with her grandson James, and loved it!), she allowed us to store the Saltaire Brewery beer in her house to keep it cool on that hot Friday evening, and ended up playing barmaid over her back wall with the audience! And when she came along on Red herself on Saturday, she too made a couple of perfectly judged interventions, to confirm the story's accuracy, without "pulling focus"… Thankyou Margaret for everything!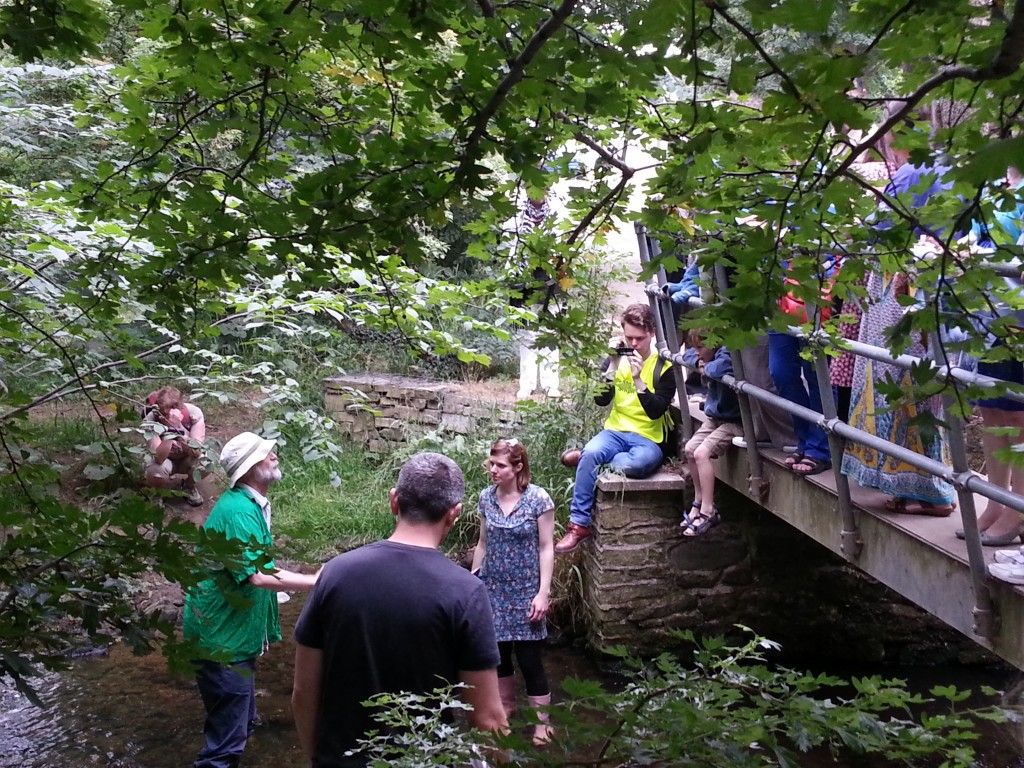 I've droned on quite long enough, so it's time to wind up the sentimental nostalgia… But it would be remiss of me not to close with a big shout out to all our tireless hi-viz stewards for their hard work and very smooth handling of all the costume and prop transitions. That's Chris Marr in the shot above, but thanks also to Alex Fullelove, Sophie McWhannell, and of course our producer and general enforcer Milan Govedarica, who also took most of the best photos in this blog post (I took the rest!). Milan, you know we couldn't have done it without you…! Finally, also in hi-viz, is director Simon Brewis, who was a complete pleasure to work with. The occasional tensions between us last year, when we were trying to work out what the heck this show was, were barely in evidence this time — we were able to agree very quickly on the changes we wanted to make to the script (my department), and then he picked up and ran with how to apply them on the ground (very much his department). The image above, of all three actors in their wellies in Loadpit Beck, is entirely down to Simon – who last year came up with the idea of sticking David in the stream, and this year enhanced it by having Paul and Lynsey wade downstream and under the little footbridge to join Rob… A thrilling little theatrical moment! The repositioning of the very end of Green Route too, in amongst the greenery looking across at Hirst Weir and Mill (see below – and also the shot at the very top of this blog), was also Simon's innovation (as were many other things). But perhaps the greatest compliment that can be paid to a director is that his hand was often invisible in the proceedings… He was clearly in control throughout, shaping things deftly to fit the landscape and to make all the logistical issues disappear, but he allowed the material and the performers to do the work of connecting with spectators, and avoided the pitfalls of looking for flash and gimmickry… Thankyou Simon. You did us proud.