The Multi-Story Water project moves downstream along the Aire a few miles this weekend — to present two special promenade performances for visitors to Leeds Waterfront Festival. Both are completely free of charge for spectators, so do come along!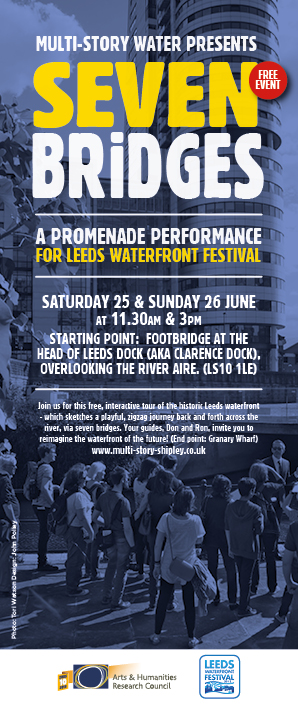 There's another chance to see Seven Bridges – a hit at last year's Waterfront Festival. This playful walking tour of the Leeds waterfront between Clarence Dock and Granary Wharf features Steve Bottoms and David Calder as "Don and Ron" (two rather questionable executives, planning for future redevelopment) and guest stars Eddie Lawler, on guitar and lead vocals.
We also feature a brand new, family-oriented piece, After the Flood, created in collaboration with Leeds' Common Chorus Theatre Company. During this unique, self-guided tour of the area around Granary Wharf and the Dark Arches, spectators meet a series of characters seeking to come to terms with the flooding that hit the Aire Valley on Boxing Day. Some have been directly affected, others are planning for future defences. It sounds serious, but there's a theatrical, visual, and sometimes comic emphasis that should make it accessible and entertaining to all.
Director Simon Brewis has written this great blog post about the process of working on this new piece. Check it out.
We hope to see you there!