Although the funded period of our Multi-Story Water research is now officially over, we've been busy in September with a number of "legacy" activities – relating particularly to our work around flood narratives. This three-part blog looks at some of these activities, under the headings (1) Reviving, (2) Recycling, and (3) Reflecting…
1. Reviving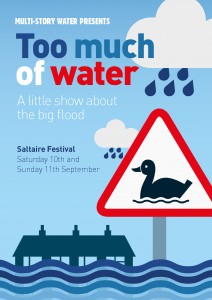 At the start of the month, I presented Too Much of Water, my one-man storytelling show about the impact of the 2015 Boxing Day floods in Shipley, at the 7th International Conference on Flood Management (icfm7). This was held at Leeds University, and having been asked by the conference organisers to present the piece as part of their "cultural programme" (alongside all the more technical conference talk), I liaised with my former colleagues at the University's Workshop Theatre to present the piece there (many thanks, especially, to technical director Lee Dalley).
This was the first of several new engagements for TMoW this autumn, so I took the opportunity to do a slight "upgrade" on the show. Despite having been very well received in previous performances, I have always felt there was something slightly missing: the piece focuses on the stories of six families whose homes were affected by the flood, but until now did not acknowledge the impact on any local businesses — which, in its own way, can be just as devastating. So I've now worked in a seventh storyline, that of Brian Tuxford of Northway Vehicle Sales – the van hire business next to Baildon Bridge. I told a little of Brian's story in this blog last autumn, having met him after the first version of Too Much of Water premiered at Saltaire Festival. It felt important to include his story, and the show now feels more "resolved" to me as a result.
After the Workshop Theatre performance, we held a Q&A session about issues arising, to which I'd invited two excellent guest speakers – Jonathan Moxon, who is Leeds City Council's chief flood officer (formerly of the Environment Agency, he has featured on this blog before) and Rosa Foster, who lives in Shipley, and is the Environment Agency's lead FCRM officer for the Upper Aire Catchment (i.e. Leeds and everything up… FCRM = Flood and Coastal Risk Management – though there's not much coastline on the Upper Aire!). The Q&A was videotaped and I'm delighted to be able to show it off above – it makes for an interesting discussion. (Though it's a little difficult to hear the audience questions on the recording, due to the mic direction, the answers should hopefully clarify…).
2. Recycling
Our connections with colleagues such as Jonathan and Rosa has led our Multi-Story Water project to quite an active involvement with telling the story of the Leeds Flood Alleviation Scheme (this despite the fact that our project was centered in Shipley/Bradford! The Aire keeps flowing regardless of local government jurisdiction…). At the Leeds Waterfront Festival in 2016, in collaboration with Common Chorus Theatre, we presented After the Flood – a promenade performance that attempted to provide audiences with an engaging sense of some of the issues involved in planning for flood alleviation – and this included a brief synopsis of the "FAS" scheme (its brand new, collapsible weirs represented on this occasion by a [comically crap] demo involving a clipboard and a balloon…). A year on, at the 2017 Waterfront Festival, we worked more directly with the FAS scheme and its main engineering contractors, BAM Nuttall, to present Weir Science – an entertaining, in-depth look at the new weir construction at Crown Point. On this occasion, we collaborated with Phil Marken's Open Source Arts – an important hub for the voluntary flood response in the Kirkstall area.
The FAS partners (including the EA, City Council, BAM) were hugely pleased with the extent to which we engaged festival-goers with the weir scheme – so much so that they've installed Jon Dorsett's improvised mural, created over the course of the festival weekend in June – in their site offices! (I snapped this picture mid-September)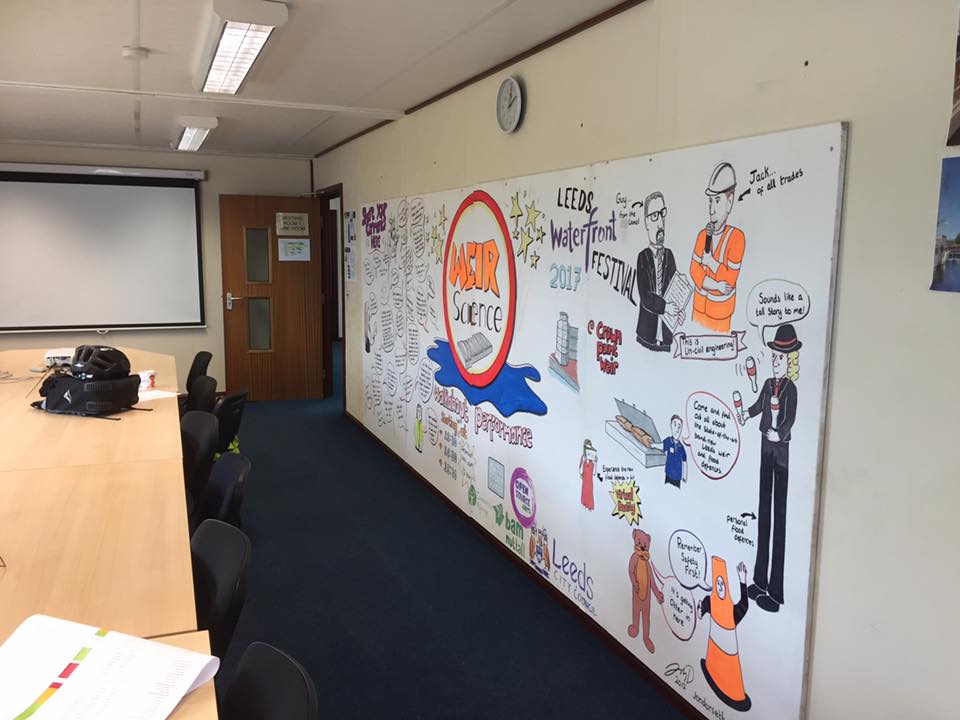 So, bouncing off the success of that event, we've been invited to get involved with the "consultation" phase for FAS2…. i.e the second stage of the Leeds Flood Alleviation Scheme, which will look beyond the city centre to help protect upstream neighbourhoods such as Kirkstall, Horsforth, Rodley…  The broad outline of plans for this scheme has now been unveiled, though many of the details are still being determined, and the FAS team are interested to gather public responses about how planned alterations to the river landscape might also benefit local communities' experience of the river. A series of consultation events, in the form of pop-up information stalls in public places, has been planned for October – starting this Monday 2nd in Horsforth (see this link for full list of dates and venues) – and a team from Multi-Story Water will be present at each location. This time, we're working in collaboration with both Common Chorus Theatre and Open Source Arts…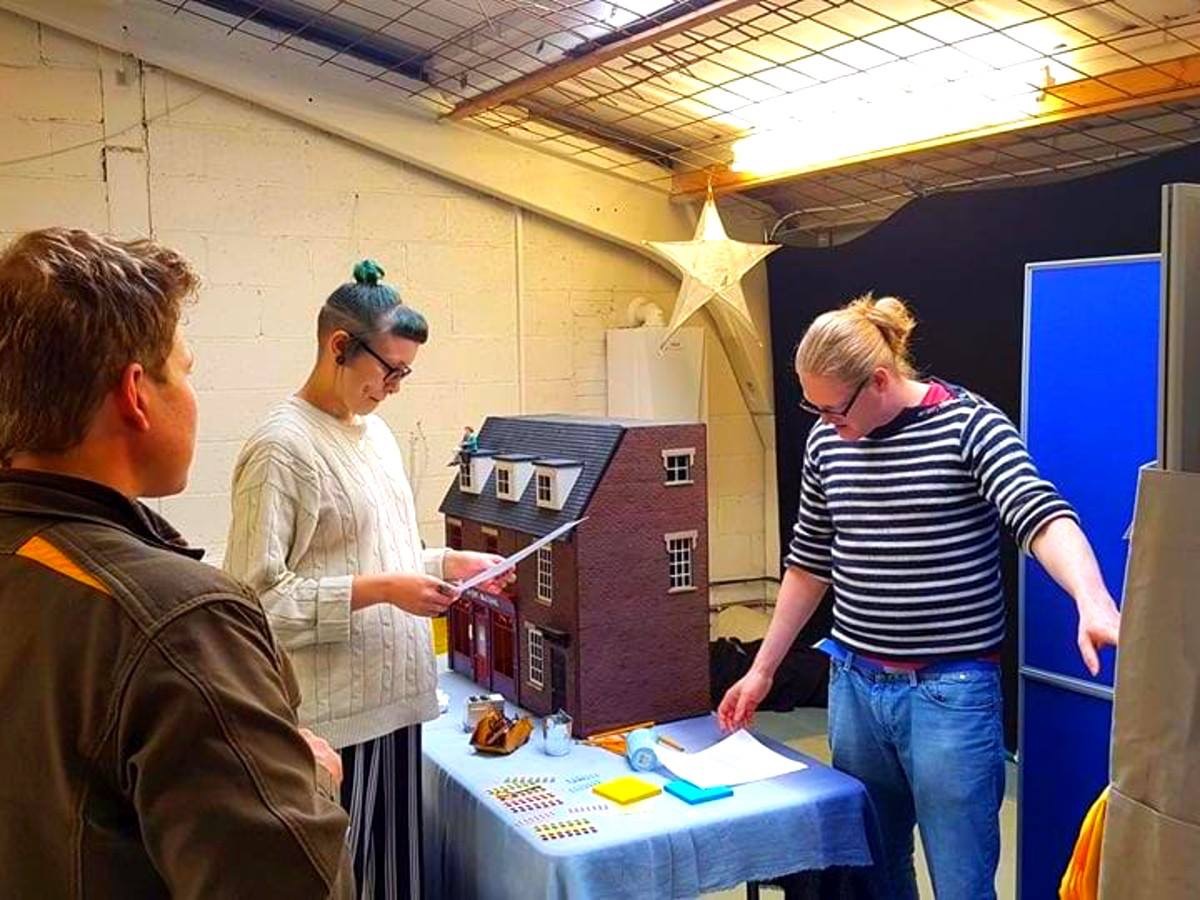 In this photograph, taken during rehearsals at Open Source last Wednesday, you can see Phil Marken on the left and Common Chorus director Simon Brewis on the right (with performer Alice Boulton-Breeze in the middle). That doll's house will be familiar to anyone who saw After the Flood, and that's because – on this occasion – we've taken the decision to carefully recycle and redeploy key aspects of previous performances, rather than trying to devise anything completely new. Reusing certain props will save us a bit in financial terms – because, after all, this is a public consultation, not a "show" with a production budget… More importantly, the consultation context is also distinct from the festival contexts we've previously worked in, and that's affected our planning here…
There's a serious point to the FAS team wanting to share their thinking about the new scheme – and to seek feedback – and we can't upstage or disrupt that with anything too "showy". So we've come up, instead, with a sort of "modular" presentation – composed of different props, arranged on a display stall, that all offer different talking points. The strategy will be to draw people into conversation around whatever catches their eye from our display. (The doll's house and other components have been carefully integrated design-wise by Simon's colleague Ellie Harrison.) We'll then to seek their responses to the various ideas we're opening up for discussion. We're not thinking of this as a "performance", as such, but as a series of unique, person-to-person conversations – led by Alice and fellow presenter Jaye Kearney — which use props and images as a stimulus for discussion. The conversations might roam between the different "modular" elements, or not, as the mood dictates … they can be as long or as short as suits the individual passer-by. The main thing will be to whet people's interest, and thus – perhaps — encourage them to engage in conversations with the FAS team themselves (who can then offer more involved, technical detail if people want it). Some respondents would engage with them anyway, of course, but the thinking is this creative engagement approach might help to "soften the landing" for people more wary of uniformed officials… (even if the uniforms are just FAS-branded T-shirts).
We're also hoping that our conversations will also generate some interesting feedback "data" for the FAS team. In particular, it's hoped that a hand-drawn map of the Aire between Apperley Bridge and Leeds city centre – which we've commissioned from Jon Dorsett, who also did the Weir Science mural pictured above – will provide a usefully interactive way to visualise the proposed FAS2 innovations, and to encourage public responses…
Anyway, one way or another, we shall see how this works out. Further blogging to follow!
3.Reflecting
And finally… it's perhaps worth mentioning that the Multi-Story Water project was discussed across Yorkshire's airwaves last weekend (Saturday 23rd or Sunday 24th September, depending on your area). I was interviewed on the Paul Hudson Weather Show, which is syndicated across all the BBC North local radio stations – in Leeds, York, Sheffield, Lincolnshire… The whole programme is available for a month on the BBC iPlayer – with my bit starting almost exactly 30 minutes into the hour-long show. But I've also pirated the sound from the relevant section and uploaded here as a permanent record…
The interview experience was slightly odd. It involved very quickly spewing out ideas that I've been thinking about for a long time, and which really needed more detailed treatment. But of course, this was a local radio show and nobody wanted to listen to me banging on at length when there was an old Peter Cetera track called "The Glory of Love" to get to…
I say that with tongue in cheek, of course, and I'm genuinely grateful to Paul Hudson's producer, Trisha Cooper, for inviting me onto the show and giving me the unexpected opportunity to discuss our research project. This came about because, after having me briefly trail the Weir Science performances on Johnny Ianson's Radio Leeds breakfast show back in June, Trisha decided that listeners might be interested to hear more about the wider project that this had been part of.  Although it's quite difficult to try to sum up several years' work in five minutes flat… And I did, apparently, gab on a bit too long, which explains the oddly compressed editing toward the end of my segment of this pre-recorded show (the last bit, which refers to the other matters discussed in this blog post, doesn't make much sense as a result).
Anyway… if you have read this post as far as this, you apparently don't mind me gabbing on a bit… So thanks for indulging me, and enjoy the broadcast!