I had a very enjoyable meeting today with Kevin Sunderland, co-founder and chairman of the Aire Rivers Trust  – a voluntary, charitable organisation dedicated to improving conditions in, on and around the River Aire and its tributaries — especially Bradford Beck. Kevin is a retired accountant, a keen angler, and a mine of information about these rivers and their use and history. Today, though, what he and I looked at, especially, was rubbish!
"Meet me at the back of the Aldi car park at 11am!" he told me. It sounded a bit like some dodgy drug deal or spy rendezvous, but I dutifully turned up at the appointed time and place. The car park shared by Aldi and McDonalds, in central Shipley, is skirted on two sides by Bradford Beck, as it flows towards the Aire, but you'd never know it unless you were looking for it. And what Kevin wanted to show me first was the great pile of industrial waste across the Beck from us, teetering on
the edge of a sheer drop into the river. "Bit of wind or rain and that lot'll be in the Beck!" Kevin pointed out. He's also tried to point this out to the owners of the site, but he can't get them to do anything about it. Perhaps the attitude to this particular bit of river is – out of sight, out of mind.
And that's pretty much the story all over. We walked all around this bit of central Shipley… along the banks of the Beck (the bits we could get to) and also along the Aire, east of Shipley weir – where the Beck joins the main river. There are warehouses, superstores and old industrial buildings all around this area, and a lot of them seem to be run by people with little or no regard for the river they back onto – to judge by the rubbish (mostly packaging materials) strewn all over the river banks. Kevin says that, as head of a charity, it's not his place to "name and shame" businesses, but I don't have to be so polite, so let's name the B&M garden centre for one… There's cardboard and cellophane sheeting lying around all over the place at the back of their store (bit of wind, in it goes…), and we found one of their shopping trolleys lying in the Aire just downstream. Again, Kevin had phoned the manager about this, but nothing had been done. So together we fished it out and wheeled it back (covered in mud and moss) to park it outside their front entrance. That was today's bit of environmental activism!
I asked Kevin if his concern about all this littering was primarily about trying to conserve water quality, or making life better for fish and birds, or what. Well, he said, he's concerned with all of that — and he stresses that, generally, water quality in these rivers is a lot better than it used to be. There's also a surprising amount of wildlife (we spotted trout in the Aire, lots of birds…). But cleaning up rubbish is as much about "aesthetics" as anything, he says. And surely a university arts professor like myself should have an eye for such things too…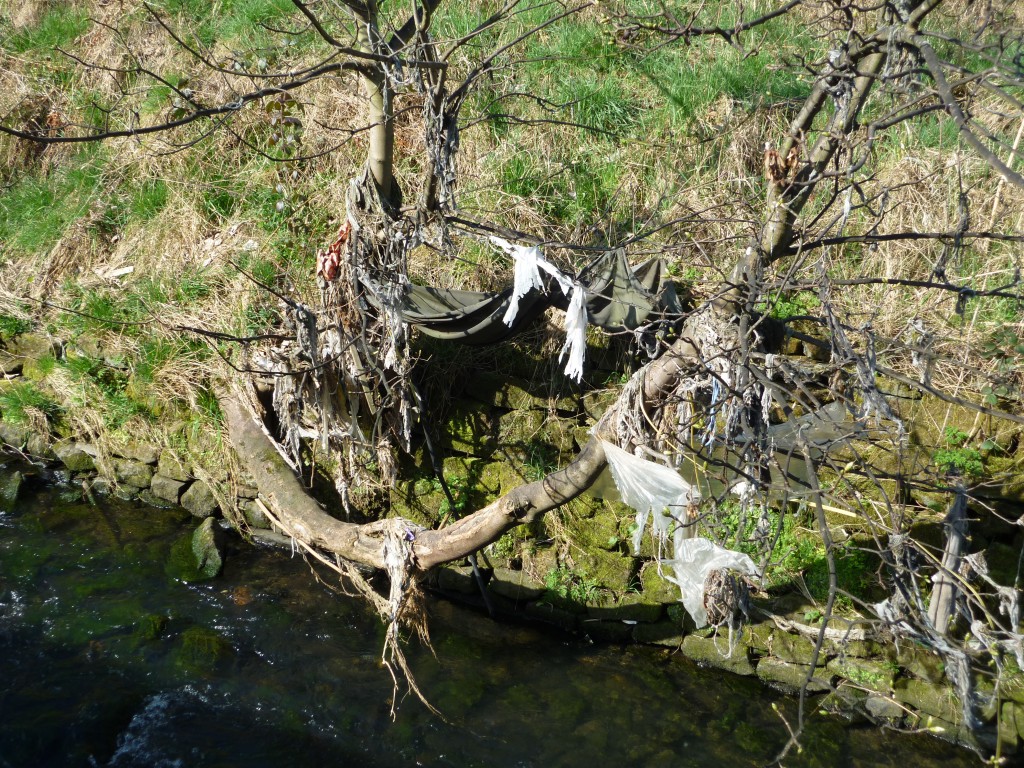 Along Bradford Beck, just down the back of Shipley rail station, we found a whole string of trees covered in debris like this, stranded on trees since the last high water event. It's basically sewage, Kevin points out — the stuff people flush down their loos in Bradford. Most of the older drainage pipes are also sewage pipes, and sewage solids are supposed to be skimmed off before the liquids get near rivers, but in storm conditions the theory doesn't always work in practice…  We looked for fish along here too — apparently there have been minnows on this stretch lately, but the trout that were here got killed a while back by some kind of pollutant, and they haven't yet returned.
Kevin's tour eventually took us up the Beck almost the whole way into Bradford. He pointed out, for example, some of the old culverting — artificial brick bottoming for the Beck designed to speed up the water flow and thus get all the crap out of the city as soon as possible… But this stuff is terrible for supporting any kind of river life, except the odd duck bobbing on the surface…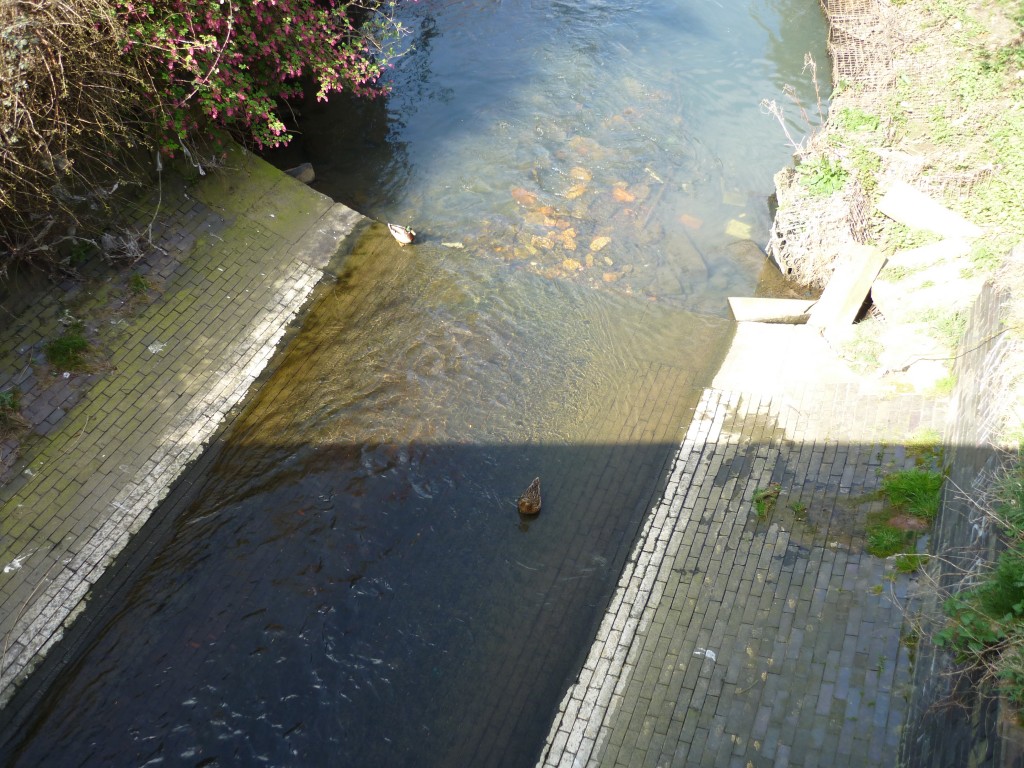 Eventually we got as far back upstream as the point where the Beck disappears under one of the old mill building (now commercial offices). It flows underground through most of Bradford's city centre. This point where it emerges into daylight is, Kevin points out, distinctly stinky… (the people in these offices must have to combat the smell everyday!) Bradford Beck used to be known as one of the most polluted rivers in the country. It's not like that now, but the sewage smell here is still quite noticeable…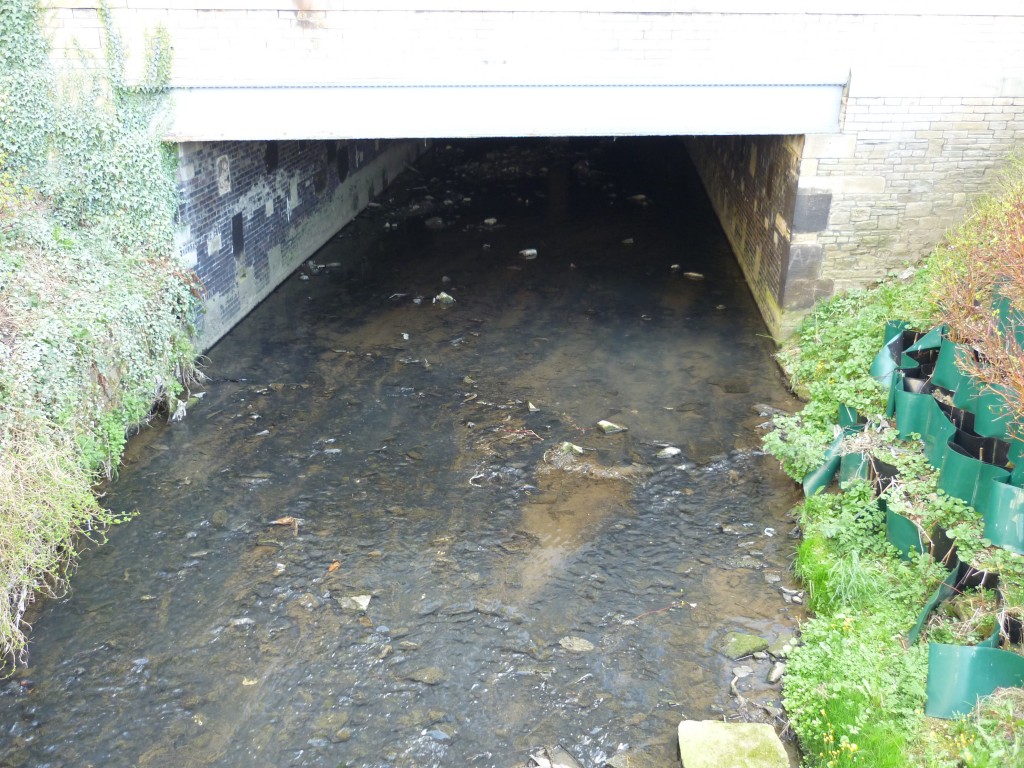 As I say, I really enjoyed meeting Kevin. He pointed out a lot of the less pleasant aspects of the rivers here, but his enthusiasm for further improving the situation is infectious. I suspect he'll have many other stories to tell us as this project continues…