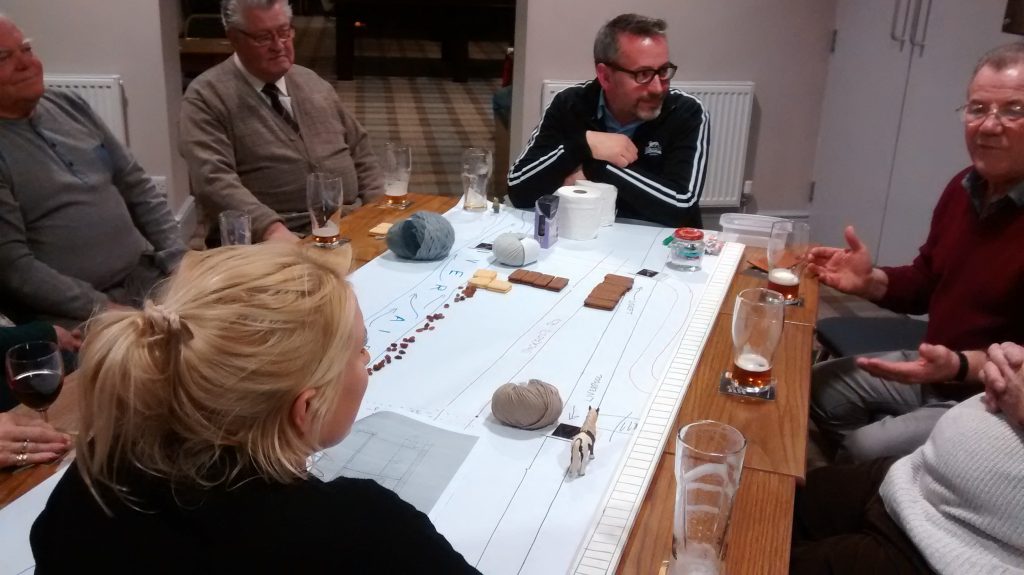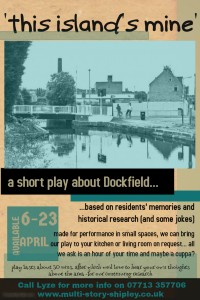 This Island's Mine is an experiment in close-up theatre, made for performance in people's homes or around tables in pubs and clubs. It's a play about the lived history of a particular place.
Two characters, Barbara and Danny, build a tabletop map of the Dockfield area of Shipley, using ordinary household objects to represent its buildings. The changing objects chart the changing landscape of the area — as Danny and Barb explain what they've discovered about its history from digging around in Bradford library. They also tell their own stories of growing up here in the 1960s and '70s. The characters are fictional, but what they say is based on material drawn from interviews with a range of Dockfield residents past and present. The intimacy of the staging was designed to encourage spectators to contribute their own memories and observations, either during or after the play itself.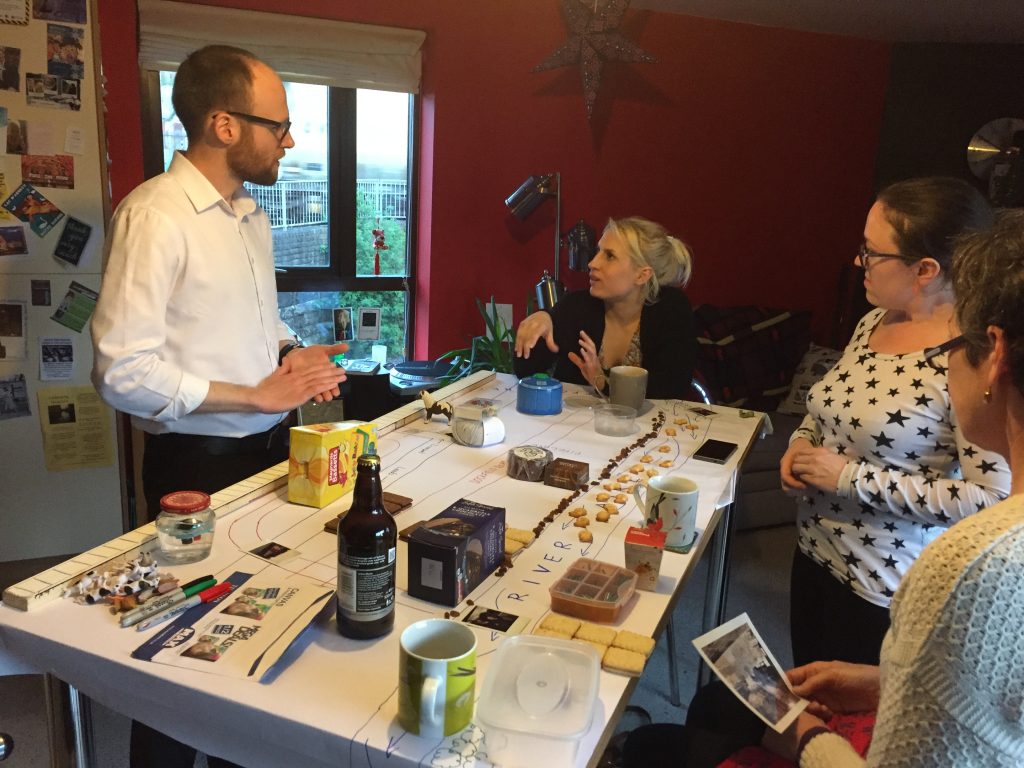 In other words, it's a play based on conversations, presented as a conversation (over a drink, around a table), which sought to encourage further conversation.
To read or download the written script, click here.
To read more detailed blog accounts of the performances, click here and here.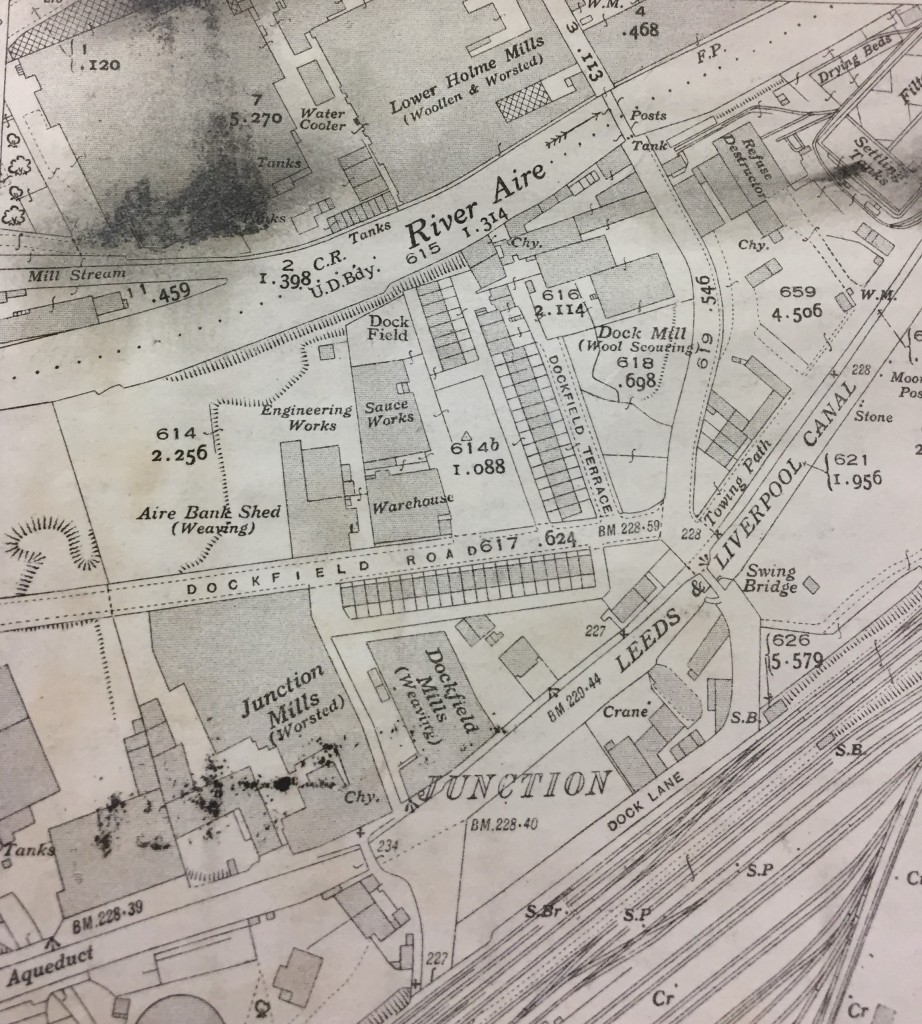 Dockfield is a neighbourhood sandwiched between the River Aire and the Leeds-Liverpool Canal, with Bradford Beck on its western boundary (hence, "this island" – although it isn't really one). It's an area where residents have always lived alongside (and often worked in) the various mills and factories that grew up along the river and canal, taking advantage of the water supplies and/or the transport links they provided. The homes in the area include 19th Century mill cottages, 20th Century council houses, and now 21st Century new-build apartments, built on former mill sites. (See this blog post for a 'history in maps'.) And it's an area that's still evolving, still changing, with new industries replacing old ones. Saltaire Brewery, for example, in the heart of Dockfield, was one of our performance venues.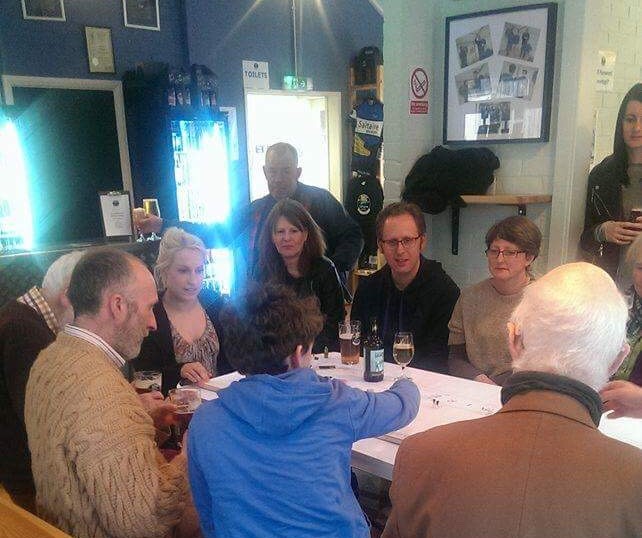 We ended up performing the piece not just around Dockfield, but also in other Shipley locations (full list at the bottom of this page). We even showed it once in Manchester, for people who didn't know Shipley at all. What we discovered, in the process, is that the story of Dockfield is also — in a way — the story of many other places. We had spectators from the Black Country and from Cumbria, for example, recounting their own stories of growing up surrounded by industry — of the smells and the sounds, the water and the wildlife. It turned out that This Island's Mine is a play about what we remember, and what we value, about the places we're from. And perhaps it's also about how we can build on the past, to think about the future.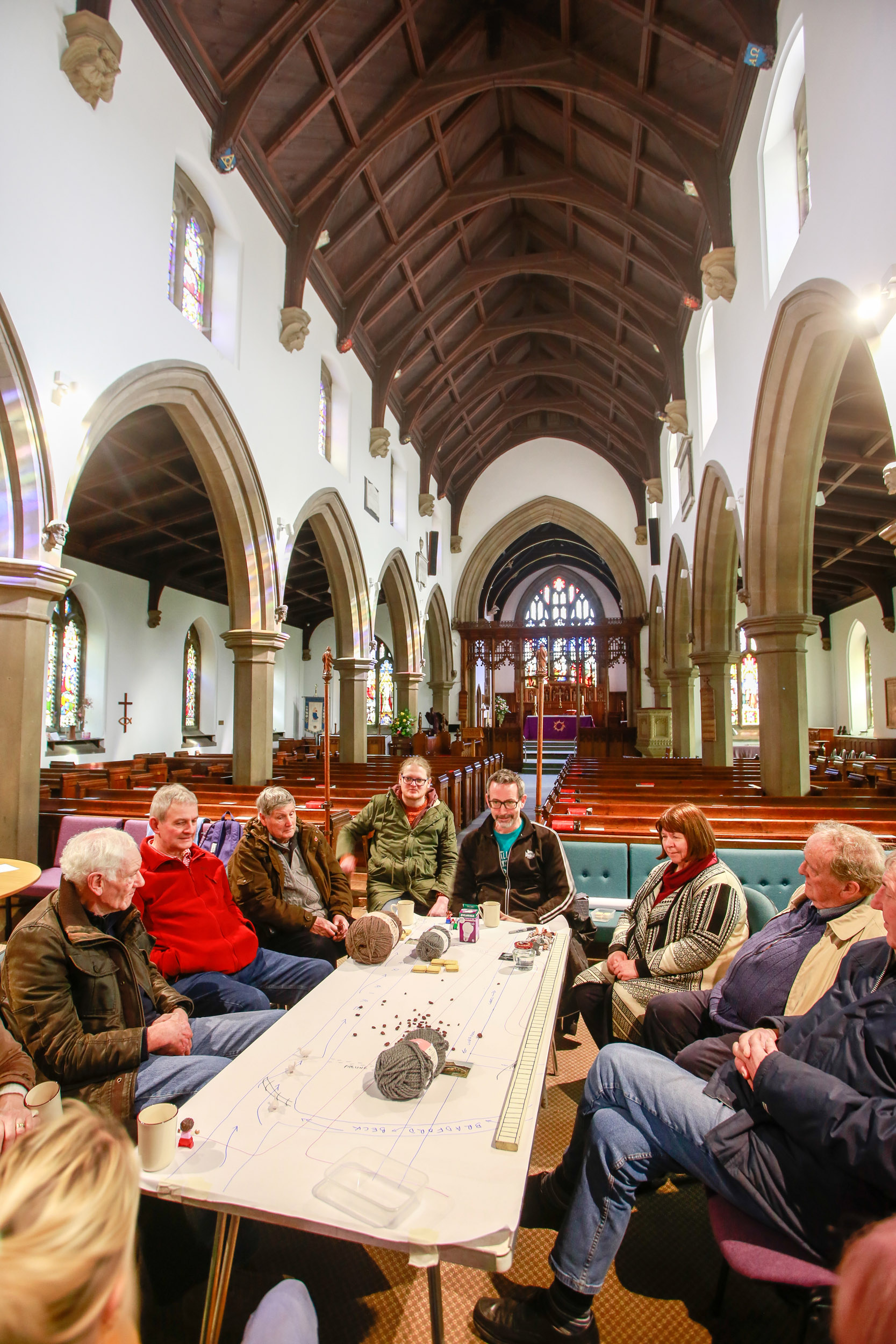 In 2019, the play was revived for a short tour to communities in the upper Aire valley. There was this presentation for Gargrave Historical Society, for instance, in their local parish church. Having realised that the play worked well in places quite distant from Dockfield, we used it as a conversation starter for "compare and contrast" discussions with other Aire valley communities. How were their experiences similar or different to those recounted in the play? As it turned out, there were usually more similarities than differences. In Gargrave, the chair of the Historical Society told us that our story of Dockfield was "exactly like Gargrave!" This despite the fact that Gargrave is still a relatively unspoiled rural village, whereas Dockfield has long been a heavily industrialized. But it turns out that people who live around rivers often have more in common than you might think…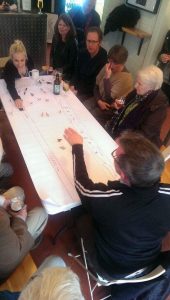 Credits:
Actors:     Steve Bottoms and Kat Martin
Director:   Simon Brewis
Written by Steve, with devising input from Kat and Simon.
Special thanks to: Carl Barber, Tony Brannon, Gladys Davis, Lyze Dudley, Sue Meek, Anna Parker, Alice Phillips, Chris Uttley, David Wade.
Performances:
in addition to private performances given in people's homes in the Dockfield and Lower Holme area, we gave the following public performances in 2017:
Baildon Woodbottom Working Men's Club  – Tuesday 11th April
Kirkgate Centre – Wednesday 12th April
Saltaire Brewery Tap – Wednesday 12th April and Wednesday 19th April
Fanny's Ale House – Saturday 22nd and Sunday 23rd April
Salts Sports Association Bar – Sunday 23rd April
Martin Harris Centre, University of Manchester – Wednesday 26th April
In February and March of 2019, we also gave a series of performances for the Aire Rivers' Trust's DNAire project in:
Q20 Theatre, Shipley
Bethel Chapel, Lothersdale
The Albion pub, Skipton
South Craven Baptist Church, Sutton-in-Craven
St. Andrew's Church, Gargrave
The play will be revived again in 2021, Covid permitting…