A very merry Christmas to you and yours from Multi-Story Water! We've been pretty quiet in 2018, but here's a seasonal greeting of sorts…
This is one of my favourite Christmas cards this year — a fat cat looking none too happy, because he hasn't a snowball's chance…  (the red scarf – tie? – reminds me of Donald Trump but I've always been prone to over-interpreting things!). Anyway, the card is from Lynda, from Lower Baildon, who featured as a "character" in both my one-man show Too Much of Water and our original Multi-Story Water shows back in 2012! She is also very much an actual person, whose home was flooded three years ago on Boxing Day, 2015, so the P.S. on her card was reassuring: "still above water : / "
The river is high again this Christmas-time, after a lot of recent rain, but (touch wood) it's nothing like as bad as 2015, and hopefully everyone will enjoy a safe festive season!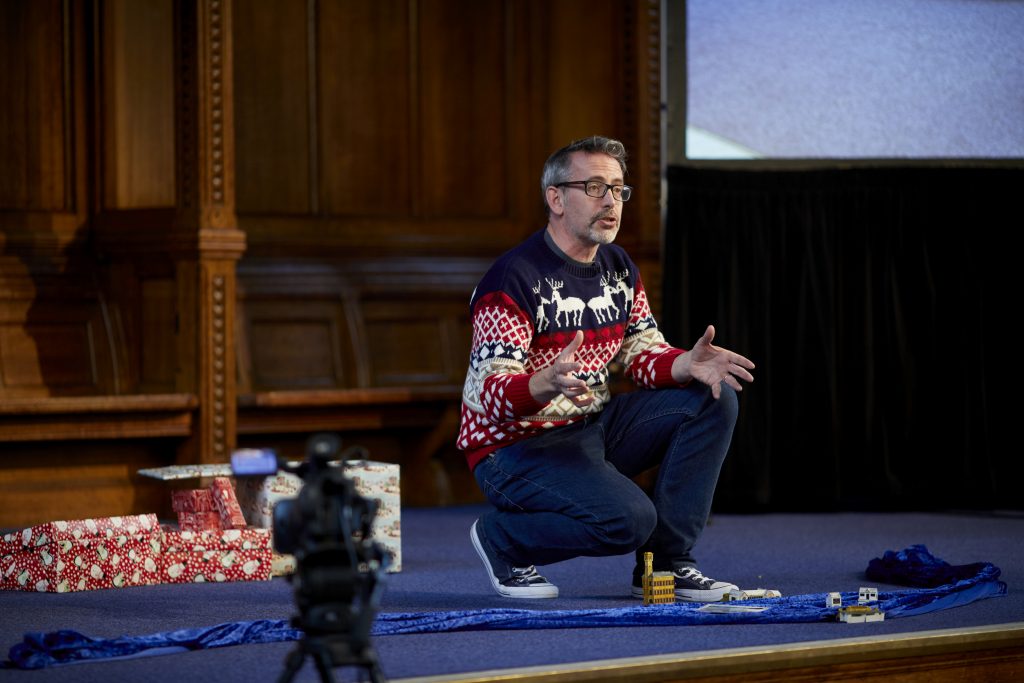 This was me last month (7th November 2018), decked out in my Christmas jumper, telling the story of Shipley's flood yet again in Too Much of Water. When I first presented it for Saltaire Festival, 2016, I had no particular intention of ever performing it again, but people keep asking for it, so it still gets wheeled out occasionally (the script is permanently etched in my memory now). On this occasion I was performing at Manchester University's Green Impact awards ceremony — an annual shindig they have to celebrate staff attempts at developing sustainable working practices… I was there to provide some variation in between two tranches of award-giving…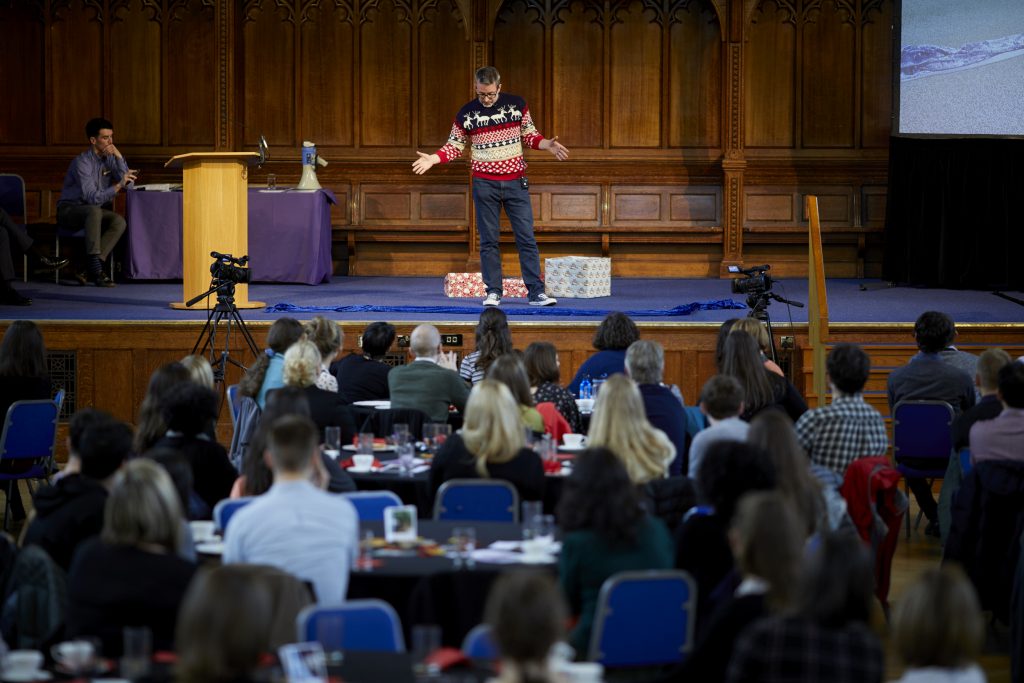 Too Much of Water (TMOW) is a piece that was made for intimate audiences, sitting or standing close to me in Roberts Park. On this occasion, though, the audience was a lot bigger than usual (as is apparent above!), so we had to "boost" the visuals using a live camera relay of the small objects at my feet…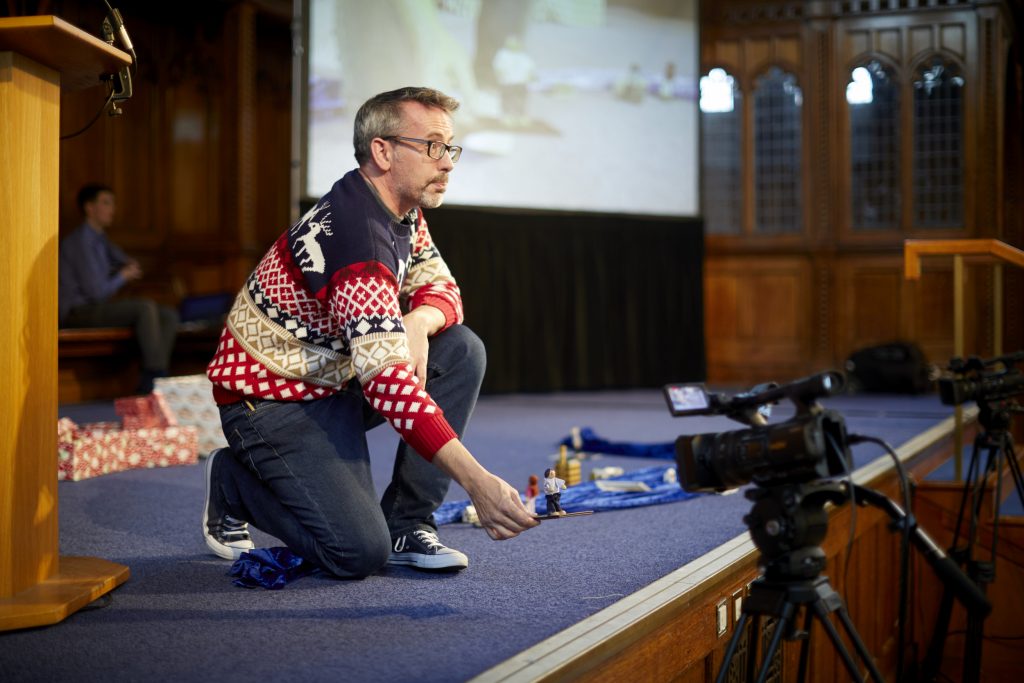 Here I am, in fact, holding up the figure that represents "Lynda" — although frankly it looks nothing like her (I had to work with the dolls I was given…). You can just about see "her" enlarged on the screen behind me. Meanwhile my voice was amplified for the Whitworth Hall (where they normally hold graduation ceremonies, etc.) by a radio mic.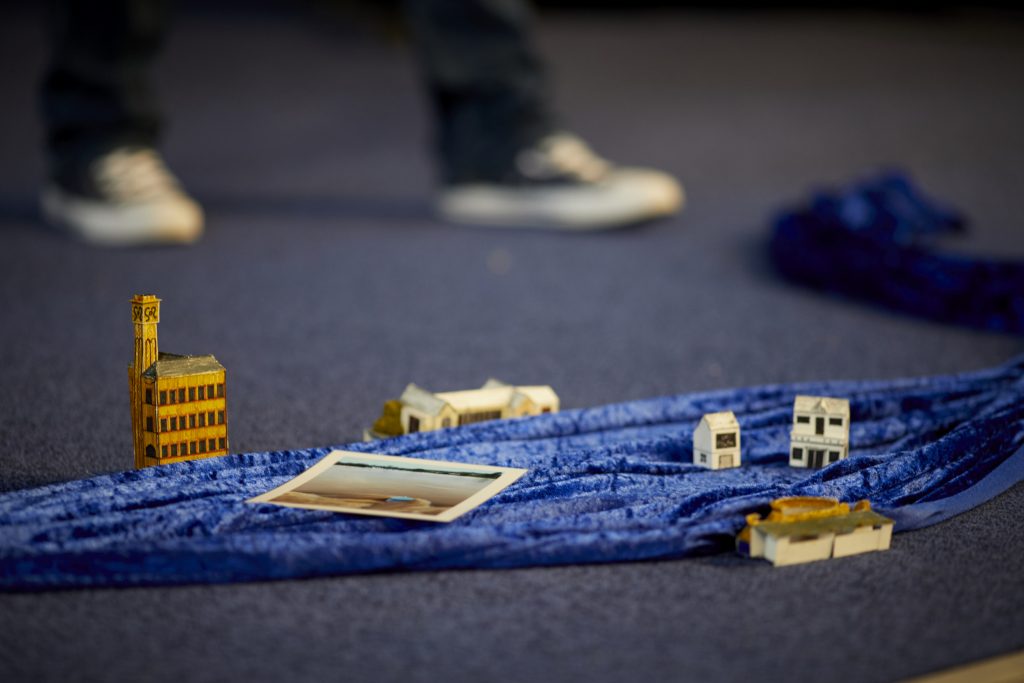 So here you have it… Salts' New Mill, the Boathouse Inn, and Roberts' Park's Half Moon Cafe and cricket pavilion/scoreboard — all "under water" on Boxing Day 2015. (Models by the very wonderful Stewart Gledhill, of Higher Coach Road Residents' Group…)
In case you're wondering how this piece about Shipley went over with a bunch of Manchester University employees who mostly don't know the place, it turns out the answer is: very well! The Green Impact staff sent an email questionnaire about the awards event out to everyone who attended it (142 people, apparently), and got 72 completed responses… which is a pretty good return, as these things go. Of these, a very pleasing 73.6% (i.e. 53 people) rated TMOW as a 5* performance — with another 12.5% (9 people) rating it 4*. Since nobody in the audience had actually asked to sit through this, this is excellent feedback. 🙂 In fact in the same questionnaire, 44 of the 72 said that TMOW was their favourite thing about the whole event (which was generally considered well organised, well catered, etc.). I'm sharing this info in the interests of full documentation, and of course in the spirit of self-congratulation… Joking aside, though, what's important here is that these very personal flood stories — as they were experienced by Lynda and others — can still capture people's attention and empathy, three years after the fact.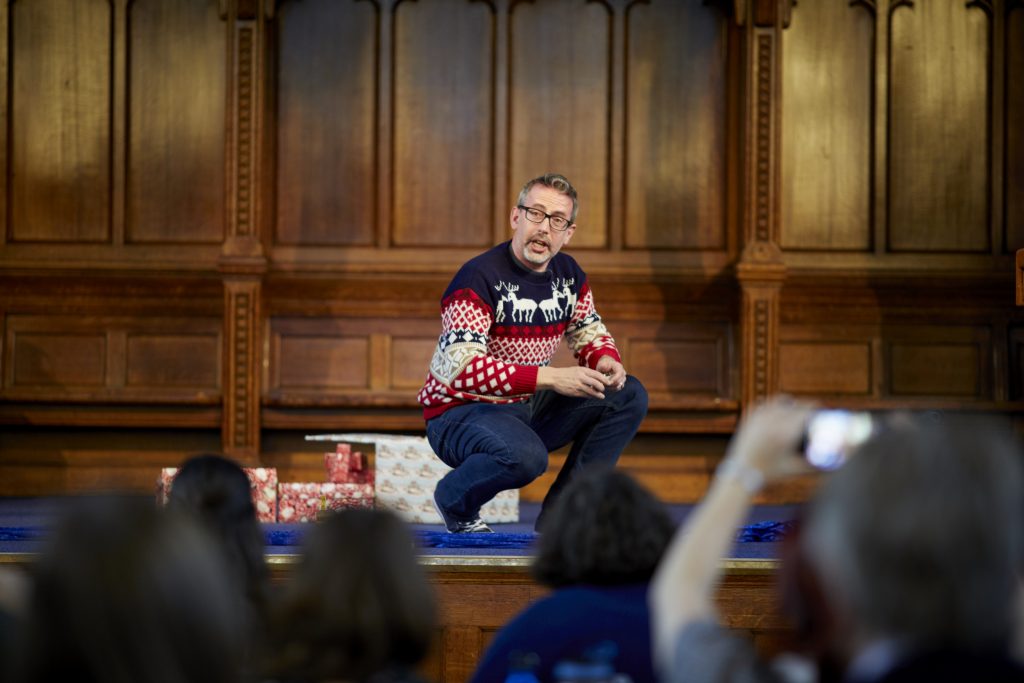 And so this is Christmas. Another year over, and a quiet one for Multi-Story Water, as we've mainly been working on other things. But watch this space, as we'll be back in action in the New Year.