Saturday 13th was "Shipley River Day", which started out with our "family adventure walk" around some of Shipley's river and canal intersections. Thanks to the eagle eyes of participants such as the Aire Rivers Trust's Kevin Sunderland, it was also quite a nature walk… Kevin spotted this mink swimming along Bradford Beck right outside McDonalds, then leaping into a hole in the river's side wall that appeared to be its cave or nest…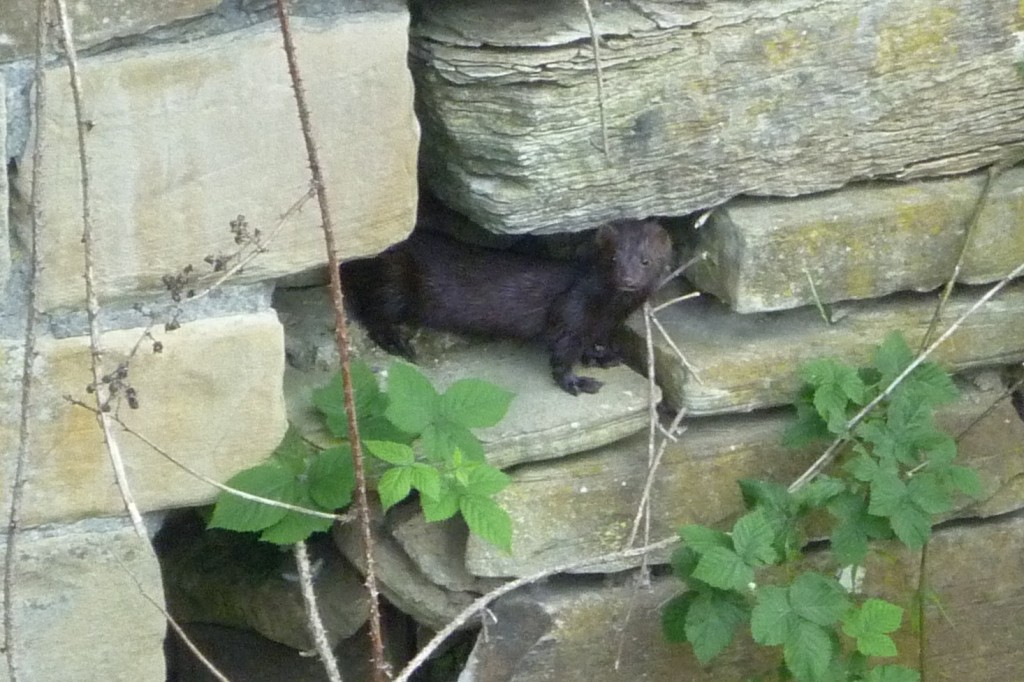 Cute little fellow – although of course mink are also an invasive, non-native species that do a lot of damage (not unlike McDonalds!). Perhaps aware of this, a local pigeon appeared to be trying to "take out the invader"…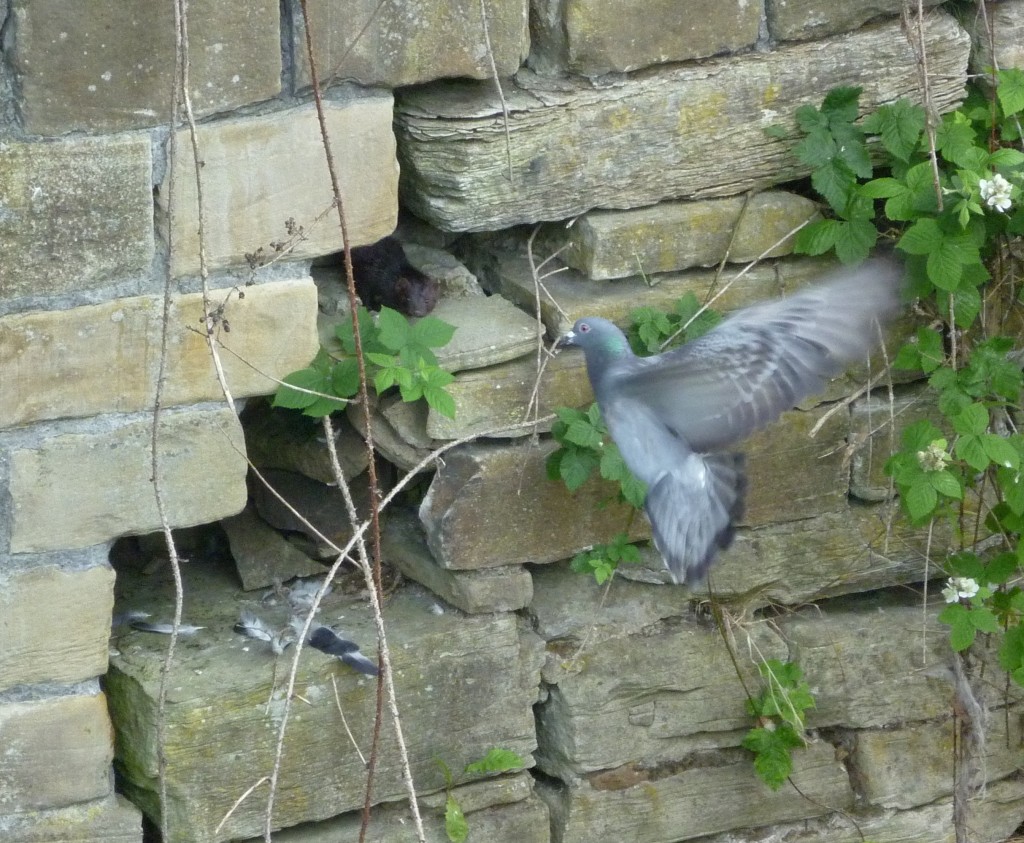 This particular battle ended in a no-score draw. We moved on, away from McDonalds and up across the canal on Gallows Bridge… (That's me in the fetching hi-viz vest.)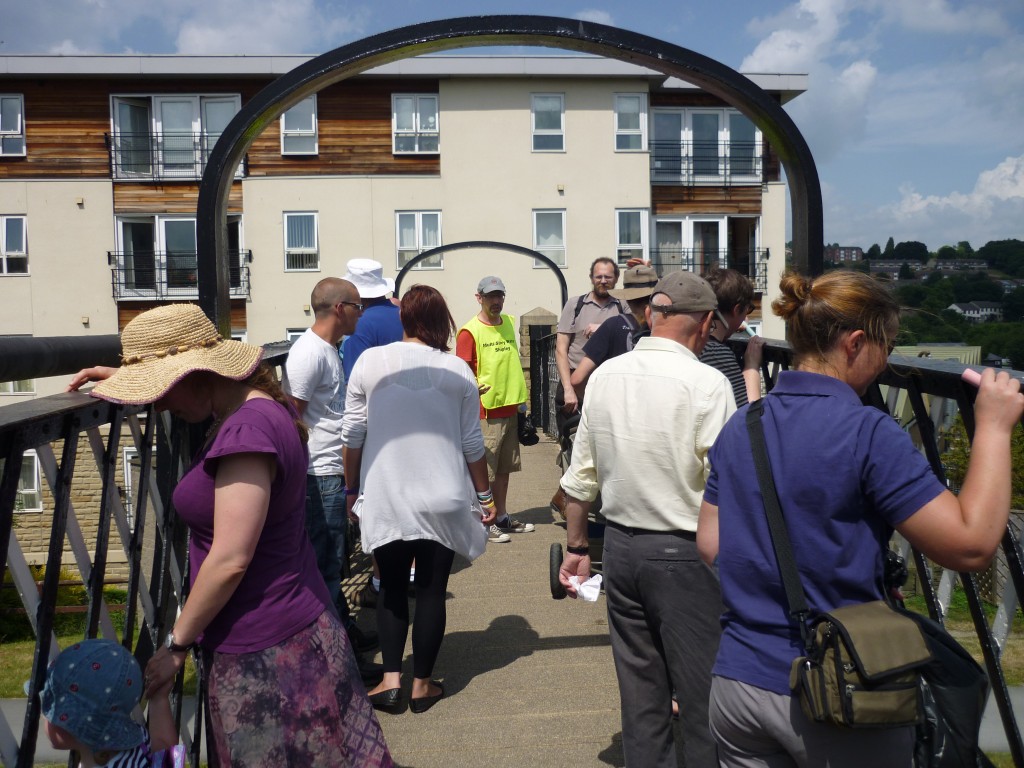 We moved up the canal, collecting litter for our "Nasty" bag and feathers, pine cones, leaves etc for our "Nice" bag… There was a lot more nasty than nice, and people got surprisingly zealous about picking it up (we ended up employing a second nasty bag…). Meanwhile we also marked out path by chalking comments and markers along the way… We couldn't get a decent photo of the shoal of bream we spotted, but it was duly recorded nonetheless!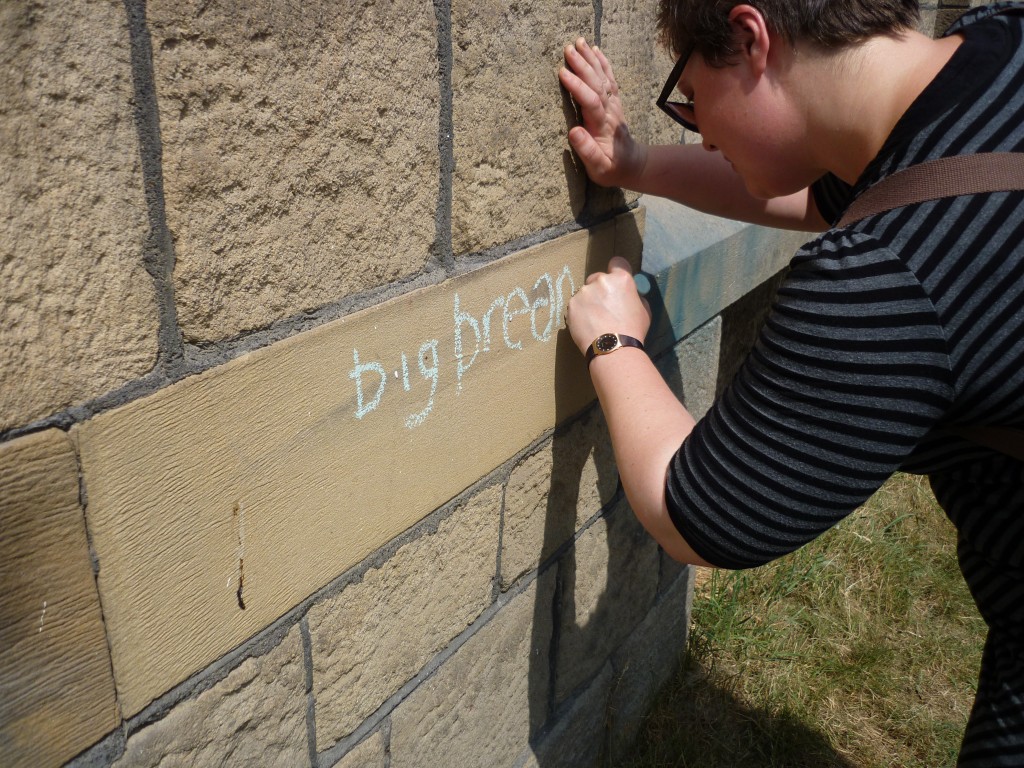 I didn't get the name of the walker above, but below is David Brazendale, communing with cloud reflections at the mouth of the Bradford Canal…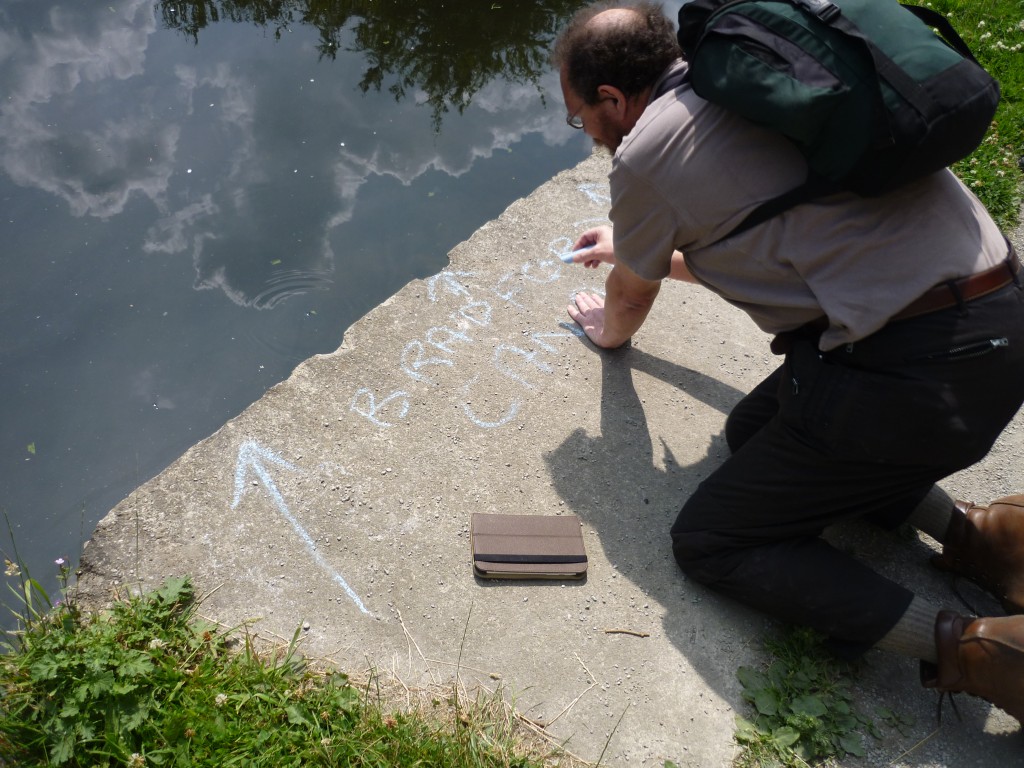 And along Dock Lane, cutting down from the canal to the Aire, there was no escape for this bit of (misspelled) wildlife: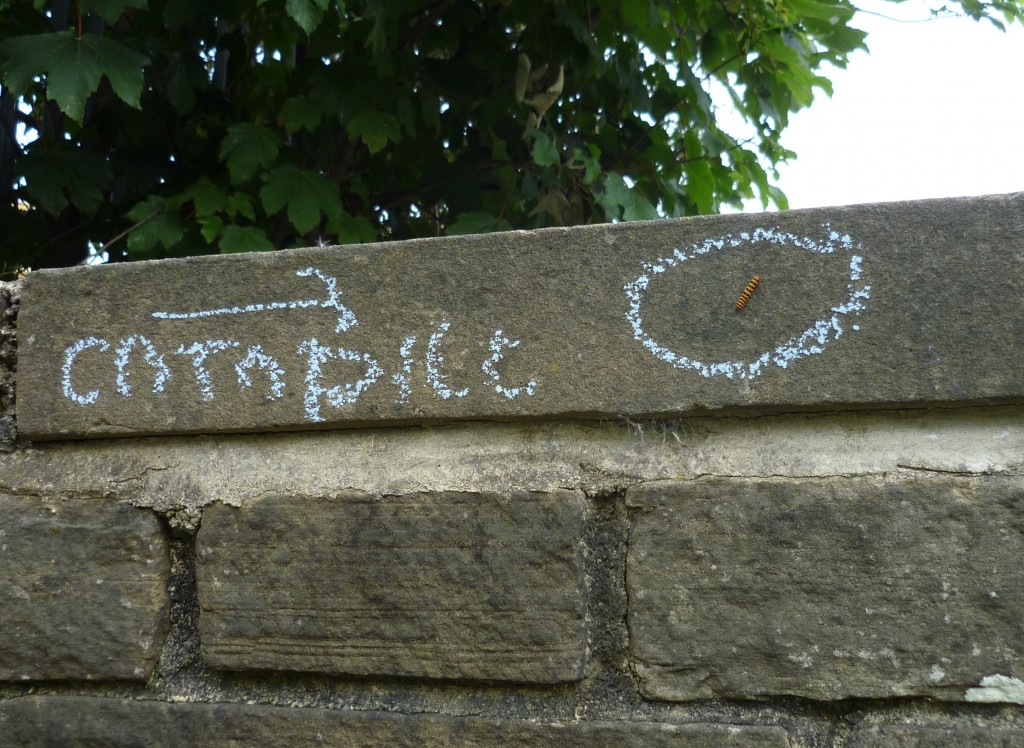 The water level of the Aire itself is pretty low just now, with so little rain recently, but the surroundings are lushly green nonetheless – a corridor of nature even in urban Shipley.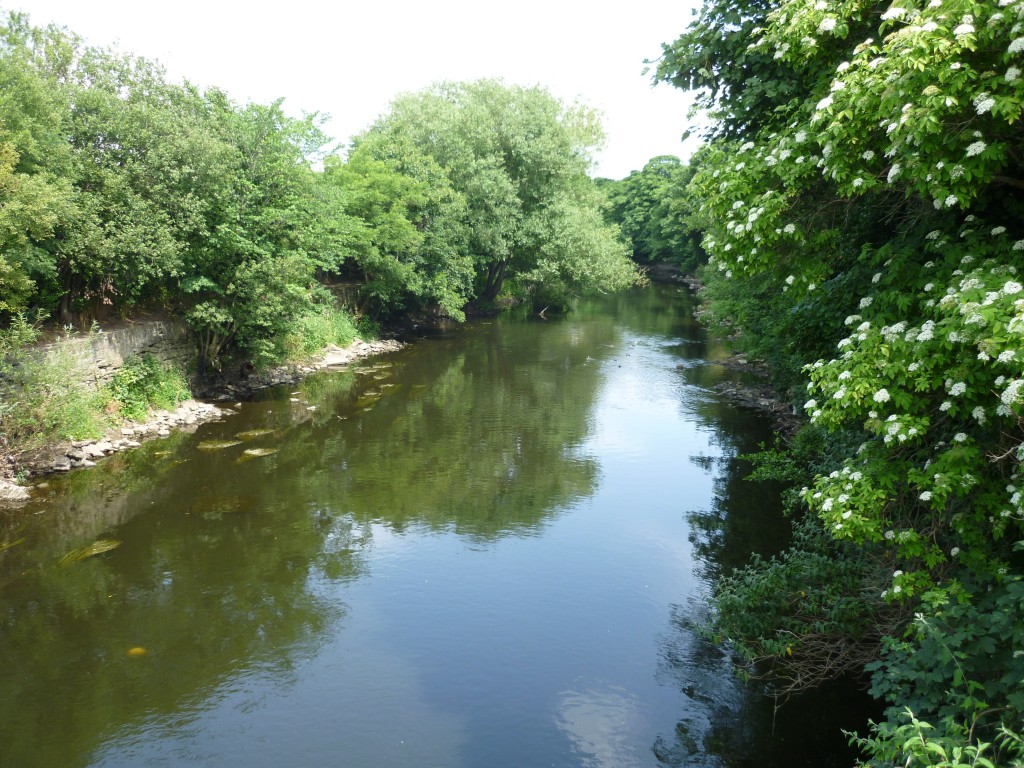 We set off down the neglected riverside path (an ancient right of way) and it felt a little like bushwhacking…  Along this route there was much less rubbish than on the canal path, which says something about its relative lack of foot traffic. There was still lots of other stuff to spot though!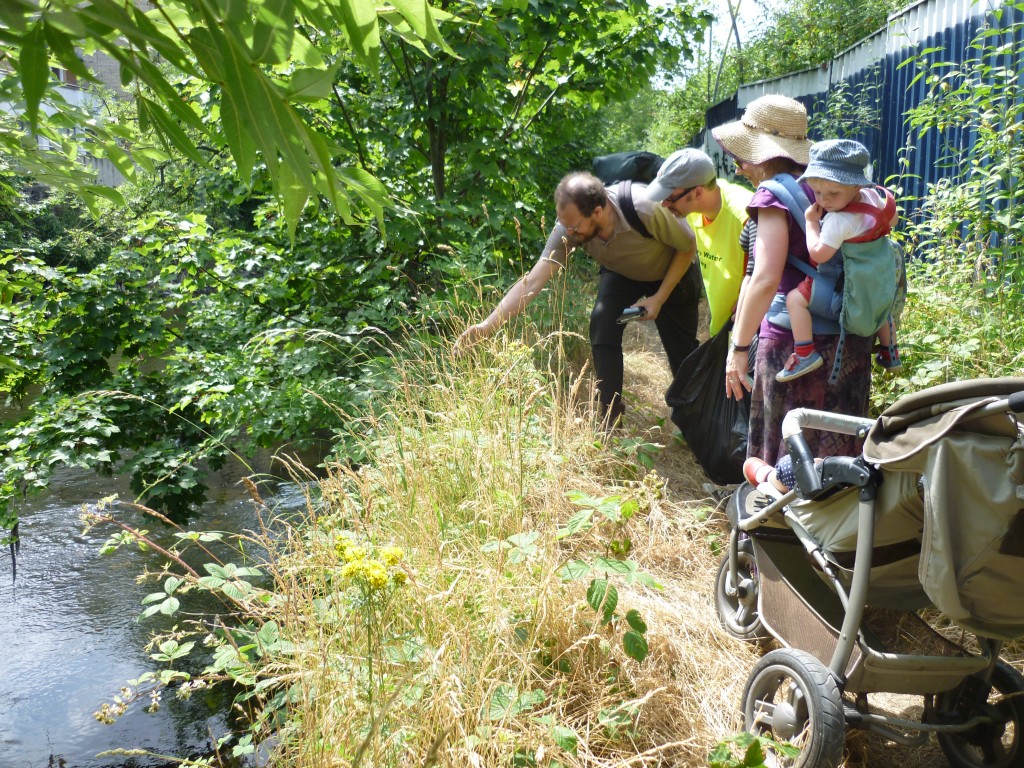 Eventually, we reached the main road and crossed back across the Aire on Baildon Bridge, noting the local heron at the far end (a familiar sight for seasoned weir watchers…).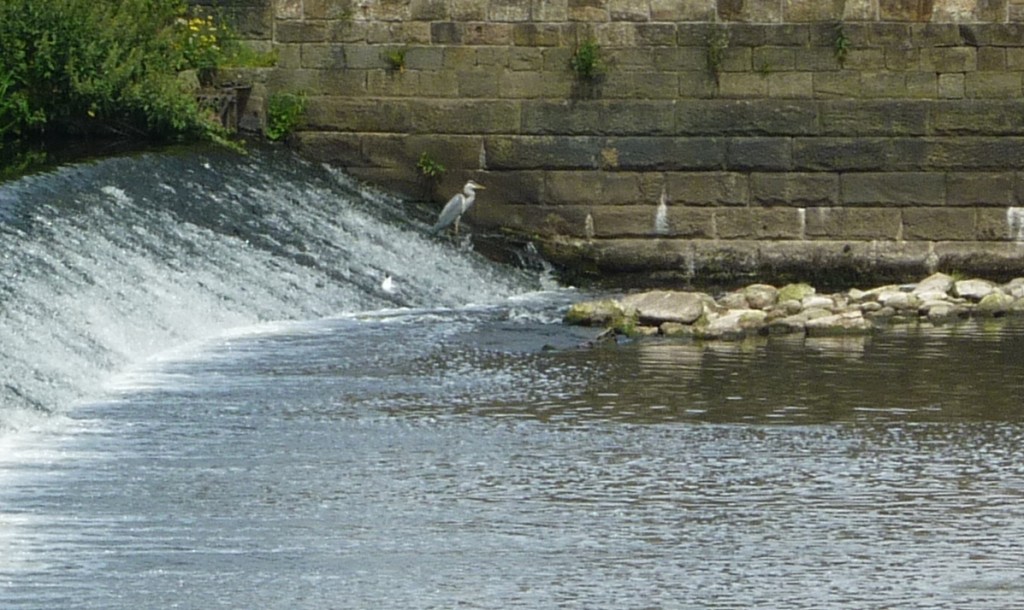 Thanks to everyone who came on the walk for such a great, collective spirit of inquisitiveness and playfulness. And for picking up quite a substantial amount of rubbish along the way!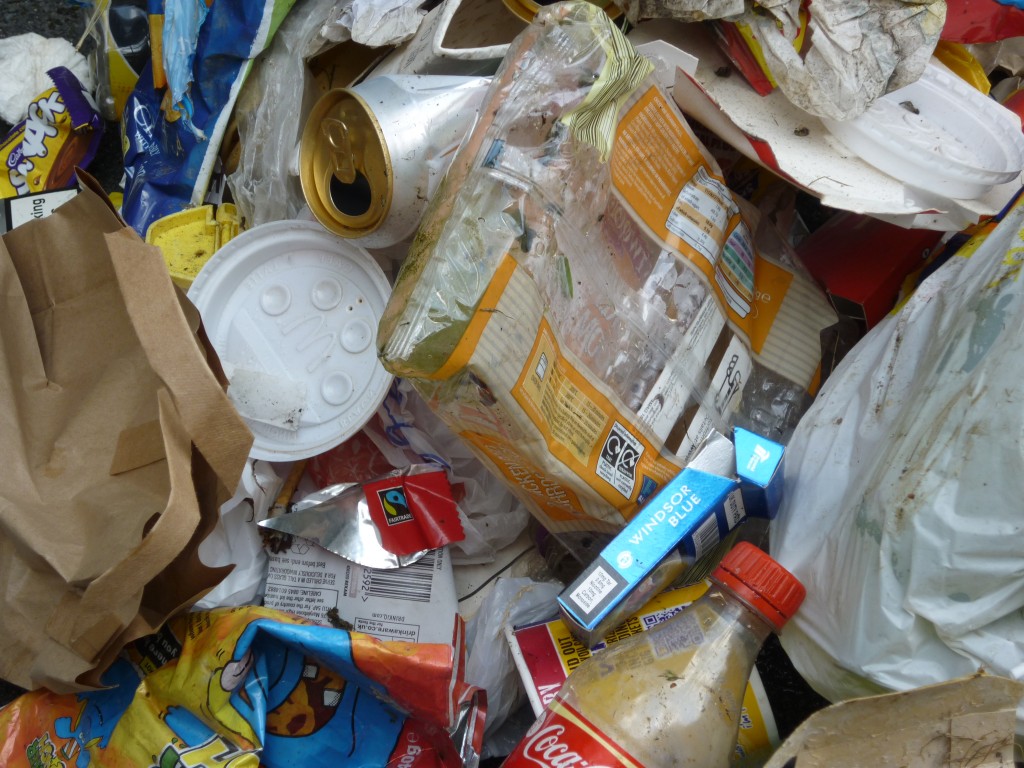 Following the walk was our event at Kirkgate Community Centre, designed as a means to combine creative activities for kids (and adults) with an opportunity to discuss Shipley's rivers, community and history with a variety of "experts"… We had lots of maps up, information on display… the whole thing was beautifully set up. What we hadn't bargained on at the time of organising this, however, was that Saturday ended up as the hottest day of the year…  and who wants to be indoors in a community centre when there's sunshine to be enjoyed? Come to that, who wants to be indoors at all..? Shipley's town centre shops were largely deserted too…  We did have a few people through the doors, but it would be difficult to call this particular event a resounding success! My thanks, nonetheless, to all the people who turned out to present stalls and talk to people… they mostly ended up talking to each other (!), but several people said it was a useful networking opportunity, so that's something I guess!