The first of our theatrical walks, Green Route begins in Roberts Park, part of Saltaire's World Heritage Site, and moves west along the green flood plain area next to the Higher Coach Road estate, before finishing at Hirst Wood weir. Three narrators take you on an alternative heritage tour of the area, and also "double up" as a variety of real-life characters who work in the park or live on the estate…
Starting point: Outside the Park Lodge, in Roberts Park, Saltaire (at the eastern entrance to the park.) Full directions below.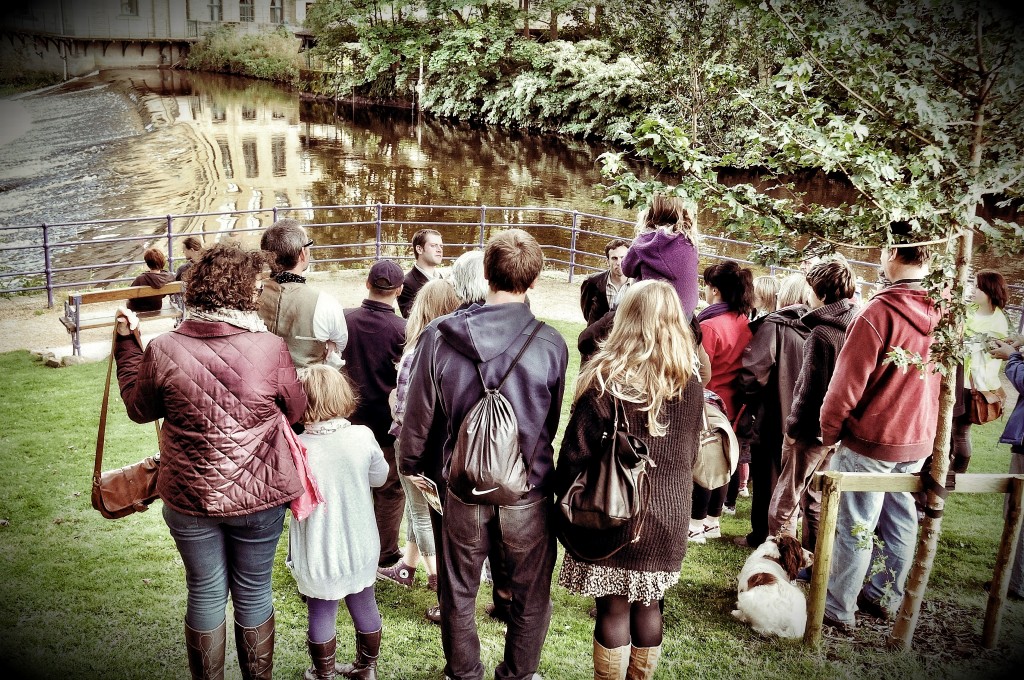 Subtitled Weir to Weir, this performance connects the weirs that, in the days before steam power, served the mill races of Shipley's two key water mills — Dixon's Mill (on the site of what is now Salts' New Mill) and Hirst Mill. Water power is making a come-back in the 21st Century, with both weirs now controversially being considered as sites for the installation of hydro-electric power generators.
The route between these mills takes us through a housing estate built in the 1950s by Shipley Urban District Council (even though it's Baildon land!), on riverside marshland that had to be carefully drained to make it suitable for building on. All over the country at this time, people were being moved out of "slum housing" and moved (very often) into ugly, concrete, high-rise flats. But here, Shipley Council showed an unusual appreciation for the natural surroundings, creating an estate that many people have never wanted to leave…
Green Route tells some of the history of these very special locations, drawing on the stories and memories of some of those who know them best.
How to get here…
By train: Saltaire station is easily accessible on the main Aire Valley rail line between Leeds and Skipton. When you get off the train, exit towards Victoria Road (i.e. the road crossing the railway), and then take a left downhill. At the bottom, follow the footpath down to the footbridge across the river. The Park Lodge is right in front of you when you cross into the park.
By car:  the postcode for Park Lodge (useful for sat navs!) is BD17 7LU. There are parking spaces just beside the park entrance, which you can reach by coming along Coach Road (via Green Lane) from the main Otley Road (A6038). See road map here. Alternatively, there are car parks across the river in Saltaire (click here for details). Once parked, just walk down Victoria Road towards the river, cross at the footbridge, and the Park Lodge is right in front of you.