It's New Year's Eve. We're about to wish a fond farewell to 2017 (or not so fond, depending on your year…) and welcome in 2018. Since our Multi-Story Water project officially concluded this year, I don't expect this blog to be very active in the coming twelve months… And yet you never know. Rivers keep on flowing, and time has a funny way of looping back on itself for all of us.
In January, for example, I will be attending this meeting at Bradford City Hall to discuss possible futures for Bradford Beck — or more specifically, for the "Shipley Canal Road Corridor", the ribbon of green space and river that runs north from Bradford into Shipley alongside Valley Road. The photograph that shadows the background of the invitation above is taken from almost the exact same spot as the picture below: it shows the mouth of the "box culvert" into which the Beck flows for a short distance underneath the greensward near the bottom of Wharncliffe Road. The main concern of the January meeting will be to discuss the possibility of removing this culvert — and thus "daylighting" this short, underground stretch of the Beck.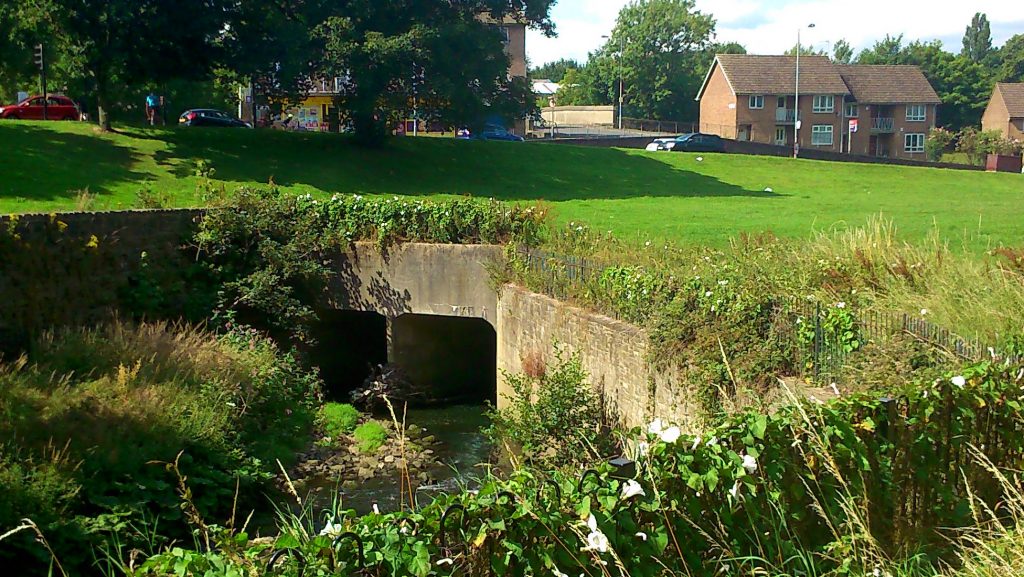 If there's a slight sense of time-looped deja vu for me here, it's because I first heard this possibility mentioned back in 2012, at the very beginning of the MSW project, when I was first getting to know Shipley's rivers. During that same year, Barney Lerner of the Aire Rivers Trust was undertaking a DEFRA-supported catchment assessment of Bradford Beck, looking at ways to improve the condition of the river. Barney came up with a number of recommendations, ranging from "soft options" like setting up a "Friends of" group (and of course he has chaired the Friends of Bradford's Becks since its inception, as the group has undertaken everything from clean-ups to a walking guide to a poetry book) to more costly, technical options for daylighting the river. The end-game, for Barney and FoBB, would be for the Beck to be visible again all the way through Bradford city centre. That, of course, is still a very long way from being feasible, but the removal of the Shipley box culvert has often been mooted as a potential first step — a move that might "light the way" towards further renaturalisation. Below is one visualisation of what this stretch might look like in future…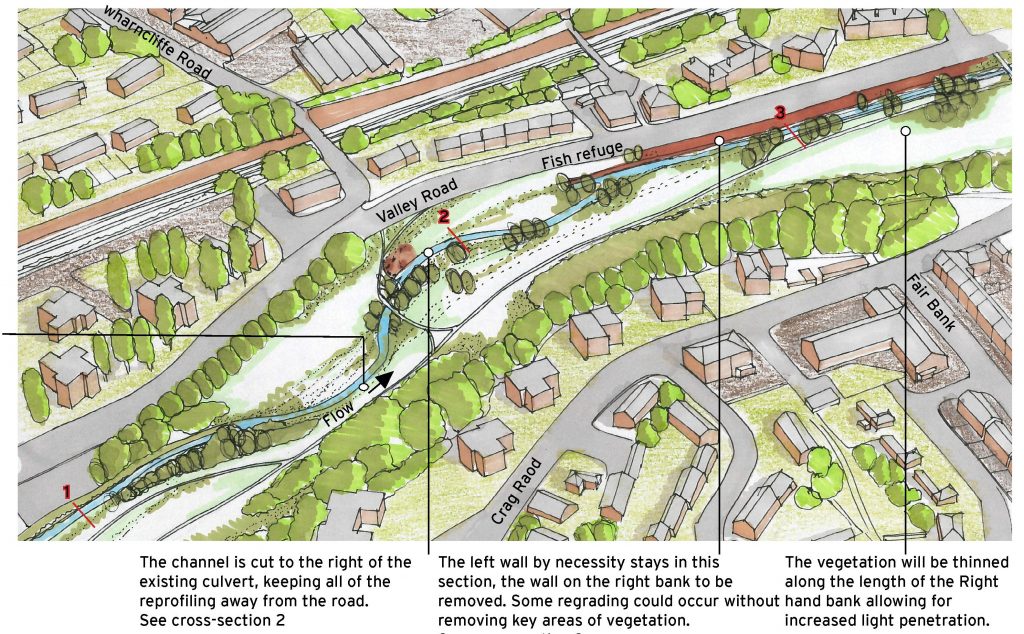 This image, and the drawings below, are reproduced with Barney's permission from a feasibility study which FoBB commissioned from JBA Consulting, at Salts Mill, back in 2015. As you can see, there's a pleasing, serpentine flow to the river in the picture above. The schematic drawing below shows how this more natural meander (which would including new tree planting around the Beck) would be created by removing the "straight-jacketing" of the box culvert…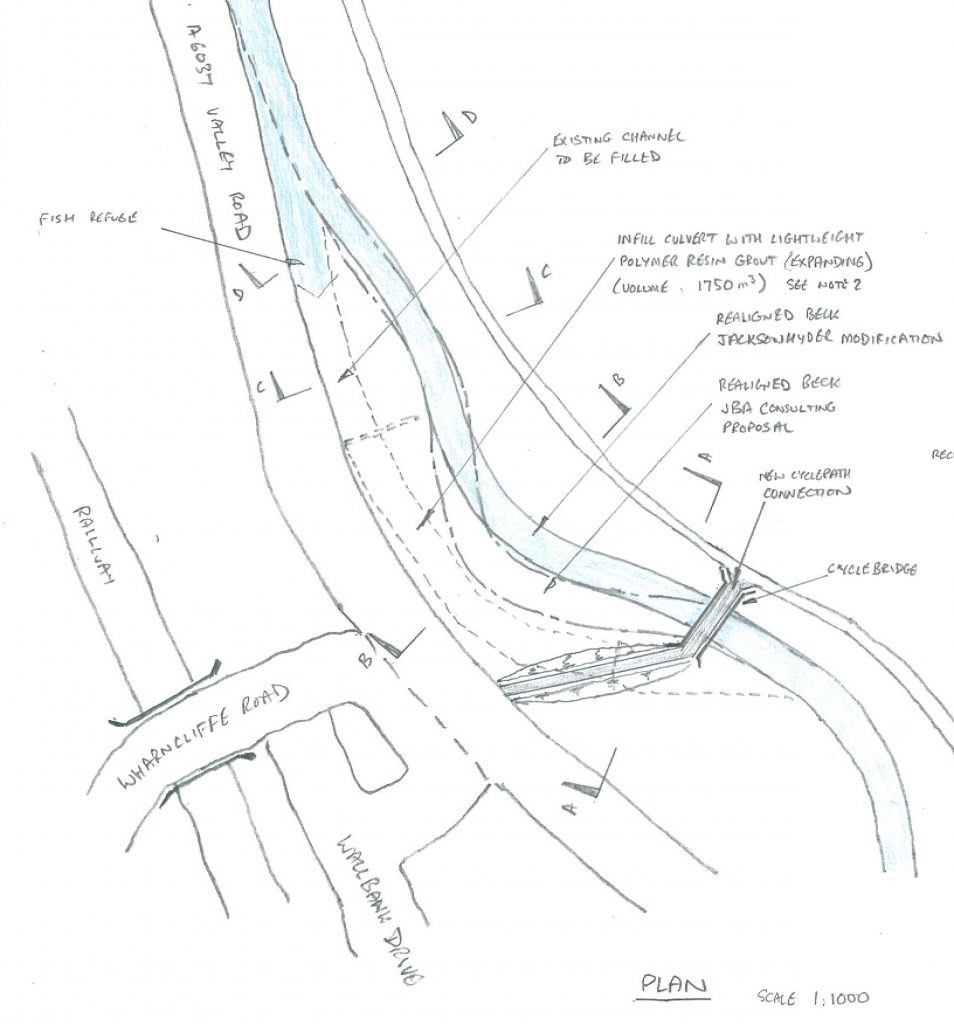 It's clear, I think, that this open meander would represent a considerable improvement on the aesthetics of what's currently there. Unfortunately, major public spending is not often considered purely for its aesthetic benefits… but potential flood alleviation is a way to attract funding, and it's this agenda that underlies the January meeting. As is pretty clear from the cross-section diagrams below, the box culvert is a very limited, closed channel through which a high volume of water is trying to pass in a flood situation…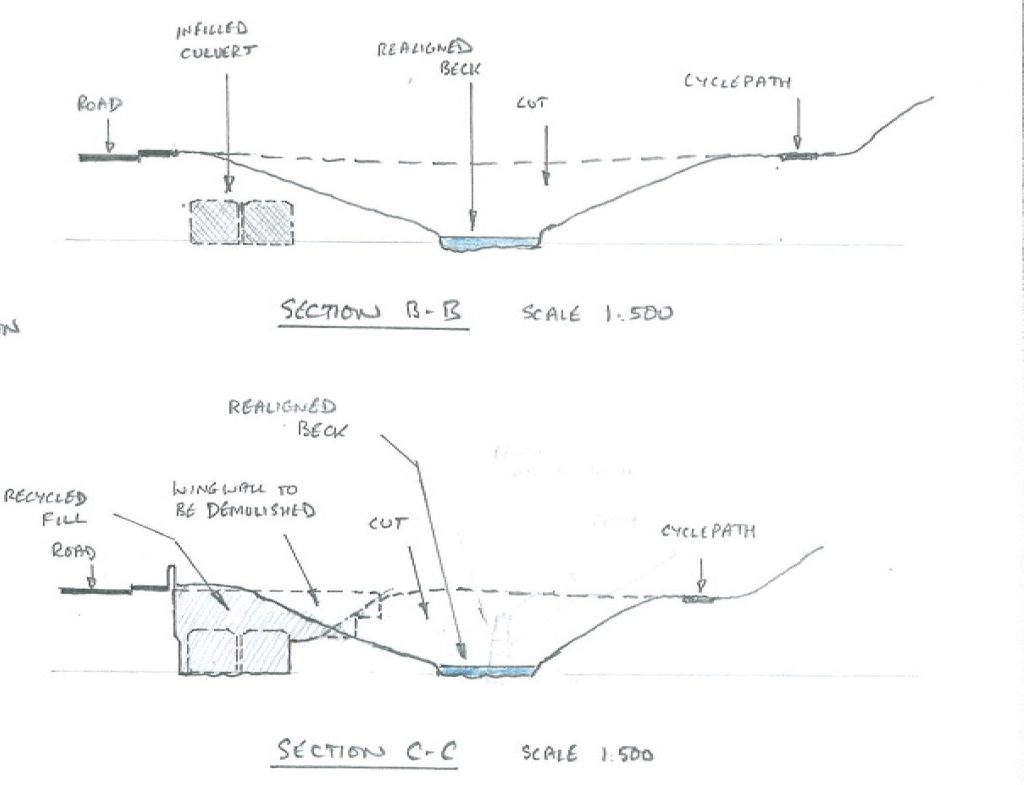 … at present, what that means is that excess water, which cannot get down the culvert, spills out all over the green space and onto the road. But if, instead of forcing the Beck through a closed pipe, you restore it to a more natural valley situation, with gradually sloping sides, then the Beck can just naturally rise up those valley sides in high water conditions. And thus, it will keep on flowing safely downstream, rather than spilling out all over the place.
The irony here, from a planning point of view, is that "offset" measures will be needed, in order to justify this restoration to the natural way of things. Since the removal of the culvert would mean less water spilling out of bounds, and more carrying on downstream, this becomes a concern for places downstream (like Shipley station) where that extra water might end up. So as well as planning to take out the culvert, the Council needs to offset the impact of that change by putting in other measures that will provide "flood storage capacity" along the Canal Road corridor, in high water conditions… Or something like that.
Now, obviously, I'm no technical expert. I'm talking here in layman's terms, and I'll certainly welcome the further clarification on these points that the meeting will no doubt bring. I do, however, have some professional competence as a historian, and in light of these plans for potentially daylighting the Beck in this spot, I wanted to draw attention to this document here…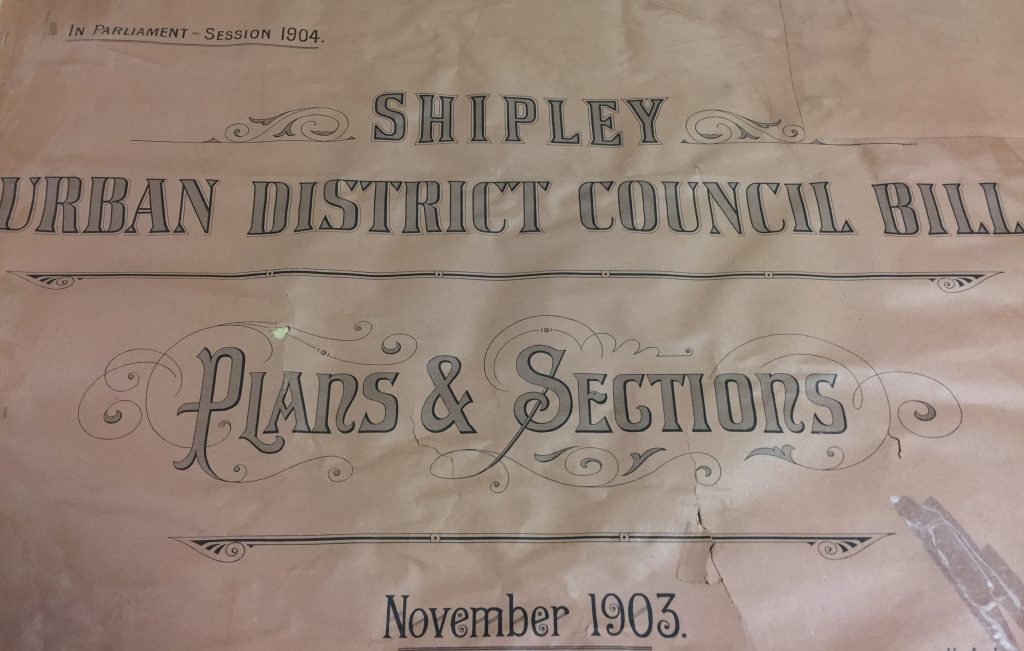 This is the front cover to a big, map-size document book that I found in the Local Studies section of Bradford Central Library. In 1903/04, Shipley Urban District Council was a pretty new entity, having evolved from the old Shipley Local Board, and it had big plans for Shipley's regeneration (this involved, for example, a lot of development in the Dockfield area, as discussed in a blog from this time a year ago, and featured in our micro-theatre performance This Island's Mine). Interestingly, one of the schemes that the SUDC planned at this time was a revamp of the Canal Road Corridor…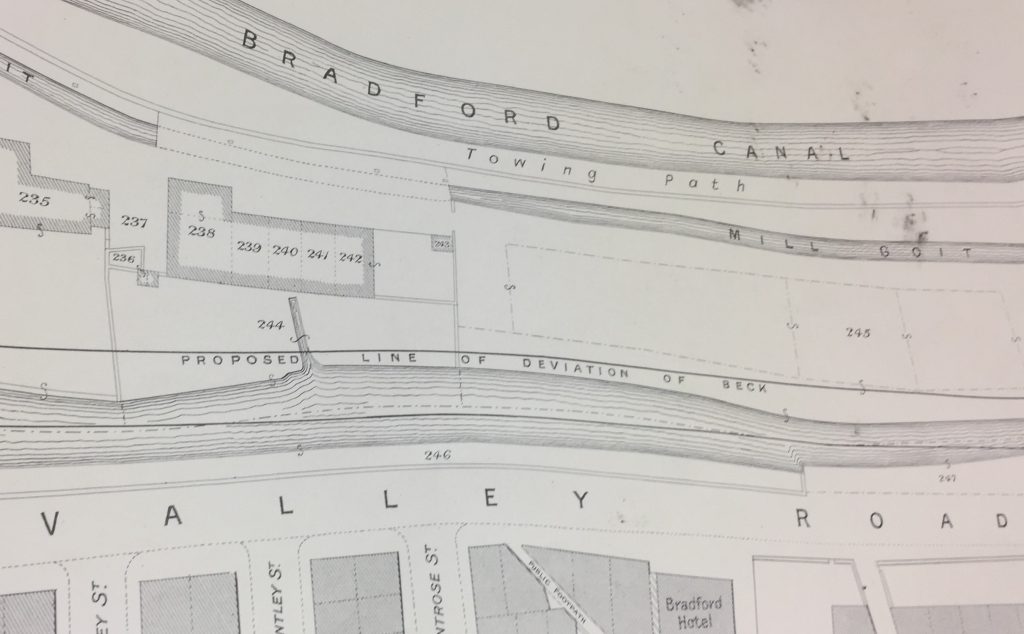 In the map diagram above, you can again see Valley Road, and the Beck running alongside it…. together with a plan for re-routing the Beck slightly further east ("Proposed line of deviation of Beck"), further from the road. At the top of the picture runs the then-still-extant Bradford Canal (eventually filled in after its closure in 1922). Now look at the next image, which shows the next segment of Beck/Canal/Road on the way south towards Bradford…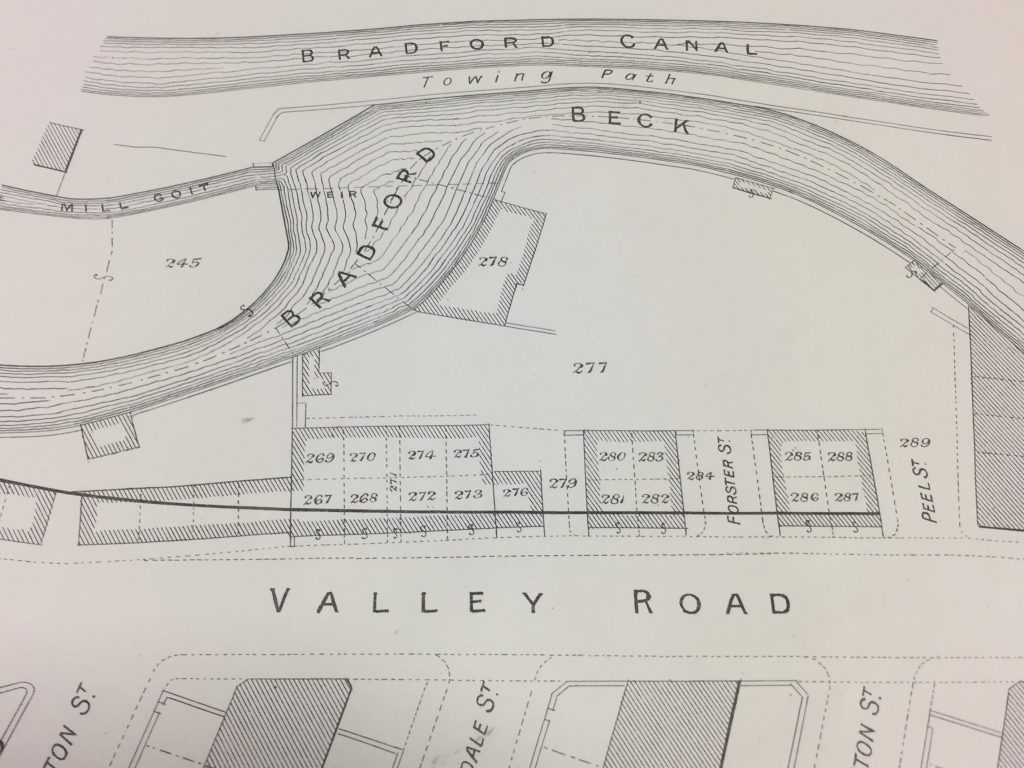 This is the same curve in the Beck that is now being proposed for renaturalisation. Notice how, back in 1903, it came so close to the Canal that they were almost touching… Notice, too, that in these pictures, there is no box culvert. It wasn't there then — I'm told it was built during the 1920s or 30s (perhaps around the same time they filled the canal in?). But perhaps that comment signalling a "proposed deviation" of the Beck is the first sign of plans afoot. And check this out…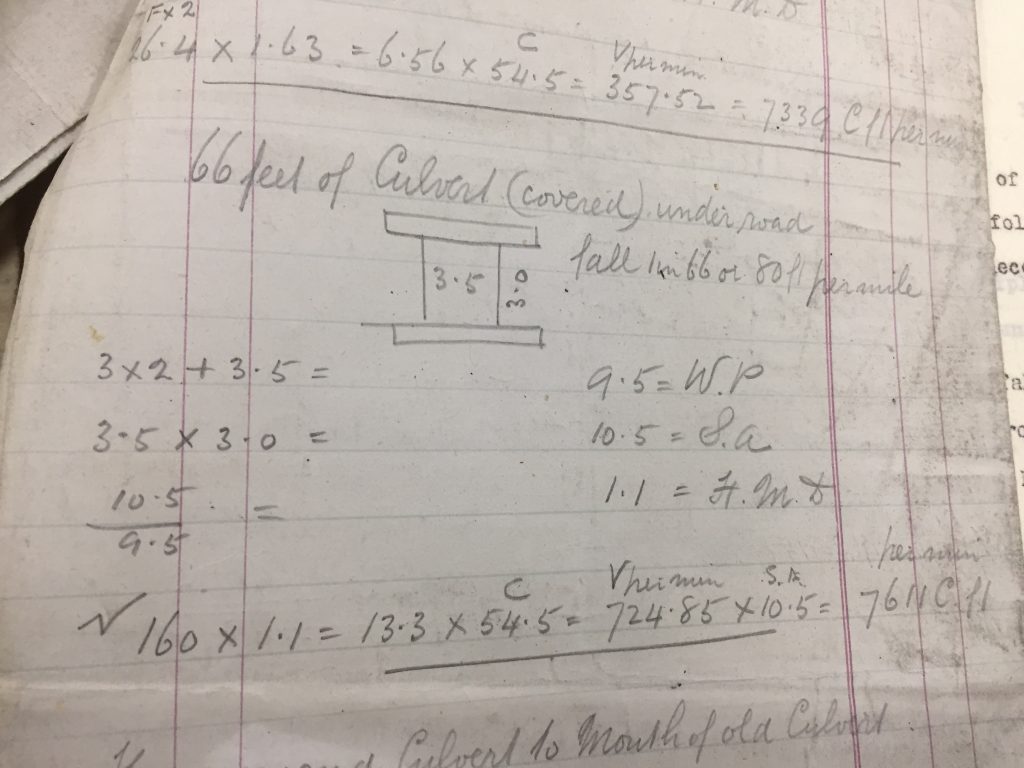 These pencil-sketched engineers' calculations almost look as if they could have been written yesterday. Don't ask me what all the numbers mean, but the plan is for "66 feet of Culvert (covered)" — so about 20 metres. I found these sheets of calculations among the Shipley Urban District Council papers held by West Yorkshire Archive Service (to whom, thanks for permission to reproduce this image). The notes are undated, but they're in amongst other papers relating to SUDC's early 20th C. redevelopments, and they also provide detailed specifications about other sections of open culverting that this closed culvert will connect to (just as is indeed the case along Valley Road). Is this perhaps a handwritten plan for the construction of the box culvert in question?
Note that the writing in this picture states that the proposed culvert will run "under road". The box culvert beside Valley Road does not, of course, run under the road — it simply continues next to it. But could these two words provide us with a clue as to why that culvert was built in the first place? Why would you cover over this section of the river, unless you were planning to put something on top of it? This has always been a bit of a mystery to me (what's it for?), but it seems plausible that there was originally an intention to build a cross-street across the valley, linking what's now Wharncliffe Road over to Crag Road. Whatever the intention, it never came to fruition … perhaps the Great Depression intervened in the 1930s, just as — more recently — the 2008 financial crash put paid to more recent dreams of rebuilding the Canal itself…
Now, I could be barking up the wrong tree entirely here, of course, but who doesn't enjoy a good mystery? And what appeals to me most here is the sense of time circling back on itself, into the new year…
… Once upon a time the river meandered, and we decided to "deviate" it from its course and hem it in. A century later, we want to un-do what we did before and renaturalise it.
"Shall we their fond pageant see? Lord, what fools these mortals be."
(Puck, A Midsummer Night's Dream III.ii)