This is a just a wee postscript to the last blog post on this site — which discussed the new footpath and other amenities that were installed this year along the riverbank flood plain area next to the Higher Coach Road estate. Since that post, some rather handsome new interpretation boards have appeared along the path…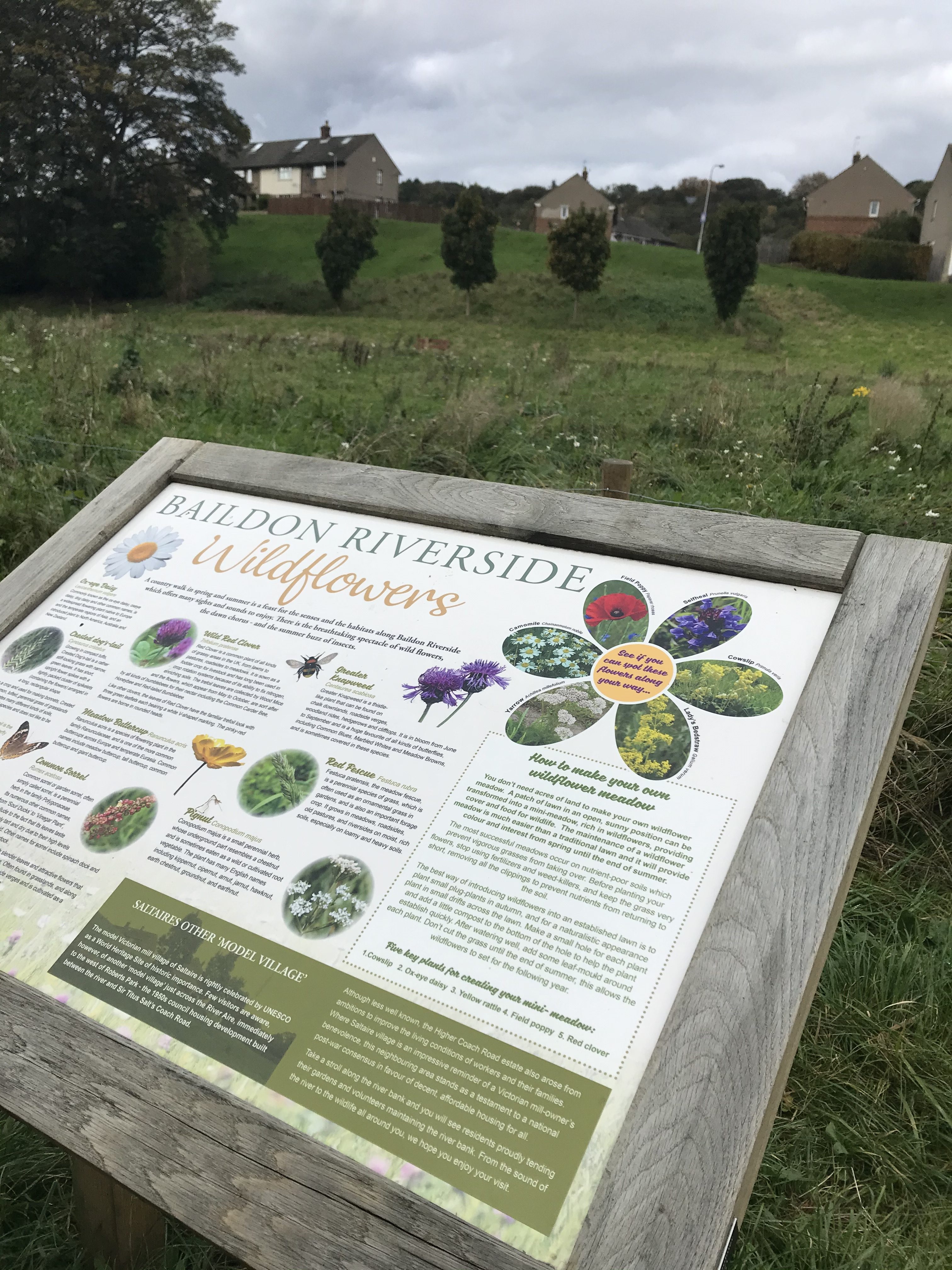 This grassy stretch of land, which never really had a name before, has now been dubbed "Baildon Riverside" by the Higher Coach Road Residents' Group. (A canny bit of branding!) Last Saturday, October 19th, HCRRG held a little event to officially "launch" these new riverside facilities. The Bradford Telegraph and Argus sent a photographer, whose pictures finally appeared online yesterday — click here to see them. So I thought I'd join in and and share a few of my own.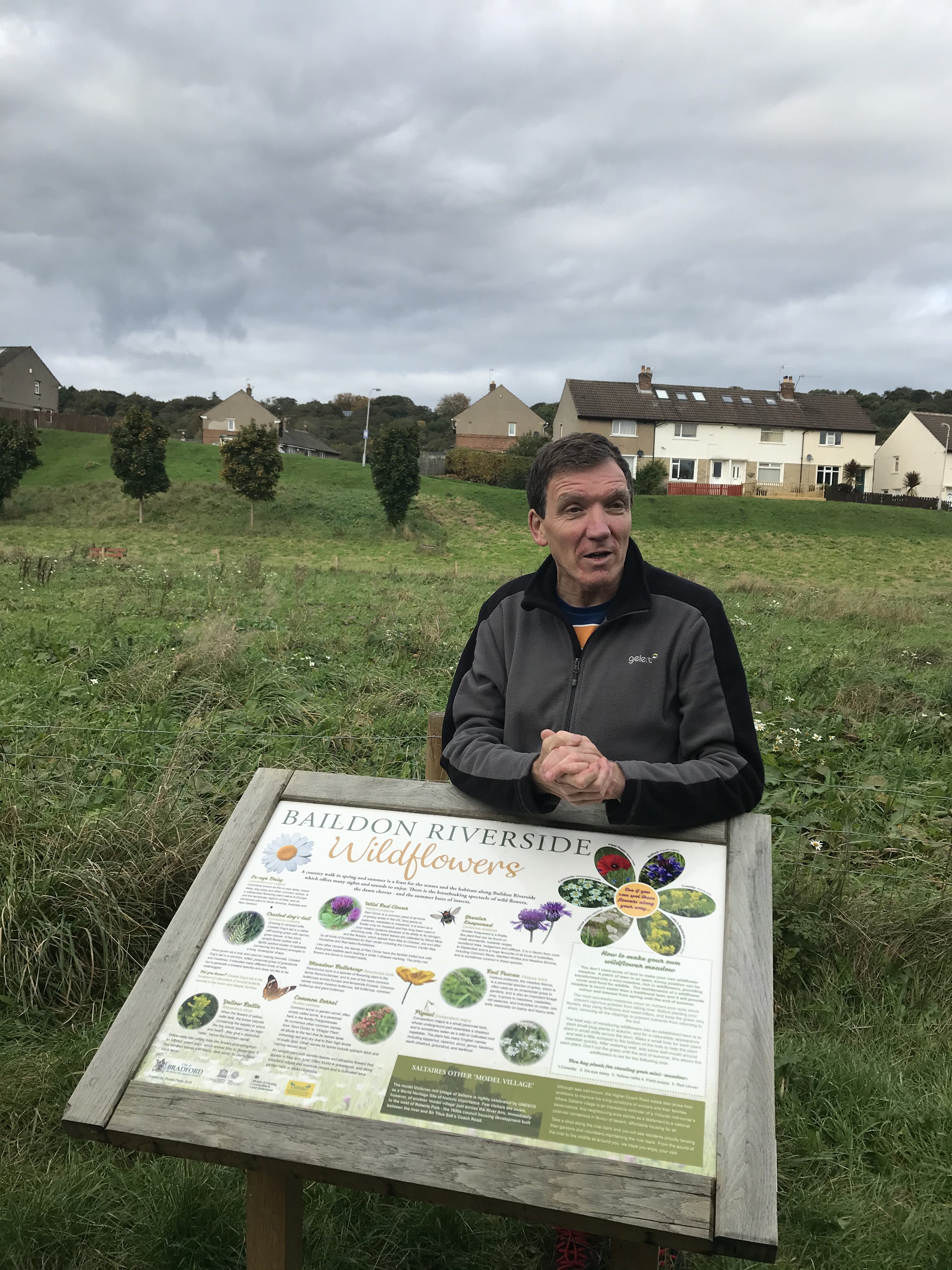 This is Steve Hetherington, the Secretary of HCRRG,  who greeted and hosted a small gathering (photographer included) close to the end of the new riverside footpath, where it connects with Roberts Park. Although you can't quite tell from this picture (especially with the rather cloudy weather), this "wildflowers" signage looks out over an area of the field that has been seeded with a variety of colourful wildflowers. (Hopefully they'll grown in properly over the next year or two.)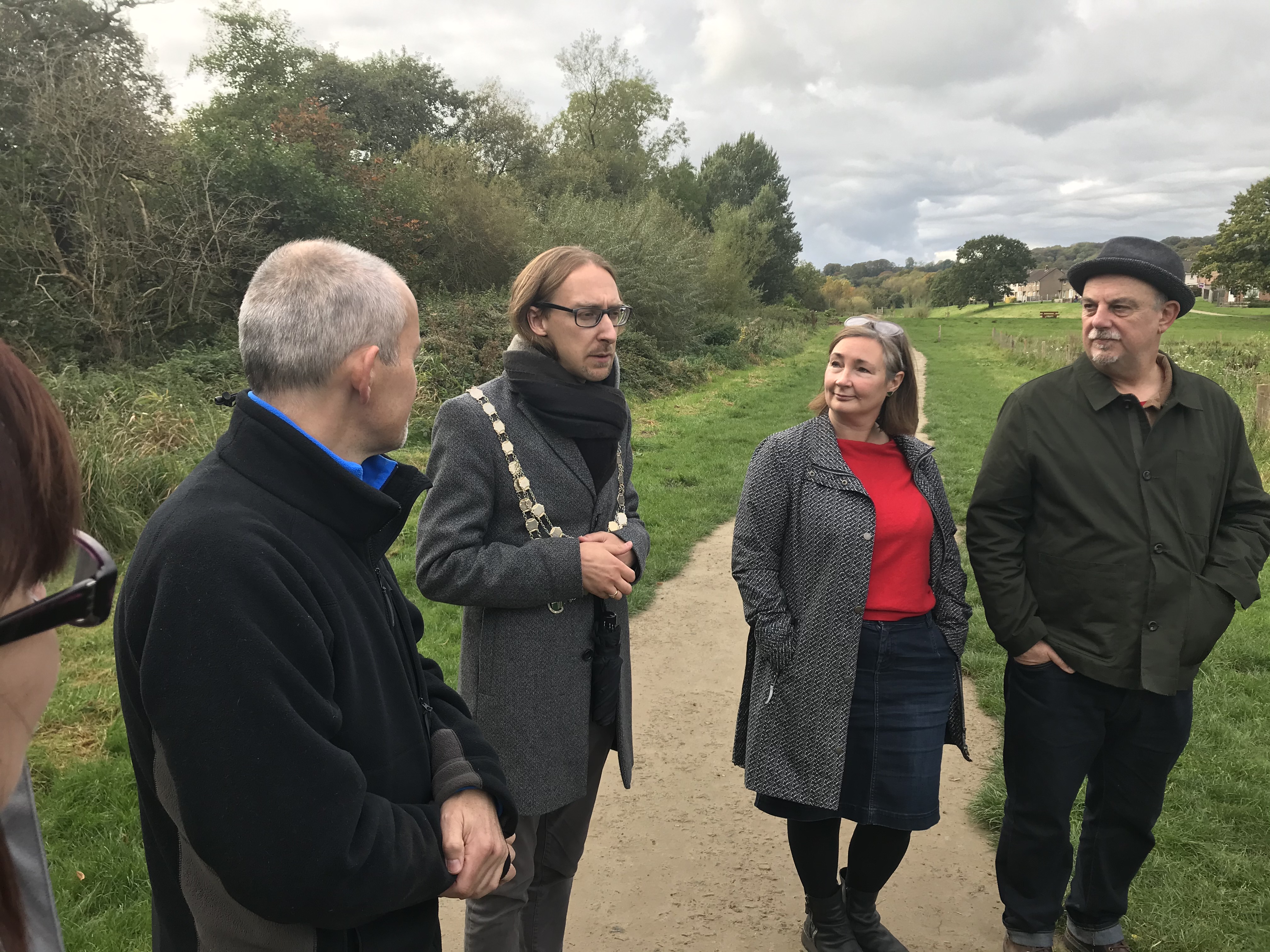 Steve introduced Councillor Joe Ashton, from Baildon Town Council, who had come decked out in his ceremonial chain (he's currently the council leader, which makes him Baildon's de facto mayor). The Higher Coach Road estate is of course on Baildon land, despite having been built by Shipley Council back in the 1950s. Flanking Joe on either side in this picture are Shipley's current Bradford councillors Kevin Warnes (Green Party) and Vick Jenkins (Labour – Vick also works at Kirkgate Centre, another body deserving credit for supporting HCRRG from its inception).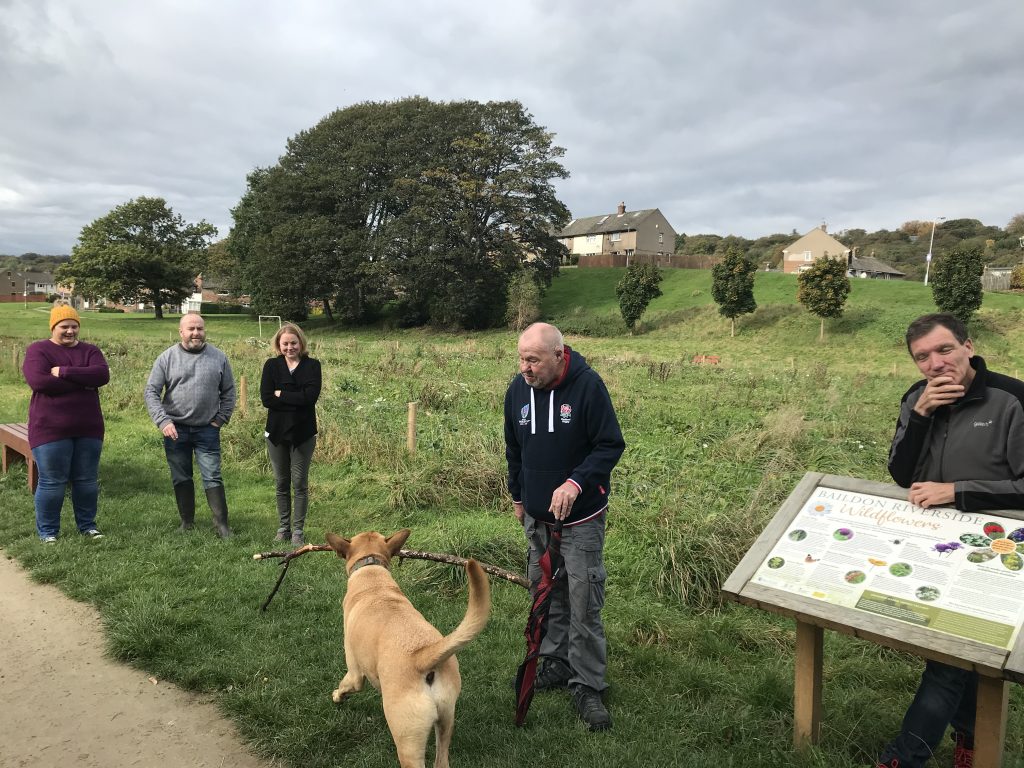 After Joe, resident Stewart Gledhill (middle of this picture) said a few words about how he had originally thought of the idea for turning the muddy grass track by the river into a proper footpath which would be safe underfoot even for older and less able walkers (Stewart's own mobility is not what it once was). Like Joe, Stewart also made a point of mentioning our Multi-Story Water project as a catalyst at the start of this process. We helped Stewart present his ideas to other residents and build support for them. That was before Stewart became the first Chairman of HCRRG, when it was formed back in 2015, although that role is now held by Joe Kean (second on left above), whose dog did an excellent job of upstaging Stewart during his speech… 🙂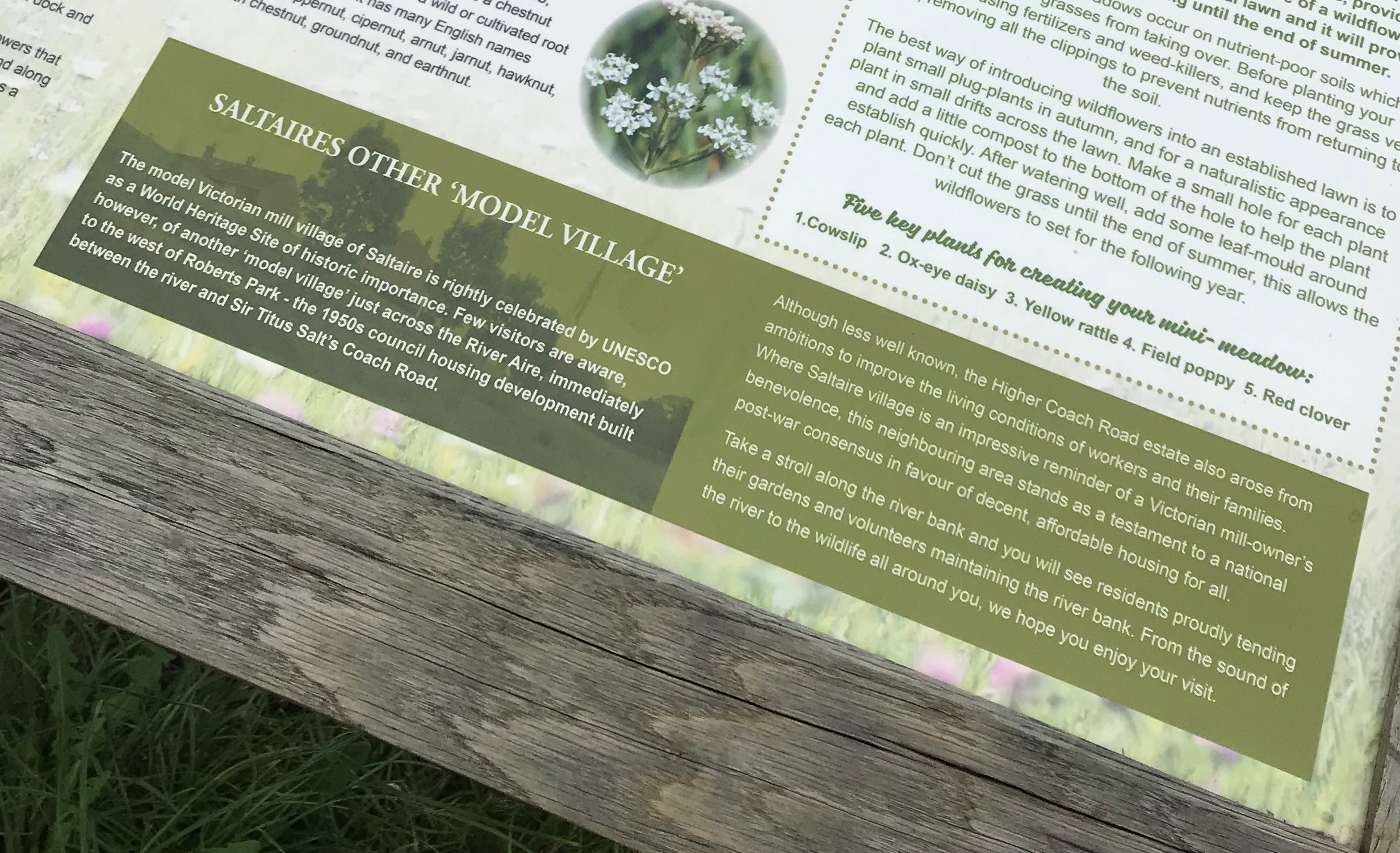 Although it's important to note that all of the landscaping ideas came from the residents, not MSW (all our project did was help get the ball rolling), I was quite pleased when Pat Gledhill — the original advocate for a wildflower meadow — pointed out to me this wording on the new signage about HCR being "Saltaire's Other Model Village". This was text that I dreamed up along with HCRRG's Ruth Bartlett, for this "heritage flyer" we created in 2017, for Saltaire's World Heritage Weekend. Great to see it used again!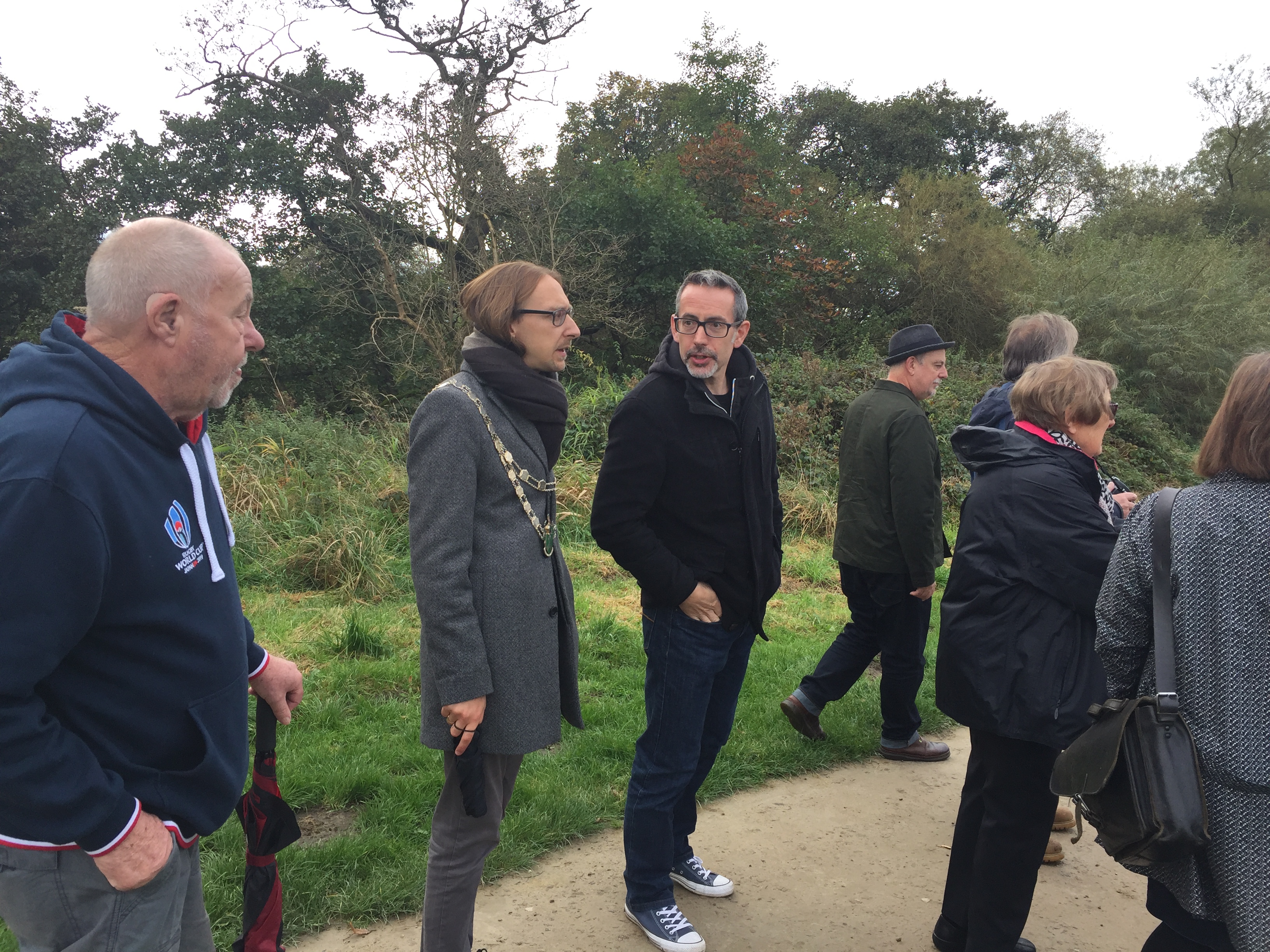 Here's Stewart, Joe and myself again, just as the ceremony broke up and we started heading up the path towards the Rowing Club for the second part of the gathering. Second from right, also, is Pam Ruppe, HCRRG's excellent Treasurer, a role she's held since the group was founded… Anyway, off along the path we went. As my wife Angel remarked (she took the picture above – and the ones below), the path now looks as if it has always been there… Apparently this route is in much more popular use now, too. The grounds-keeper at the cricket club in Roberts Park, Billy Ricketts (aka Billy Whizz) made the point to us that he sees many more people now, passing the cricket pavilion to take this route along the river.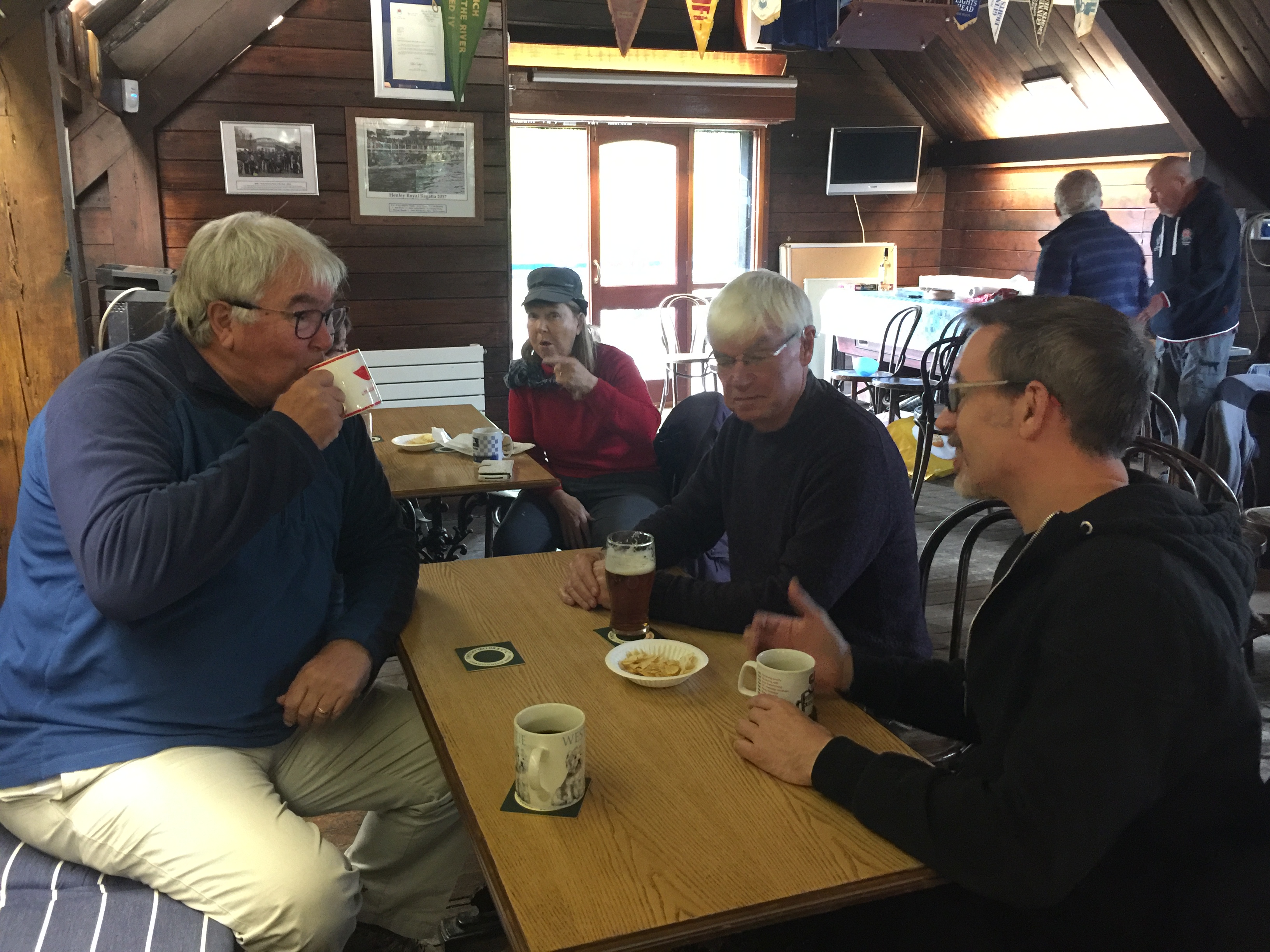 And so to the Rowing Club, just west of the estate, which had kindly agreed to host us for a little gathering for tea or beer… Here I am with Geoff Roberts (left), the Chairman of the Aire Rivers Trust — another body that helped HCRRG with its dream of a riverside footpath — and Eddie Lawler, the Bard of Saltaire, singer-songwriter extraordinaire. Behind us is Fran, from BCB (Bradford Community Broadcasting) who had also come along with her tape recorder…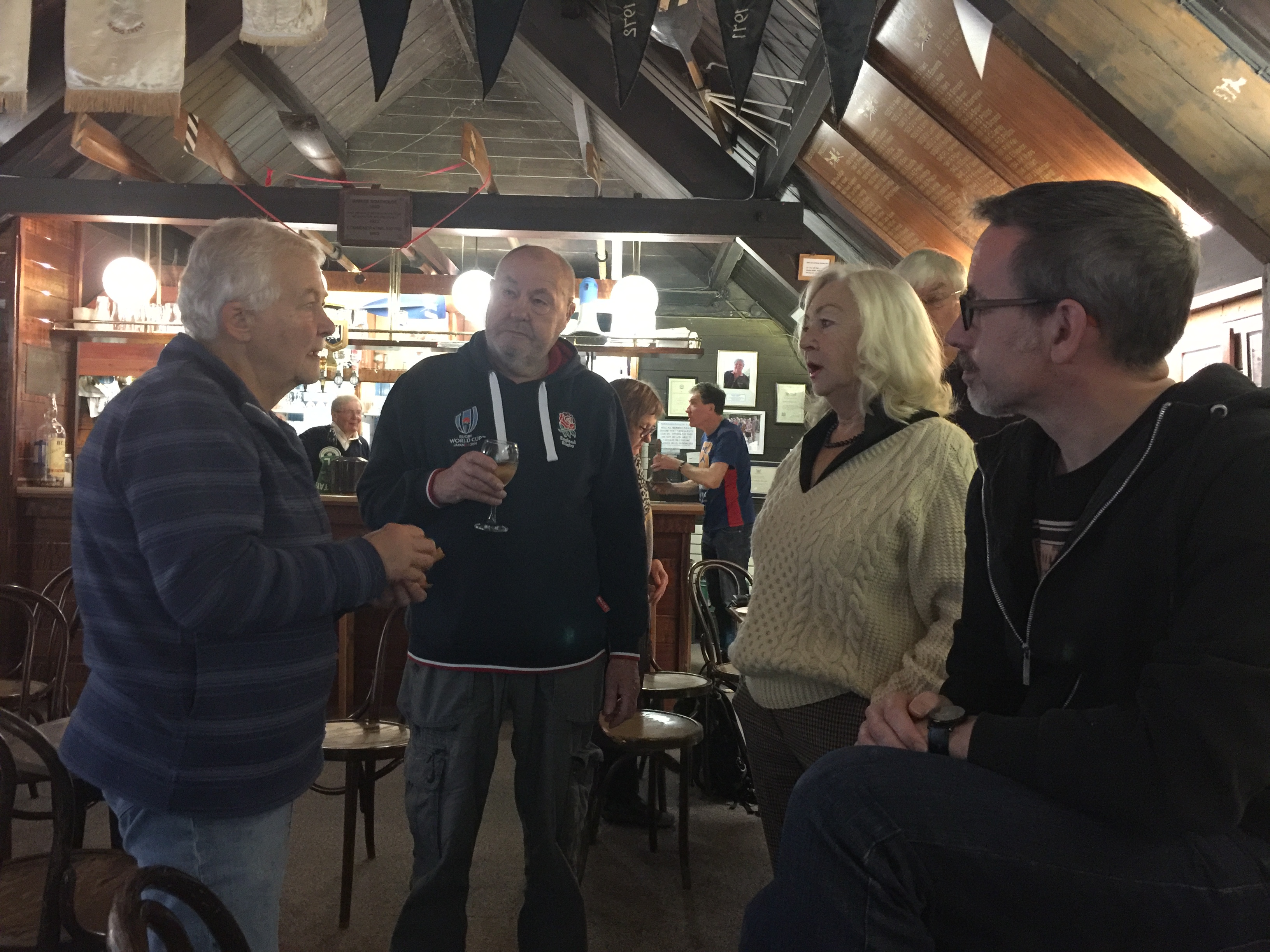 Here's the aforementioned Pat (left) talking with Stewart and the irrepressible Pauline Bradley-Sharp, of Hirst Wood Regeneration Group. They have an amazing local track record in environmental improvements (perhaps most notably their nature reserve across the canal), and were a key inspiration for HCRRG when it got started.
Once everyone had had a bit of a chat and had grabbed a drink, Eddie and I provided some informal entertainment ( or at least, people said they were entertained…) Eddie sang some of his songs about local features like Shipley Glen Tramway and the Bradford Canal, and I interspersed these with some tales about the estate, the Rowing Club, and so forth. We also talked a bit about Aire Rivers Trust's new DNAire project, now fully funded by the Heritage Lottery Fund, which will be putting a fish pass on Saltaire weir to ensure passage of salmon upstream to the Aire's upper reaches — for the first time since industrialisation. It's so great to see a range of people making new initatives happen, whether large or small, for the improvement of the river and its surrounding landscape…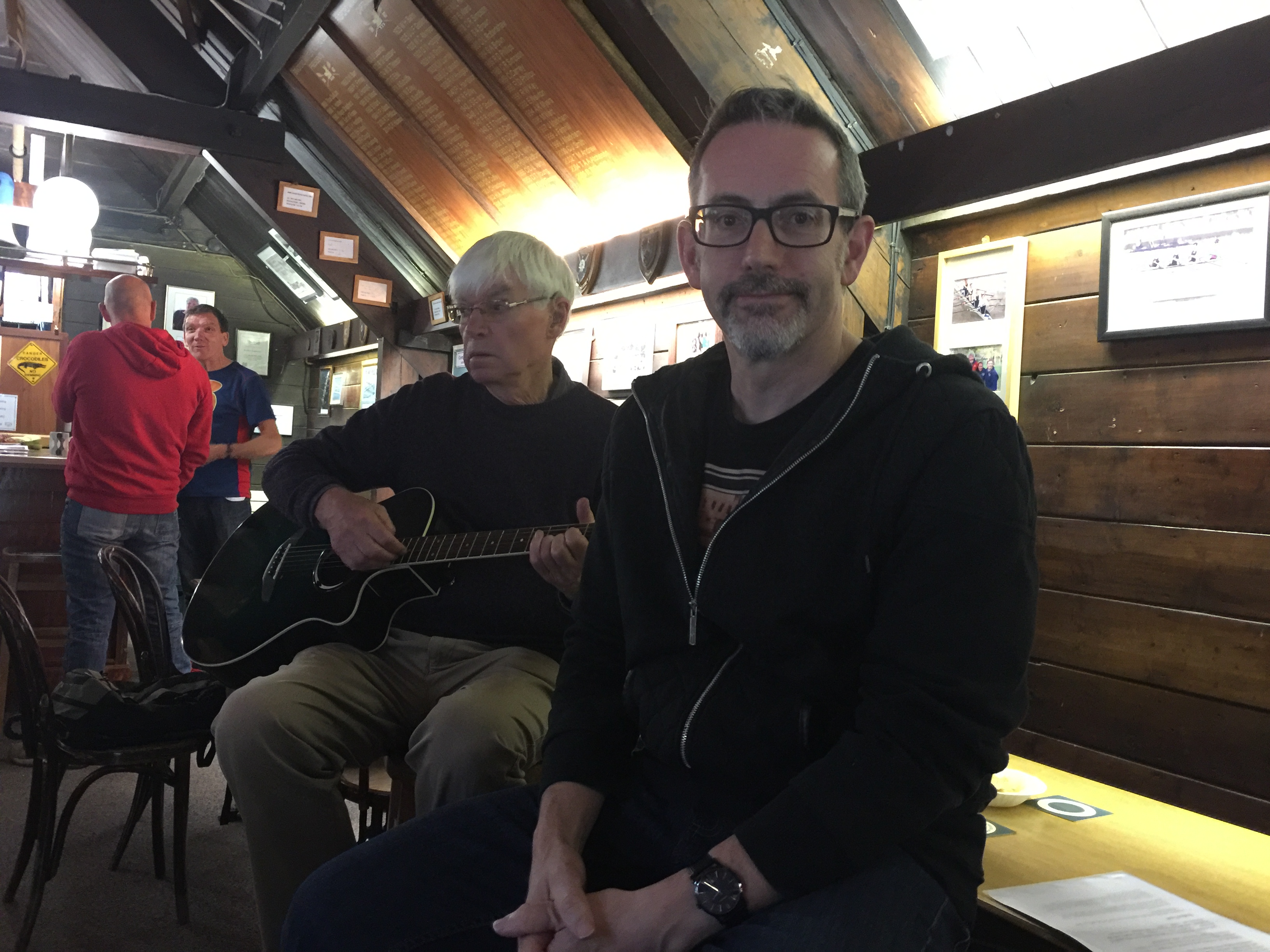 Over and out from Eddie and me…