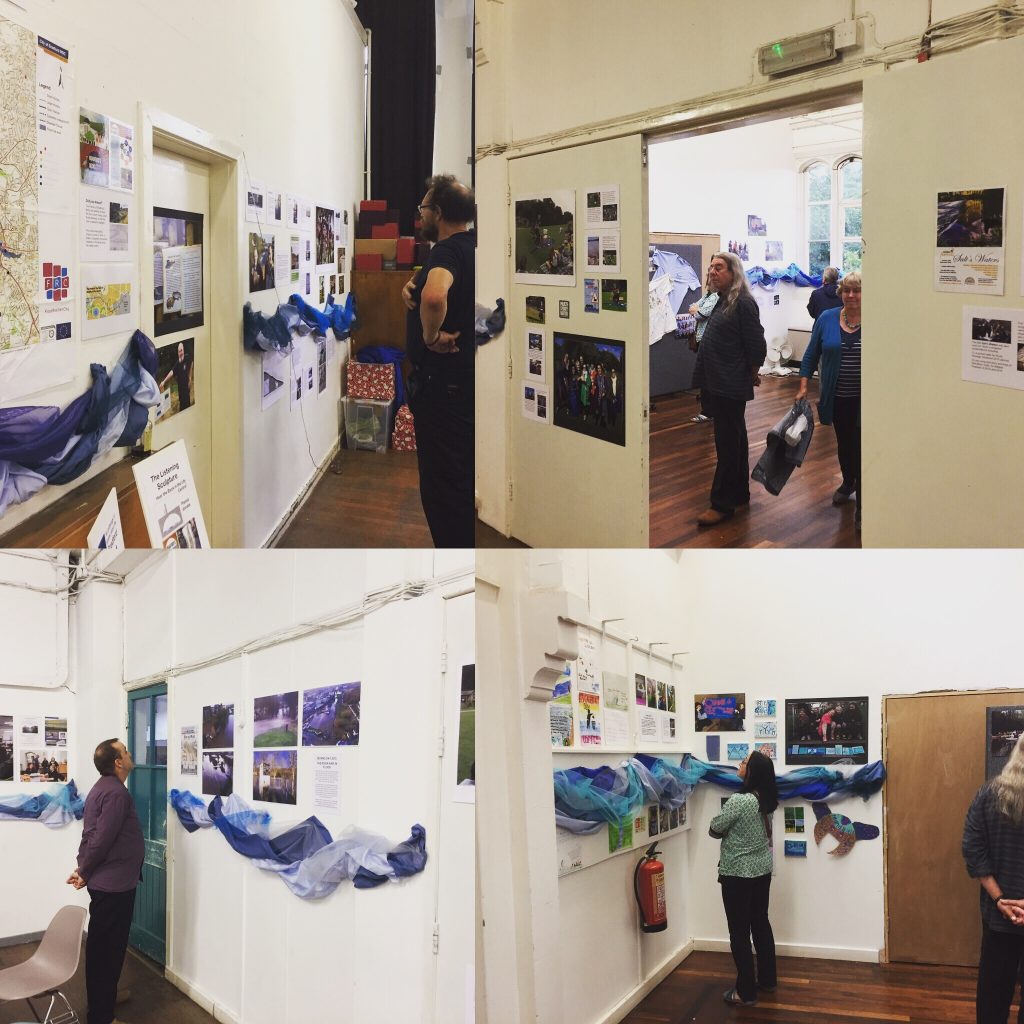 "If you build it, they will come…" In the composite image above, we see different corners of Shipley's Kirkgate Centre last Saturday night, as visitors peruse the walls at the opening of our exhibition, "Celebrating Shipley's Waterways" (a phrase borrowed from the tagline to this website). It was a real delight to see so many familiar faces that evening, helping us celebrate the official end-point of Multi-Story Water's project work in Shipley. That's five years of work, on and off (in two stages: 2012-13, and 2014-17).
One way or another, many of those there on Saturday have been involved in the project in one way or another over that period, although it was also really nice to make some new acquaintances among people simply drawn by word of the evening's events. This was especially rewarding given that — if I'm honest — I had worried that mounting a retrospective exhibition was slightly self-indulgent, and might be perceived as such! I was, however, talked into going along with it by these two wonderful women…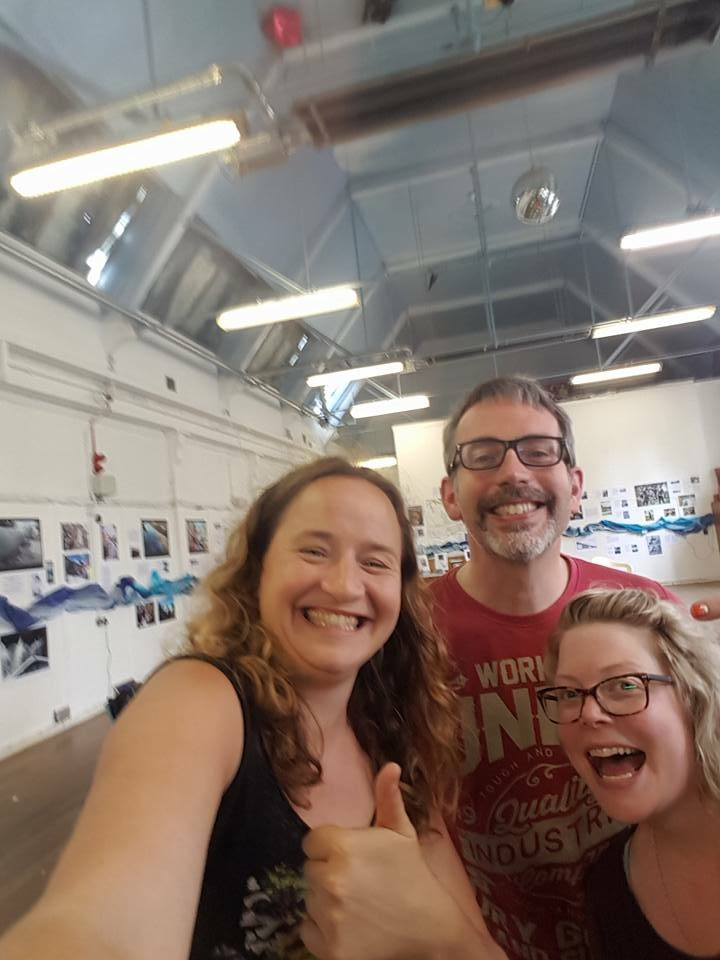 That's Ruth Bartlett on the left, of Higher Coach Road Residents' Group, who has also been working in a part-time capacity this year to support other aspects of the MSW project. And on the right, my "research associate" for the last three years, Lyze Dudley. (And me looking like a loon in the middle.) If we're looking pleased with ourselves in this selfie, it's because we had just finished "hanging" the exhibition with about an hour to spare before our visitors began arriving. The whole thing was done somewhat "on the fly", with a tiny budget, but thanks to Lyze's efforts in particular (with her winding river of fabric round the building, and her carefully mounted A2 photographic prints as key visual features) it actually looks pretty decent. Just professional enough to look like a proper exhibition, but just "home made" enough to reflect the community centre setting and the simple, people-centred aesthetic of the project as a whole. (One whole room of the exhibition, in fact, is about our work in and with local waterside communities.)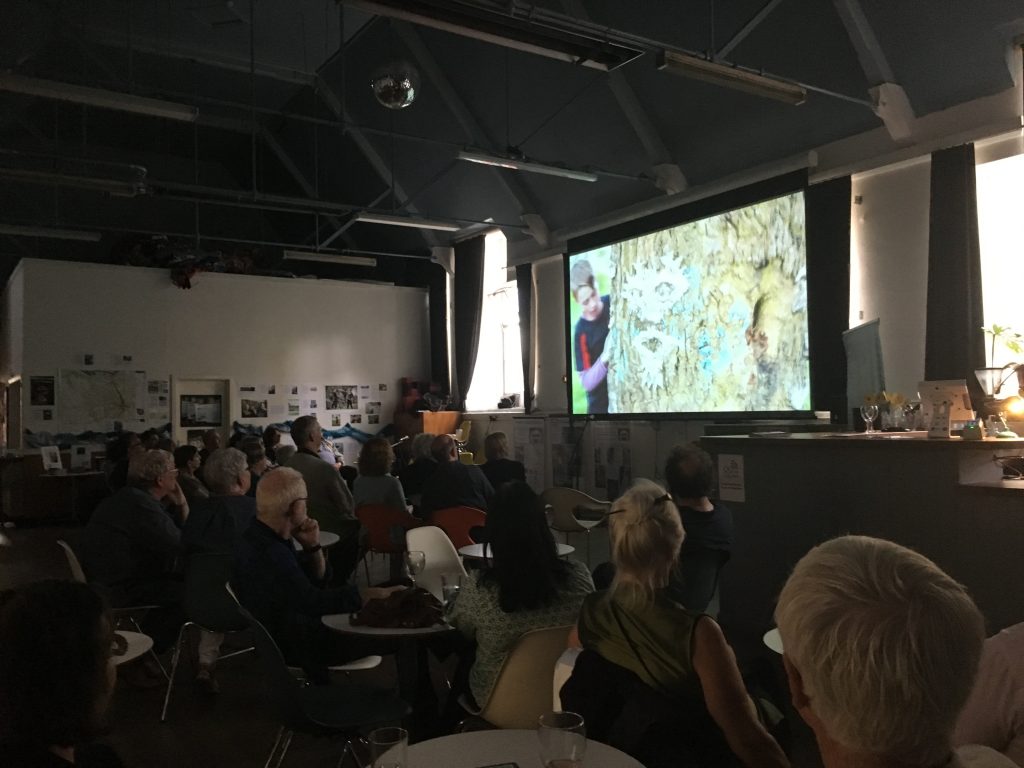 Visitors for the evening first had the opportunity to view the exhibition and mingle a bit, and then we screened three short films to represent different aspects of the project: first, Floody (made this year with the Young Artists of Higher Coach Road, for Saltaire Arts Trail weekend), then Wading to Shipley (from way back in 2013, documenting a walk down Bradford Beck), and finally High Rise Damp (from 2016, our film about social housing conditions in Bingley, which has a particular resonance now, in the wake of the Grenfell tower fire last month). I had not, personally, had the opportunity to see this last one screened properly on a large screen before (although it has been screened on several occasions by Kirkgate Centre's Paul Barrett), and it was particularly gratifying to see that it had a real impact on the audience, prompting much discussion in the interval that followed.
Then it was on to the live performances. I presented my one-man storytelling show about the Boxing Day flood, Too Much of Water, which was also very well received. (A friend who had seen it before made the astute point that its account of flood victims' struggles with faceless bureaucracy resonated in fresh ways by following on from the difficulties described in High Rise Damp.) And then finally, after another short interval, we rounded things off with Salt's Waters, my double-act with the Bard of Saltaire himself, Eddie Lawler, which we presented at Half Moon Cafe for the Saltaire Festivals of 2014 and 2015. Since then, it's had outings further afield in Scotland and Manchester, and has been honed with the addition of projected images, so it was really nice to bring it back home to Shipley for this one last time… (I don't have images of the live performances, but here is Eddie on the right, earlier in the evening, dwarfed by his fellow Friend of Bradford's Becks, David Brazendale…)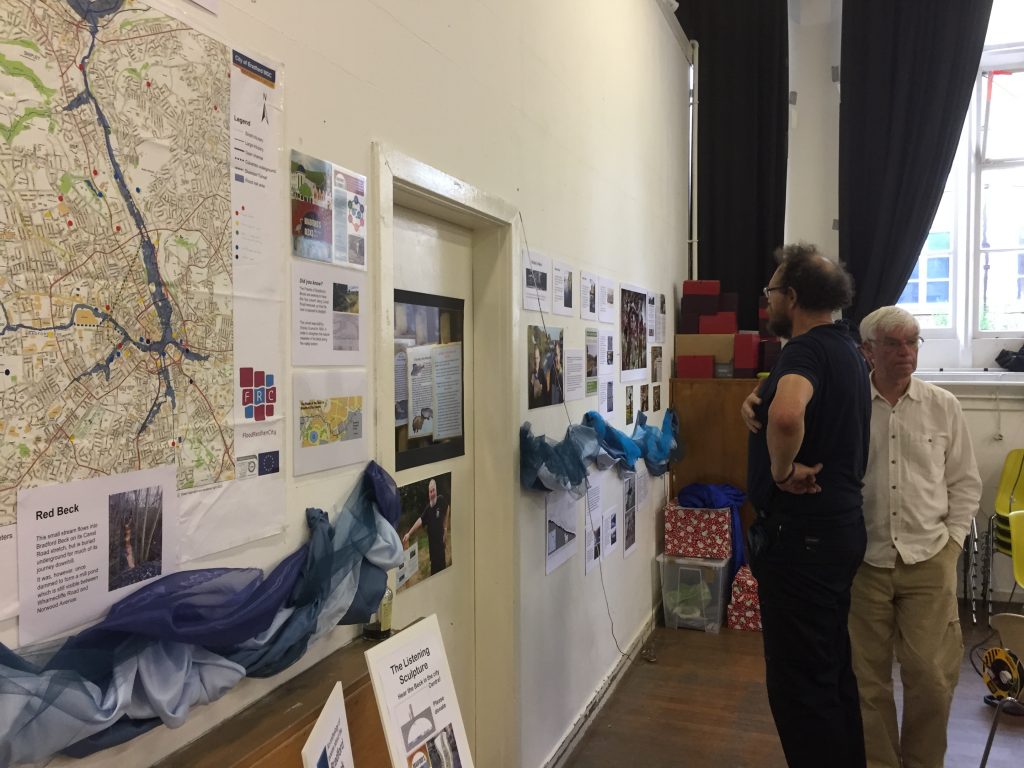 So yeah, it turned out to be a real pleasure to present all this material – as a small, retrospective sample of what we've made over the last few years. And the warmth of the responses and feedback from those gathered was really gratifying. Moreover, as ever with this project, it's the responses and the participation that are just as important as anything we might make… and on this occasion that point was represented beautifully through the medium of beer mats…
We've actually had these beer mats knocking around for a couple of years — with the MSW logo on the front, and this invitation to respond with words or pictures on the back. We've tried deploying them in a few different contexts but, frankly, without much useful take-up. Until this Saturday, I would have put this down as a failed experiment in data-gathering — somehow we'd never quite found the right context for them. But this evening, quite by accident, that context seems finally to have arisen, as this particularly engaged, responsive audience shared some intriguingly personal responses to the prompt "When I think of water…"
One striking factor in the responses is the way that water is associated by some respondents with occasions a long time ago, and far far away… As in the childhood memory, above, of a waterfall in Switzerland, or this recollection of the holy land…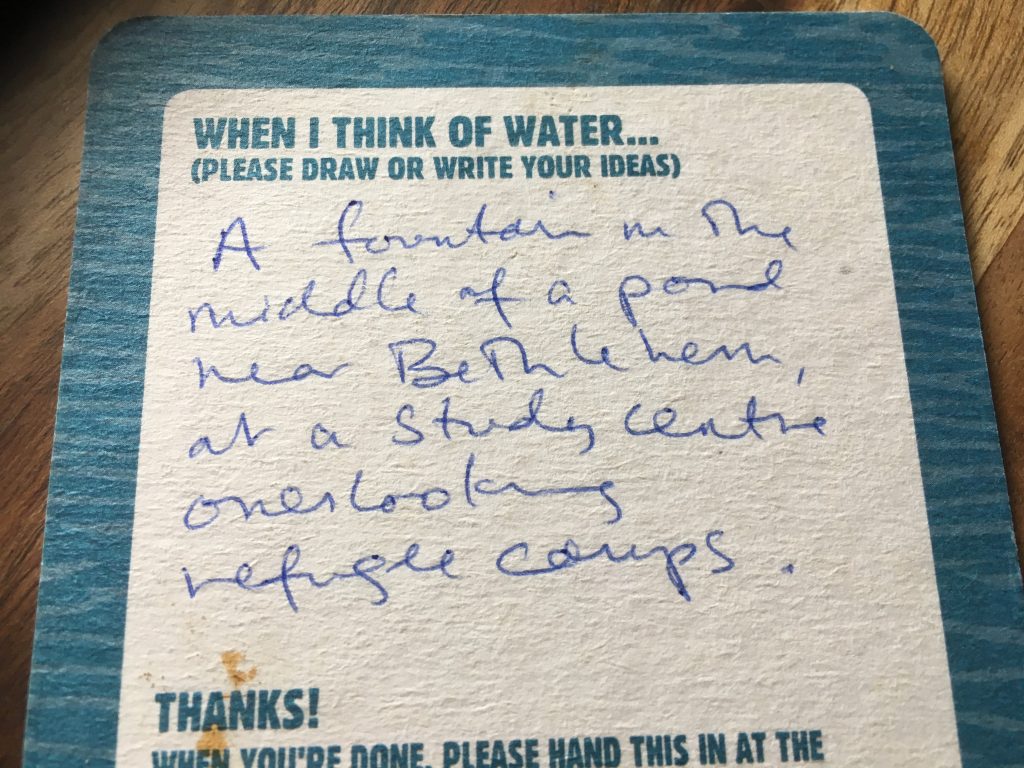 Water is also associated in the responses with simple, everyday pleasures like drinking and bathing, although these are thrown into sharp perspective by the respondents: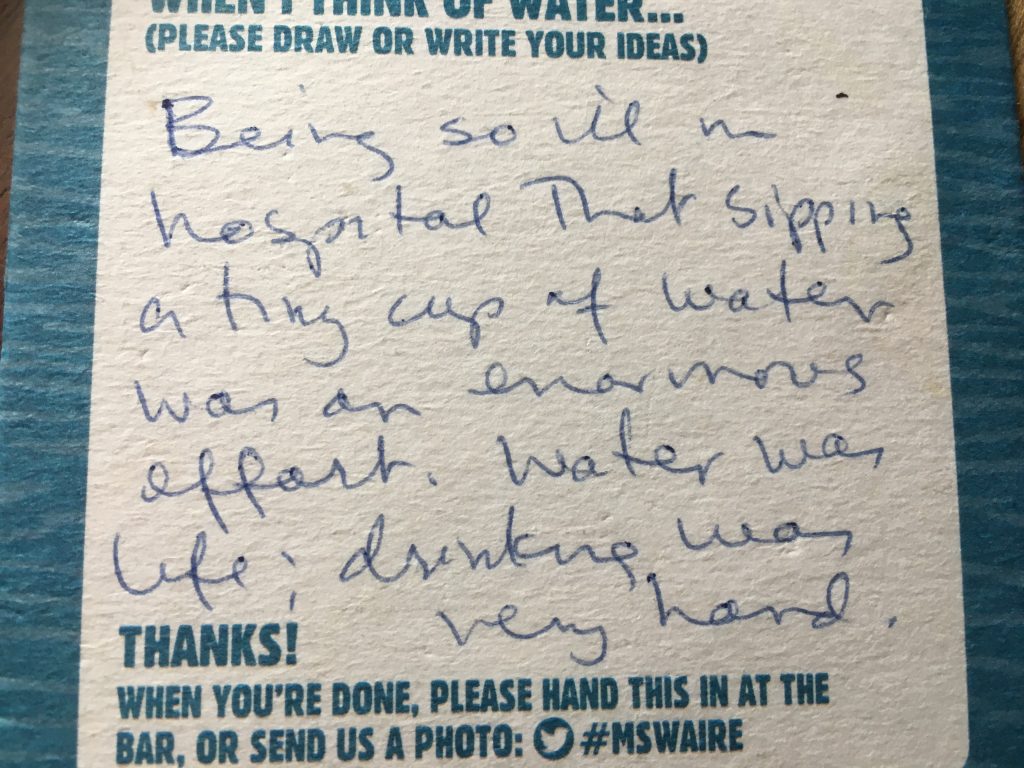 The mat below refers not to past memories but to the fear of losing the (privileged!) life we have now, in an era of prospective water shortages thanks to climate change: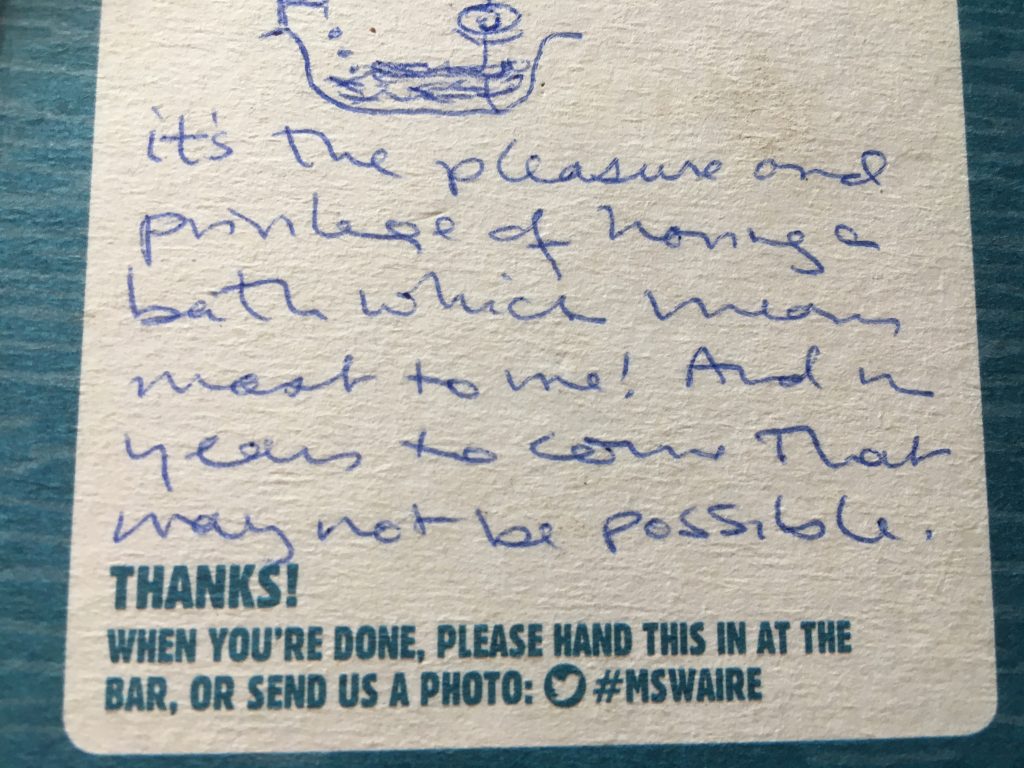 Finally, here's a sentiment that I can personally identify with very strongly…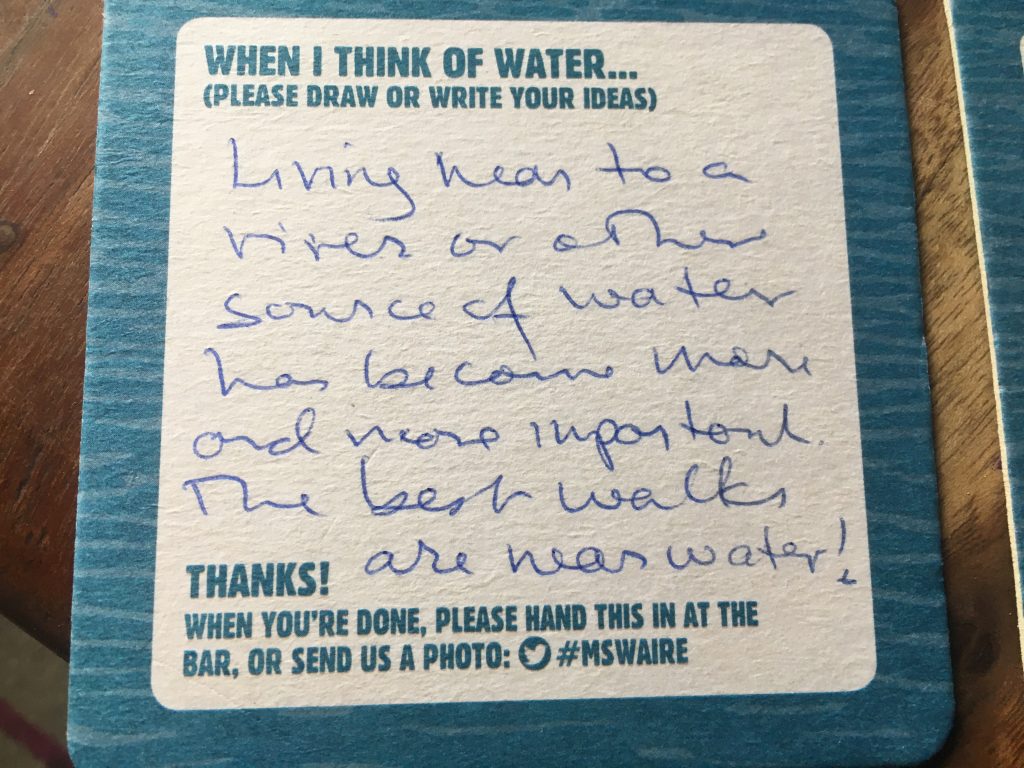 … In the years I've been working on this project, I've moved from Leeds to Manchester – where I've lived first in Sale, right next to the Bridgewater Canal, and now in Altrincham, where the house hugs the edge of a tiny stream with the delightful (twee?) name of Fairywell Brook. These choices on my part to live near water (and even, in the latter case, on a flood plain) have been deliberate, self-conscious choices arising from an intensifying sense of personal connectedness. Who knows, maybe this will turn out to be the most longest legacy of the whole project…
Thanks for coming, everyone. And for joining in the storytelling…