The weekend of June 26-28th is the Shipley Street Arts Festival, co-ordinated by our good friends over at Q20 Theatre. There's lots of activities and performances for all tastes and ages, many of them taking the river and canal as a watery theme…  We've got a hand in various events including the water flume demonstration near Shipley Library (from noon on Saturday 27th), and the duck race from Baildon Woodbottom Working Men's Club (1pm, same day), and on Sunday 28th there's a special screening of our short film Wading to Shipley at the Ibis Hotel. Multi-Story Water's main contribution to proceedings, though, will be this: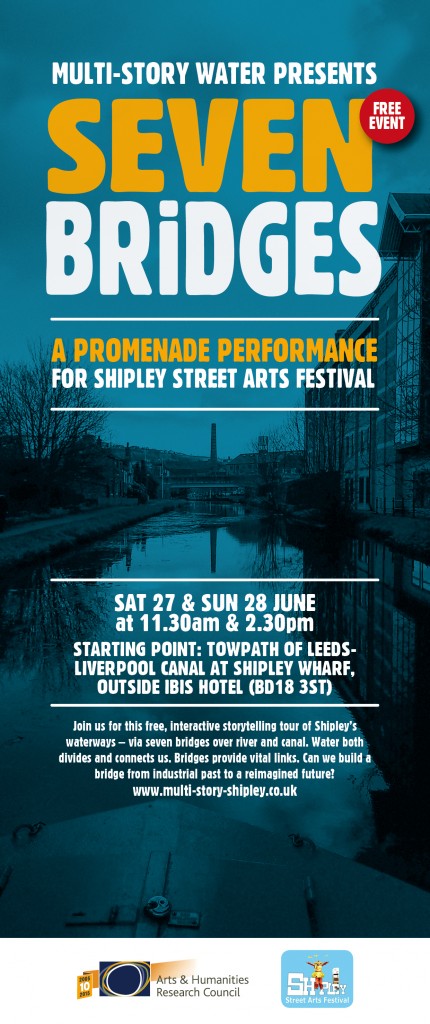 This new, interactive promenade performance will be directed by Simon Brewis, and performed by David Smith and Lynsey Jones. All three were part of our original, 2012 Multi-Story Water performances, and we're delighted to have them back for this project. The Seven Bridges include some obvious ones and some less obvious ones, so do come along and discover the trail… (it'll end up not very far from where it starts, you'll be reassured to know!)
Meanwhile, on the very same weekend, just a few miles downstream, the Leeds Waterfront Festival is taking place. So to create a bit of a conceptual "bridge" between the two festivals — and between Shipley and Leeds — we are also presenting this: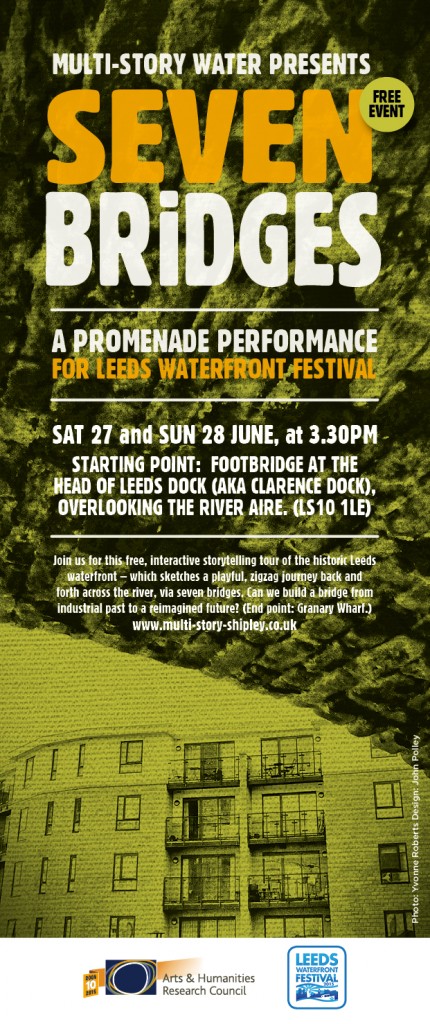 Now that's actually a photograph from Shipley (Amber Wharf flats viewed from under Junction Bridge, at Dockfield) but the designer liked the picture, and it sort of works for Leeds too… where there's a whole lot of new build flats by the water!
Anyway, the Leeds piece will be performed by Steve Bottoms, who will be supported musically by the very wonderful Eddie Lawler (the Steve and Eddie partnership is now a recurring one, and also dates back to our 2012 MSW performances). In theory, it's possible to see both Seven Bridges pieces in the same day, if you do Shipley at 11.30am and Leeds at 3.30pm. Or you can do them different days. You don't have to do both, of course, but they will, we hope, complement each other in interesting ways… And it is all free, so you can't go wrong!