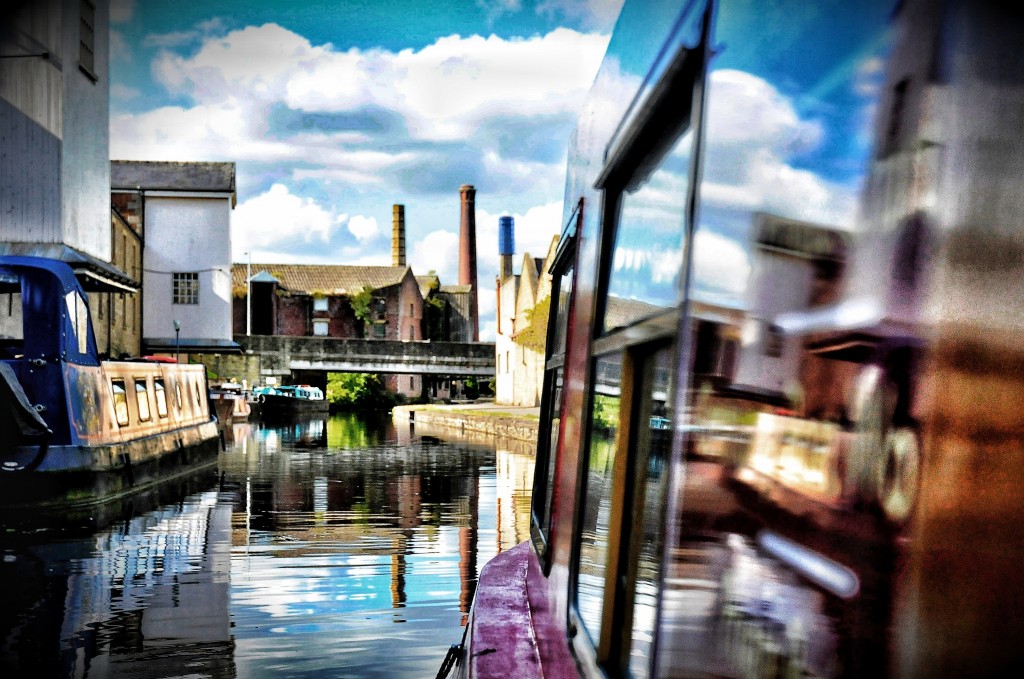 Blue Route is our "sit-down intermission" between the two walking routes (Green and Red), in the form of a canal boat ride with live music. We travel along the Leeds-Liverpool canal through what is sometimes referred to as "the Shipley Canal Zone" – moving from the rural surroundings of Hirst Lock, heading between Titus Salt's mill buildings, and then on into the heart of post-industrial Shipley – full of old mills, warehouses and wharfs. The journey takes us as far as the forgotten mouth of the Bradford Canal.
Starting point: the moorings on the upstream side of Hirst Lock, on the Leeds-Liverpool canal, near Hirst Mill Crescent (and close to the finishing point for Green Route). See map here.
Live music is provided on Blue Route by Eddie Lawler, "the Bard of Saltaire", who has dusted off some old canal shanties, and provides a couple of original songs of his own (one of them written especially for Blue Route!).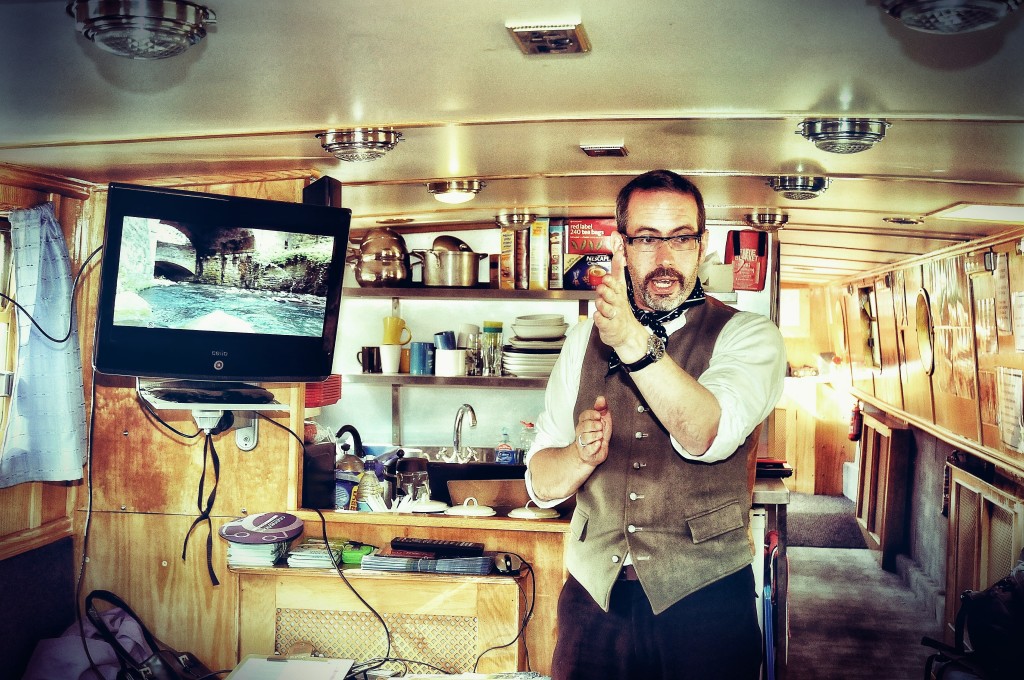 Your guide and narrator is Steve Bottoms, and our boat is the Angus Ferguson, a community barge based at nearby Apperley Bridge and skippered by Graham Thorpe.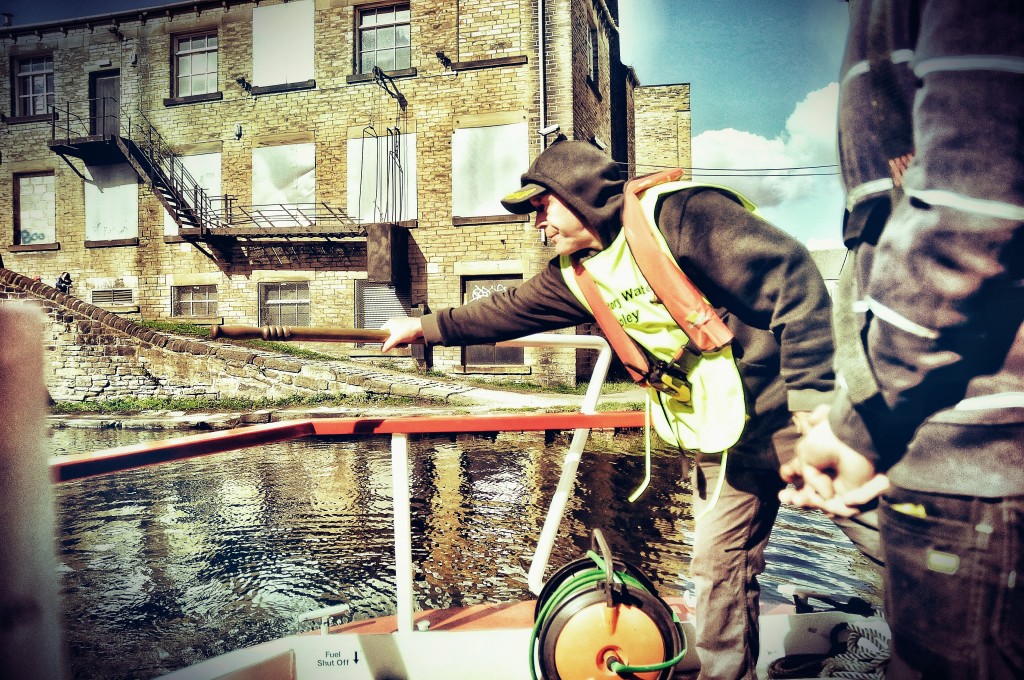 Travelling at a leisurely pace along the canal, participants are playfully invited to consider something of its history, to look at its current condition, and even to propose ideas for its future use.
Along the way, an aqueduct takes us over the top of Bradford Beck — sometimes still referred to as Mucky Beck or Black Beck, because it used to be so filthy. (We can't see it from the boat, but then much of Bradford Beck is invisible anyway – having for so long been canalised, culverted, hidden away like the sewer it once was...)
We then turn the boat around in the mouth of the Bradford Canal – an arm of the canal network that was long ago closed down and filled in, but whose foulness remains legendary! The journey ends as we tie up at the moorings opposite Shipley Wharf, where Red Route begins (if you're not joining us for that, it's an easy walk back along the towpath…).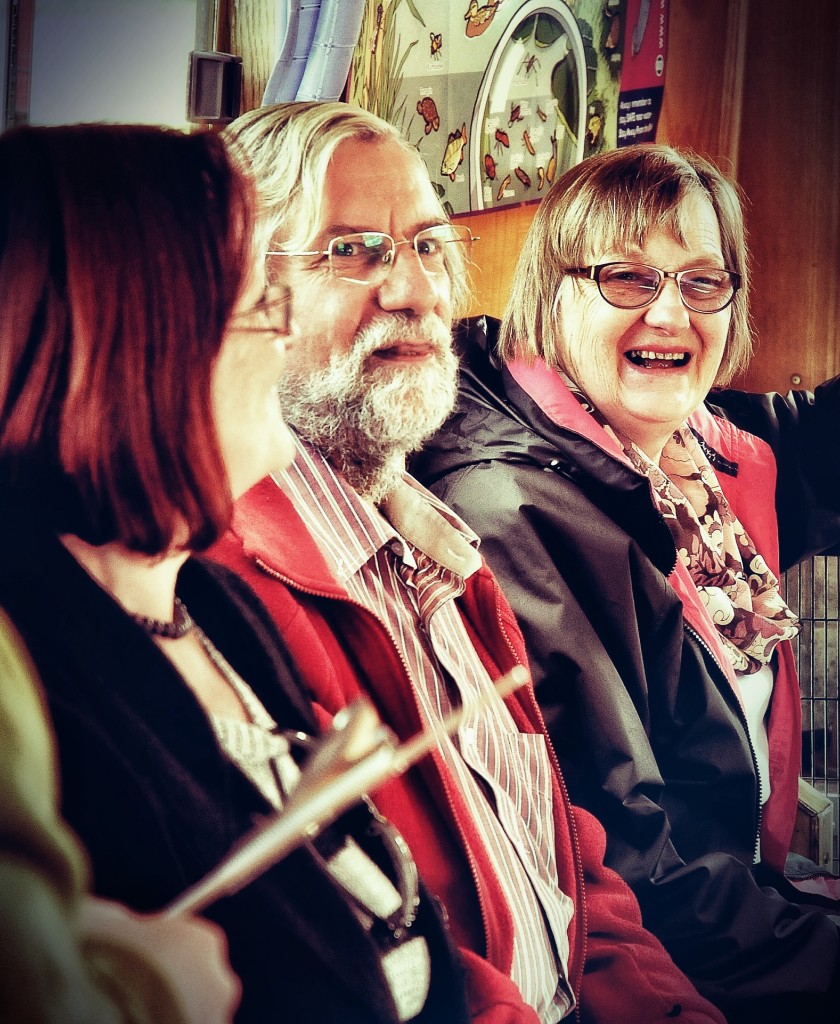 How to get here…
By train:   on arrival at Saltaire station (see guidelines for Green Route), walk up Victoria Road and then turn right onto Caroline Street. Follow this road as it turns into Dallam Street, and then take a right downhill along Hirst Lane, which ends at the Lock. (Alternatively of course, you can just walk straight up the canal towpath from Saltaire, but we're coming along that stretch in the boat, so you might not want to 'spoil' it..?)
By car:  there are limited parking spaces on Hirst Lane, and you are encouraged to park instead in Saltaire village (car park info here) and walk to the lock as per the instructions above.