I've been continuing, in recent weeks, to nose around Shipley and Baildon to get more of a sense of how the Boxing Day floods affected people in different areas. Come September, at Saltaire Festival, we'll be presenting a new storytelling piece called Wading Home for Christmas that will seek to capture some of these accounts in an engaging and pointed way. Last weekend I paid a visit to Aire Way, one of the streets off Coach Road which opens out onto the flood plain area east of Roberts Park. What the residents here told me really underlines just how narrow the margins can be in terms of who gets hit by flooding and who doesn't.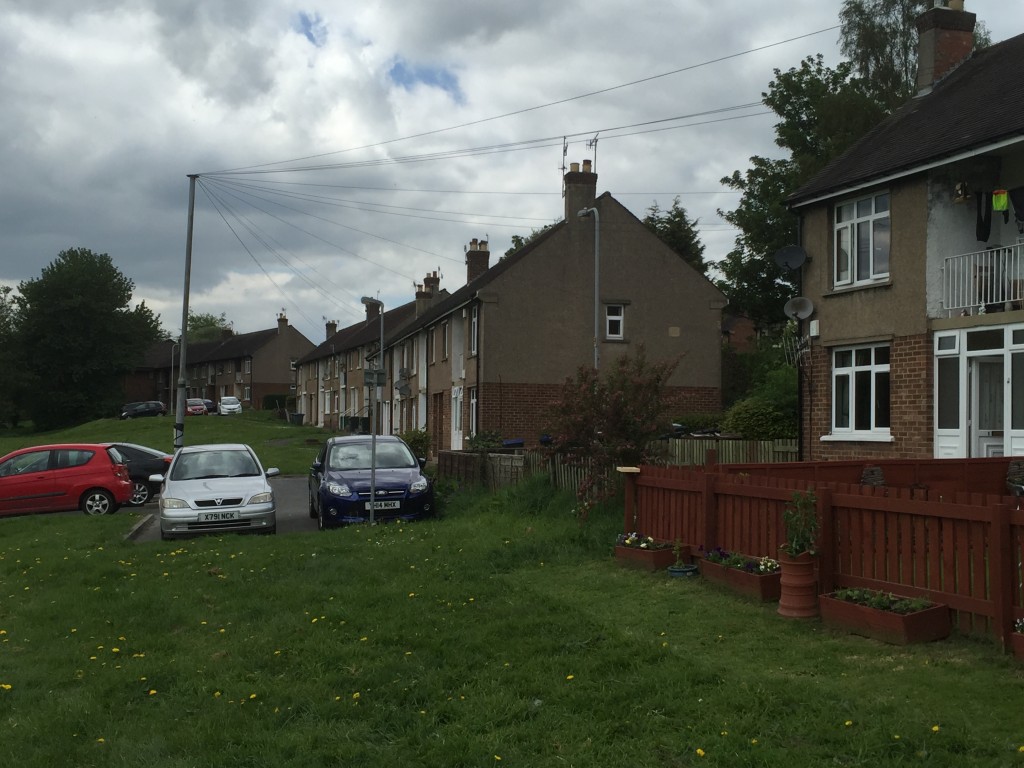 These are the houses on Aire Way — the gap in the middle is where the road comes in for car access — with the odd- and even-numbered houses extending from either side of this entry point. Here we're looking west, in the direction of the park. If you imagine taking the photograph above, and then turning through about 180 degrees, this is what you would see looking the other way….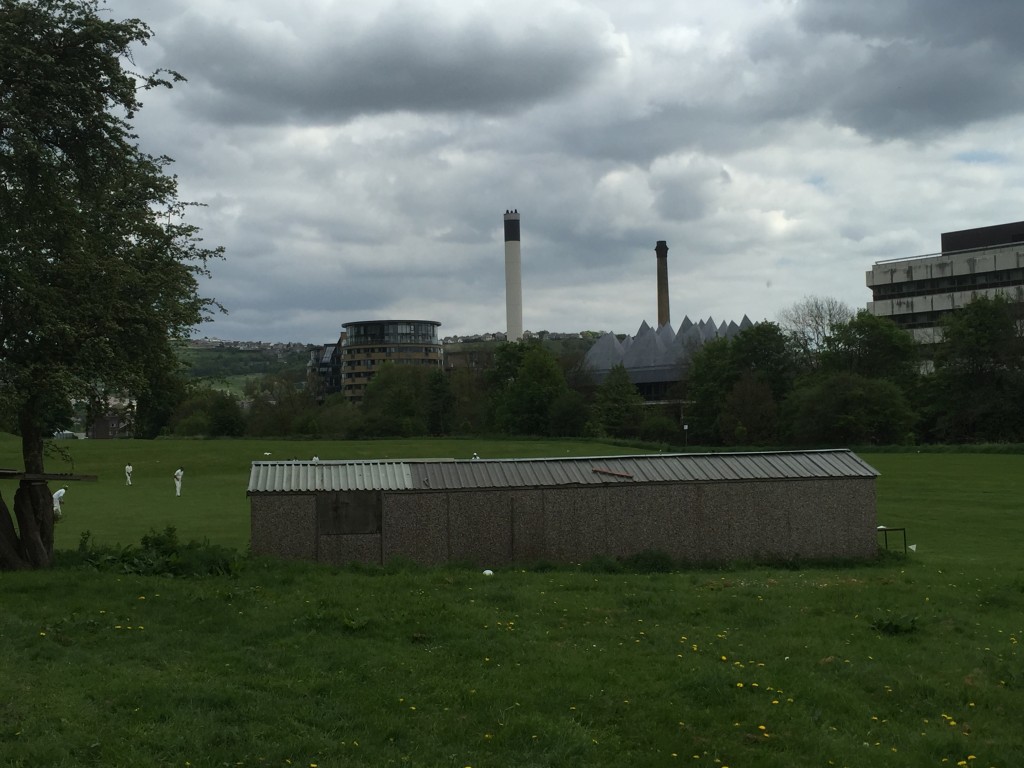 The line of trees in the distance marks the edge of the River Aire, with the large buildings all being on the other (Shipley) side of the river. Here you see one of the several cricket pitches that populate the local flood plain areas… But what's amazing to contemplate is that this corrugated tin cricket hut was — according to the residents — completely under water on Boxing Day. I said, what, completely? You couldn't even see the ridge of the roof? They said that's right. Back in 2000, when the last major flood hit, you could still see the roof — but not this time.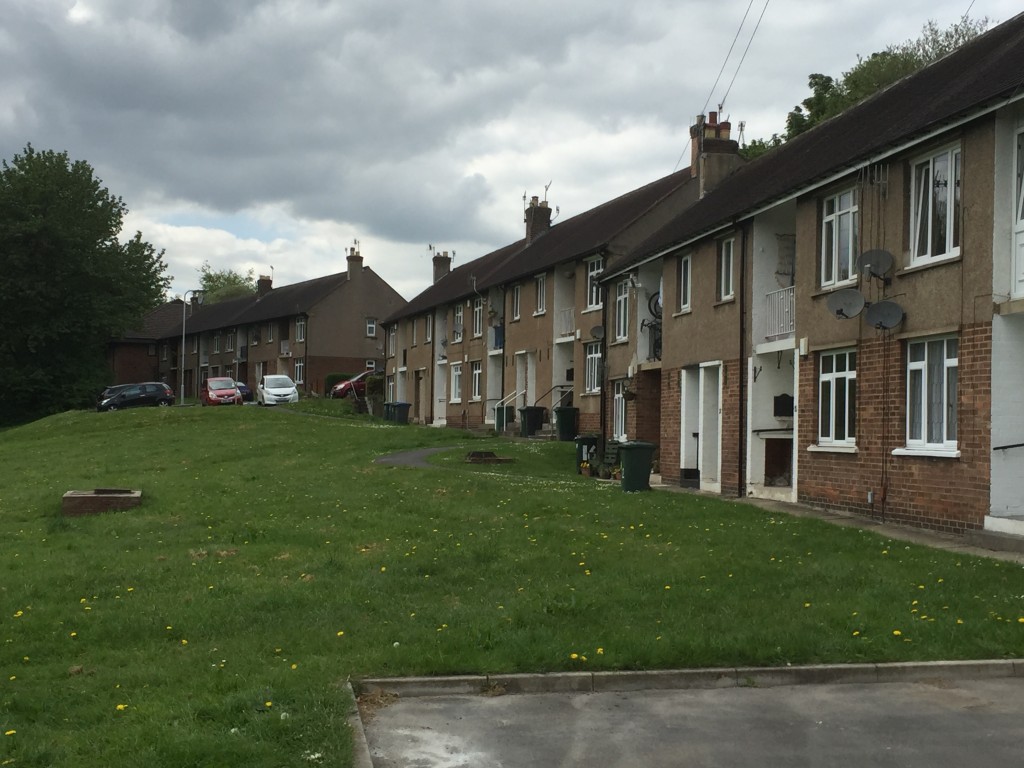 Taking a closer look at Aire Way, we can see a waterworks manhole in the grass just in front of the houses. This, I was told, is the point that the floodwater got to back in 2000. Just shy of the final slope. On Boxing Day 2015, though, the water came right up and into people's homes — filling the ground floor and flowing out of the back. It also came up through the foundations of the houses — quicker, in fact, than it arrived at surface level. Residents had to wade out of their homes, and some have only recently been able to return. But look at this…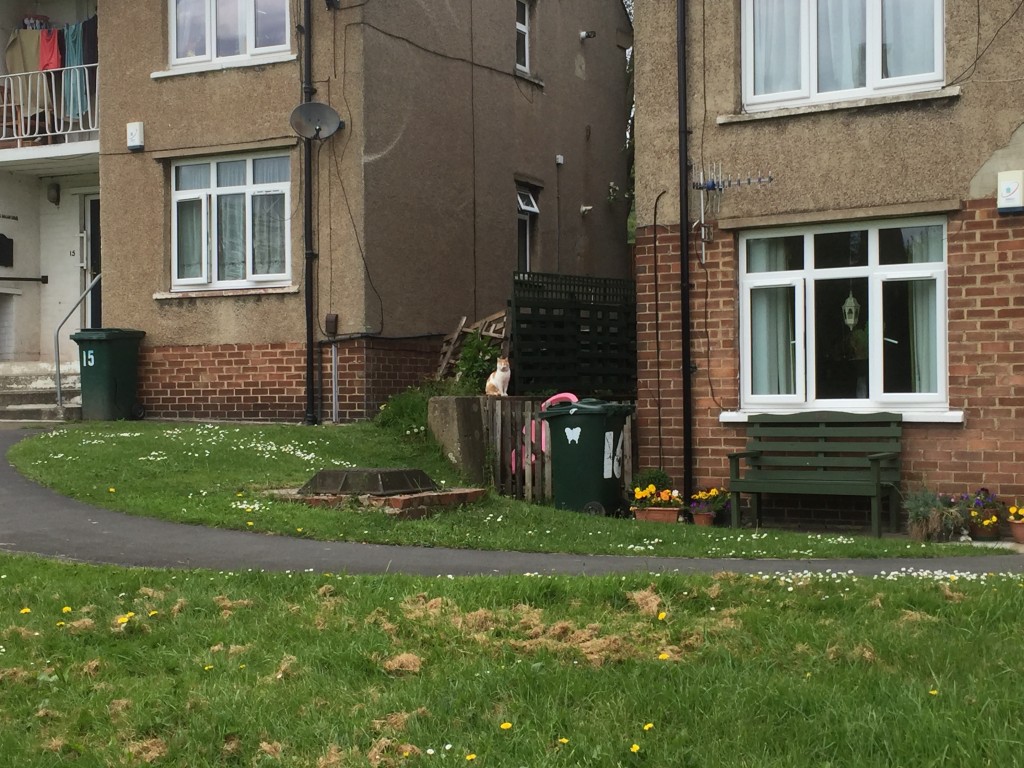 To the right in this picture is the most westerly house on Aire Way, and to the left is the most easterly house on Tennis Way (the next street opening off Coach Road as you head towards the park). As you can see, there's just a slight rise in the banking between Aire and Tennis, but this extra bit of height made all the difference. The homes on Tennis Way remained unaffected by the flooding — safe as houses.
Incidentally, the other people who were safe as houses were those living upstairs on Aire Way — who had a grandstand view of the flood from their balconies. These houses are actually split-levels, with the upstairs apartments being accessed by stairs leading straight up from front doors on ground level. So the worst the upstairs residents got was some damage to their stair carpets, but by all accounts, Bradford Council paid out its £500 per household in flood relief to anyone on this stretch who asked for it, regardless of whether they were upstairs or downstairs. One might question whether this money was really going where it was most needed.
If the level of the water made a big difference, depending on where exactly you live along here, it's also worth noting that seemingly small differences in residential status also really made a big difference. Aire Way and Tennis Way are still mostly (if not all) social housing stock — run by InCommunities. Among the residents I spoke to were Kenneth, who is a regular tenant with In Communities, and was really happy with the help that he received from them in the wake of the flooding. He was back in his repaired house by mid-March, and has no complaints. His only problem is that — like a surprising number of people living near the river, it seems — he had no contents insurance for his belongings, and so has had to fork out for an entirely new set of furniture.
However, just along the street from Kenneth is Chris. He did have contents insurance, but he also has his home on a 99-year lease from InCommunities (he's sort of halfway to being a home-owner). Being a leaseholder meant that Chris found himself right at the back of the queue in terms of getting the flood damage repaired. InCommunities were still responsible for sorting it, since ultimately they are the property owners, but they were apparently in no hurry to do so. Perhaps they were working on the basis that Chris can't move anywhere else because of the length of his lease. So Chris literally just moved home two weeks ago — mid-May — after nearly five months being put up in Abbey Lodge guest house, up on Kirkgate in Shipley. He was still unpacking boxes when I met him…
Speaking of which, here is Margaret Wright — an old friend of this blog. She normally lives on Lower Holme, off Otley Road — near the new Wickes. But I took this photo in April, when she was still living in a room at Shipley's Ibis Hotel (just by the canal).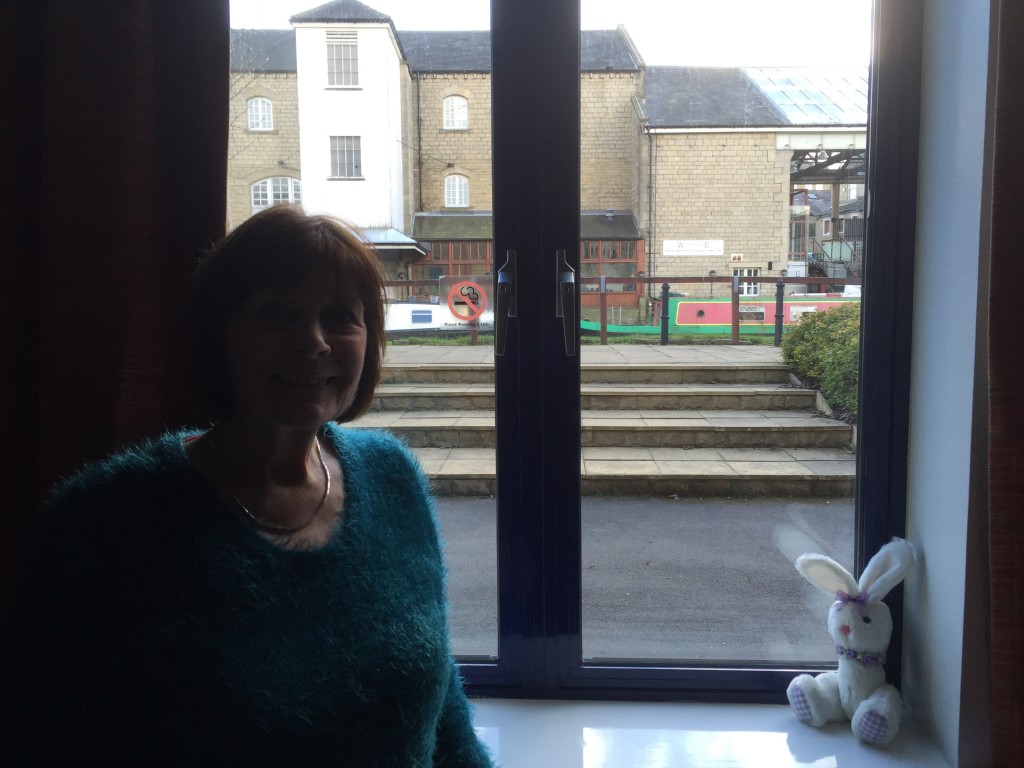 Margaret finally moved home on April 28th — after being stuck in the Ibis for four months, without even any self-catering facilties. Her housing association, Accent, gave her and her grandson James a daily allowance of £25 between them to feed themselves … which, needless to say, doesn't go far when you're eating out all the time. Even so, this and the hotel bills do add up, and as Margaret points out, you would think it was in Accent's interests to have got her back into her home quicker than this! And unlike InCommunities, it was not even as if Accent had the excuse of having a lot of clients to deal with after the flooding. They admitted to Margaret that they had just one other property in the area — in Bingley — affected by the floods. But this very lack of impact on them as an organisation seems to have led to a general lack of concern.
The particular irony is that the water didn't even reach Margaret's house at ground level. It's set back far enough from the river that the only impact was from water coming up through the basement. Margaret's neighbour Lynda had exactly the same situation, but remained safely in her home throughout (despite losing power for six days around New Year). However, where Lynda's ground floor had apparently been reinforced on some previous occasion, Margaret's had not. Yet another small difference that made a very big difference… Margaret's kitchen and living room floors were undermined by the flood water, and caved in. It then took four months for Accent to get it fixed — although the actual working time, Margaret says, was a matter of only three weeks. The rest of the time was simply taken up with interminable bureaucratic delays, for the visits of loss adjusters, surveyors, and God knows what. And no doubt for the paperwork to sit around on a pile for a while, until it got attended to. Margaret had been almost six weeks in the Ibis before anyone even began to do anything to the property…
Fortunately, Margaret is able to joke about her experiences as a kind of black comedy — but the strain on her has been clear to see. She's in her later sixties, and suffers from arthritis – and you would think that, as a resident of 33 years, Accent had a duty of care towards her. Instead though, their attention to the house has been all about the "margins"… Costs have been cut at every opportunity, especially on the finish, so that Margaret has had to vociferously complain about idiocies such as an ugly gas heating pipe being run along her living room wall above the skirting board. (If you know how beautifully she has always kept her home, you know just how much of an insult this is.) The final straw, though, was when she discovered that her living room window blind — one of those nice, wooden-slatted ones that cost well over £100 — had mysteriously lost its draw-string and so been rendered useless. A workman eventually admitted to having cut it off so he could use it as a plumb-line. This completely unnecessary bit of criminal damage resulted in Accent having to pay out for a brand new blind. As Margaret remarks, "If you pay peanuts, you get monkeys." It's all about the margins…
If you leave Margaret's house, at the bottom of Lower Holme, and walk the short path down to the river, this is what you'll come to…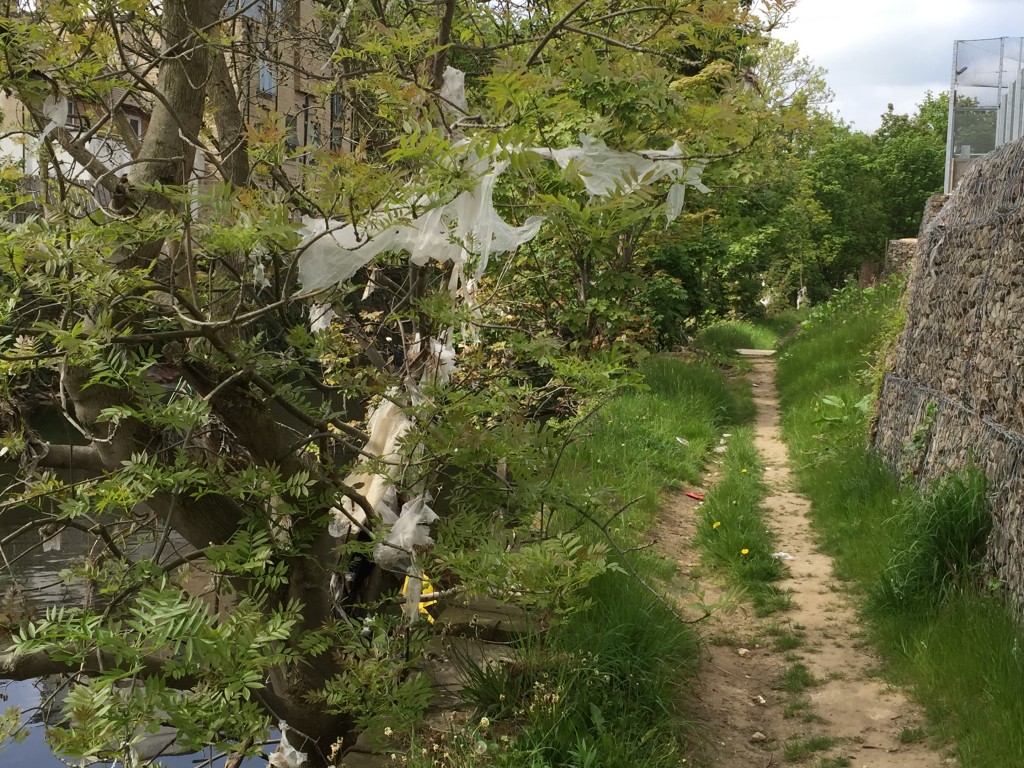 The brand new flood wall on the right, installed just last year before the Wickes opened, was overtopped on Boxing Day. The debris still caught in the trees (and this photo shows just one sample of a problem all along this stretch) indicates just how high the water came, but also just how long it's now been left unattended to… This is the stretch of river that became nationally visible at Christmas, when the TV news played cameraphone footage of a caravan being smashed into the footbridge at the bottom of Lower Holme. But most of the rest of the time, this is a pretty neglected stretch of river. Out of sight of the general public, out of mind of the authorities… It'll take a volunteer effort, in all probability, before this lot is cleared.
Floods, it turns out, can make you cynical.