After a year largely spent doing other things, it was a pleasure to return to the Bradford area this weekend to reprise my ongoing, water-themed double-act with singer-songwriter Eddie Lawler at not one but two local festivals. In the end, I think it's fair to say that our Sunday gig (September 9th) was more enjoyable than Saturday's — but ironically enough that's mainly because of water… On Saturday (8th) it was pouring down out of the sky with enough force and frequency to, er, dampen anyone's fun…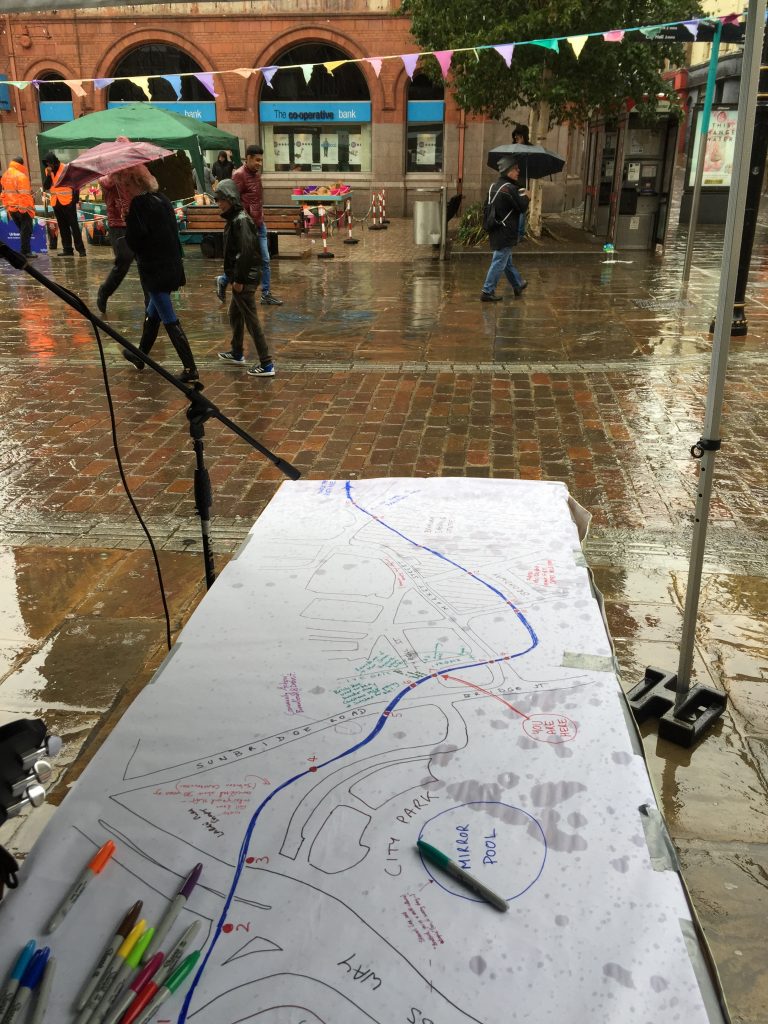 This was my vantage point on Tyrell Street for much of the afternoon. Eddie and I were supposed to be singing songs and telling tales of Bradford Beck, as part of the weekend's Bubble Up festival — a water-themed arts extravaganza which had events dotted all around Bradford's city centre. I was also attempting a bit of story-gathering as well as telling, by using a hand-drawn map of the city centre — showing the Beck's hidden journey under its streets — and inviting passers-by to add their own annotations about memories of city centre locations. The memories added went as far back as 1968, but the map didn't get nearly as populated with text as I had hoped, because (as the picture tells you) the footfall from shoppers was poor and getting poorer all afternoon — even as the rain poured and kept pouring…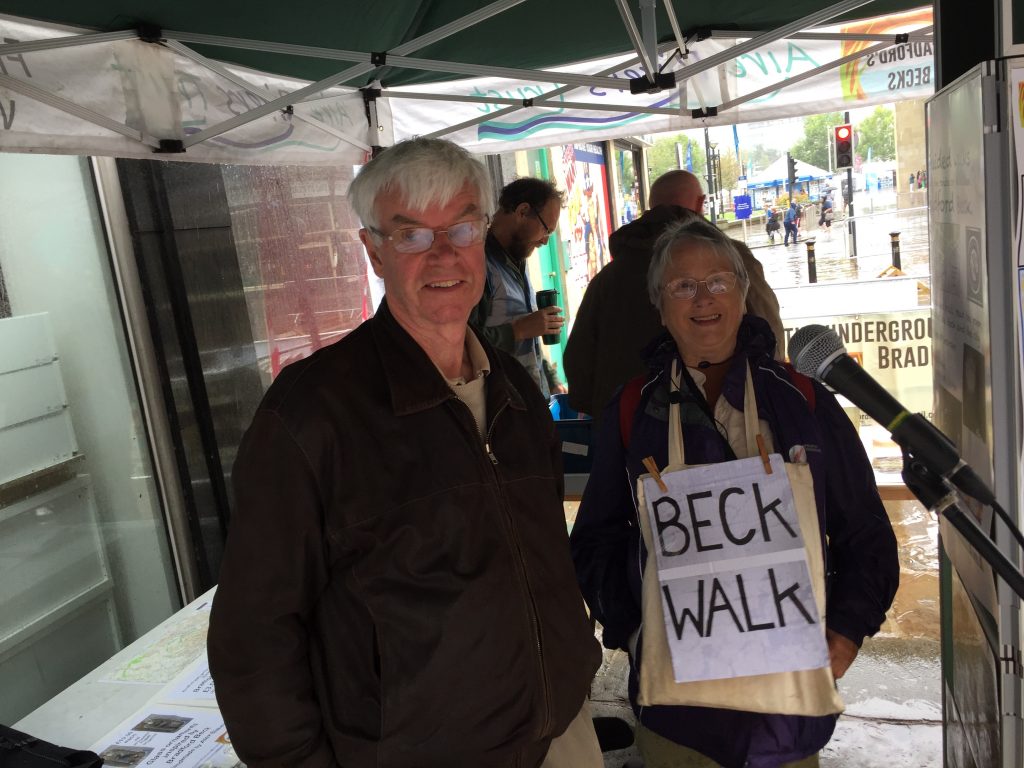 Here's Eddie, smiling as ever, and undaunted by the weather, even though there wasn't — in the end — much meaningful opportunity for him to use that microphone to sing. He's huddled under the Friends of Bradford's Becks' portable gazebo, along with fellow Friend Elizabeth, who was timetabled to lead walks along the route of the Beck through the city centre — via the plaques that are now placed in the pavements at key intervals.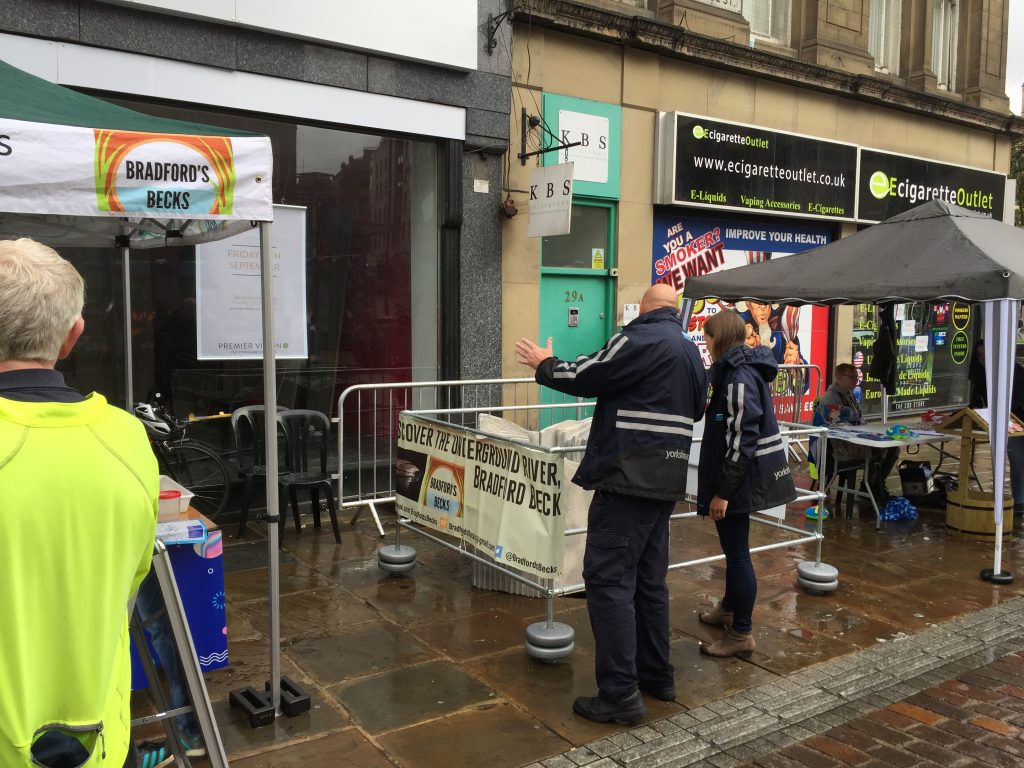 Just past the gazebo, FoBB had opened up a manhole cover and surrounded it with a safety fence — as well as a polystyrene mock-up of a slate sculpture by Alex Blakey that's being planned as a permanent feature… By looking down the hole, you can see Bradford Beck streaming by beneath the street. Although only the most educated observer would be able to distinguish the beck from a storm drain, passers-by were nevertheless intrigued when told that this was the hidden river around which the city was first built….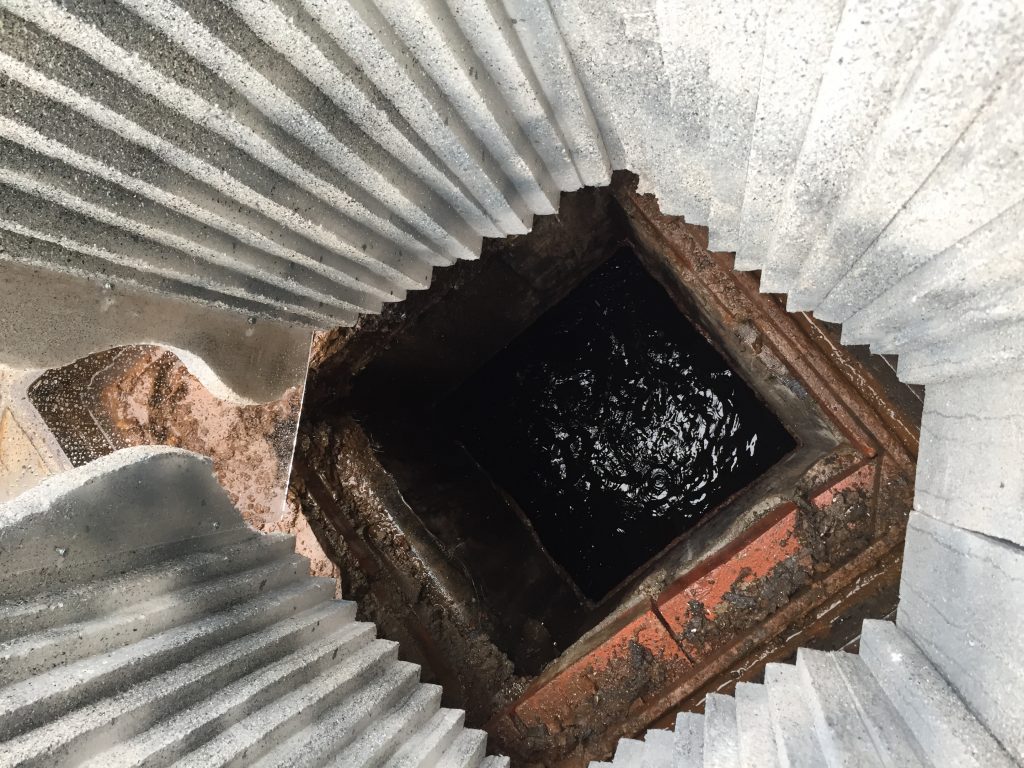 Across the street in Bradford's City Park area, there were more under-trafficked gazebos and marquees, including the one from which Bradford Community Broadcasting (BCB) was live-casting for the day. Eddie and I took time out from our stall location to speak with host Mary Dowson — who was as engaging and on-the-ball as ever — about how and why we both got involved in using the arts to talk about water.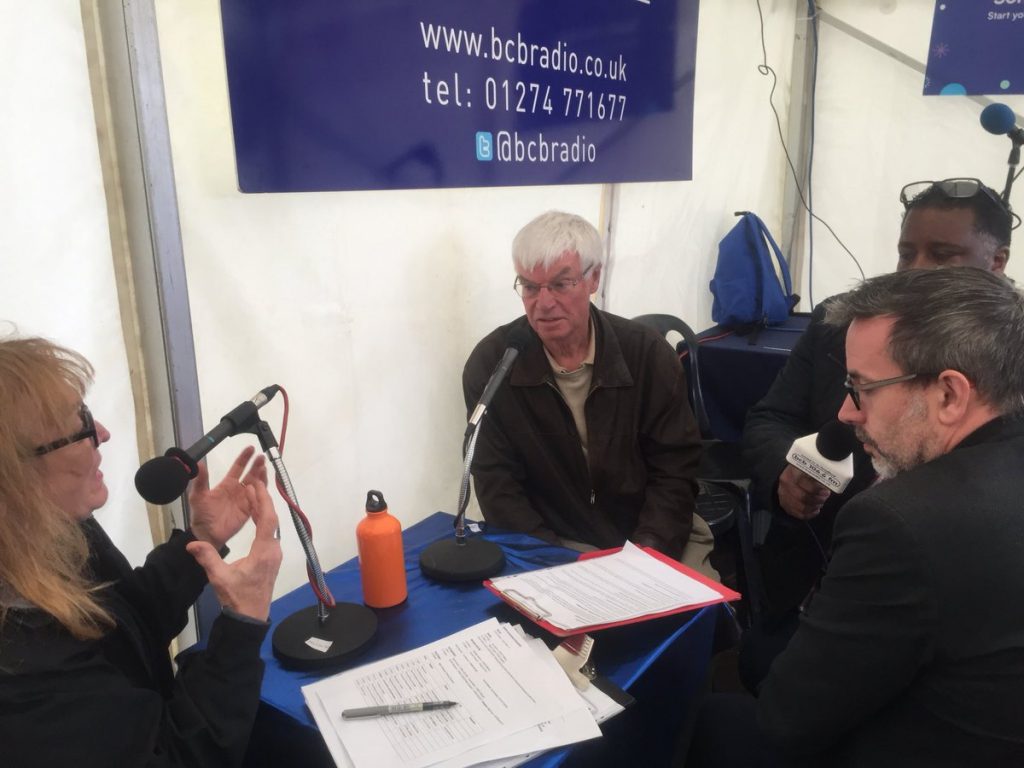 It was actually really interesting to talk with Mary immediately after she'd interviewed David Clapham (below, left). David is a scientist and water specialist who used to work with Bradford Council: he was really excellent at talking about the material and dynamic properties of water, in an engaging rather than a "dry" way (sorry). Eddie and I were then able to follow up from the cultural point of view, by talking not about "water" singular but about "waters" plural — as they were traditionally thought of, in the days before H2O was seen as a unified resource. (Of course waters still do vary in property and character from place to place, depending on mineral qualities etc.) Eddie's songs often give particular watercourses personal identities, by singing in the first person: "My name is Bradford Beck… If you're wondering what the heck I'm doing singing this song, it's cos I have to roll along, incognito… Beneath the city streets, with no credibility…"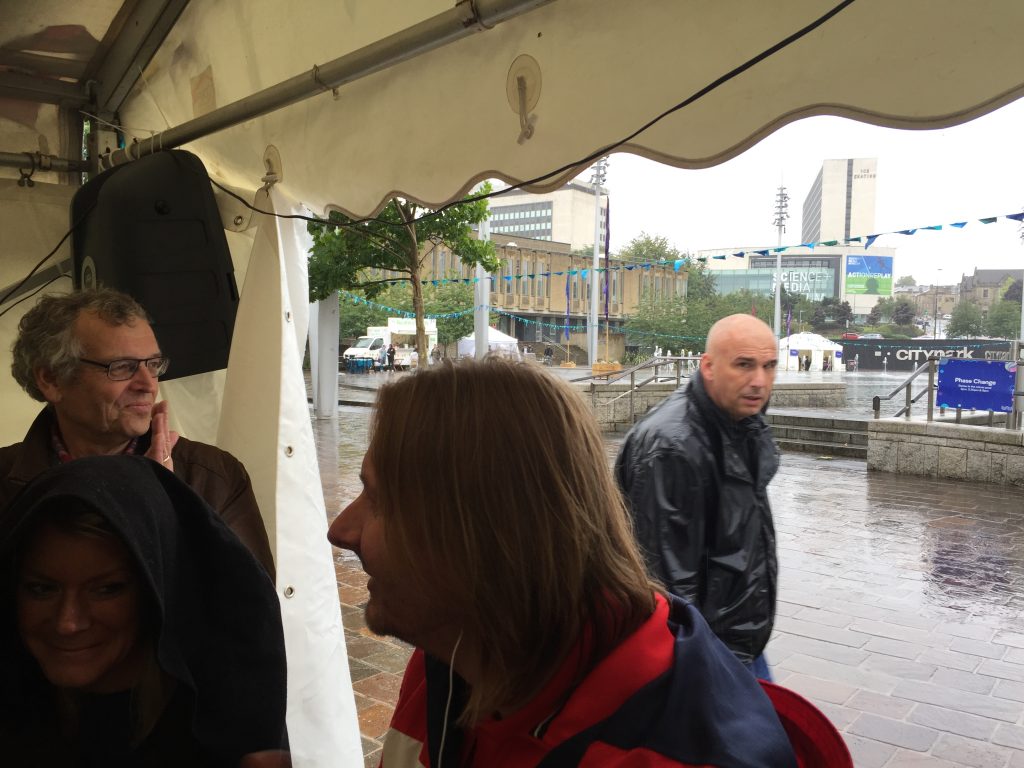 Alas, as you can see from this shot, our time in the BCB tent coincided with one of the heaviest of the afternoon's downpours, which left City Park itself pretty much deserted. I do hope this wasn't too disappointing for Bubble Up's organisers, from the Brick Box community arts organisation. Some of the Brick Box team were there, in the BCB tent, in their distinctive water-themed wigs, trying to make the best of the situation…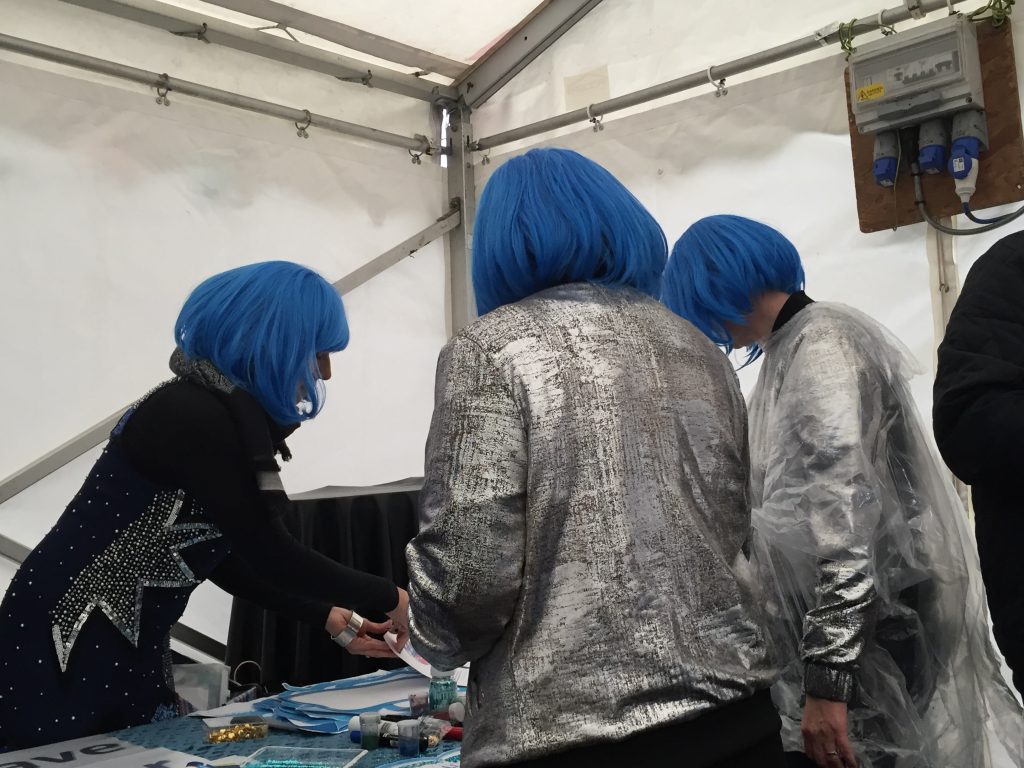 The weather was generally a lot better on Sunday (yesterday) than Saturday, so I do hope Bubble Up bubbled a bit better with some sunshine… By then, though, Eddie and I were off on our other festival weekend mission. presenting a musical walking tour for Saltaire Festival, titled The Ballad of Little Beck.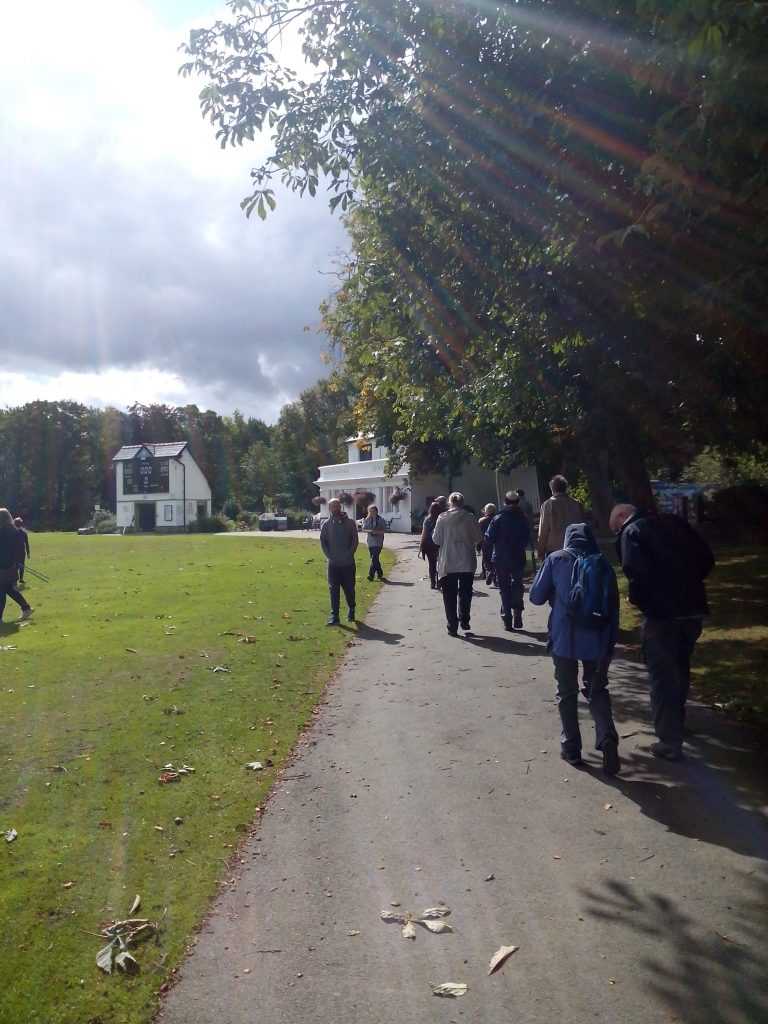 This was Roberts Park, in Saltaire, shortly before 12 noon, with the sun very much shining. Starting at the park's bandstand, Eddie and I welcomed an audience of 15 or 20 intrepid walkers, who had come along to journey with us along long watercourses towards the ruins of Milner Field mansion — the "lost" country home of Titus Salt Jr.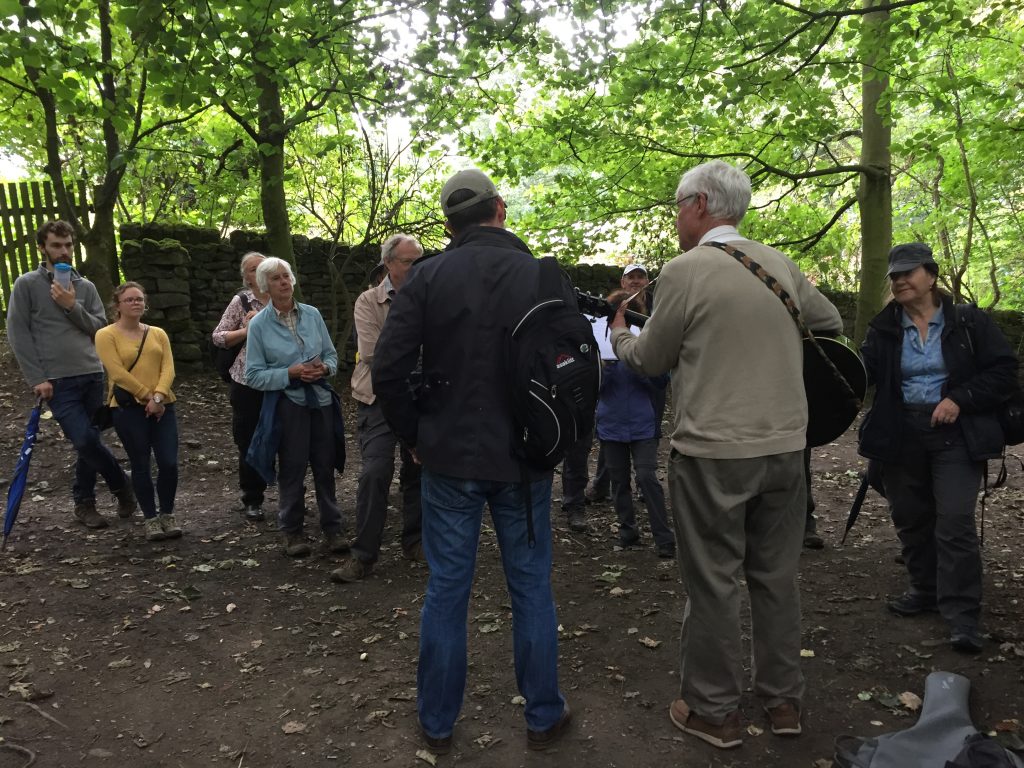 The walk was in some ways a "live remix" of parts of the Salt's Waters audio tour (still available for download!) that Eddie and I made the other year. Our title, The Ballad of Little Beck, came from the song of the same name that Eddie wrote for the audio guide, and which tells the story of the Milner Field mansion from the point of view of the small brook that flows through the grounds and was once dammed by the Salts to make a boating lake (again: river songs in the first person!). But the balladeering theme was taken in a different direction for this new walk, as we performed a selection of poems along the way, by local poets of the Salts' era. In the picture above, Eddie is singing — to a tune of his own devising — the poem "Come to Thy Granny" by dialect poet Ben Preston, who built the Glen pub in Eldwick. We didn't go quite as far as Eldwick (that would have been a long walk), but instead performed this on the path towards Eldwick, just before we turned off in another direction.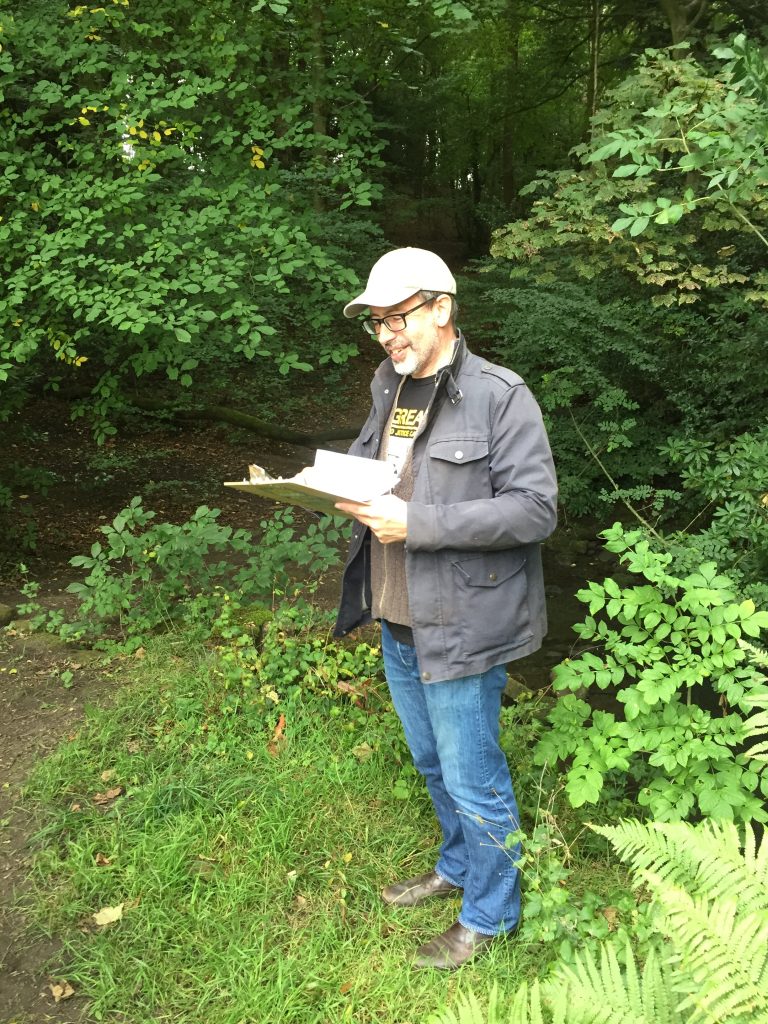 A little further along the route, here I am performing John Nicholson's poem "Bingley's Beauties". (Thanks to Ruth Bartlett for these pics, by the way.) Nicholson was a mill worker and poet apparently loved by Titus Salt Sr., but he died in 1843, before Saltaire itself was built, when he drowned while crossing the River Aire en route to visit his aunt in, yes, Eldwick (we had traced his steps in this direction from Saltaire). As you can see from the picture below, at this point we were standing directly over Little Beck itself — halfway along Sparable Lane, heading towards Gilstead (in the parish of Bingley).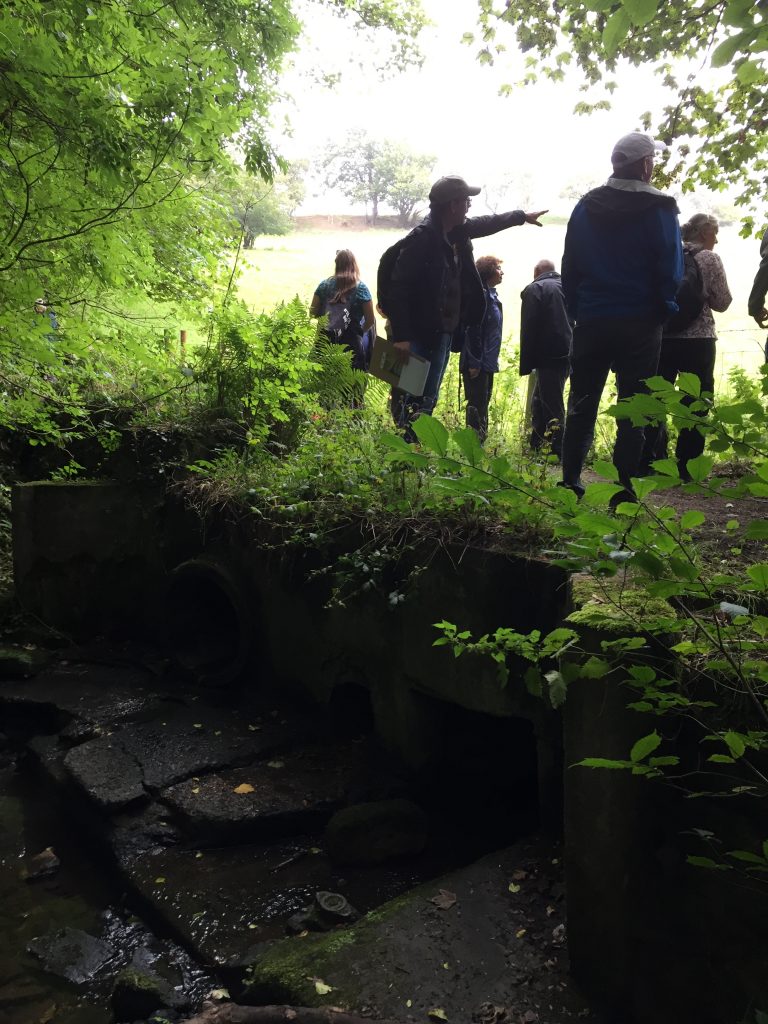 Heading further along Sparable Lane, we turned at corner of the walled gardens on the edge of the Milner Field mansion estate (below). By this stage, the weather had turned towards rain — as you can see from the umbrellas — but we were largely sheltered by trees and it was actually rather nice to get the cooling rain after the walk uphill. The rain then subsided soon enough (unlike the day before…).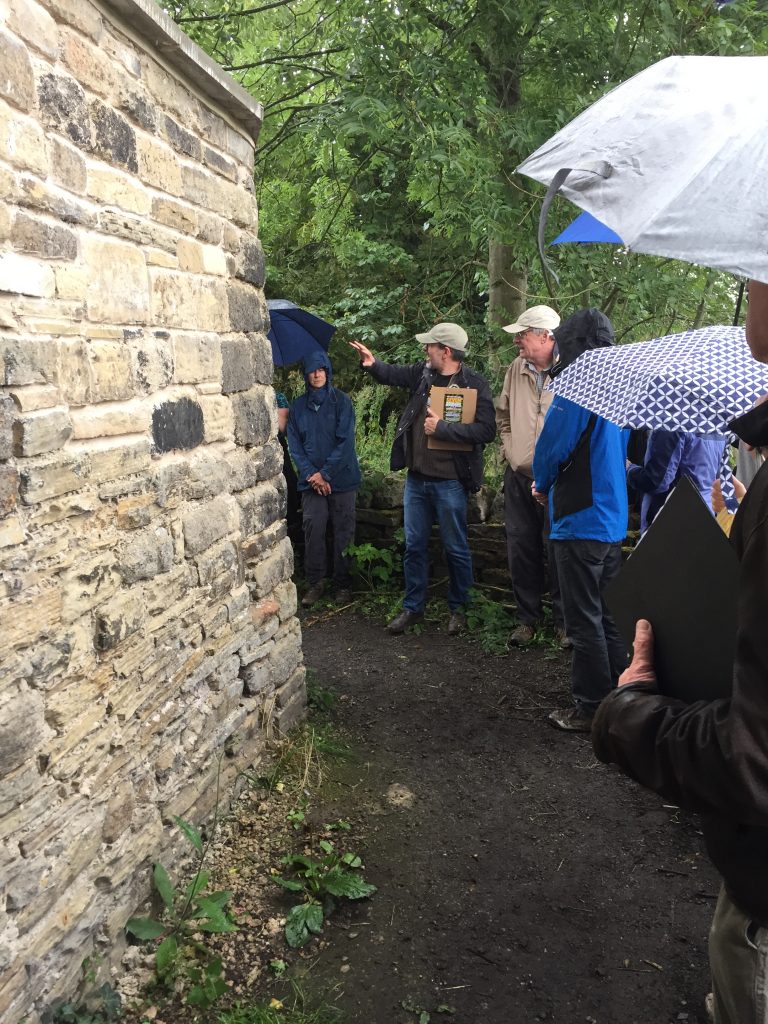 Having reached Gilstead, we paused momentarily to consider the blue plaque commemorating Sir Fred Hoyle — famous son of Gilstead, world-leading scientist, and a poet of a different kind… (On radio in 1949, he coined the term "Big Bang" as a put-down to the recently-developed theory, only for it to stick as a descriptor!) Then finally we came to the Milner Field estate…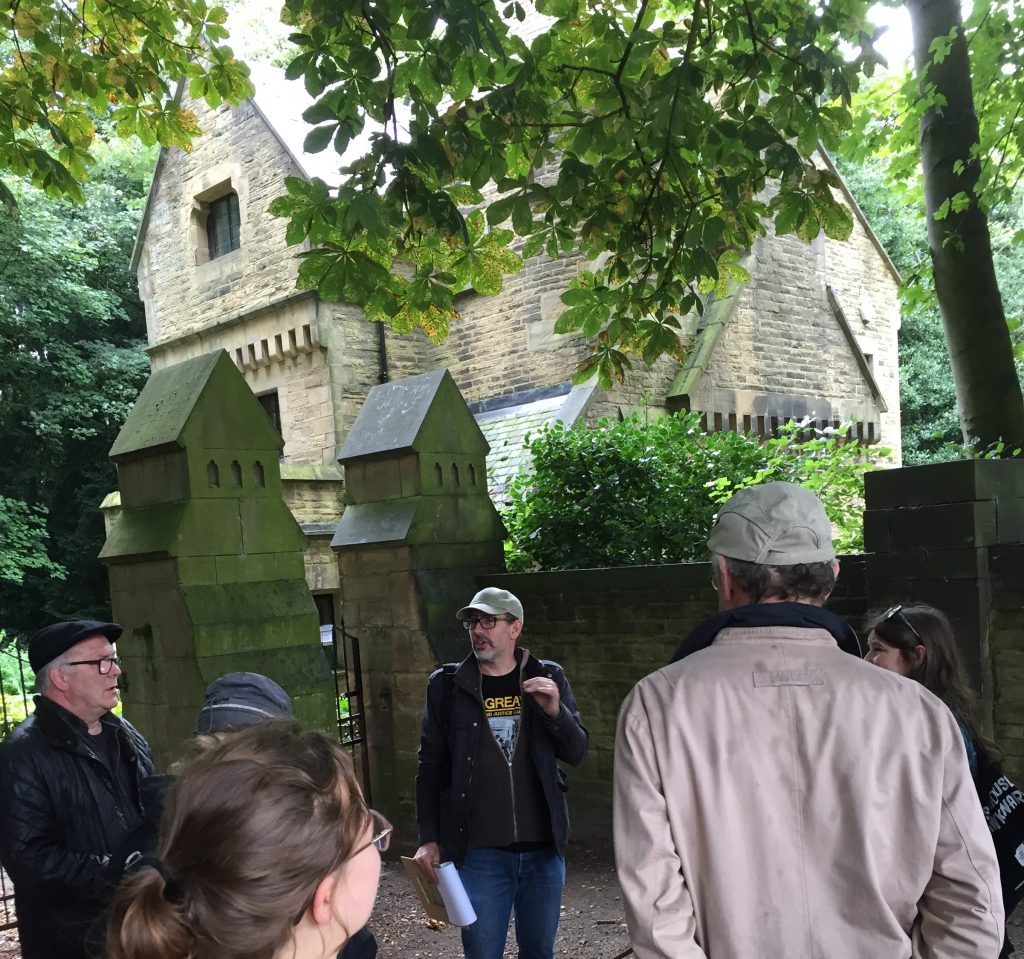 … here we paused at the entrance gate and gate lodge ('North Lodge'), which is the best remaining indication of the architectural style of the now ruined mansion. And then it was into the woods to find the ruins themselves… Some of what we found there is recorded on some video clips collected here.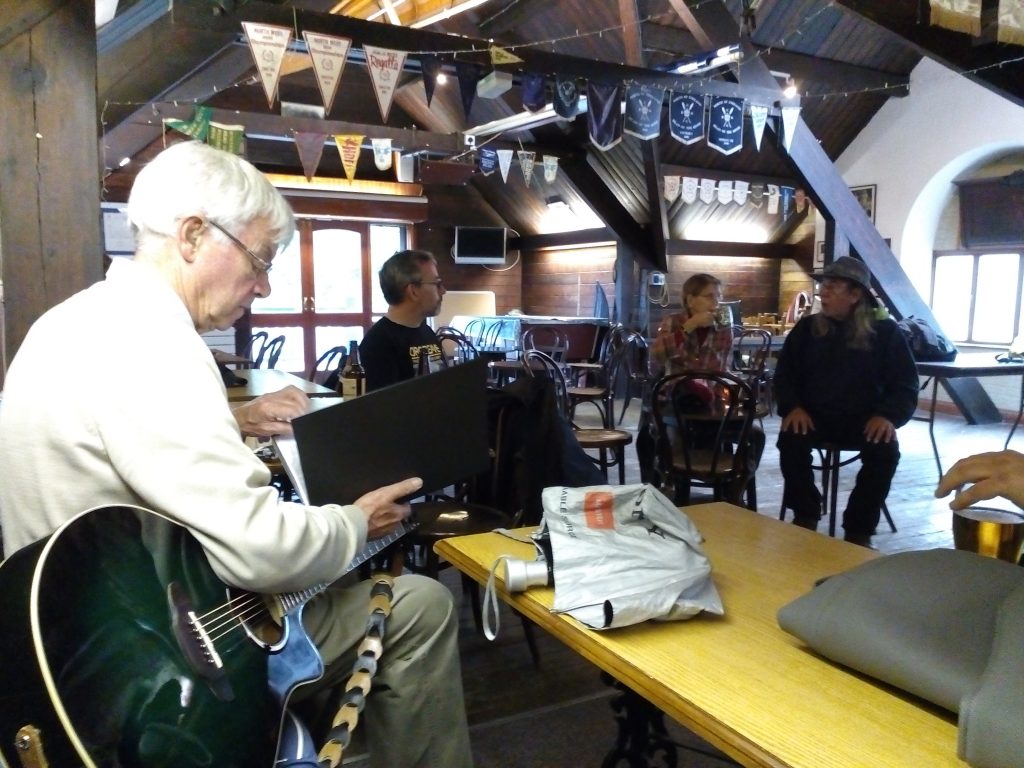 After making our way back downhill through the Milner Field estate, we finished up the walk with a visit to Bradford Amateur Rowing Club's clubhouse — where we shared a drink and were treated to a number of additional songs from Eddie (who even took requests). The picture above (showing Eddie, me, Molly Kenyon, Rob Martin … others were at the bar at this point!) is courtesy of Denise Boothman, who sent it over to me by email with a note saying "Thanks once again for a fascinating and enjoyable afternoon." We certainly enjoyed presenting it… Thankyou Saltaire Festival for inviting us to present.