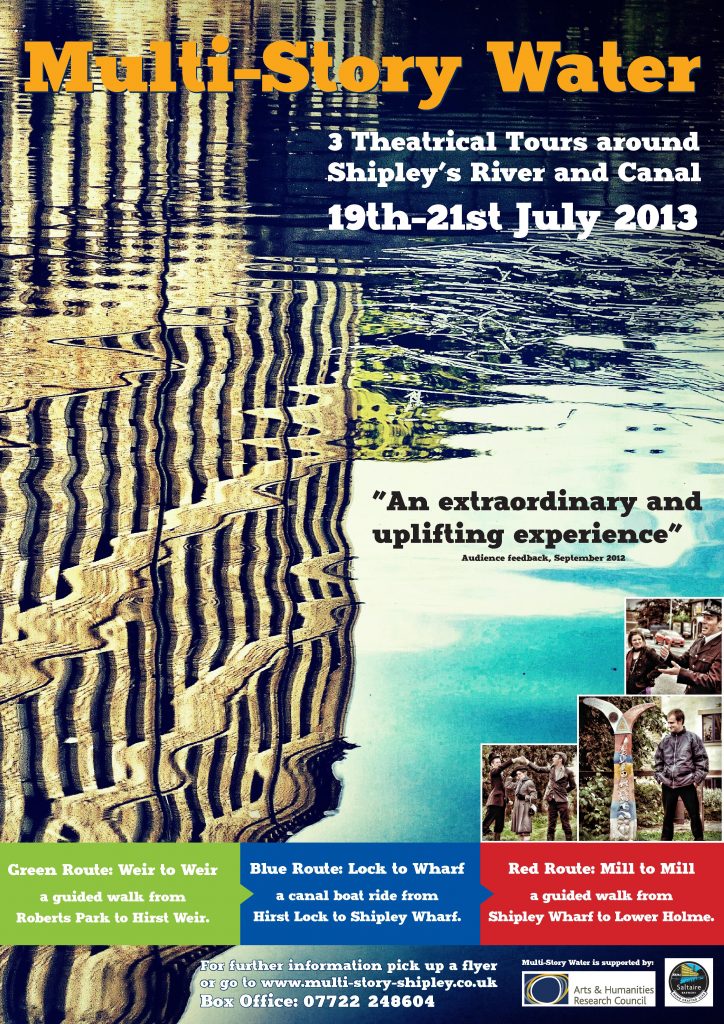 Our original Multi-Story Water theatrical tours of the Shipley area were created for performance in September 2012, and then revived with some revisions in July 2013. On both occasions, they took place in three interlocking parts, which were presented five times each over the course of a single weekend (once on Friday, twice each on Saturday and Sunday). Each part ran for about an hour, and spectators could choose to experience all three as a single 'cycle' or to come along to different sections over the course of the weekend. The three parts were:
Green Route (Weir to Weir) was a walking tour which began in Roberts Park and worked its way west to Hirst Mill, via the Higher Coach Road estate.
Blue Route (Lock to Wharf) was a canal boat ride which picked up boat passengers at Hirst Lock, and journeyed east — via Salts Mill — to the mouth of the filled-in Bradford Canal, at Dockfield, before returning to moor at Shipley Wharf.
Red Route (Mill to Mill) was our second walking tour. Participants were met off the boat at Shipley Wharf, and then led back to the riverside path, via Victoria Mills, and east towards the vacant site of the former Lower Holme mill.
We also created Junior Blue in response to popular interest in a more family-oriented boat ride.
For more details of each part of the tour, see the individual page links. In addition, this blog post offers a detailed reflection on the July 2013 performances, with further photographs.
Public feedback on the tours can be viewed here for September 2012 and July 2013. A formal report on the project can be viewed here.