It was very, very exciting to see this happening this week, along the riverbank, on the 'bottom field' of the Higher Coach Road estate… (Thanks to Vicky, of HCR Residents' Group, from whom I've stolen this picture… I like the way it takes in Salts' Mill in the background … the river is unseen to the right, of course.)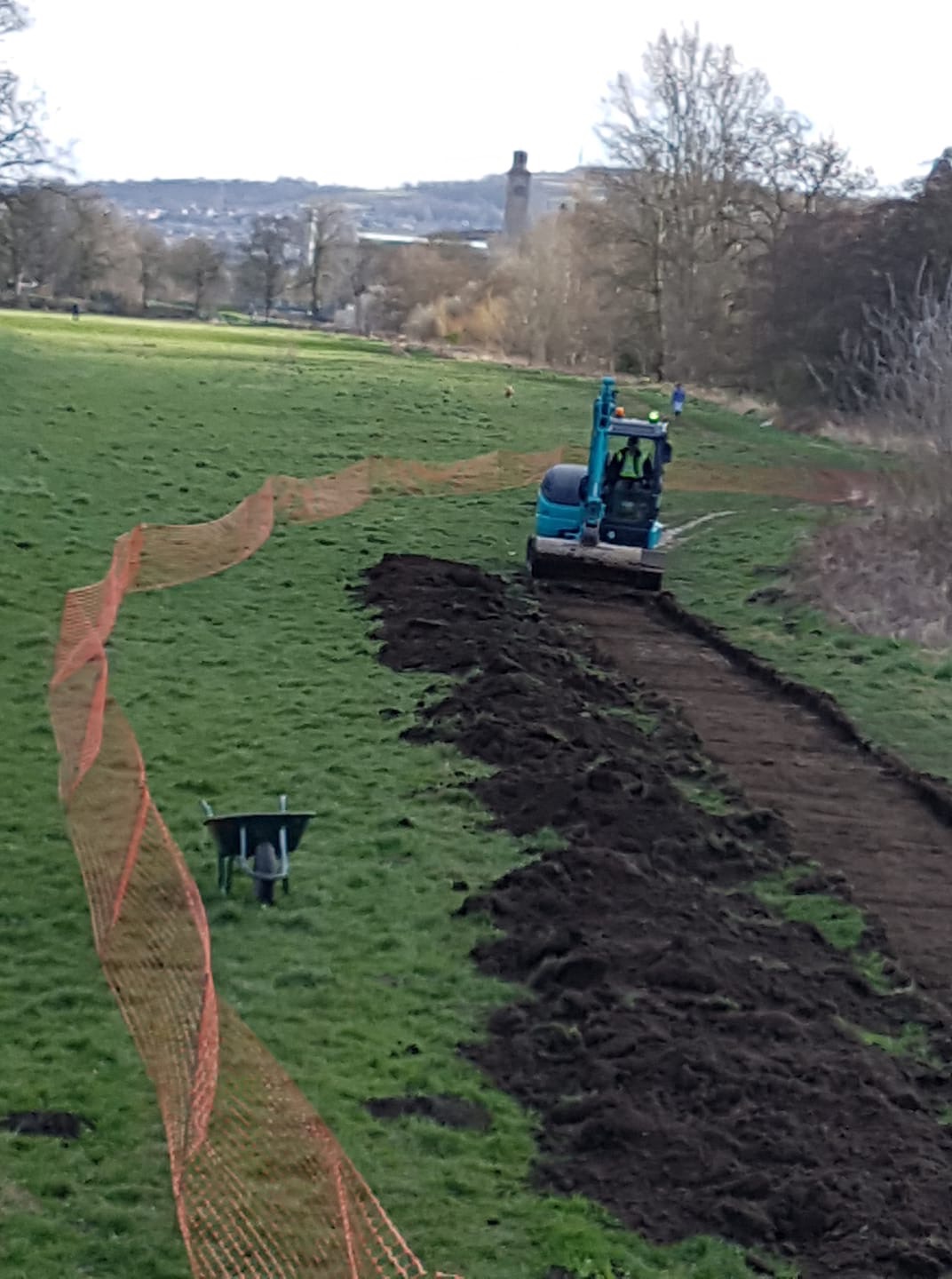 Now, the sight of a digger ploughing up grass may not seem very exciting to some, but this work marks the beginnings of a proper, permanent footpath that's being laid along the riverbank. For as long as anyone can remember, people have been walking along this way anyway – often  with their dogs – because to get from Roberts Park (to the west) to the Bradford Rowing Club and Hirst Wood (to the east) you have to walk along here. But it's only ever been grass, or an unofficial muddy track, which gets very boggy and muddy in wet weather. It can get very difficult, in particular, for older or less able-bodied people to use. There's also the incline up from the field level to the raised footbridge area, which is really treacherous when it's at all wet.
Now, with a proper path going in, those problems should be taken care of. And don't worry, it's not going to be nasty tarmac — but a permeable pebble path, like they have along past the rowing club. So it'll blend in nicely with the natural surroundings, and won't add any further to flood risk…
The reason I'm especially excited about this finally happening, is that this riverbank path is really the dream that got Higher Coach Road Residents' Group started in the first place. The history is documented on this blog site, in fact… starting with
1. this post from April 2015 – almost four years ago now – which discusses Troutbeck Avenue resident Stewart's dream of a proper path along the riverbank. That post helped advertise and invite other residents to …
2. … the very first meeting of what was later to become the Higher Coach Residents' Group… That meeting, hosted at the Rowing Club, is described briefly in this post from later that month (after you scroll down past some stuff about the Dockfield). I did not include residents' names or pictures in that post because it didn't feel right to be too public with discussions at that early stage. But a picture of those present — pasted in below — later became the cover photo for this Facebook group – for "Higher Coach Road River Link" – which was set up to attract the attention of other residents…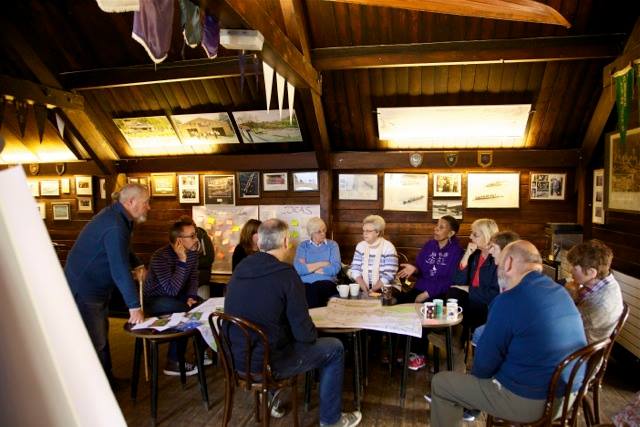 The "River Link" campaign was so-called because Stewart's footpath was one of the two key, galvanising ideas that excited residents at that first meeting … The second key idea was from another resident, Pat, for a wildflower meadow, to make something more attractive of the long, unkempt grass on the bottom field. And very excitingly, this too is going to happen now! 
3. Here's yet another post – from June 2015 which discusses how the first public action of the new residents' group was to combine the two ideas (path and wildflowers) by planting some wildflower plugs along the riverbank path. This was just a modest gesture — a statement of future intent, if you like. But, according to the plans now published by Baildon Town Council, there is soon going to be a wildflower meadow on the part of the field closest to Roberts Park…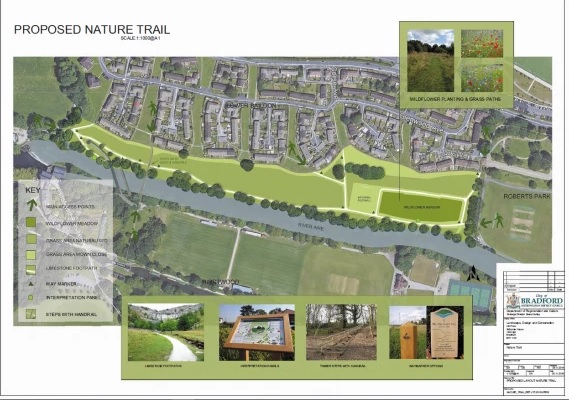 Notice how the meadow area will be just next to the football pitch area, which — for those with shorter memories — was established in the spring of 2016, also thanks to campaigning by HCR residents (see this blog post). But we're getting ahead of the story…
4. If you check out this post from August 2015 you'll see how the idea for a "Nature Trail" along the riverbank path — now the "headline" element of the scheme supported by Baildon Town Council — also originated with Stewart. He literally made a nature trail of his own with fence posts and home-made notices, and planted them along the riverbank path — partly as a means to attract passers-by to the new "River Link" group. (The posts that didn't get pulled out by teenagers-with-nothing-better-to-do eventually got swept away in the Boxing Day flood, but that was OK, they'd served a purpose…)
5. By the autumn of 2015, the River Link group had morphed into Higher Coach Road Residents Group. The new name recognised, quite rightly, that the group should have the widest possible remit, to look out for all the interests of HCR residents, and not be limited to a single campaign objective. A first, formally-constituted meeting of the group was held in November at St. Hugh's Church, lower down Coach Road, to which local councillors and others were invited. Although I never got round to blogging about that meeting (it was a very busy autumn), I did take this photograph that day…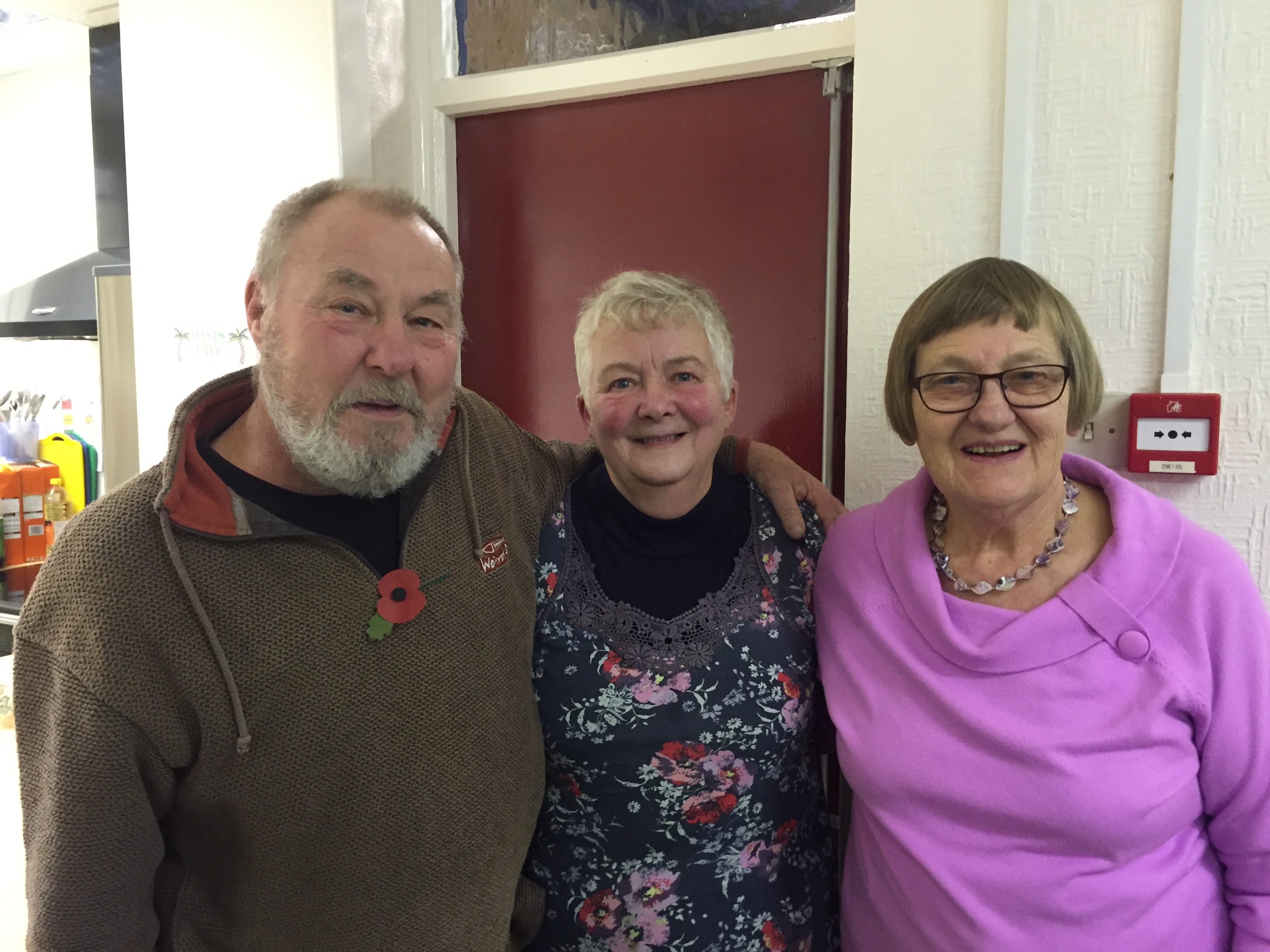 Here's Stewart, Pat and Pam, the three residents who had had the bravery to put themselves forward as Chair, Treasurer and Secretary (not necessarily in that order…?). Those roles have of course been taken up by others since. You know who you are… I can't name everyone who helped to get the ball rolling with HCRRG, but it would be remiss not to give special credit to Ruth for setting up the still-very-active Facebook group for Higher Coach Road Residents Group and Friends.
So, what's the point of all this…? Well, I guess the moral of this story is as follows…
Sometimes, when you want to involve other people in something, you might need a bold vision to catch their imagination. Maybe it's a personal dream that seems a bit impossible, like a footpath along the length of your whole estate… And for sure, both the footpath dream and the wildflower meadow dream seemed for a time like they might never happen, because they were "too ambitious". But these were the ideas that brought people together to begin with. And HCR Residents Group has achieved so much else in the 3+ years since it was formally established, that it almost wouldn't matter if the footpath and meadow never happened… But they are happening!!
And so we can proudly declare that sometimes dreams can come true (as the song goes). And yes, it's also the case that sometimes, if things seem almost too good to be true, then it turns out that they are too good to be true… And then people have to fight for what they've already been promised… But if that was to happen in this case (and I'm not at all saying it will) then I know that HCRRG now has the momentum and energy and also the political "nouse" to stand its ground and fight. (In the words of the boat-race slogan: "Go HCR Dragons!")
OK, enough from me.
Pasted in below is the official press release statement about exactly what is supposed to happen on the estate… (many thanks to Councillor Vick Jenkins for sharing this)
Bradford Council and local community groups have been working together to develop the Higher Coach Road Nature Trail and Wildflower Meadow.
The Higher Coach Road Residents Group and Bradford Council's Landscape Design and Conservation Team have secured the support of Pocket Parks Plus, Local Transport Plan and Baildon Town Council funding to improve walking facilities and neighbourhood connectivity by forming links between homes, local shops, open spaces, public transport and schools. 
The project will transform an area rough mown grass land that is already a well-used and loved stretch of land which takes in wonderful views along the River Aire.
A wildflower meadow will be created to increase biodiversity, along with interpretation to provide education on both wildflowers and the rich wildlife of the area.
Linking footpaths constructed from natural materials will improve access for the local community, along with timber steps and handrails on the riverside embankments adjacent to an existing foot bridge near Hirst Mill. The footpaths will run all the way through to Roberts Park.
Timber seating will be located near the footpaths to encourage people to stop and enjoy the space.
New way markers will be installed along with interpretation displays looking out towards the river, which will include information on wildlife and fauna. 
Additional native tree species will be planted.
The scheme will not only benefit the community, but the many visitors to the area, who come to enjoy the UNESCO World Heritage Site at Saltaire
The aim of the Higher Coach Road Residents Group is to look after and enhance the environment, encourage residents to be more active, promote social activities for recreation, promote a community spirit and sense of responsibility, and work with young people. The project will offer opportunities for volunteer groups and residents to be involved in wildflower seed sowing and plug planting that will be organised as planting season approaches in Spring time.
Notes:
Pocket Parks Plus is an initiative of the Ministry of Housing, Communities and Local Government, supporting parks and public spaces where people can relax, exercise, socialise and play.
Local Transport Plan funding comes from the West Yorkshire Combined Authority.