A new voice joins on the infamous blog! It is my first piece so please bare with me, as I am not as literary as my counterpart the 'Mad Professor'. In the months that have passed i've walked the streets of Shipley & Bingley, knocking on doors, holding community meetings, events and finding out what really matters to people. There are now three established community groups; Higher Coach Road River Link, Crosley Woods Action Group & Dockfield Community Group….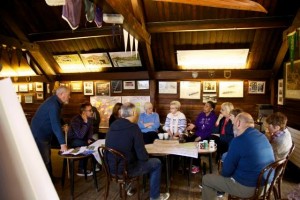 All areas wanted to get to know their neighbours more, some suggestions to achieve this were a sports day, BBQ's, street parties & trips to the seaside, among others. In a previous blog Steve talks about our meadow meander on 11th July '15, more recently Canal Connections have joined us from Leeds to get people back on the canals'. First to brave the open waters were the Crosley Woods Action group….
Some were even convinced to put in some hard labour for the trip!
Fun was had by all and a plan to develop a path from Crosley Woods flats to the canal was hatched! Now to more watery adventures, just last Saturday (24th Oct) The Dockfield Community Group embarked on a soggy trip up to visit Hirst regeneration site for some local inspiration!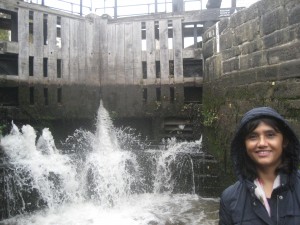 "I've lived by the canal for 10 years and have never been on a canal boat." All were happy to have the time to meet new faces and plan another trip in the summer, hopefully with some sun this time.
Interesting conversations were had by all, one aspect that kept cropping up was the impact on wellbeing that comes from being on and around the water. One resident (a teacher) enquired about using the boat for extra curricular activities and the local GP reflected on the mental health benefits of such an activity. Enough seriousness and back to the story….while gently floating along the canal we were atacked by disgruntled swan and their signets.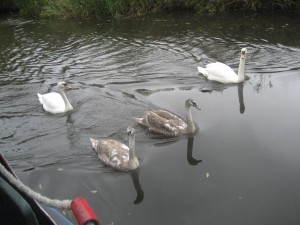 And now back over to Crosley Woods, on Monday (26th Oct) Canal Connections & some lovely volunteers from the Department of Work and Pensions spent a day up at Crosley Wood flats. They filled 15 bags of rubbish and cleared a seating area in the trees for local residents, we were also helped by two lovely young boys!
Our trusty local builder and volunteer put in a lot of hard work to build a fire pit for locals, this should be great for the spring and summer!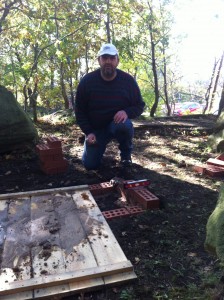 Have a great Halloween all! Next steps for all groups are Christmas parties. Ho, ho, ho!