For me, our "After the Flood" event at Kirkgate Centre last Sunday was something of an eye-opener. As will be clear from my other blog posts on this site, my conversations with people in the Shipley area since the Boxing Day floods have often been about the clear-up effort or about local features in need of repair following flood damage, such as Hirst weir. Up until last Sunday, the contact I've had with people directly impacted in their homes by the flooding had been limited to people who were nonetheless still living in their homes. People like Lynda, at Lower Holme, whose basement had been flooded by groundwater — with the result that she lost electricity and gas supplies for a week. Or people like Phillip (featured in this previous blog), who moved back into his home in Aire Close before the end of January, despite having had five or six feet of water in his living room.
It occurs to me now that because Phillip is a builder by trade, he planned to oversee repairs to his downstairs while living upstairs — but of course not everyone has such a relevant skill set, or can deal as stoically with the emotional impact of living in such conditions. The meeting on Sunday was attended by a number of people who have been living in temporary accommodation since Christmas, and who still don't know when they will be able to move back home. People like Margaret (an old friend of the Multi-Story Water project), who lives adjacent to Lynda on Lower Holme, but whose living room and kitchen floors collapsed in the flooding. Her housing association put her in the Ibis hotel, at Shipley Wharf, where she has been since December — in a standard no-frills room, without a kitchen, having to eat all her meals out. She has just been told that work on repairing her home will finally begin in April, but she has been offered no explanation for the 3 month delay. Perhaps the property was simply too damp until now to do any meaningful work.
That's certainly the case for Graham and Ann — who live right on the river in Lower Baildon — and had over five feet of water in their living room on Boxing Day. They are hoping to be told in the next few days that the walls of their house are now dry enough that work can begin on rebuilding and replastering. They were kind enough to invite me, yesterday, to see the state of their house before work begins. The entire downstairs has literally had to be stripped back to the brickwork, with the removal of stud walls turning the house into a series of spaces between brick columns. The dehumidifiers are still going full tilt.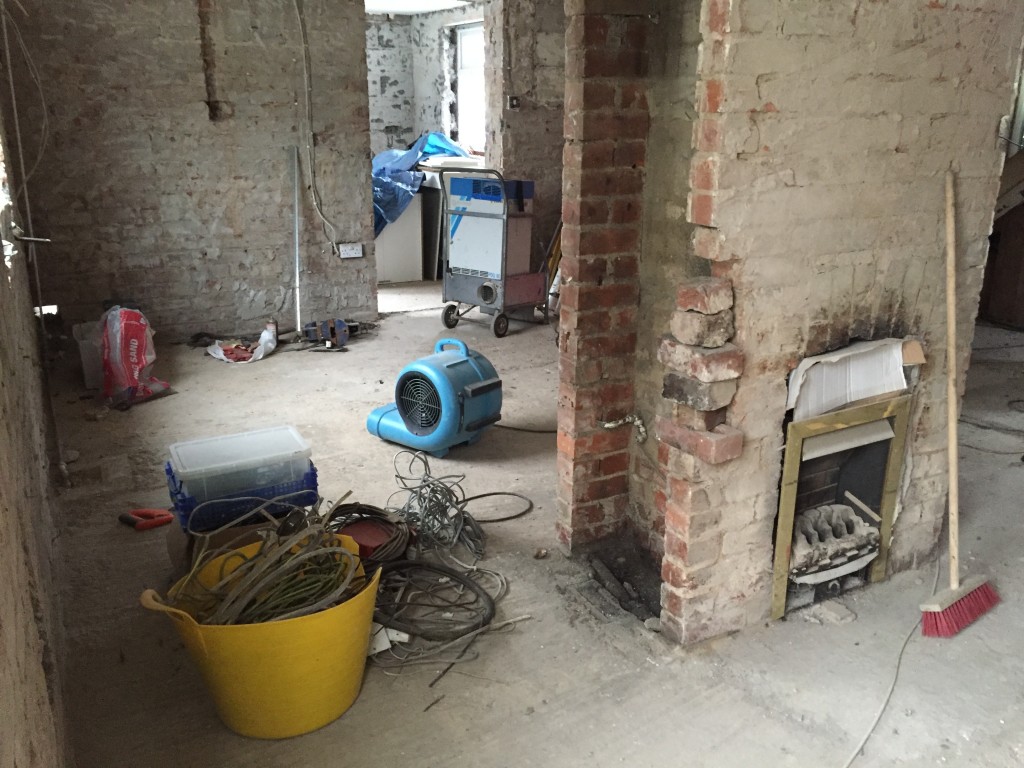 Seeing the state of this house made me realise just how long and difficult a road to recovery it can be for those affected by flooding. We all hear about the immediate impact of floods when they hit — it's all over the news and the pictures are everywhere — but the story never stays in the public eye for long. The news cycle moves on, and so it's easy to assume that the story is over. But it really isn't, if it's happening to you.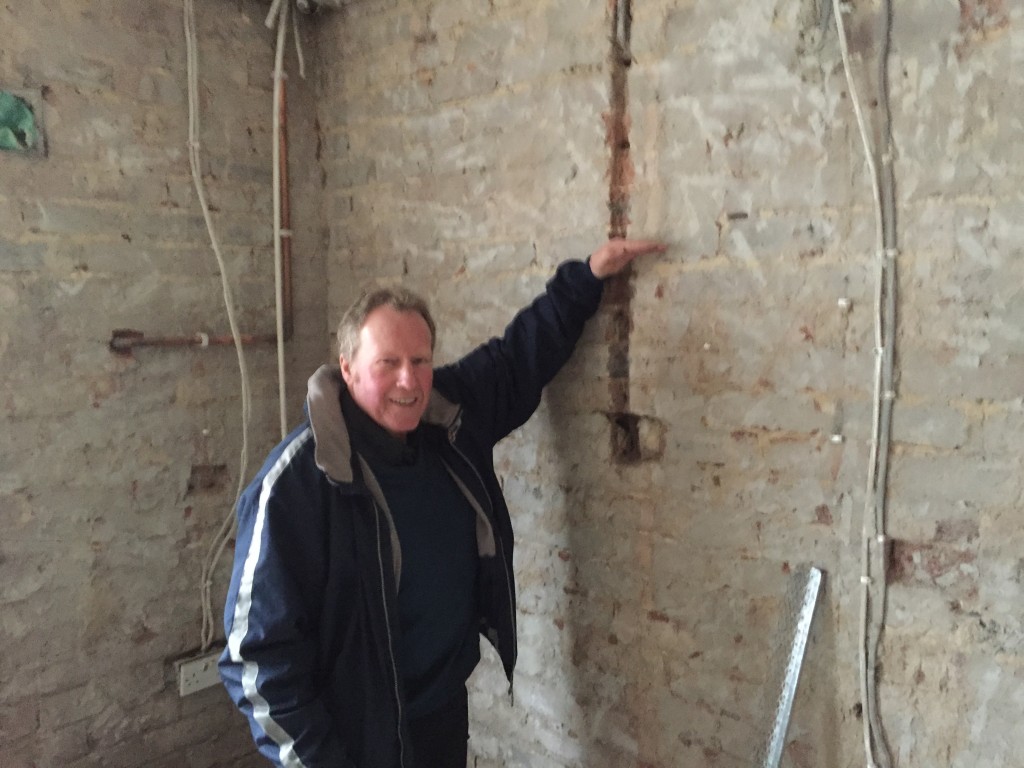 This is Graham, indicating the height the water came up to in his living room. And yes, he is managing to smile about it. I've been so impressed by his and Ann's positivity in the face of such a complete devastation of their home. He also pointed out how the French windows are full of water and will also need replacing…
… and how they are taking extra precautions to keep the front door secured, given that empty houses can be a target for unwanted intruders…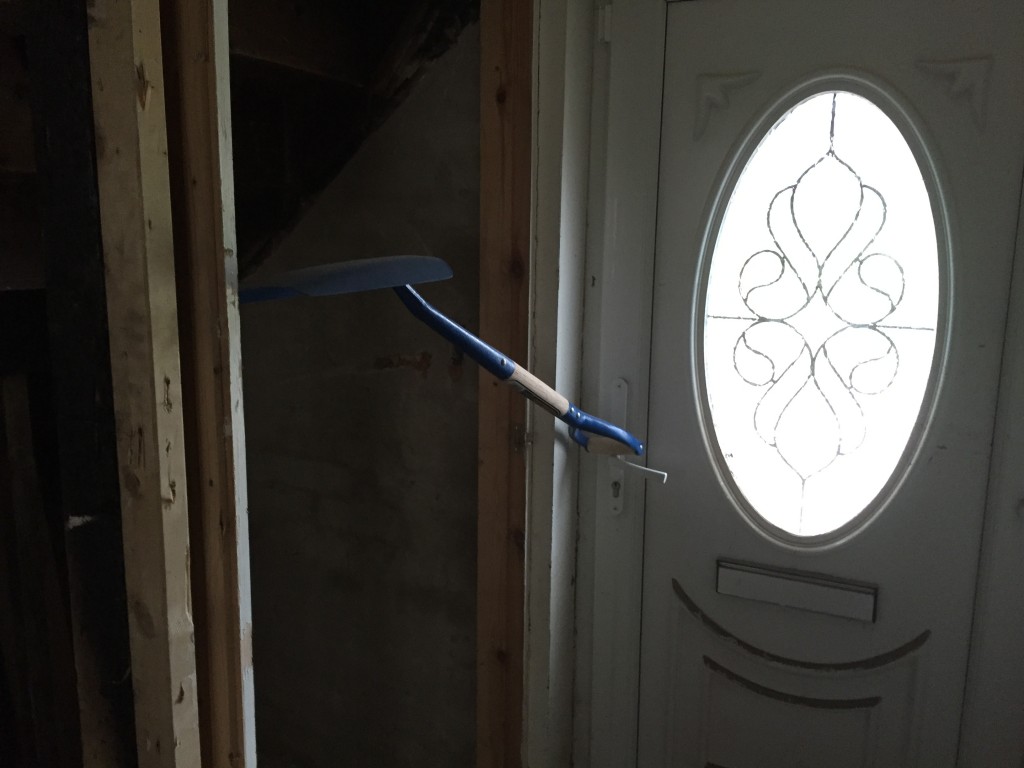 Outside, work on putting things to rights has not even begun. Graham pointed out how the decking outside his back door, and the hot-tub that used to sit next to it, were both picked up and then unceremoniously dumped again by the flood water…
And this is all that's left of the decking area that overlooked the river itself… (Graham pointed out the decking section itself, caught up against a tree 100 yards downstream)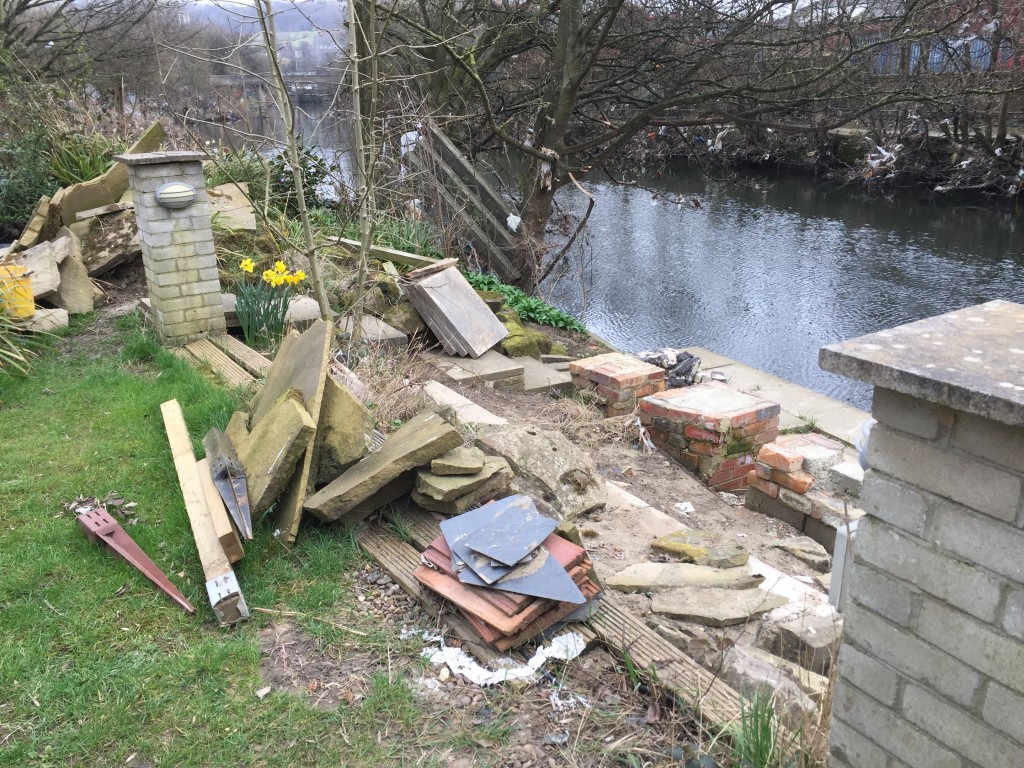 It's clearly going to take quite a long time before Graham and Ann are going to have anything that resembles a home again, and they are understandably concerned about the threat of something like this happening again in future. All they can really do — whether they want to live here or look to sell — is to look to make the house as resilient and flood proof as possible. And that isn't going to be cheap.
If the continuing difficulties of affected households are not being reported on, another location that I visited yesterday has been particularly far out of the public eye. Branksome Drive is a quiet, residential road that had not even been on my radar as somewhere that been affected by the floods, until some of those affected came to the meeting on Sunday. Indeed, not even Paul Barrett — Kirkgate Centre's community development manager — was aware of the problems there. Branksome Drive is at the extreme west end of Shipley ward, out past Nab Wood cemetery, and as such is quite isolated from, and invisible to, other local people. But if you look on this bit of Google maps, you can see how the end of Branksome Drive sits worryingly close to the Aire at the bottom of the long S-shape bend that takes the river up towards Dowley Gap (when it then turns eastward and adopts a relatively straight line of flow through the rest of the Saltaire and Shipley area).
Curious to get a bit more of a sense of the location, I went down to Branksome Drive yesterday. From a junction with the main Bingley Road, it winds steeply downhill before curling around to arrive at a dead end. As you can see from the photograph above, one side of the street (to the right) is built up at a higher level than the other. It's this left side, the more northerly side, that was hit worst by the flooding — according to Luke, a builder I spoke to, who was repairing this wall that separates the last house on the Drive from the neighbouring field. The floodwater, he said, came up as high as the top of the hedging.
Luke confirmed that the damage to this wall was done by the river on Boxing Day. The water, he explained had just come sweeping over the brow of the hill in the adjacent field. You can imagine this from the picture below, where the row of hedging marks the normal line of the riverbank….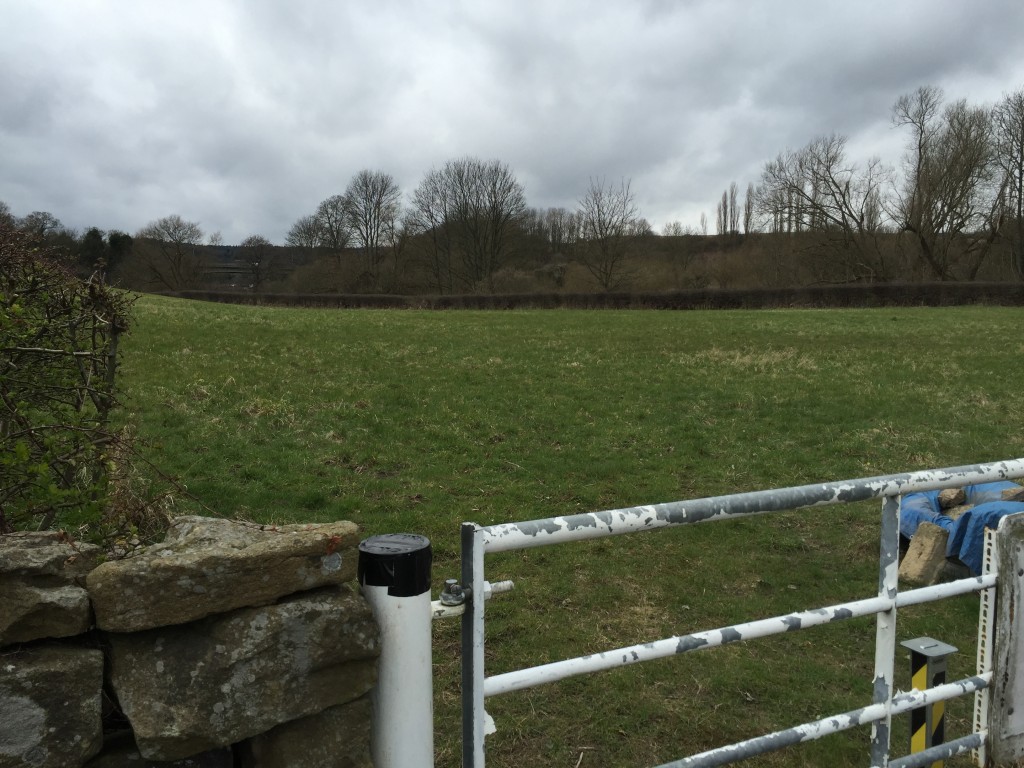 As Luke noted, these 1930s houses (also hit in the floods of 2000, apparently) were built on what is basically exposed flood plain. They probably shouldn't have been built at all, although saying that is of little comfort to the homeowners, obviously. The residents of fourteen or fifteen houses along the northerly side of the street are literally still mopping up from the Boxing Day deluge. Among the telltale signs were this Dyson van, with cable running into one of the houses (presumably for dehumidifying purposes)…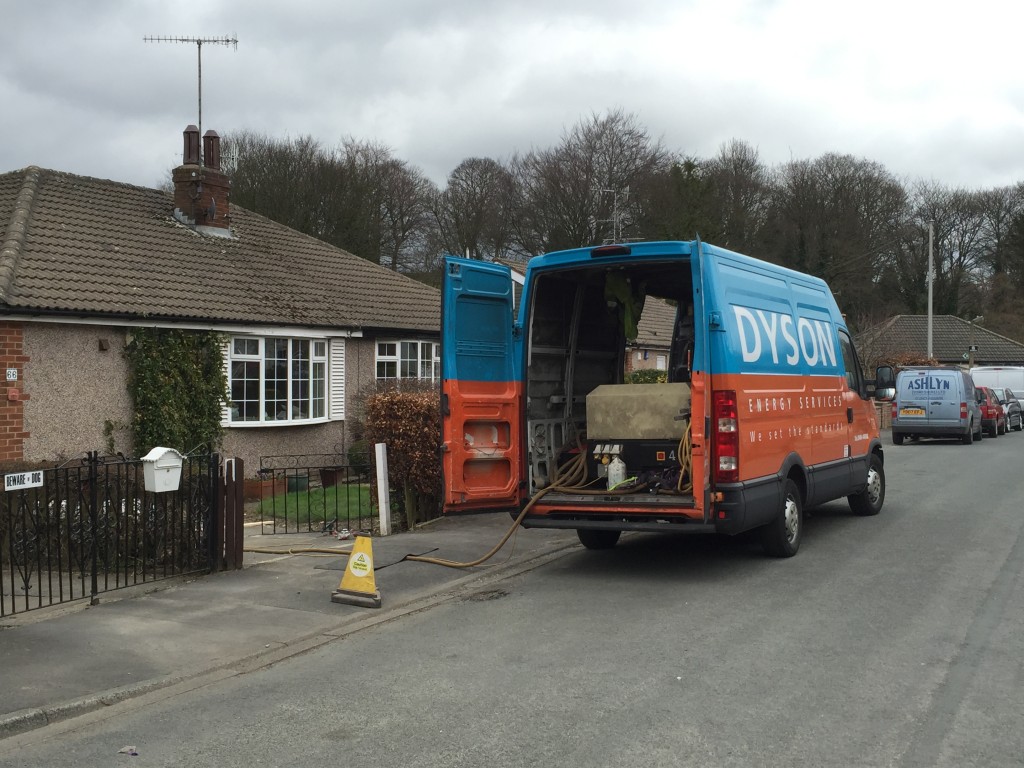 … There were also a number of camper vans sitting on driveways as temporary accommodation…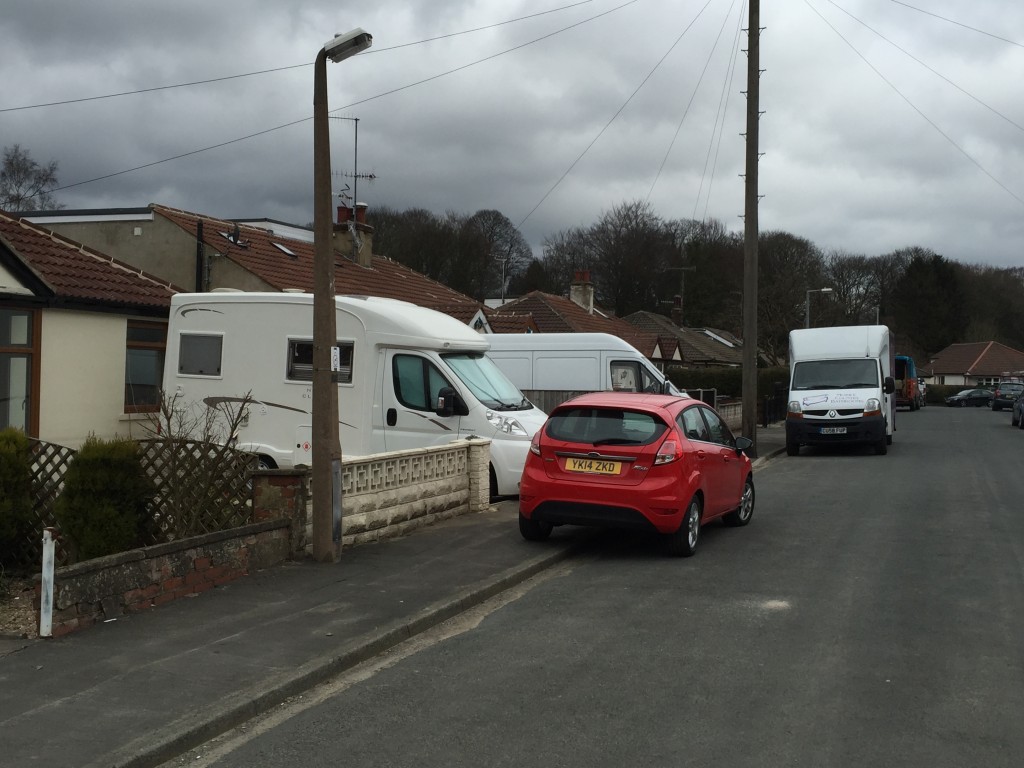 … as well as skips full of discarded furnishings outside other homes…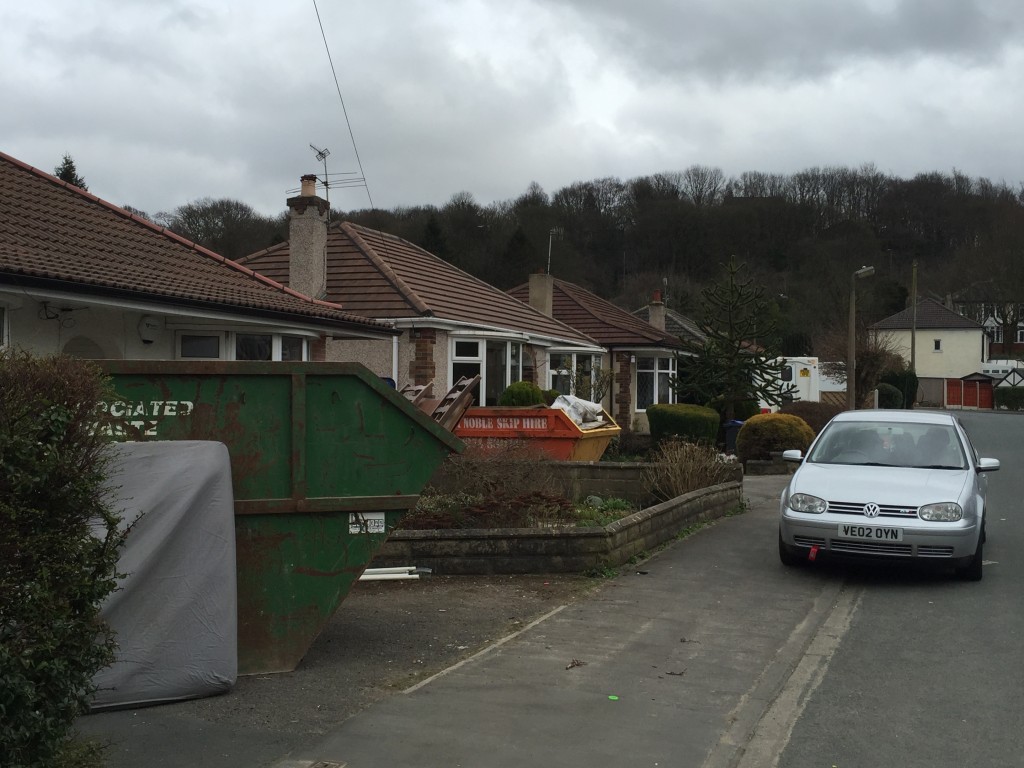 …and even abandoned white goods left outside another property…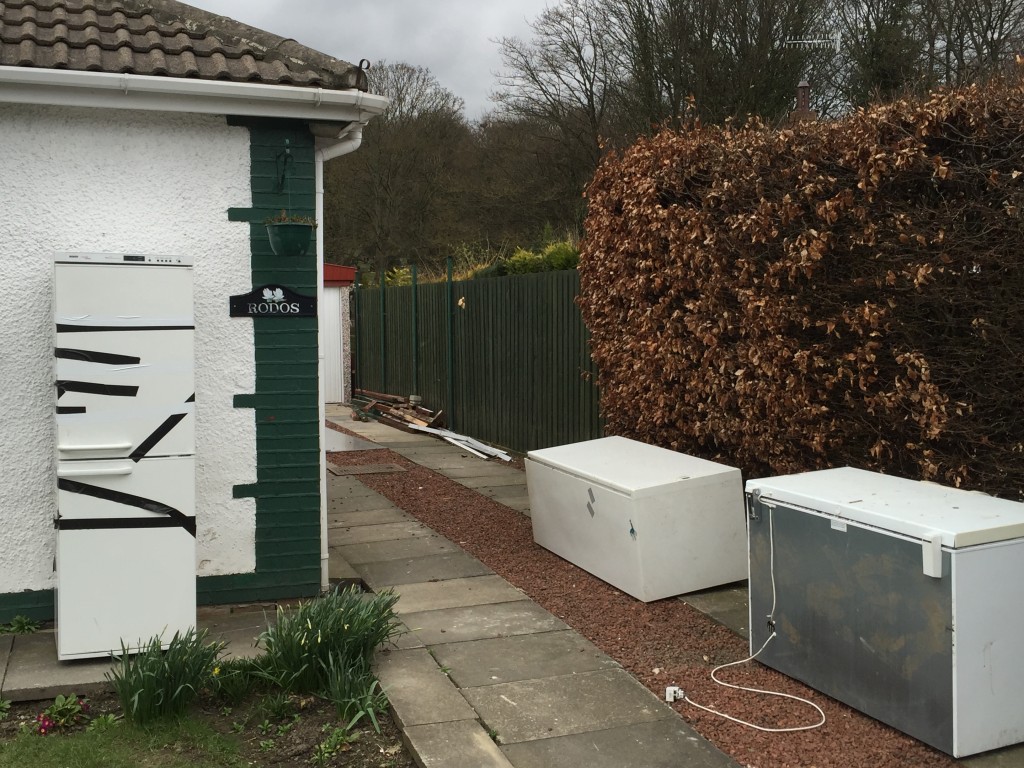 At the point where the street bends onto this last, vulnerable stretch of houses, there's a public footpath that leads off down to the river itself, so I opted to take this route back towards Shipley.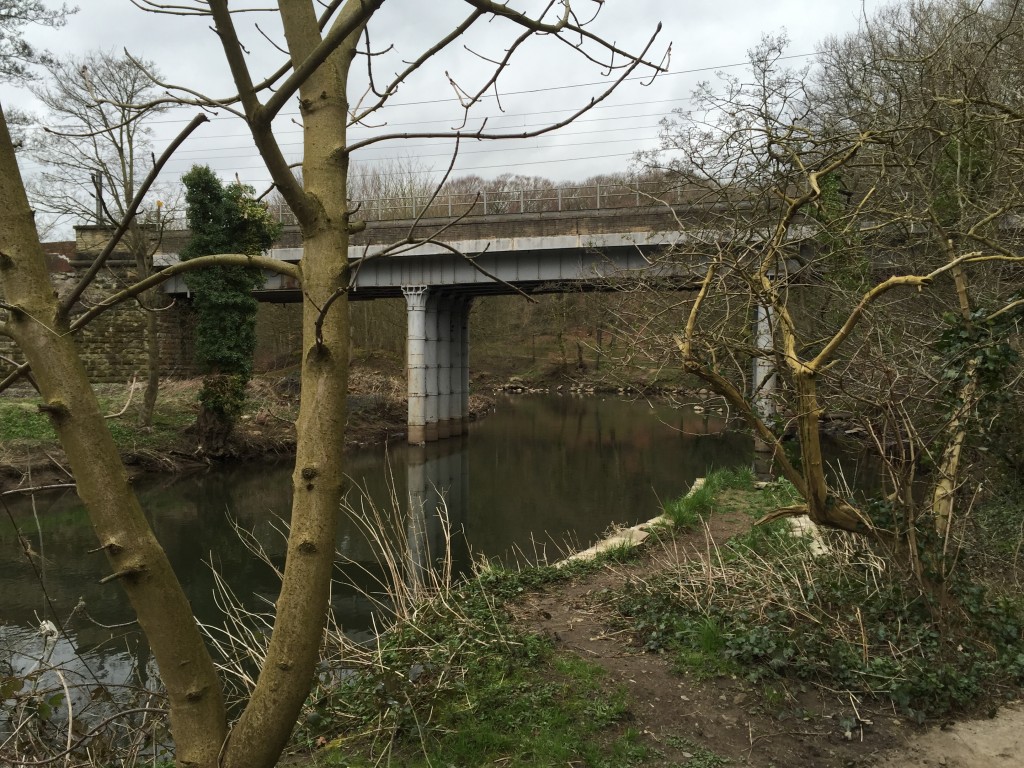 The water level yesterday was reassuringly low, but I imagine that during the flooding, it must have reached right up to the gravestones at this bottom corner of Nab Wood cemetery…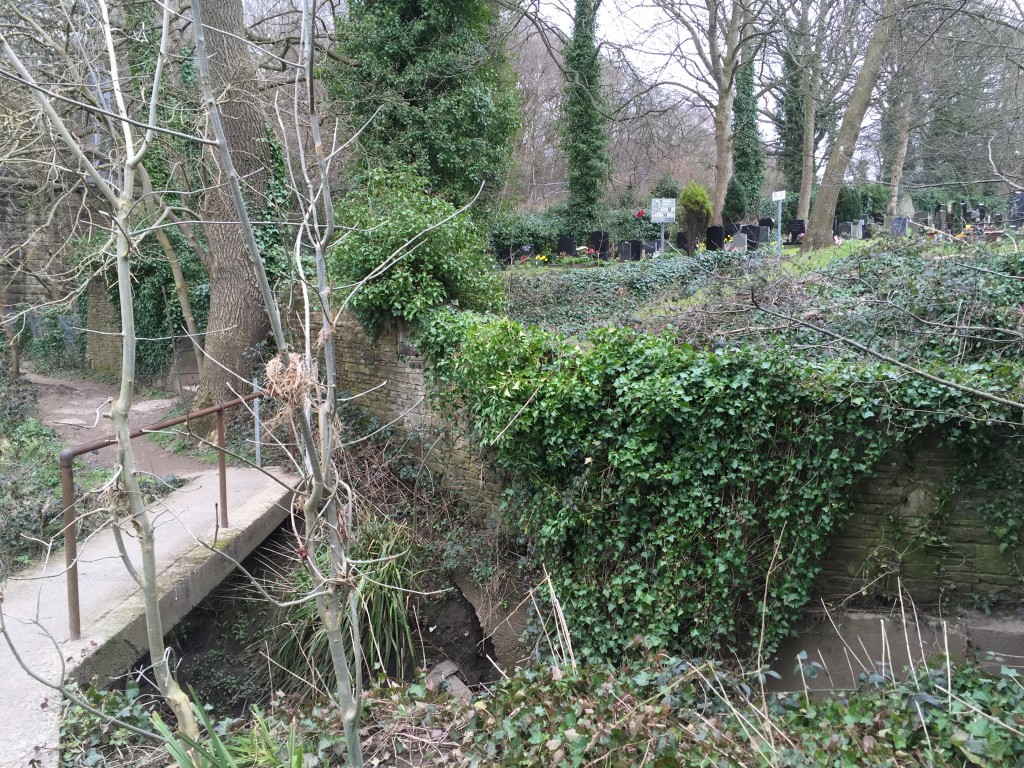 Working my way downstream from here (going up north, on the map) I soon came to the Dowley Gap sewage works — viewed here from the Seven Arches aqueduct that brings the canal across the river at this point.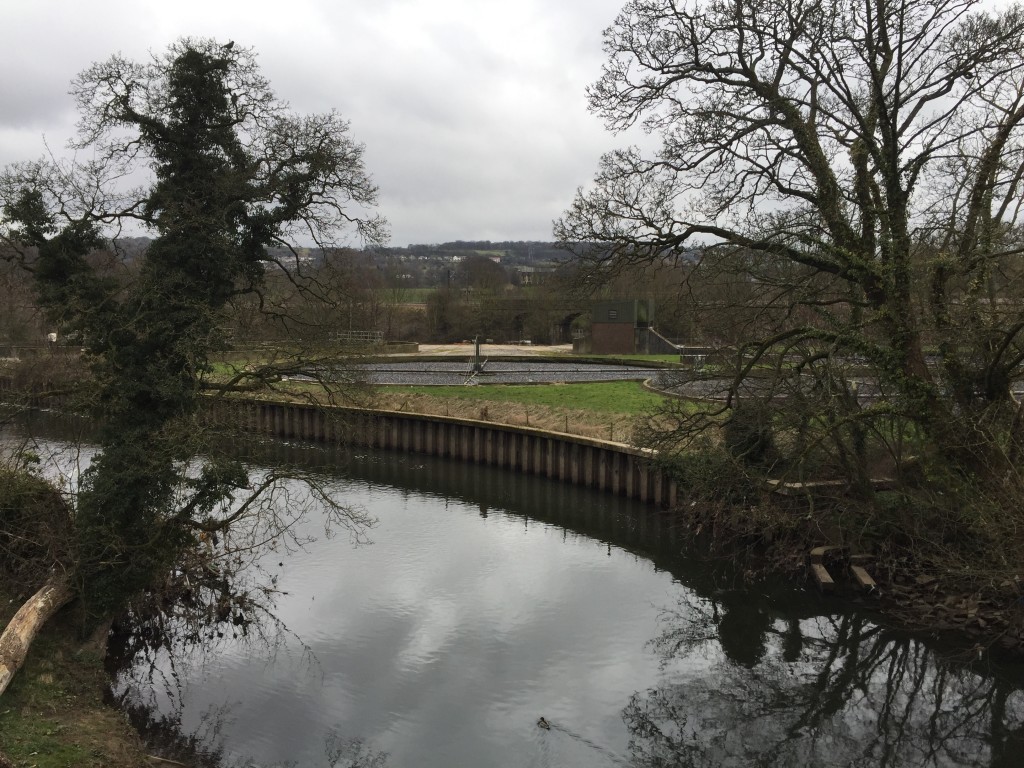 Looking at the level of the river here, and the level of the settling tanks, you realise that on Boxing Day the water must have just swept over this lot, taking a lot of the sewage downstream with it. Just one of the reasons why the water ending up in homes downstream was so foully contaminated. (This set of assumptions, on my part, was confirmed last night by a conversation with Jim Walker, who used to work as "sludge manager" for Yorkshire Water, and knows the Dowley Gap site well.)
Incidentally, crossing over to the northern side of the canal, so as to get to the towpath that would take me towards Saltaire, I spotted this mink darting under the bridge. Entirely another kind of unwanted invasive…