This Sunday, September 25th, was World Rivers' Day. Not to be daunted by the fact that Bradford's river is largely invisible — culverted underground through the city centre ever since the later nineteenth century — the Friends of Bradford's Becks (FoBB) organised a special celebration in City Park to mark the occasion. It's time that modest Bradford Beck (formerly mucky Bradford Beck) takes its place alongside the cherished rivers of the world! I was there to represent Multi-Story Water on one of the many stalls that FoBB had arranged around the edge of the Mirror Pool…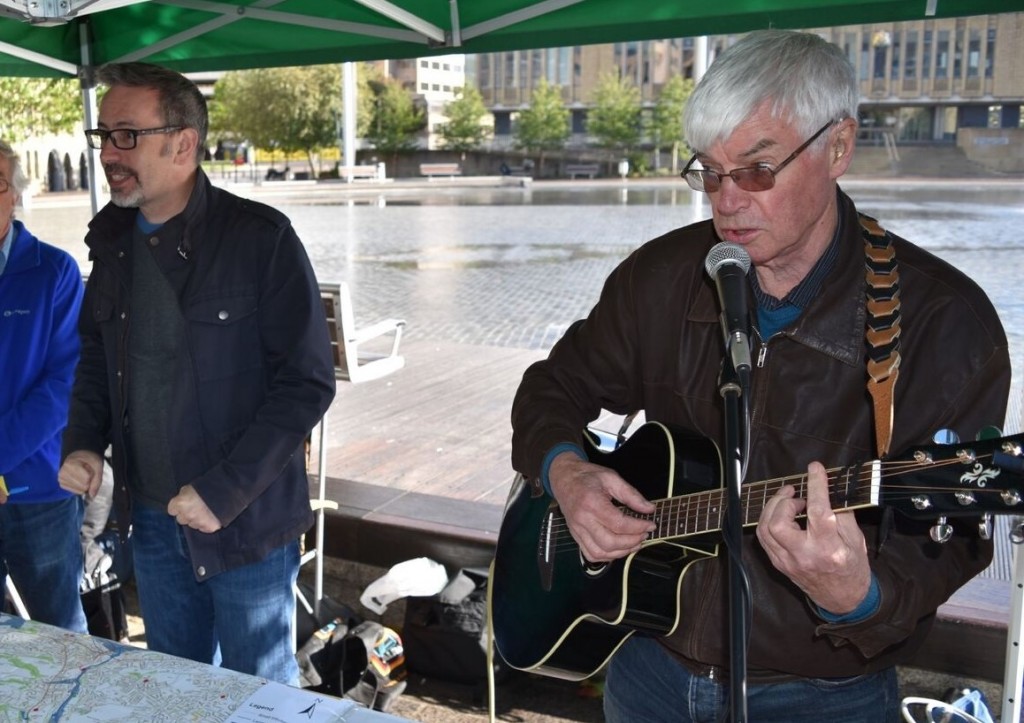 Here I am at our "songs and stories" stall with my good friend Eddie Lawler, who performed, among other compositions, his song "Bradford Beck" — which calls for the river to be "resurrected from its rat-ridden cave", and "to be a treasure, be a pleasure…." The song dates back almost 15 years now, to a time when very few people were even talking about the Beck, but it has now become kind of a signature tune for FoBB. (Most of the pictures in this post were taken by Geoff Roberts, of Aire Rivers Trust — thanks Geoff!)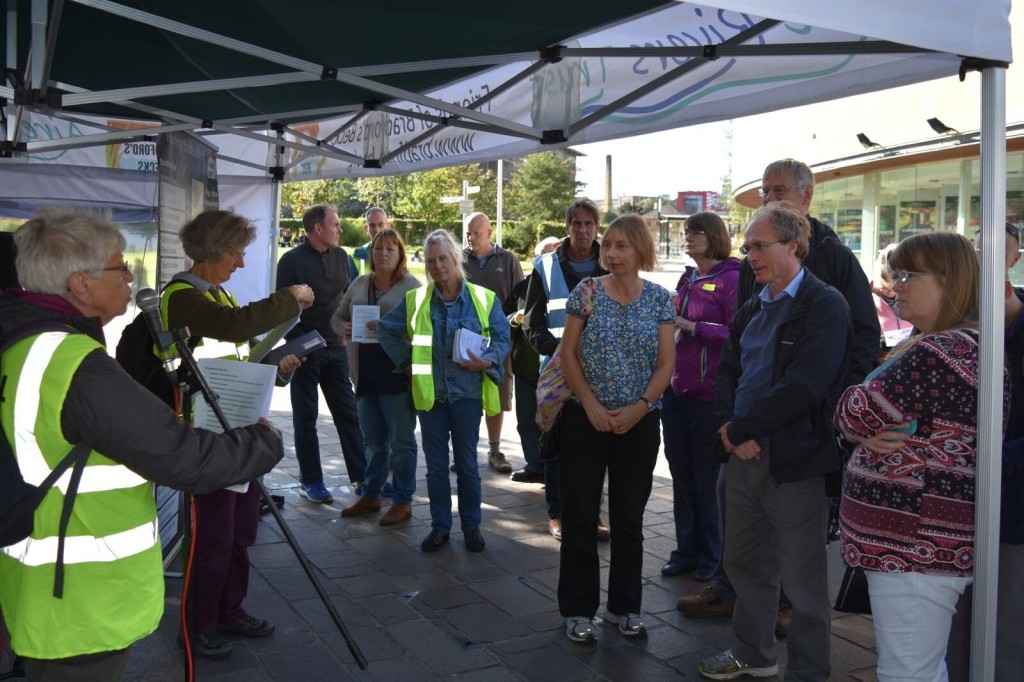 The central action of the day was at the FoBB stall itself, which served a number of purposes including being the starting point for a well-attended walking tour — presented by Rose Reeve and Pauline Ford — of the 15 plaques that FoBB has had installed in pavement sites over recent months, to mark the underground course of the Beck through the city centre. (See this previous blog post.) Along the way, walkers also encountered this little spot, just a block away from the City Park area…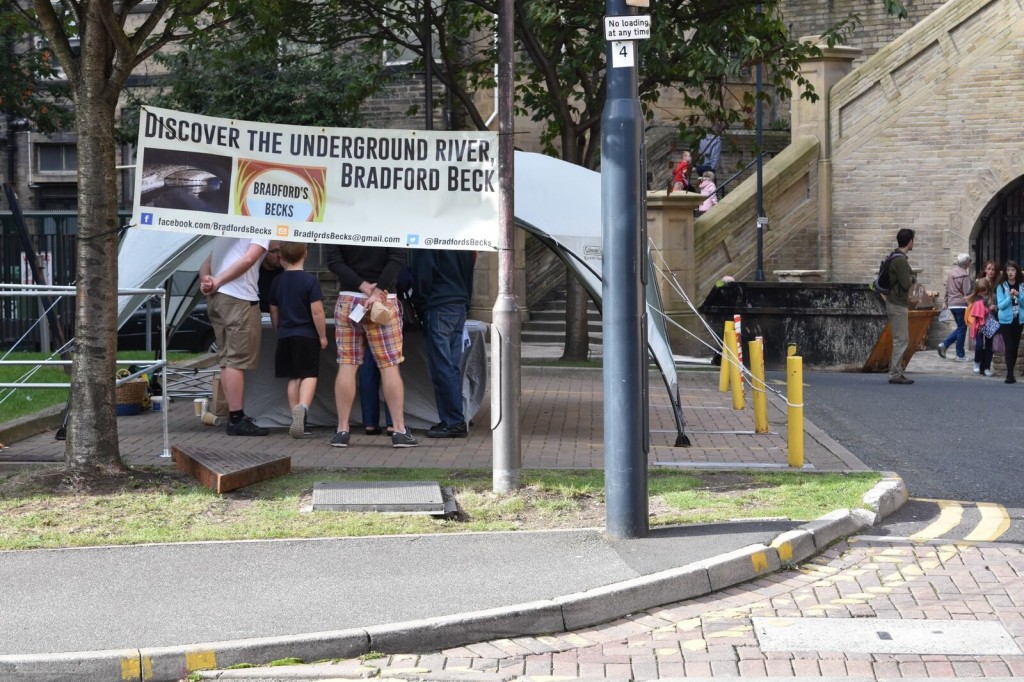 Yes, it's an open manhole cover! The only way to check out the Beck in the city centre… Still, the city seems serious about treating its watery heart a bit more thoughtfully in future, and the presence of the Lord Mayor of Bradford at the Rivers Day event was one sign of this. Here he pictured is with the Lady Mayoress and, to the right, Barney Lerner — Chair of FoBB and the main co-ordinator of the day's events. Barney, who lives safely uphill from the local rivers in Baildon, recently retired from Sheffield University and is really dedicating his retirement to pushing for further progress for the Beck. (Go Barney!)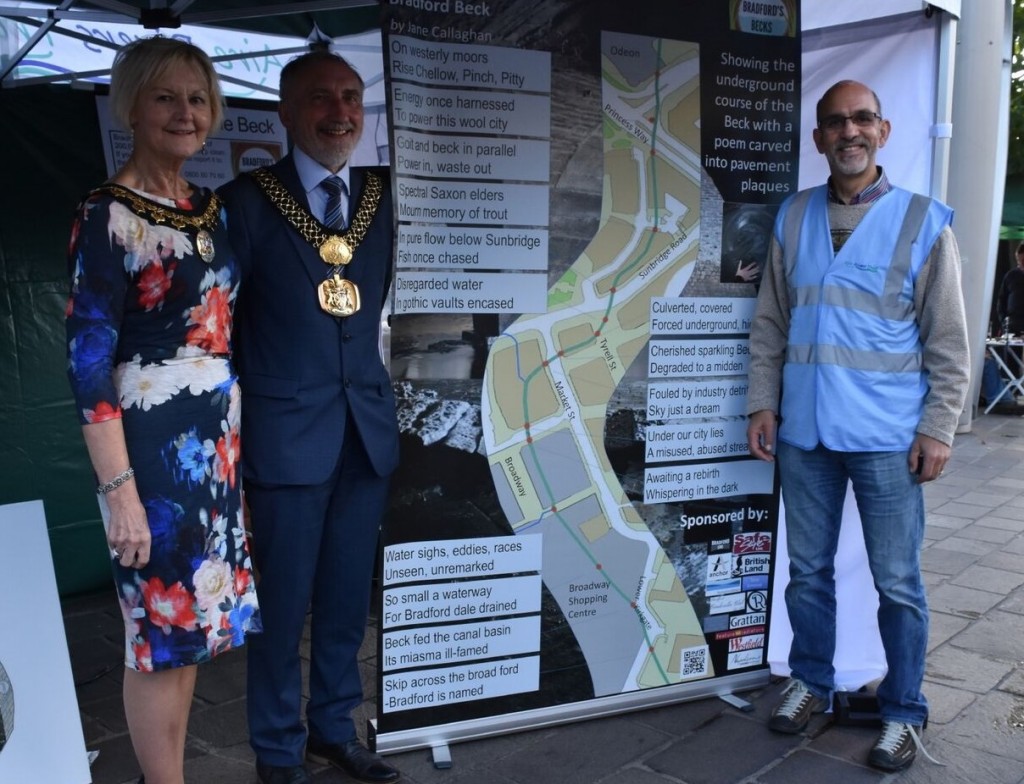 The Lord Mayor's speech, at the FoBB tent, concluded with him awarding a prize to artist Alex Pavey…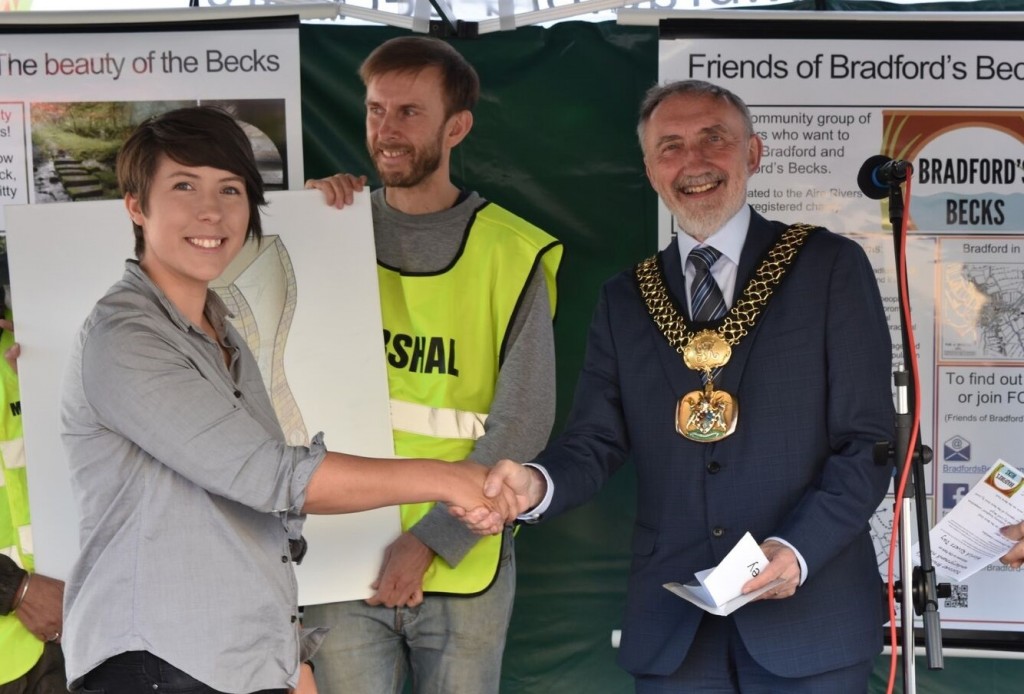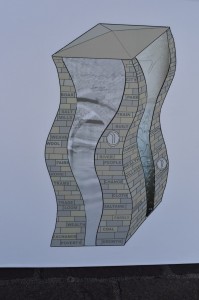 Alex is the designer of the winning entry in a FoBB-run competition to design a "listening sculpture" for the Beck — the sketch for which is pictured here to the right (and is part-hidden by her body in the photo above!). The competition organisers came up with a shortlist of the best entries, which were then put to a public, online vote — which Alex won. The challenge now will be the realise the sculpture in reality — completion is scheduled for some time next year. There will be various engagement activities around the building/opening of the sculpture, which Multi-Story Water will hopefully involved with. Our involvement might even lead on directly from what I was up to with Eddie…
I've been doing quite a bit of story-telling lately (see, for example, my last blog post on the Too Much of Water performance for Saltaire Festival), and as a contrast — on this occasion — I was story gathering… with a view to possibly using some of what came up in future presentations. Using a map of the Bradford Beck system that was kindly provided to me a while ago by Bradford Council, I was inviting people to locate themselves on the map, sticking on different coloured dots to represent different things…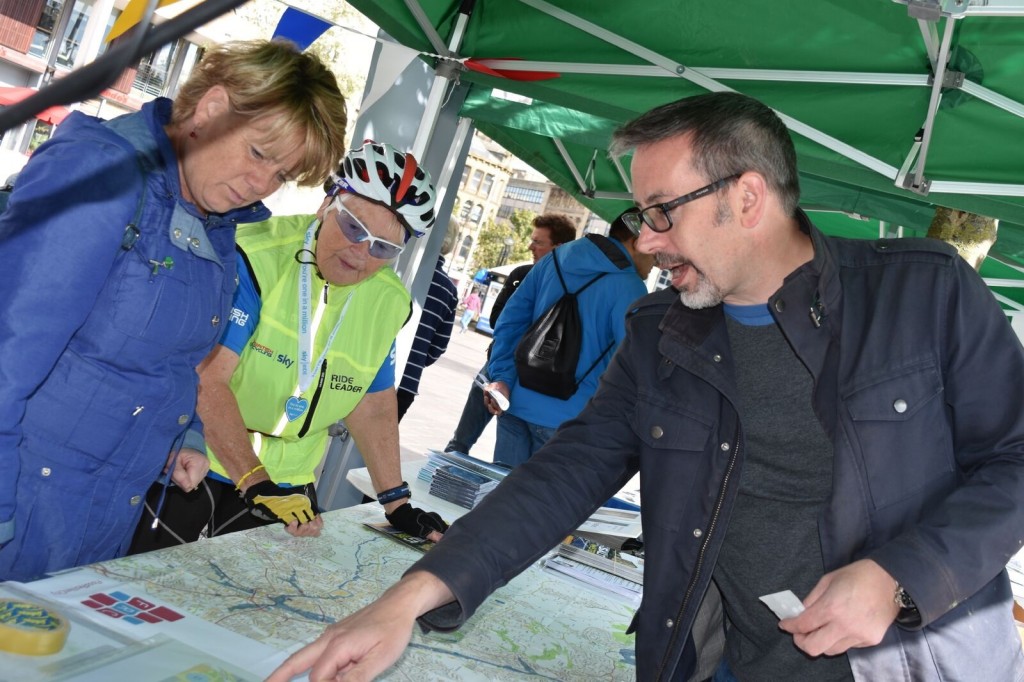 So a red dot was "where I live" (or used to live), a yellow dot was "where I work" (or used to), a green dot signified environmental improvements, a blue dot was for places associated with happy memories, and finally a purple dot was for problem spots or issues. I snapped the shot below relatively early in proceedings and we'd accumulated a good deal more dots by the end of the afternoon!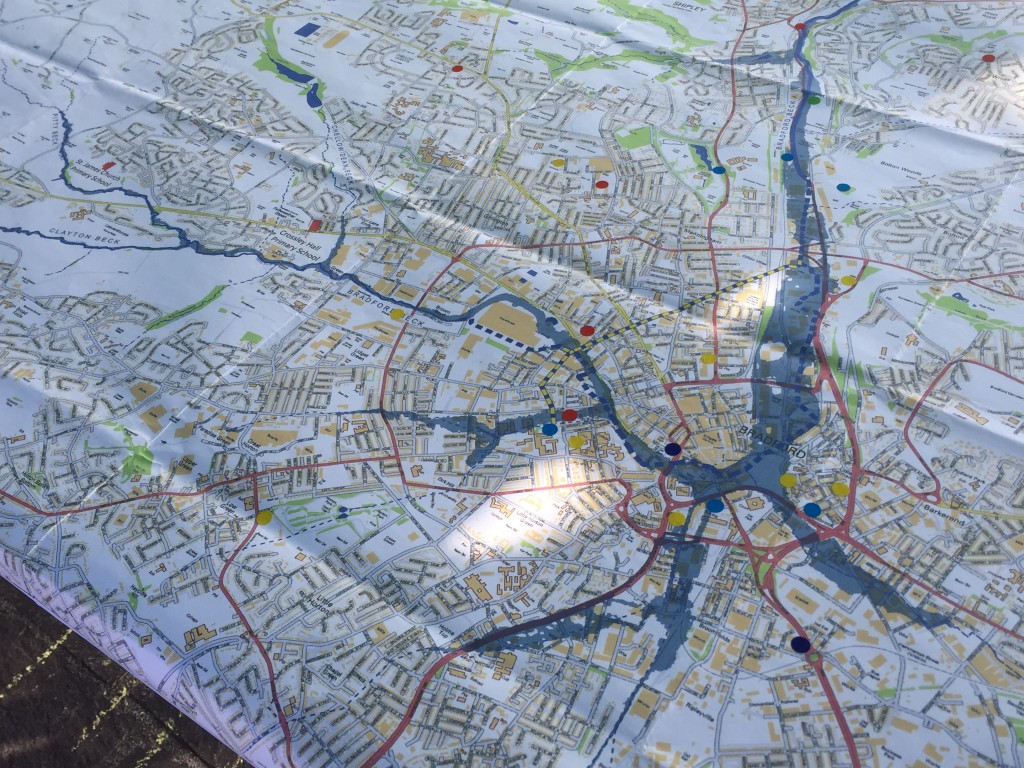 The map served as a real drawer for passers-by, many of whom were fascinated to see the city like this — with the river system (and possible flood risk areas) highlighted as central and prominent, rather than merely forgotten underground. Visitors to the stall with longer memories told me about their recollections of the 1968 flood, for example, when the city centre was partially underwater and the subway passages underneath main roads were completely impassable. Another visitor, remembering even further back, recalled the flooding in 1947, when she was a child. Her recollection was that a stretch of the Beck to the west of the city centre was not, at that time, culverted underground as it is now (so the culverting does not all date back to the 19th Century!). A brother and sister, both now in early middle age, recalled growing up in the vicinity of Bradford University and how, as kids, they would enter the Westbrook culvert and explore it with candles lighting their way… Since that time, the beck has been fenced over in the University area — perhaps partly to discourage such explorations — but also contributing further to the general sense of the river as something dangerous, poisonous, hostile, rather than something to be embraced. These now-grown-up childhood explorers clearly recalled their adventures with real affection and nostalgia… In today's world, perhaps, we've taken the obsession with health-and-safety a little too far, at the expense of natural curiosity?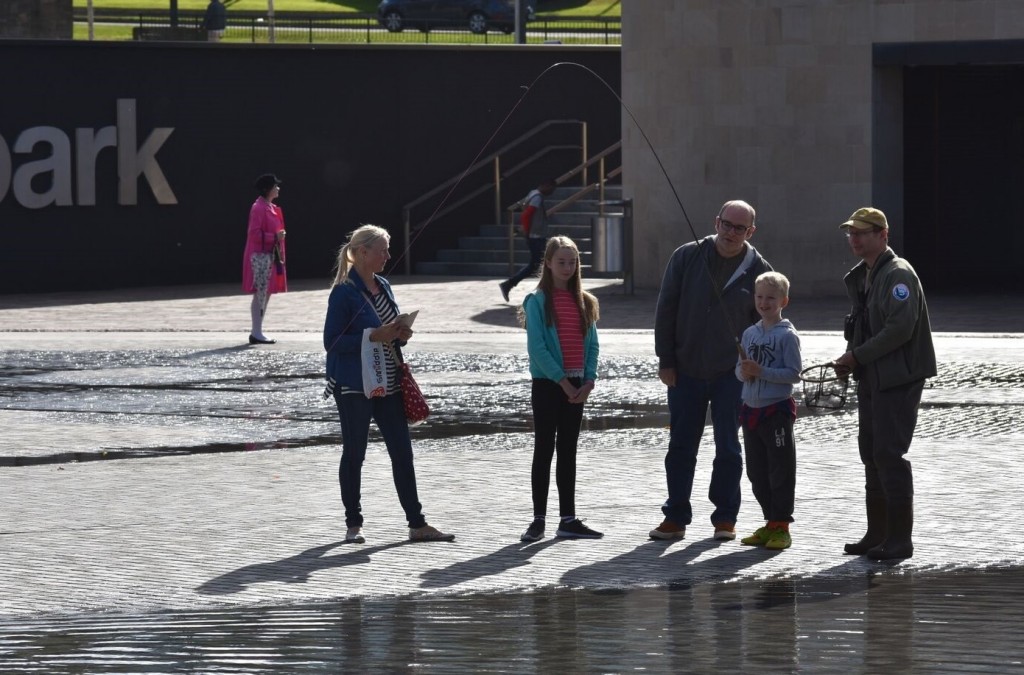 Fortunately, a number of the other events and presentations at this World Rivers Day celebration provided interactive opportunities for curiosity and exploring new things… The Wild Trout Trust, for example, laid on a fly fishing demonstration in the Mirror Pool (or, at least, the small part of it that wasn't drained on this occasion…). I don't think anyone caught anything (!) but kids of all ages seemed to be having fun learning how to use that rod… Meanwhile, JBA Trust were on hand with their water flume demonstration (below), to show passers-by how water flow works, and how it is affected by installing different constructs that modify flow patterns (weirs, tunnels, etc.). On one level, this is quite technical, but its also a really accessible demonstration that people find genuinely intriguing…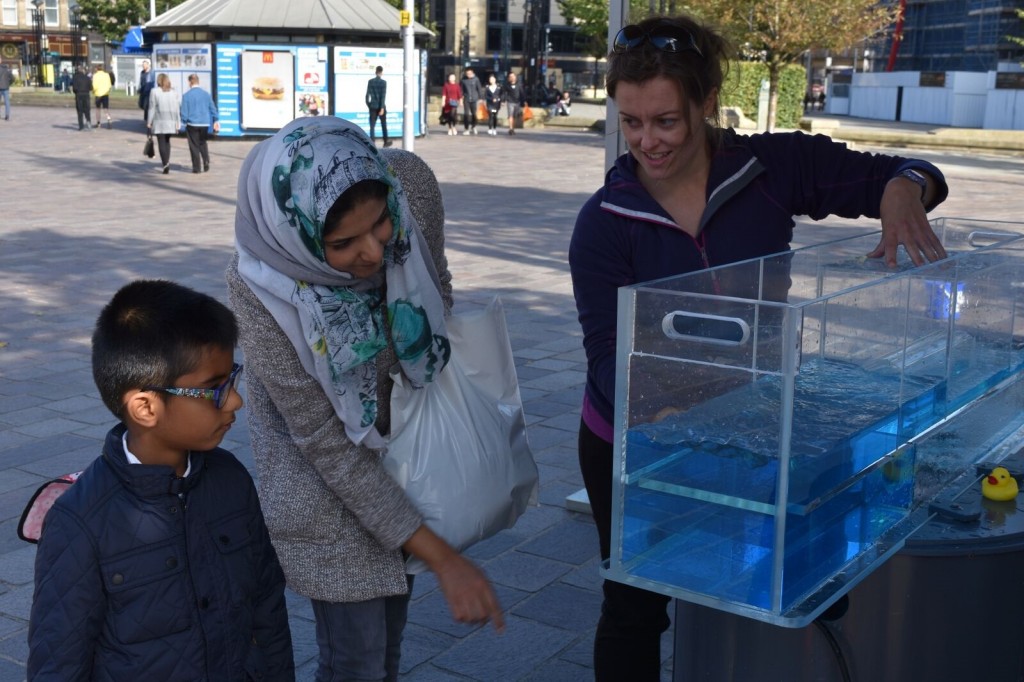 Another interactive demonstration model was provided by the Environment Agency, on the stall next door to ours. This one has a miniature landscape in it, with a river channel, and you can use dripping trays to demonstrate the effects of rainfall on the landscape, where the water runs off to, and so on. The rainfall is heavier or lighter depending on how big the sponges in your trays are… Great fun. This model is populated, rather mysteriously, by Marvel superhero figures (I spotted Iron Man and Wolverine, for starters)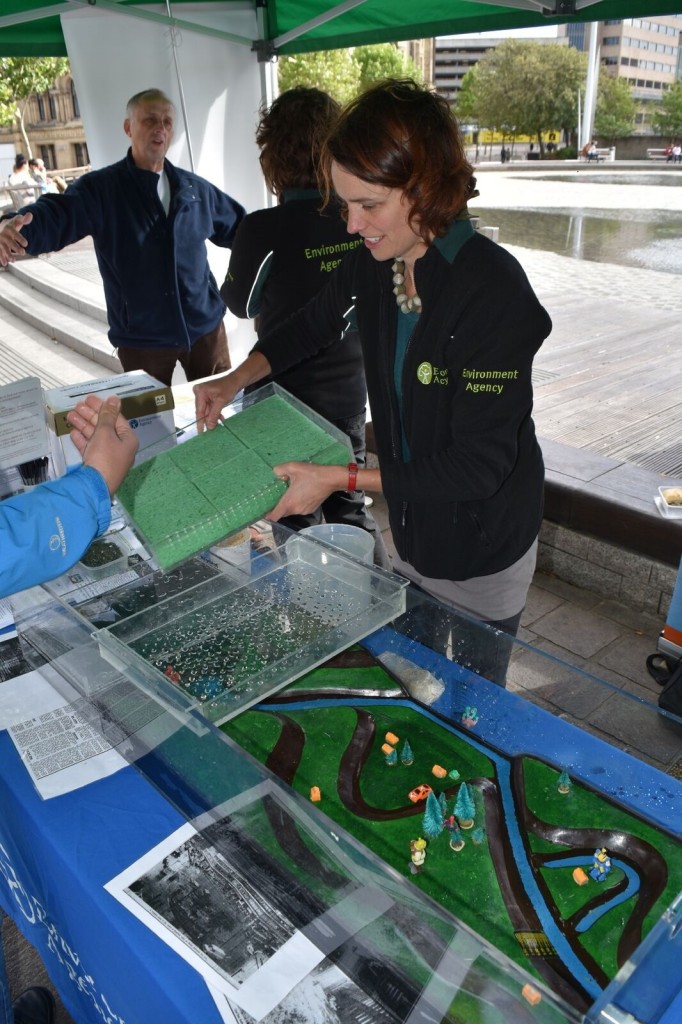 In the foreground of the shot here, you can see photographs of the 1968 Bradford flood also on display… At our story/memory stall, though, there was also much discussion of the more recent floods in Shipley, Bingley and the wider Aire valley, and about the possibility of future events of this sort. Indeed, it wasn't just memories that passers-by were sharing, but some very current concerns about recently-announced Bradford Council plans for building new houses — on green spaces to the west of the city centre, not far from the Beck and its tributaries. Were these flood plain areas, people wanted to know? Was there any joined-up thinking going on? In light of Bradford Council's quite critical "scrutiny report" on its own handling of floods last Christmas — published just this week — there are clearly still some questions to be addressed… But that's a topic for another blog.
A big round of applause, then, to Barney Lerner and all at FoBB, the Aire Rivers Trust, and other contributing organisations, for creating a memorable day in City Park. Let's hope that progress on the Beck's future can "kick on" from here…