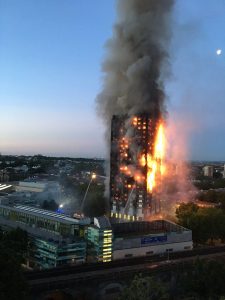 Two weeks on from the horrific fire at London's Grenfell Tower, I feel angrier and more depressed than ever. Not only for the obvious reasons — the appalling and completely avoidable deaths of at least 79 residents, young and old — but also now because the public discussion seems to have descended into petty, buck-passing arguments over combustible insulation cladding. Central government blames local councils for not inspecting their housing stocks fast enough, while local councils blame building contractors for supplying substandard materials. And meanwhile, in those UK cities such as Bradford where there has so far been no sign of suspect cladding, we get to act like it's somebody else's problem entirely. Earlier this week, a report by the Telegraph and Argus confirmed the early reassurances from the city's largest social housing provider, InCommunities, that "our high-rise blocks" use "non-combustible rock wool insulation which is not the same as that used in London." Nothing to see here. Move along please…
And yet there is absolutely something to see here. Because while Grenfell tower's flammable cladding seems to have been the immediate cause of this fire spreading so rapidly and lethally, there had long been concerns that any number of problems with that building were potentially life-threatening. The residents of Grenfell Tower had been well aware of this for years, but found that their concerns were repeatedly "brushed away" by the relevant authorities. So let's not confuse the symptoms with the disease. This is not a story about cladding, it's a story about ordinary people not being listened to. It's a nationwide pathology, and one that is only perpetuated by the cat-fighting at governance level about who did (or didn't) do what when. When you're shouting, you're not listening.
"Residents feel abandoned by those with the power," London's mayor Sadiq Khan has said of Grenfell tower: "They didn't know where to go or what to do. Residents feel that they are neglected because they are poor." That experience is certainly not unique to London. Khan's comments immediately reminded me of the Crosley Wood estate in Bingley — three tower blocks troubled by a multitude of problems, where the residents I've encountered feel largely abandoned by both InCommunities and by Bradford Council (who seem powerless to enforce any accountability on the housing association). Last year, I made a short film, High Rise Damp, which tried to look at these issues through the eyes of one family living on the estate. Here it is:
This is Jenni M. She and her family live on the eighth floor of ten in Peel House, one of the three Crosley Wood tower blocks. It stands right next to the Leeds-Liverpool Canal, which is why our Multi-Story Water project – working alongside Shipley's Kirkgate Centre – became involved in a community engagement process there. The canal, we've found, is experienced by residents as one of the few upsides to living on this estate. But residents at Crosley Wood also experience water in their lives in much more immediate and troublesome ways – in the form of persistent damp problems throughout the buildings, often manifesting as black mould. This poses serious health risks: as Jenni explains in the film, her son Dylan suffers from chronic asthma which is likely a consequence of the damp. Yet all her attempts to have the problem addressed or even taken seriously by InCommunities haveseemingly fallen on deaf ears. Making this film was my attempt to have her tell her story, for anyone who might be willing to listen, as simply and directly as possible.
There is, unfortunately, nothing unusual or exceptional about Jenni's story. That's sort of the point. As Emma Dent Coad, the new MP for Kensington and Chelsea MP (whose constituency includes Grenfell Tower) remarked during her maiden speech to Parliament in the wake of the fire disaster, "I've seen housing conditions that are shocking… Homes growing toxic black mould… Chronic health problems such as asthma, with children being carted off to hospital at night." Dent Coad has accused Kensington council of presiding over the "deterioration and perhaps even deliberate managed decline of social housing" in that borough. Making a similar point, another London MP, David Lammy (who personally knew one of the victims of the Grenfell fire, the acclaimed photographer Khadija Saye) has gone so far as to call it a case of "corporate manslaughter" – avoidable deaths caused by neglect and a lack of care.
Now, I'm not going to accuse anyone in Bradford of doing anything criminal, but we only need to look as far as the comments thread on InCommunities' own Facebook pages to see that a great many of the housing association's residents have faced comparable difficulties with run-down, substandard housing stock — and with a perceived lack of concern from those responsible. At the time of writing this post, the most recent comment is one from June 21st, from a resident whose "house was a disgrace" from the day she moved in, with unsafe wiring: but when she "rang incommunities [they] were rude and arrogant". "Some people that work here are dishonest", writes another complainant: "they just lied they do what suits them". And another: "Absolutely fed up! I moved into one of your houses 2 years ago and spent every bit of my savings on doing up the whole house as it was an absolute disaster." I have not cherry-picked these quotes – they're among the first things that come up on the feed, and are completely typical of what follows. In fact this thread is such a litany of horror that my colleague Lyze Dudley recently decided to run the entire comments chain through a software programme to identify the most insistent complaints. This is what she found, represented as a "word-cloud" visual: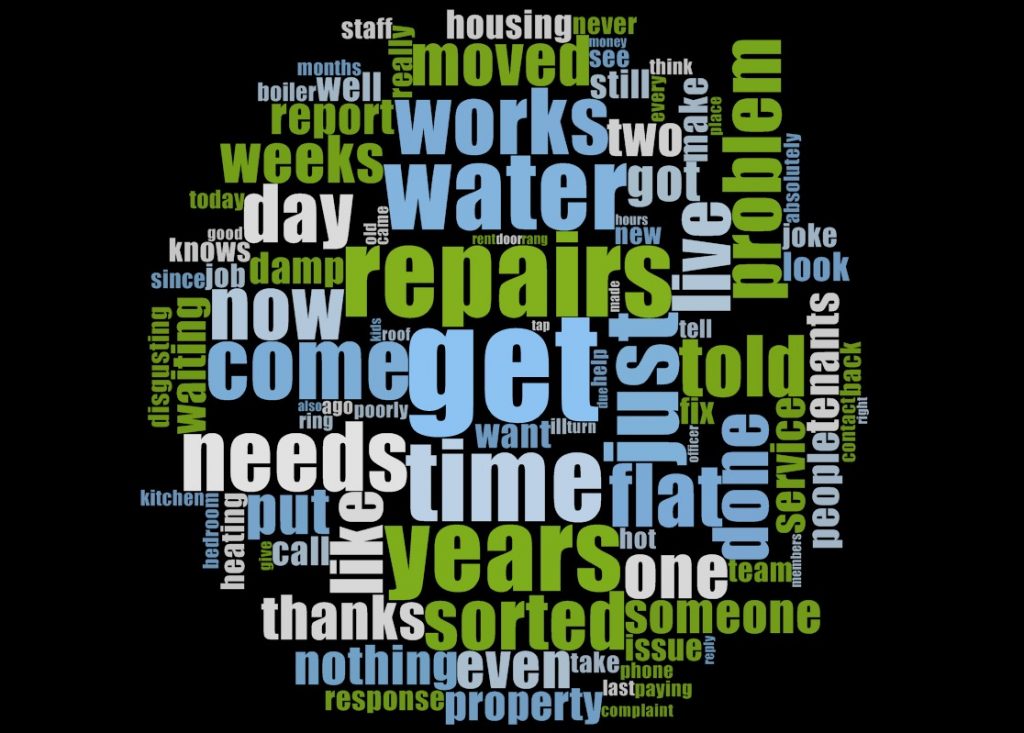 This image sort of speaks for itself. The word "thanks" does come up, but so too do "disgusting" and "joke". And notice just how prominent that word "water" is in the mix. Whether it be issues of damp or problems with water supplies, InCommunities tenants experience water as one of the big negatives of their living conditions. Thankfully, the word "fire" does not appear. Yet.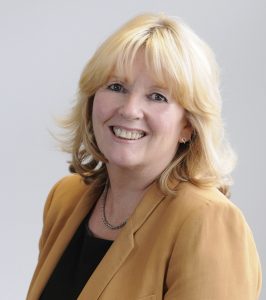 I should stress that I am not trying to say InCommunities does nothing right. Indeed early last week, a few days after the Grenfell fire, its Chief Executive Geraldine Howley (left) was awarded an OBE in the Queen's Birthday Honours List, "in recognition of her services to housing, young people and the local community." To earn this accolade, I've no doubt that Ms. Howley has done things at governance level that have made positive differences in people's lives. And yet there is also, clearly, a serious disconnect between the management perspective and the perspectives of residents. So there's an urgent need — in Bradford as well as in London — for constructive, respectful dialogue between authorities and tenants.
Perhaps that is just what InCommunities have been attempting this spring/summer, through a series of events and "walkabouts" they've set up on Bradford estates. At Crosley Wood, they laid on a well-attended "Fun Day" for residents on June 1st, which featured lots of music and bunting, free food and drink for residents (up to a point – when you'd had your allocation you had to pay for any more), as well as a caving bus, face painting and other family activities. There was also an information marquee offering advice on debt management, ways to save on household energy bills, and so on. There seemed to be a real effort to engage with residents, particularly by the new housing officer Joanne, and lots of people clearly had a really enjoyable time.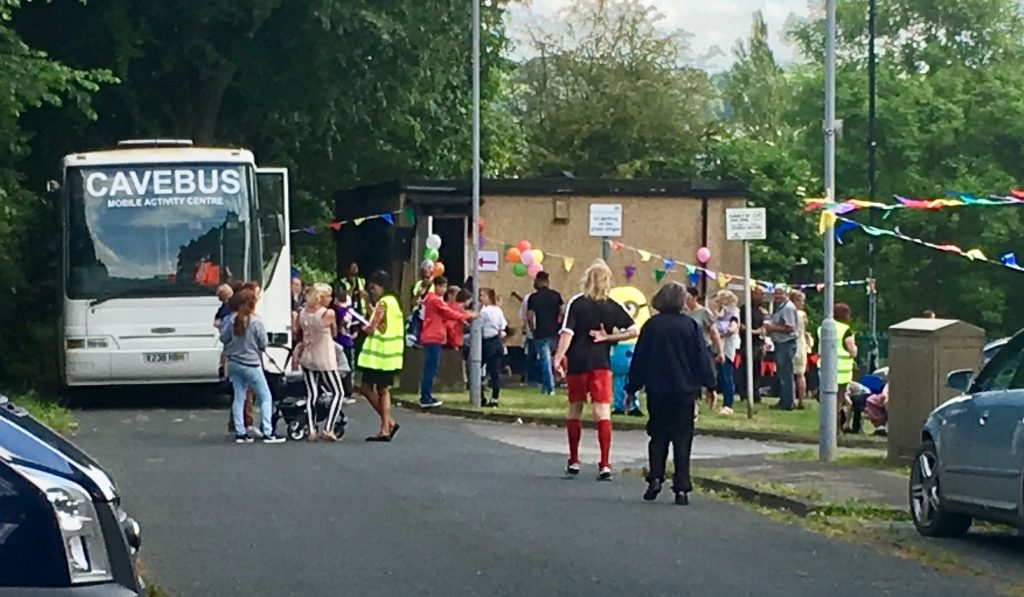 I asked Jenni (pictured below) what she made of the Fun Day. She was very grateful for it, she said, and suggested that a lot of the credit for the event and its positivity should go to Joanne — who is friendly, personable, enthusiastic and clearly concerned for residents' welfare. Even so, Jenni sounded a note of caution about whether a single housing officer could ultimately make any real difference in terms of the wider problems faced by residents. "We've had good officers before," she told me, "and they all seem to get beaten down in the end."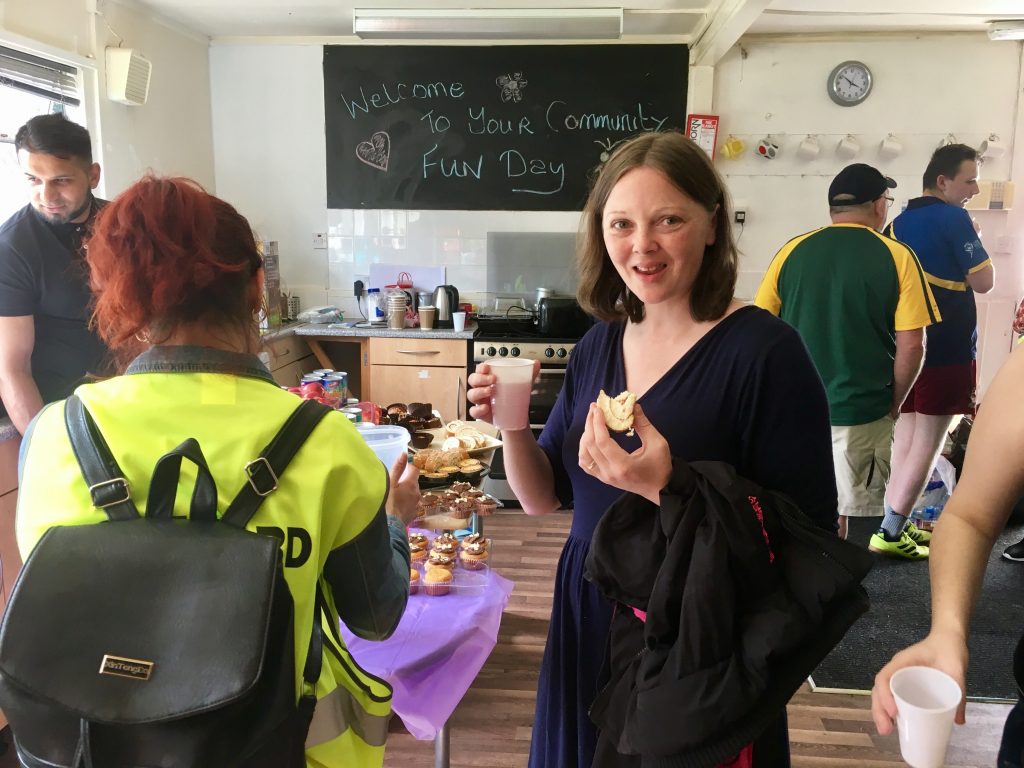 That rather bleak assessment, reflecting a wariness borne of experience, was echoed by others who attended the Fun Day. Lyze Dudley, who also took these photographs, spoke to numerous residents on the day, and while most were appreciative of what had been laid on, some of them also remarked that they didn't understand what this event was for: were InCommunities really going to address their concerns, or was this just a PR exercise? "The feeling was", Lyze wrote in her notes, "that this has happened in the past. There's a nice event where free food and drink is given out, residents are asked for their opinions and then nothing changes. One resident informed me that she would rather they spent the money on repairs to the flats rather than a party." Of course, repairs would cost a lot more than a party – and that's exactly the problem. Social housing in this country has been chronically under-funded for decades.
Another resident reported to Lyze his fears for the future of Crosley Woods' portacabin community centre (rather peculiarly referred to as "the Kabin" in publicity for this event): "Joanne has informed him that they plan to change the locks on the cabin, essentially putting a stop to any of the sessions that currently run from here and taking ownership away from the residents who are taking responsibility for the cabin and have done for the past two years. Unfortunately he cannot tell me why or when this may happen." It may be that this fear proves unfounded – let's hope so. But unfortunately, the experience of Crosley Woods residents has in the past been of things being taken away from them, rather than provided to them.
This was underlined most chillingly by Jenni, when I phoned her recently to see if she was concerned about fire safety, following the Grenfell disaster. "We used to have a really good fire safety system", she told me: "We had heat detectors, smoke alarms, and a common alarm system for the entire block. So if a fire started somewhere, we all knew about it." That system also sent an automatic alert to the fire brigade, who would then respond swiftly. However, after the building was renovated a few years ago (Jenni doesn't recall the exact year, but the Conservative-Lib Dem coalition were in power), the alarm system was not replaced. Now, fire safety has simply become a private matter of residents' individual responsibility. If your smoke alarm goes off, Jenni says, you have to decide for yourself whether to inform your neighbours or call the fire brigade. It's all down to you. 
[Please note: some of the statements in the paragraph above have since proved to be inaccurate. For corrections see here.]
That about sums it up, doesn't it? It's an endemic problem in modern Britain that people are too often just left to fend for themselves. We are expected to be personally "resilient" in the face of crisis, and we shouldn't necessarily expect any help from the authorities. The Grenfell fire exposed the murderous reality of what that means in practice, but it was — as the tower's residents were well aware — an accident waiting to happen. As for Bradford, well… cladding problem or no cladding problem, attention must be paid. 
+++
My thanks to Ruth Bartlett and Lyze Dudley for assistance with this post.
We welcome comments, feedback and corrections.