[note: this piece was originally posted on 1st June but had to be taken down and and then restored for technical reasons. The text remains as was.]
It's not every day you get to watch a film under water… But last weekend (May 27-28), that's exactly what audiences were doing near the River Aire, west of Roberts Park…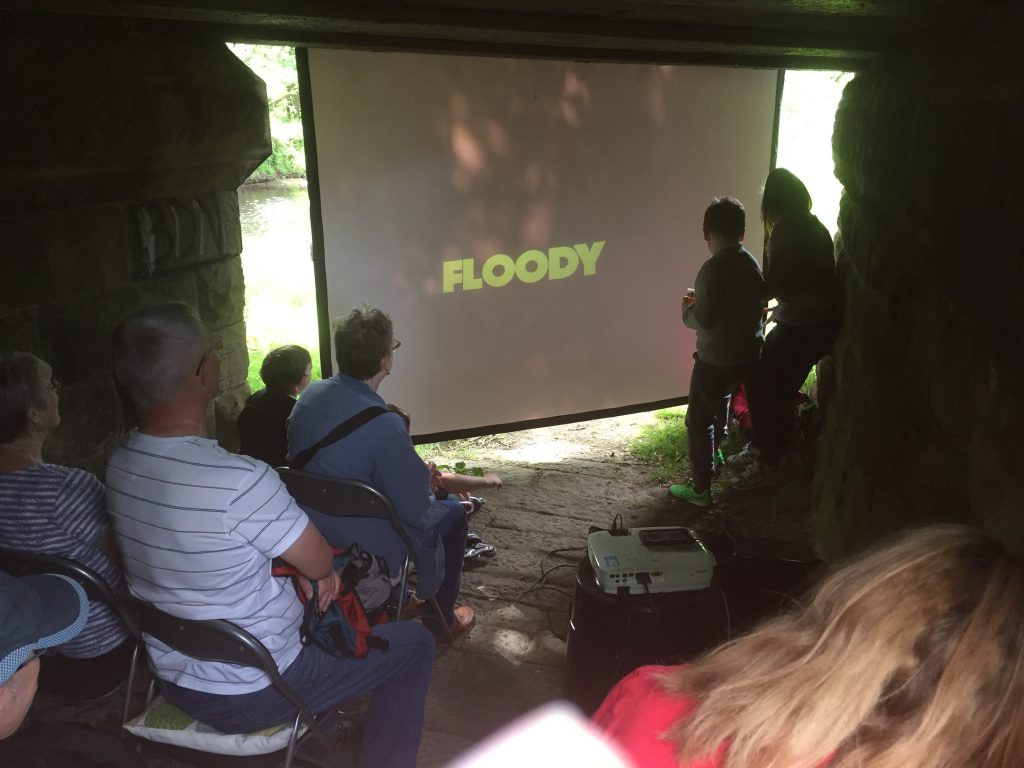 We made a little pop-up cinema in the small passageway that runs underneath the Barden Aqueduct — the stone 'beehive' structure at the end of the Higher Coach Road flood plain — to screen the world premiere of Floody, a 9 minute movie masterpiece made with the Young Artists of Higher Coach Road…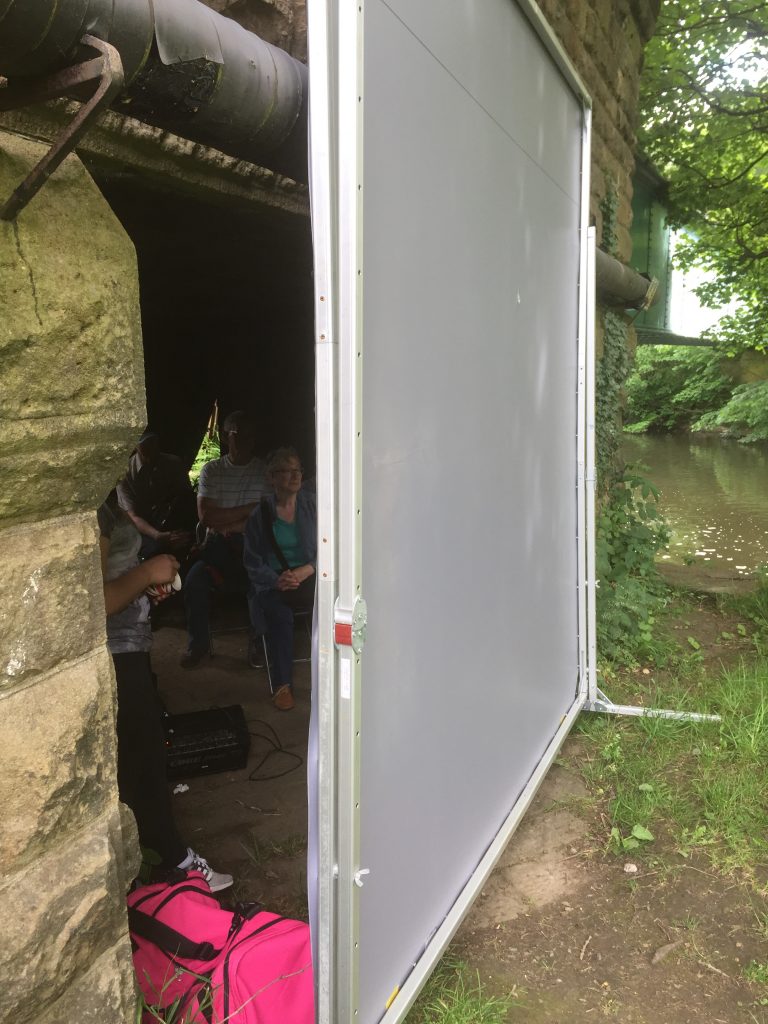 This was the view from 'backstage' area, looking towards the river and the rest of the aqueduct — which for 150+ years has carried water supplies to Bradford, en route from the Yorkshire Dales. This passage under the pipe bridge was itself completely submerged during the major flood on Boxing Day 2015 — another reason why we dubbed this pop-up space "The Underwater Cinema"…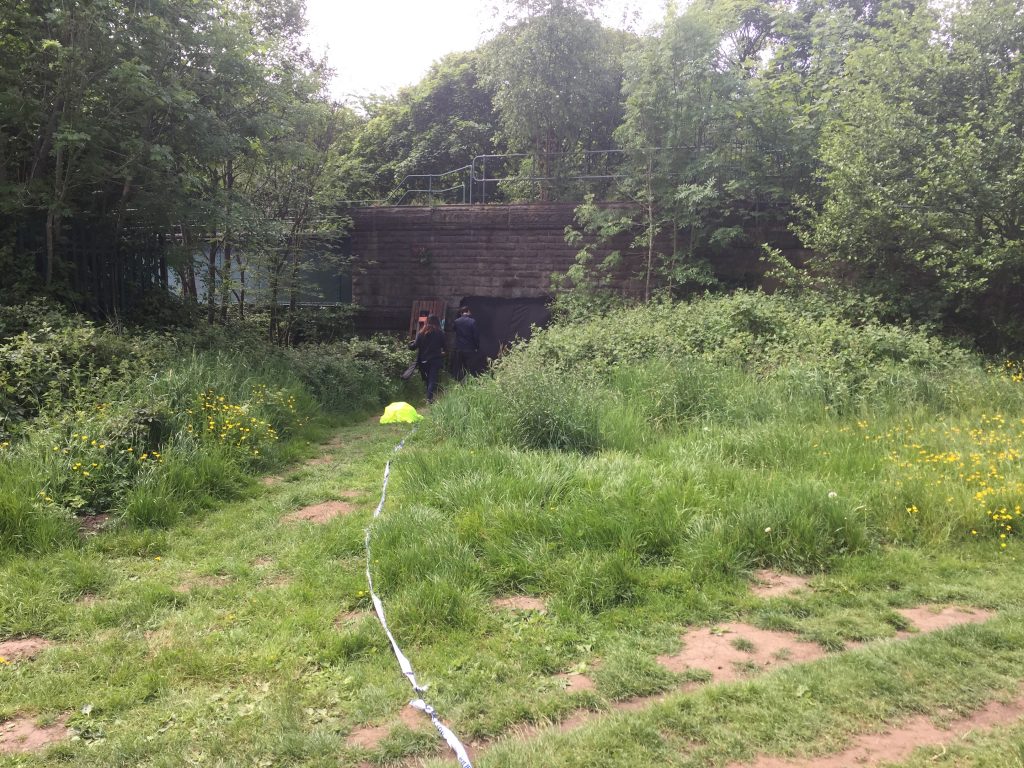 Here's the entrance to the cinema (with a couple of lucky punters just entering!). It was identifiable mainly by the bit of black cloth hung across the entrance, to block out light, and the tell-tale sign of the hazard-taped extension cable carrying power to the projector from the nearest house… Audience capacity was limited, but at 9 minutes long we could restart the film regularly for the next group of passers-by, and we had a pretty steady stream of visitors, coming off the riverside path near the footbridge across the Aire…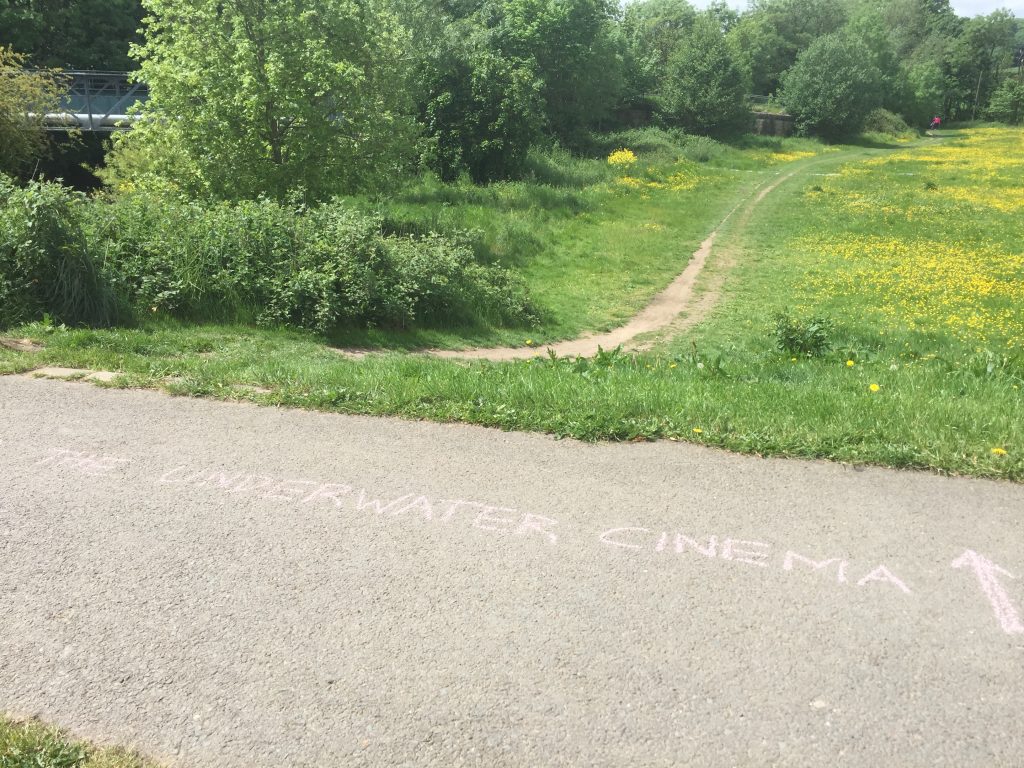 As a film, Floody is very much the vision of the 'Young Artists' — a group of mostly primary-age children who have been meeting most Wednesday afternoons, for almost a year, for open air art workshops on the flood plain between the river and the Higher Coach Road estate. Indeed, the film features footage from one of these workshops, which have been run by the amazing Nicola Murray, of Spongetree arts in Baildon…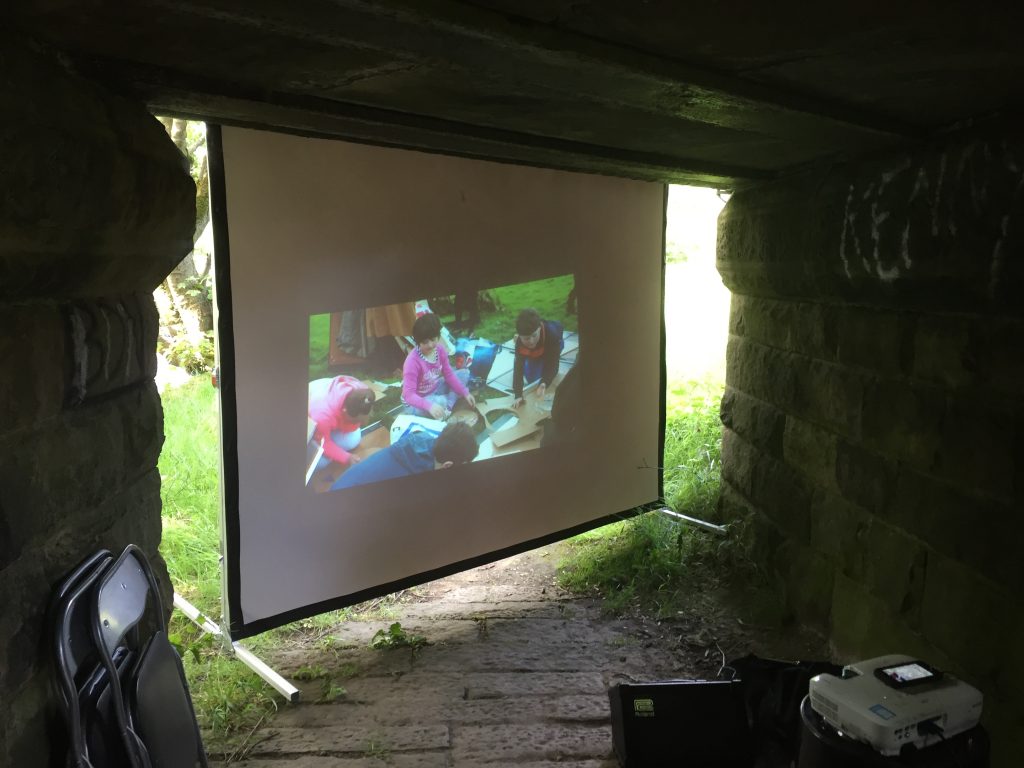 Facilitated in film-making workshops by Simon Kerrigan and Sian Williams (who also then edited the footage into its final form), the kids devised, acted, and shot a kind of horror thriller, in which a monster called Floody evolves from plastic bags abandoned in the river, and brings on an enormous storm, before being vanquished by the heroic children (who then remind us always to put our plastic bags in the recycling…). And if you think that sounds not-too-scary, well, there really is a moment in the film that made a lot of people jump… (As this hilarious bit of footage of "young artist" Leo demonstrates! Thanks Ruth Bartlett!)
The pop-up screening was arranged as an unofficial contribution to Saltaire Arts Trail, which runs every year on the last weekend of May. The "trail" is officially limited to a tour around Saltaire mill village itself: you get to nose around various people's homes, which have been temporarily transformed into miniature art galleries displaying work from far and near. But we thought why not get people to "trail" out a little further along the river, and as some of the comments left in our feedback box showed, visitors to SAT were delighted to discover this added extra!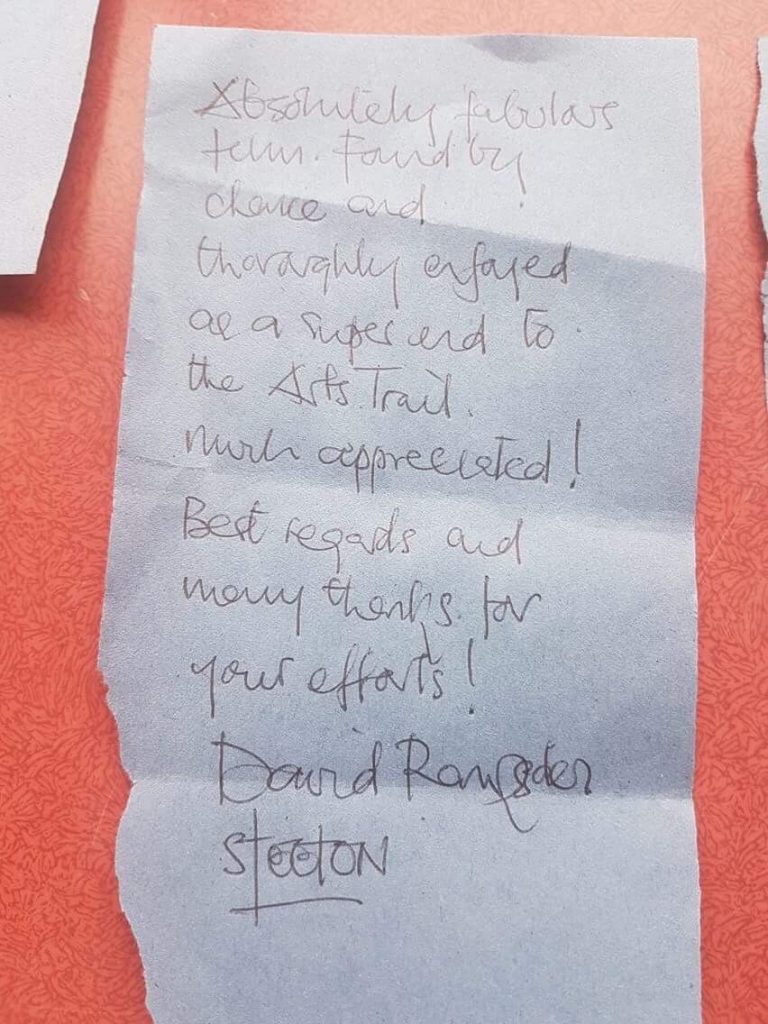 The 'lure' for visitors to walk out along the riverbank was another pop-up film installation in Roberts Park… (People who enjoyed this one were encouraged to venture out further for its companion piece.) The Salt Lions was set up in one of the park shelters (the one closest to the HCR estate), and attracted a consistent stream of visitors, who came off the sun-soaked park promenade to enjoyed the shade and a bit of a sit-down…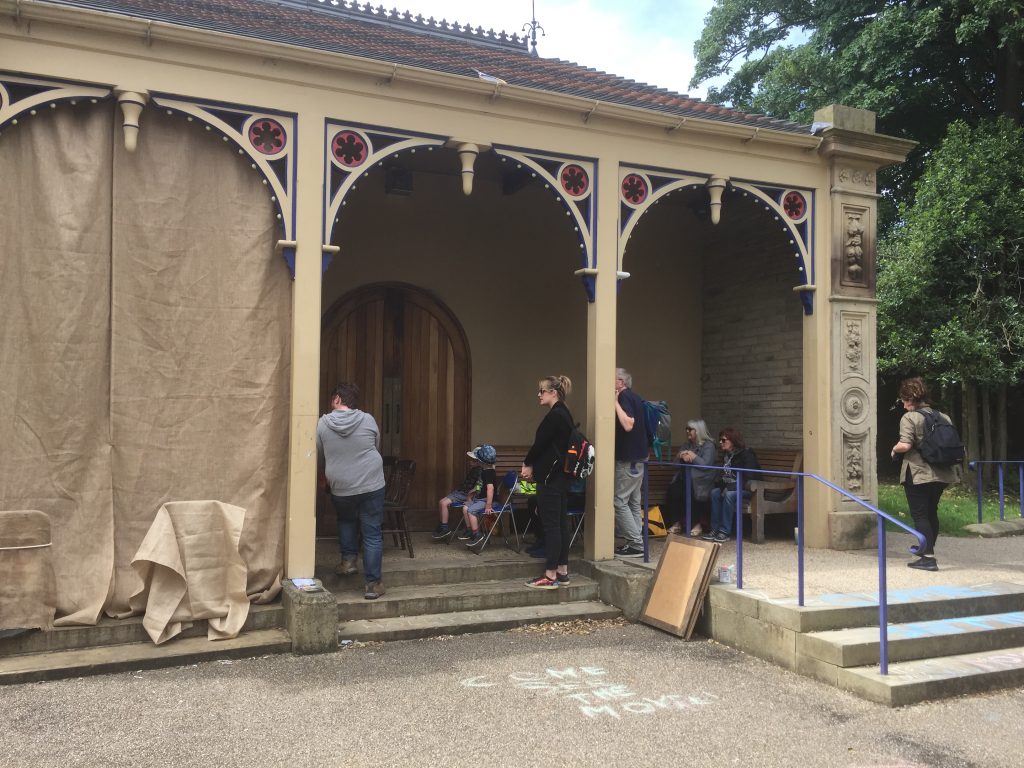 The Salt Lions is a 6-minute spin-off from the film project, which celebrates the Victorian bedtime tale of how the stone lions on Victoria Road  would leave their pedestals at night and wander down to the river to drink its waters. The kids responded to this by making a sepia-tinted silent movie, complete with captions, in which three of them hunt high and low around Saltaire for the "missing" lions…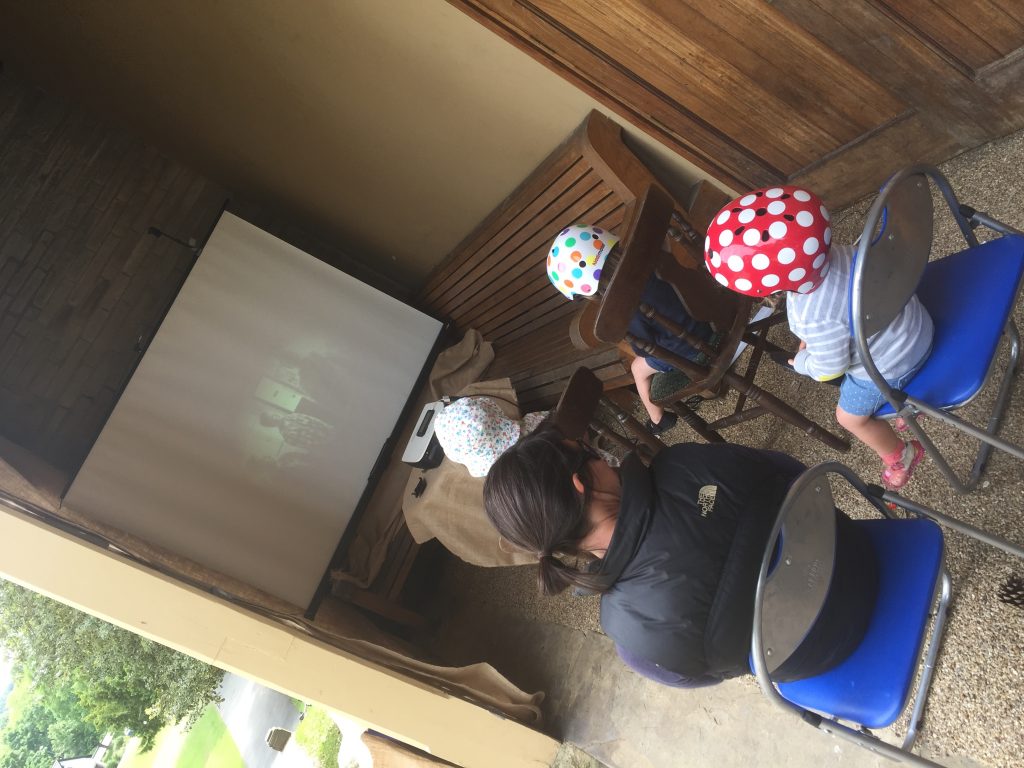 Despite our best efforts with hessian hangings, it was difficult to mask the light out as much in the park shelter as under the aqueduct, so the film image was fainter and smaller (as the projector had to be placed fairly close to the screen). In a weird way, though, this complemented the silent movie "look" of the film, making it feel very old school indeed, like an old fairground cinematograph… And certainly audiences did not complain (kids of all ages, used to hi-tech digital gadgetry, watched this flickering image with rapt attention!). There was something about the film that just worked in this setting at the end of a Victorian park promenade… which of course was part of the intention.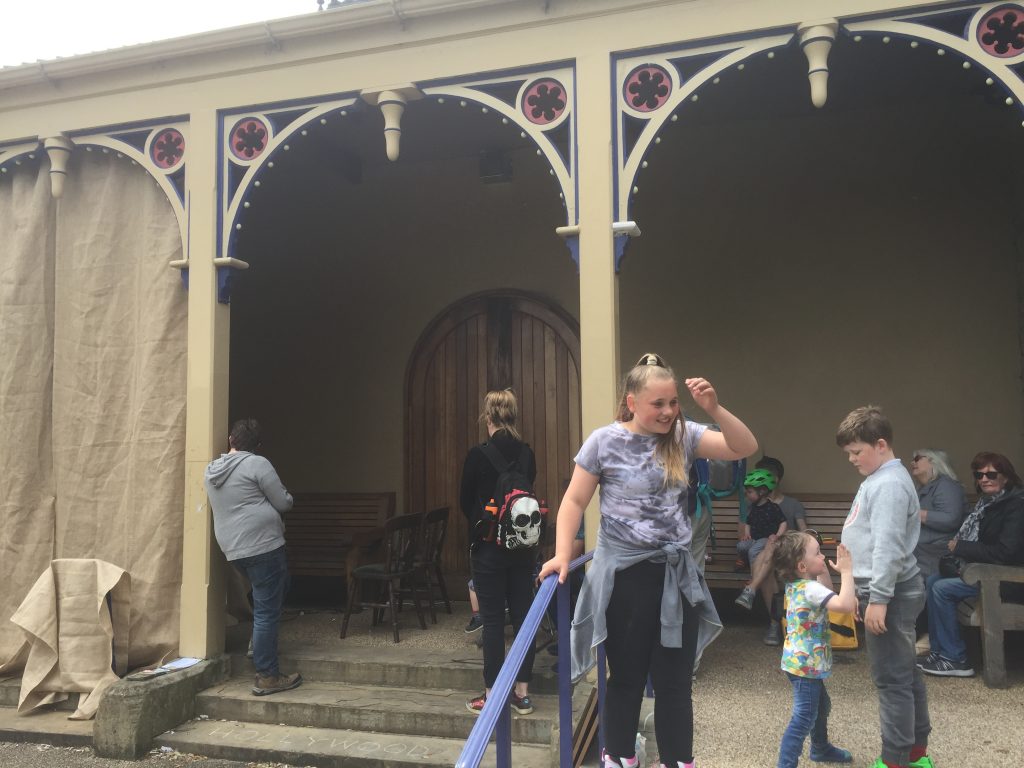 This is Hannah, who features prominently in both our films – as she's one a hard-core group of "young artists" who were ever present during the making of them. (Many more tended to come and go, depending on weather and mood…) Among the other stalwarts were Leo and Oliver – pictured below. These three not only hung out supporting the screenings at park and pipe bridge all day Sunday, they also showed up bright and early on the morning of bank holiday Monday having overnight prepared a new advertising hoarding for the park screening. Not only that… they had hand-signed whole fistfuls of autograph slips to hand out to their adoring public… (in their hands below)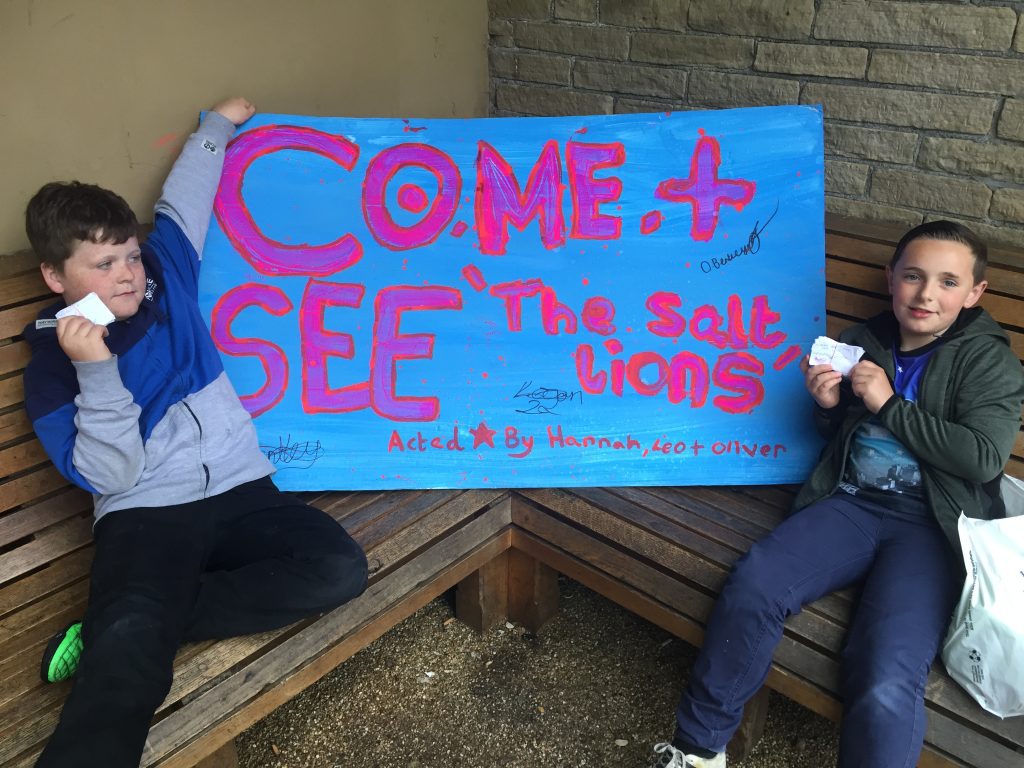 The only problem was that by comparison with the sunny weekend, the Monday turned out to be cold and drizzly — with both park and flood plain thus largely deserted of passers-by (except for reluctant dog-walkers). We therefore took the collective decision not to try to remount our outdoor screenings — and instead got permission from Half Moon Cafe to set up indoors with them…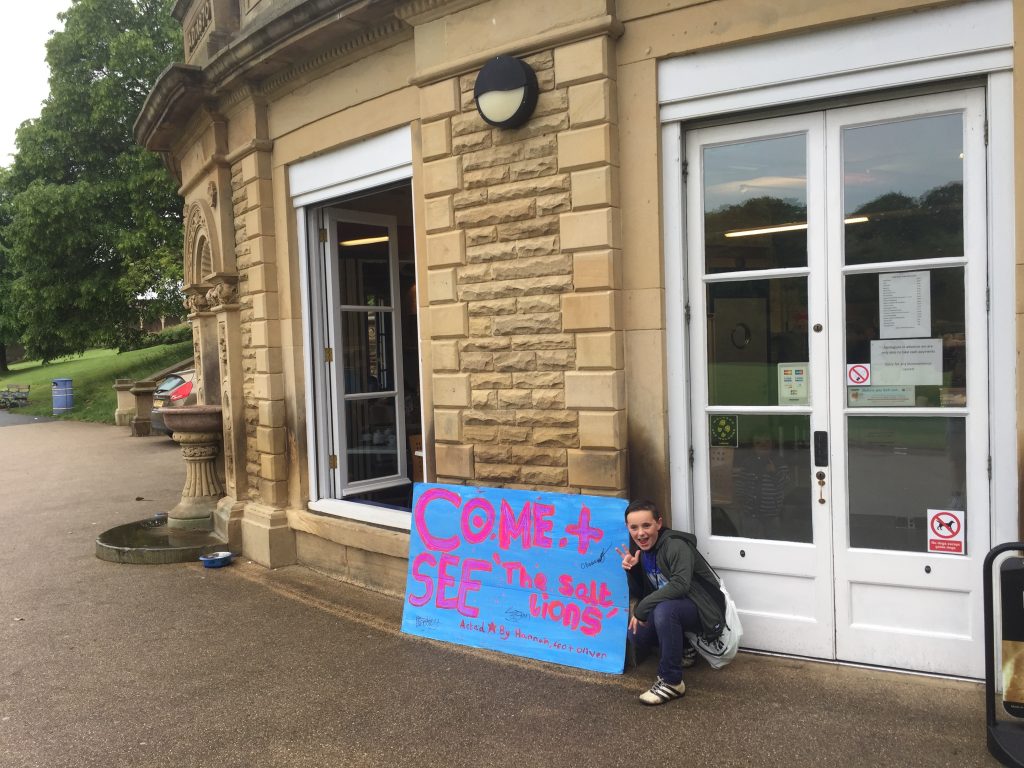 Having opted for a single location, we alternated screening both films for a few hours to customers coming into the cafe. I have to say that the atmosphere wasn't quite the same: both films had worked particularly well in their sited settings (monster movie in the dark under the bridge; sepia cinema on the park promenade…) and the more neutral cafe setting didn't have quite the same charge. But The Salt Lions could at least be seen better… Meanwhile, the kids themselves became the show, hiding behind the screen and popping out at the end (as if breaking out of the film!) to bow for applause and even take questions…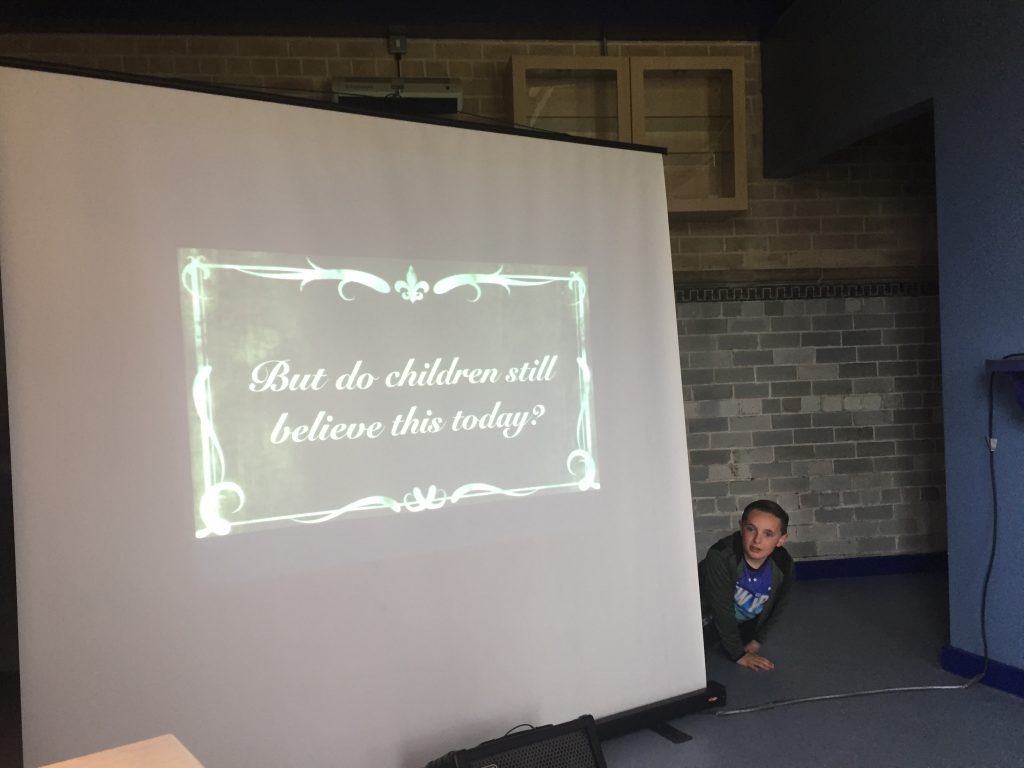 The Young Artists clearly took great pride in showing off what they had made to the public, and didn't tire at all of watching the same short pieces over and over again with new audiences. And they handed out a lot of autographs… The project of working with these kids over the last year has been very beneficial for their personal confidence (a point marvelled at by some of their teachers, Nicola tells me), and in some ways it's the environmental aspect of this that's been most important. By that, I don't just mean working with natural materials, which they have done a lot of in the art workshops. My point is that, because we had to work outside in the open air (because there is no obvious indoor space in which to congregate on the estate), the kids have always known they can walk away at any time… (and when it's cold or wet, they've done just that!) Perhaps paradoxically, it's that freedom to move in or out that has allowed them to commit… without ever feeling trapped in a room, or as if they were "at school". The degree of dedication and buy-in which some of them have shown as a result is really striking… They didn't have to be there, and so they chose to invest themselves. And we're all really proud of the results…