Tis the season to be bashing. Or so I'm told. To be specific, that's bashing Himalayan balsam – the invasive plant species that spreads like wildfire along riverbanks and tends to grow high and smother other vegetation as it goes… As this helpful guide from the Canal and River Trust explains, you have to do what you can to root it out annually, before the plant's seed pods develop and further spread themselves along our waterways.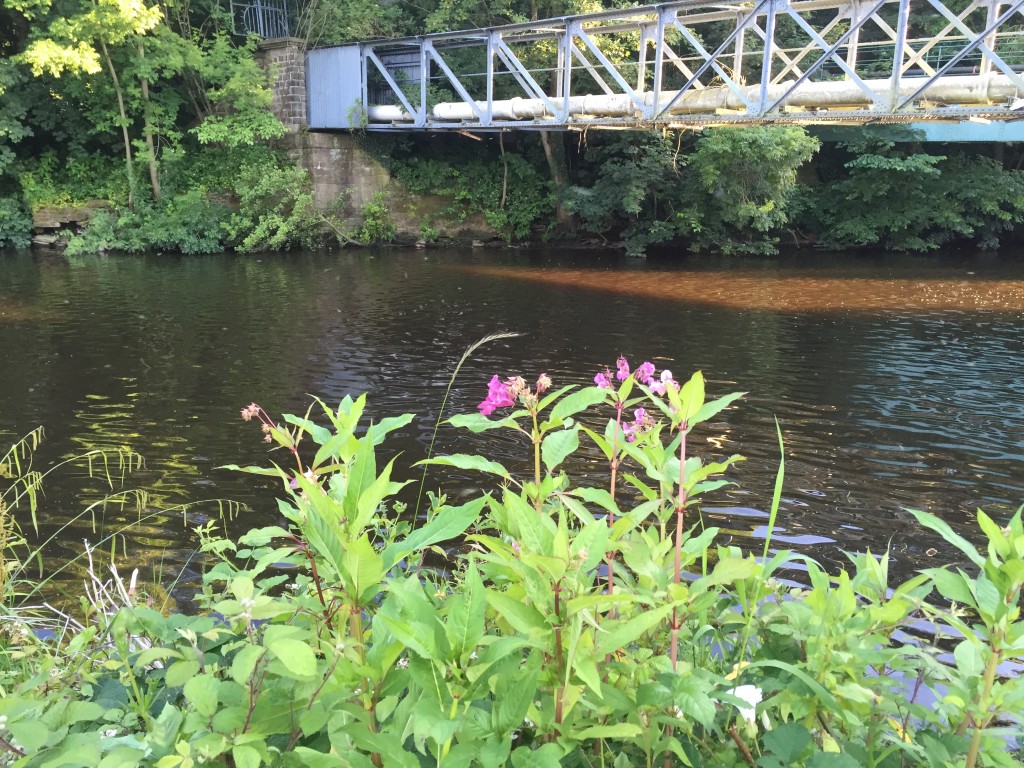 Here's one bit of balsam, with those pretty purple flowers, located right on the banks of the Aire along the 'Higher Coach Road' stretch west of Saltaire. (That's the Graincliffe aqueduct, carrying Shipley's water supply across, er, water, in the background.) This particular piece of balsam is no longer in situ, because I pulled it up myself — working alongside Ruth Bartlett of HCRRG (Higher Coach Road Residents Group) one night last week. Ruth had taken it upon herself to organise and advertise nightly balsam- bashing sessions (just one of a number of community initiatives she has been involved with getting started), and every evening from 8 she was joined by different assortments of friends and community members to work along this stretch of the river.
There's something peculiarly satisfying about pulling up balsam. And actually pulling it up, rather than 'bashing', slashing, or strimming is really the best way to deal with it when it is mixed in among native plant species — as it certainly is along the Aire. At this point in the year it has grown to the point where the balsam's stalks are easily identifiable and very graspable — resembling some sort of cross between rhubarb and celery — so you just grab it as close to the roots as you can and yank it out of the ground (while trying not to get stung by nearby nettles or spiked by thorns). It comes up really easily, although as Ruth pointed out, that's partly because the roots have already partially disintegrated the soil they're growing in (another reason why this is really bad to have along riverbanks, because it contributes to erosion). And then you just leave the stuff to rot down, safely neutralised…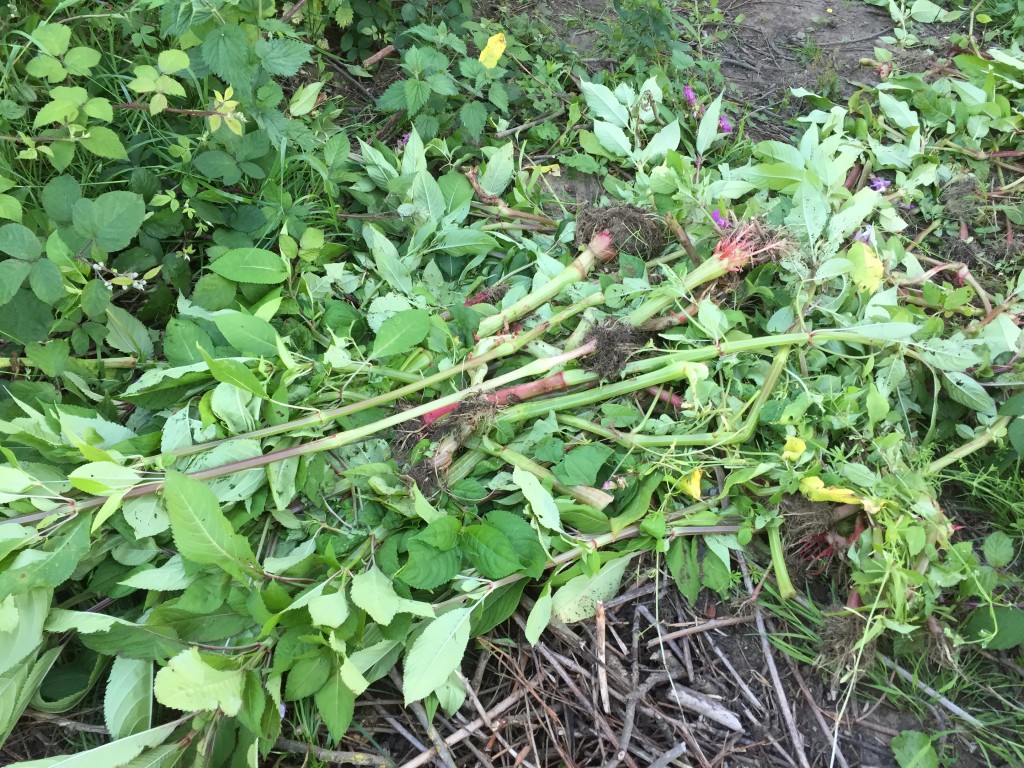 Ruth's balsam bashing initiative is just one of the recent activities undertaken along the riverbank and flood plain by HCRRG. Though still quite a new group (which, I'm proud to say, the Multi-Story Water project had a hand in getting going), they're learning fast. Actually this balsam bashing has been a good example of 'learning'. Ruth initially advertised on Facebook for volunteers to help clear both the balsam and some of the nettles by the riverbank — her thinking being that clearing some nettles would help us get closer to the balsam! But she immediately got a number of replies urging that the nettles be left alone, both for ecological reasons (they're really an important part of the native riverbank ecosystem) and for community safety reasons — i.e. they help to keep local children away from the riverbank when they're playing unsupervised (since the bank is slippy and steep in places, and prone to erosion – as noted above). Ruth duly amended her posts.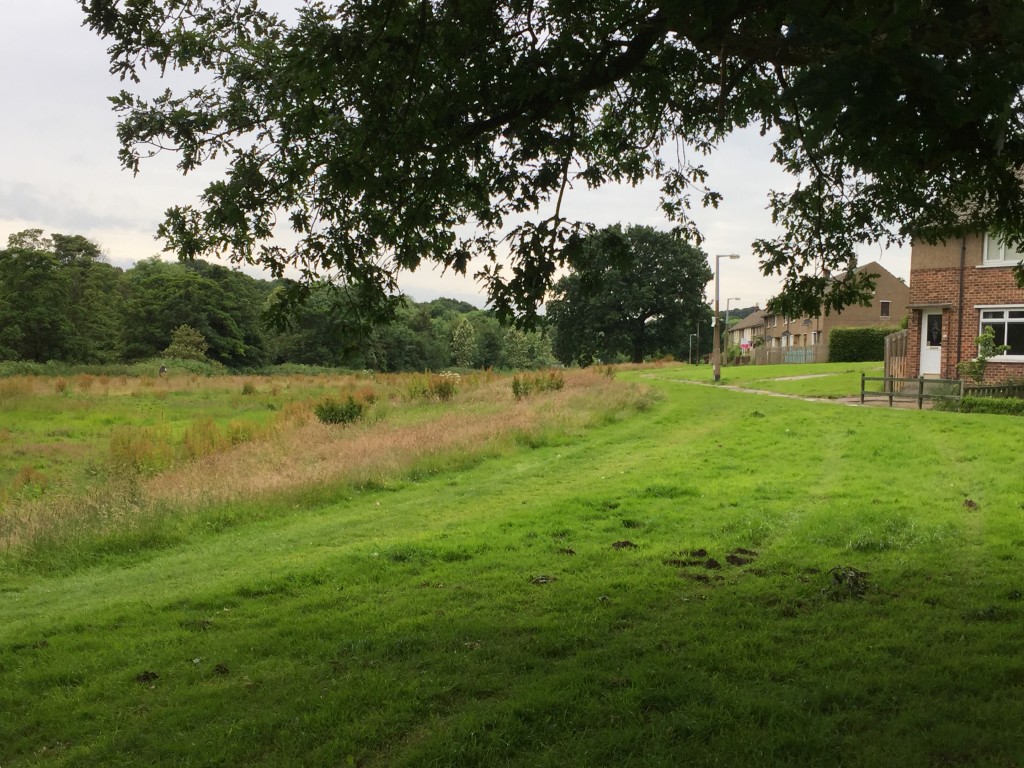 The wider flood plain area along the HCR estate continues to be a point of discussion and some contention this summer, with the Council mowers again refraining from cutting the grass on a regular basis. The evolving controversy between those residents who wanted a closely-cropped lawn and those who liked the wildlife opportunities created by the longer grass (e.g. watching birds dive-bombing for insects) was the subject of a number of posts on this blog last year — and the focus of our community-focused 'Meadow Meander' event. This year, as you can see from the image above, the grass hasn't grown nearly as high as last year — another consequence of the flooding at Christmas and the fact that the ground remained completely waterlogged until well into the spring. But as a result of the discussions last year, HCRRG was able to establish a direct line of communication with the local parks manager who is responsible for the mowing on this stretch (John Dembycki [sp.?], based up at Northcliffe Park). And one consequence of this is that the estate now has its own football field!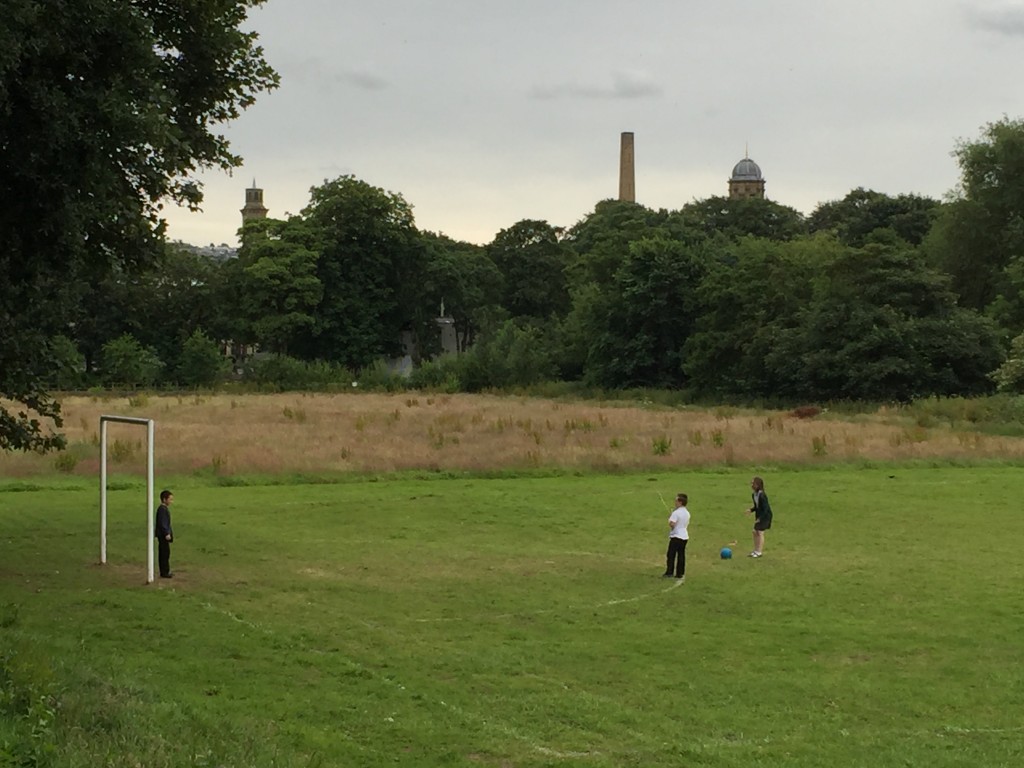 This shot is looking back towards Roberts Park and Saltaire (see mill and church in background). Older residents recall that this relatively flat end of the field was used for local football matches in years gone by, but the ground had long since become too bumpy and boggy for that. But this year the mowers have made a point of cutting the grass at regular intervals on this patch, so that the ground was flattened and prepared for the installation of the goalposts that went in just a couple of weeks ago, along with the chalk perimeter lines. Local kids are, needless to say, already making good use of the pitch. This area of the field is immediately downhill of the area where children often tend to gather anyway, so it's worked really well.
And so too has the recent introduction of weekly art-making workshops for the children, run by Spongetree's Nicola Murray — pictured below with the enthusiastic Oliver…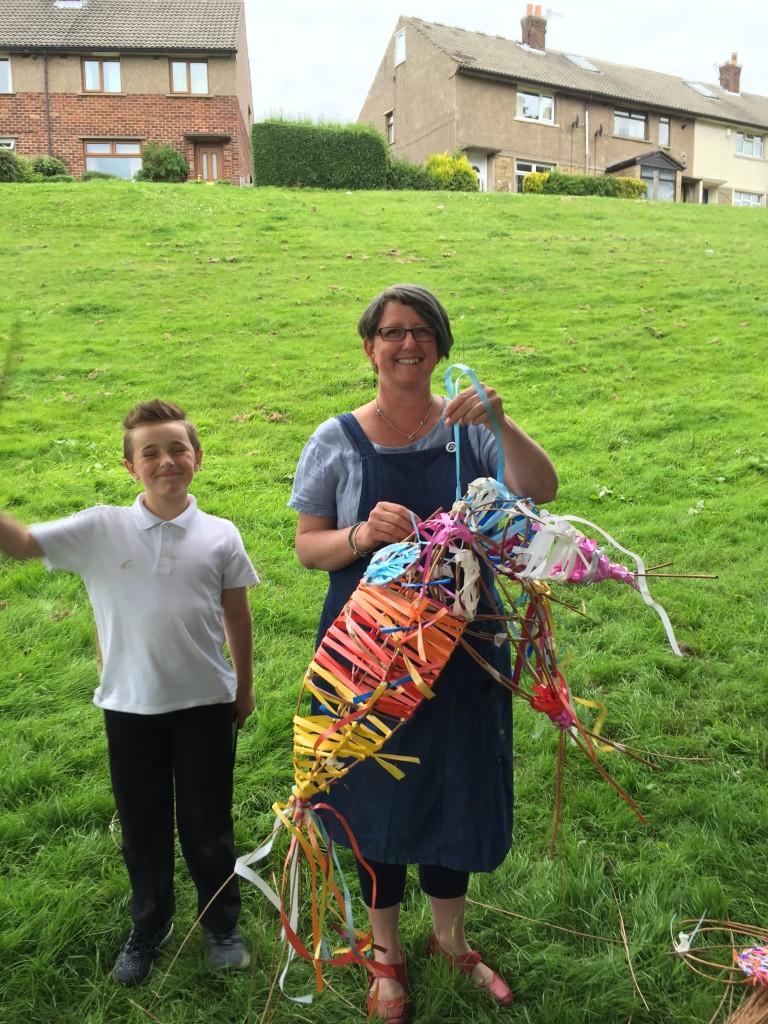 Nicola lives down Green Lane, within walking distance of the estate, so it's been simple for her to get along on a Wednesday afternoon in the after-school hours to work with kids on various arts and crafts activities — including here making fish sculptures from willow sticks and ribbon (all very appropriate to the riverside environment). Involving Spongetree in this way was again an initiative of HCRRG — with local kids often literally asking Ruth and others for "stuff to do" — and Multi-Story Water has been involved in supporting this activity too. We initially asked parents to sign their kids up to an organised series of workshops, but this seems to have been off-puttingly formal for most, so we abandoned that approach and decided to pursue the idea more organically… with Nicola simply rocking up each week and involving whichever children turned up in the activities on offer (and yes, she is thoroughly DBS-checked). That approach has proved popular, with numbers of kids in attendance growing steadily over the first few weeks. We're planning to continue this part-way into the summer holidays, and see what the kids can create. They are also starting to articulate their own requests for things to do — den-making is the next big thing for them, it seems, although that might require a little more in the way of resources. Let's see what evolves…