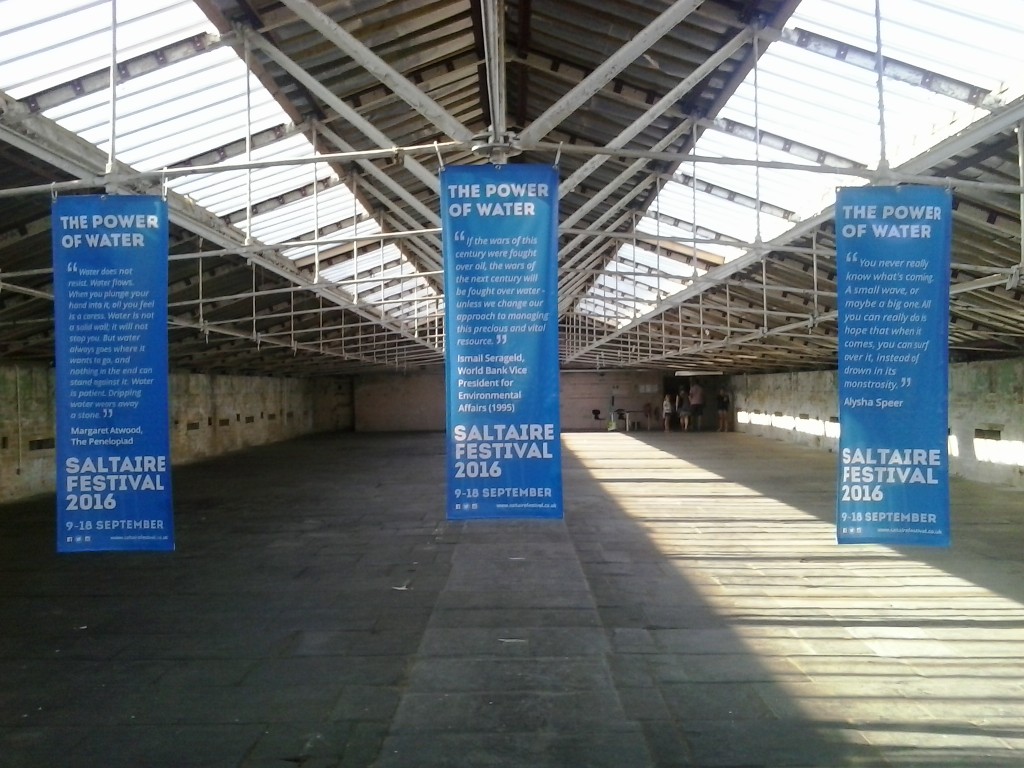 If you're at Saltaire Festival this weekend, do check out The Power of Water — an exhibition specially created for the festival, and on show in an amazing attic level gallery at Salts Mill, which isn't normally open to the public. The show's title is intended to link together two significant historical landmarks — this year's bicentenary celebrations for the completion of the Leeds-Liverpool Canal, and the major floods that hit the Aire Valley on Boxing Day. The exhibition's main emphasis is on photographs of the floods — mostly selected from entries sent in by local residents, accompanied by some professional material alongside them. These are given wider context and resonance by the carefully chosen quotes on banners like the ones shown above.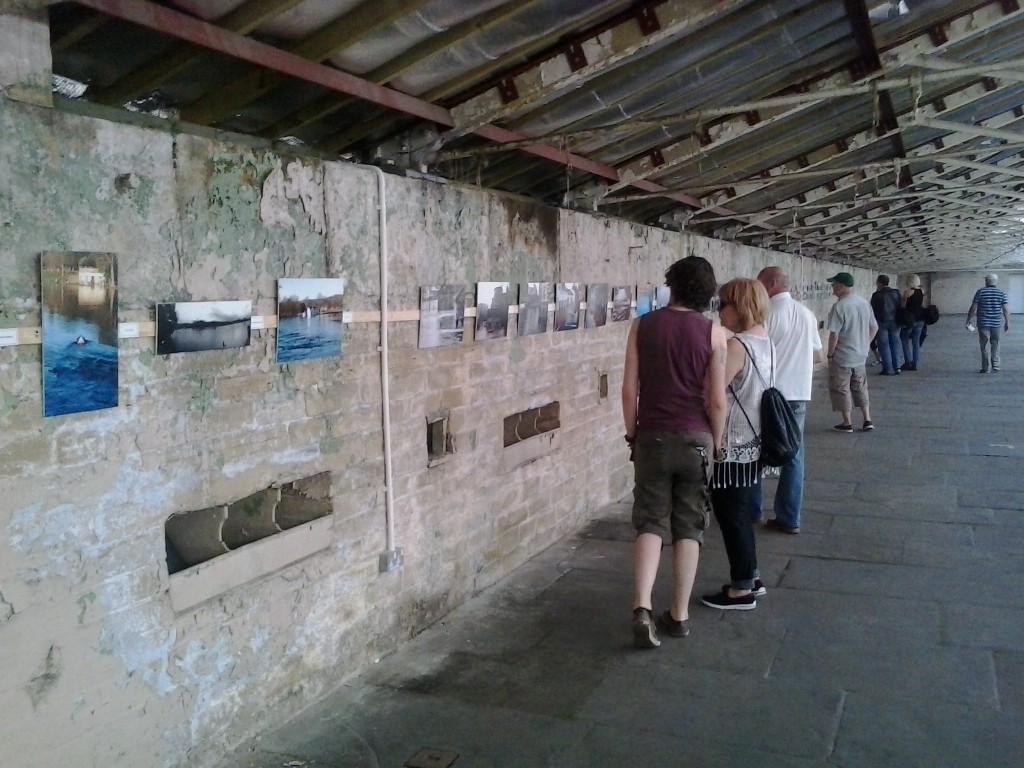 The striking thing about the way that the exhibition has been hung is that the photographs are unframed… They're simply affixed to a wooden runner down the length of the roof space. Presumably this simple, lo-fi approach reflects the limited funds available for the exhibition (Saltaire Festival is run entirely by volunteers, and it receives only very limited funding from external sources). But for me there's also something really apt about this method of staging. Given that the homes of many of these affected by the floods had to be stripped back to bare brick (see for instance this previous blog post), the distressed, unplastered walls of the mill provide a really poignant backdrop for the pictures. The photos almost give the impression of having been salvaged from somewhere and put on display as forensic evidence… which, in a sense, they are.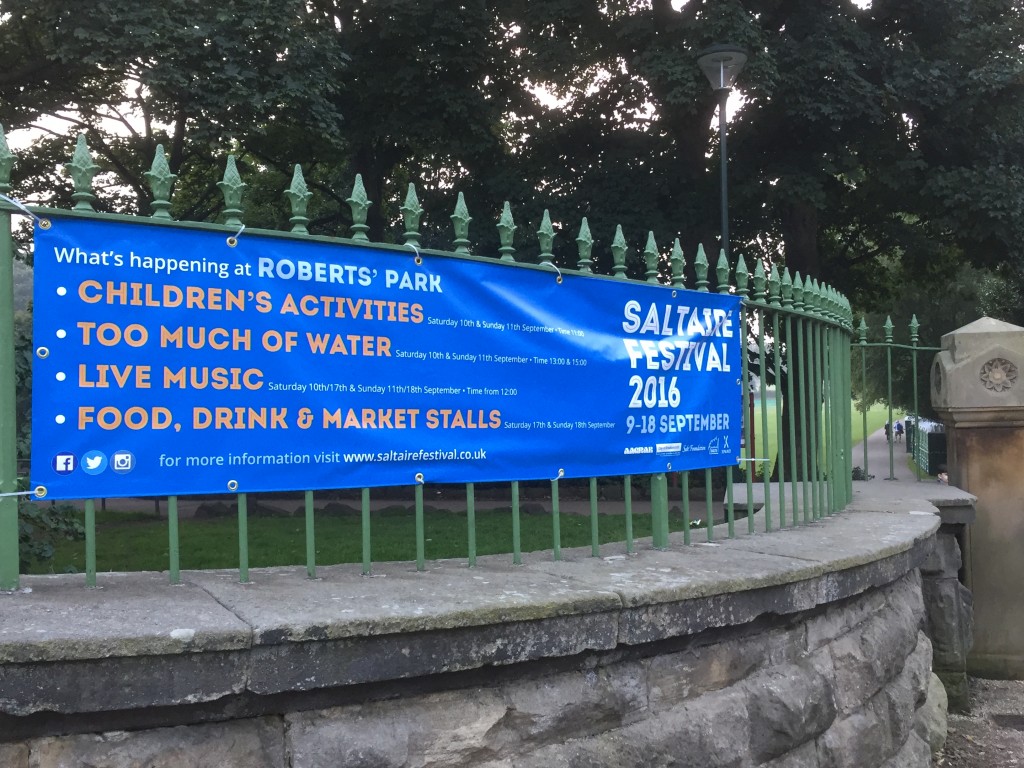 Down at Roberts Park, there's another blue banner advertising what's on… I'm rather chuffed about the prominent place here for Too Much of Water, a one-man, half-hour storytelling performance written and performed by yours truly. The piece, which I presented in the park last weekend, is based on interviews with some of those in the Shipley area affected by the Boxing Day floods. It provided some further reflections on the overwhelming "power of water", while also seeking to entertain a festival audience…. Not an easy balance to strike!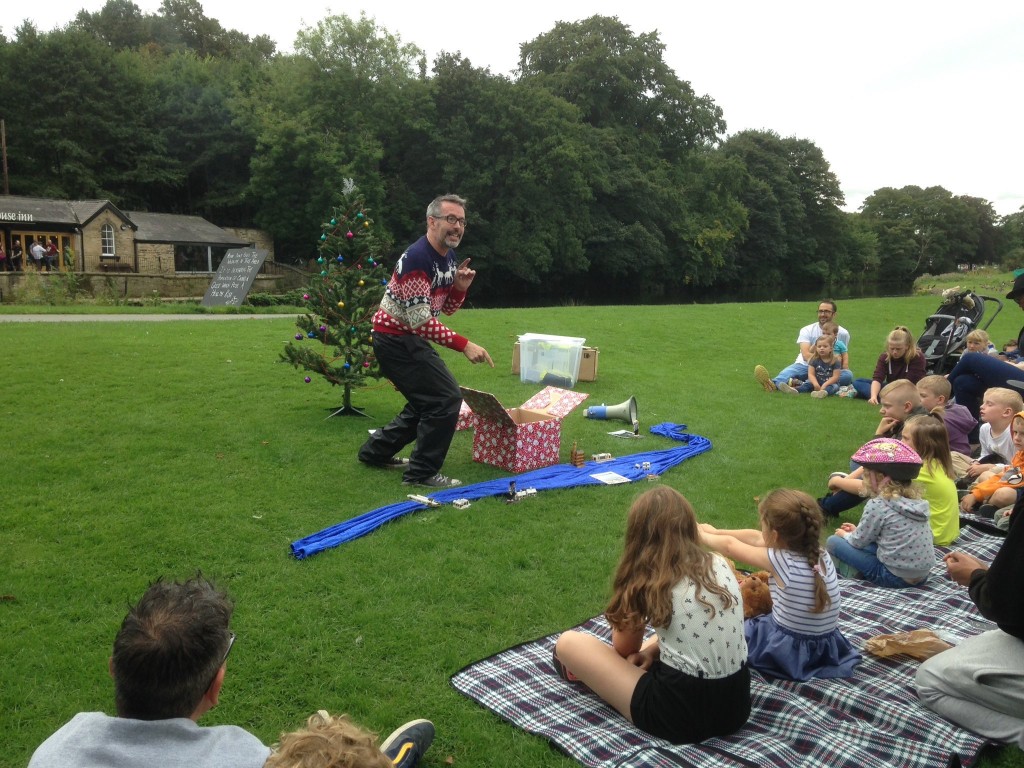 This is me in Roberts Park last Saturday, mid-performance — as snapped by Barney Lerner. All the pics in this blog were taken by audience members and posted to social media, where I grabbed them from. As you can see from this image, the audience consisted of both adults and children (there were a lot more adults standing behind the seated kids), and I'm personally really pleased that the show seemed to hold the attention of both older and younger spectators.

Irene Lofthouse: "A sensitive, thought-provoking piece that highlighted the tragedy of people's experiences, but rippled with light humorous touches. The use of simple props (loved the Xmas jumper) and dolls made it accessible to all ages – and children at the performance I attended were as interested as the adults. Barbie and the Bard illustrating local people's trauma was inspired."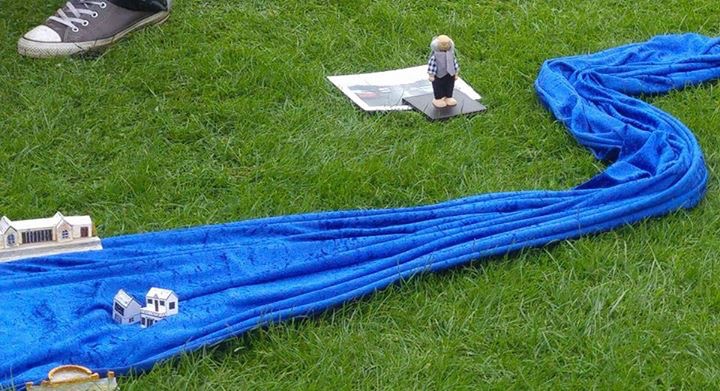 To capture a sense of what happened up and down Shipley ward — between Branksome Drive in the west and Lower Holme to the east — I used a bolt of blue cloth to stand in as the river (as seen here in close-up shots by Vanessa Hawkin), and miniature wooden figures to represent some of my interviewees. The resemblances weren't great, because the figures were store-bought and I just had to arbitrarily assign identities! Much more recognisable were the landmark buildings represented by card models made by my good friend Stewart Gledhill (thanks Stewart!), the chairman of Higher Coach Road Residents' Group (HCRRG).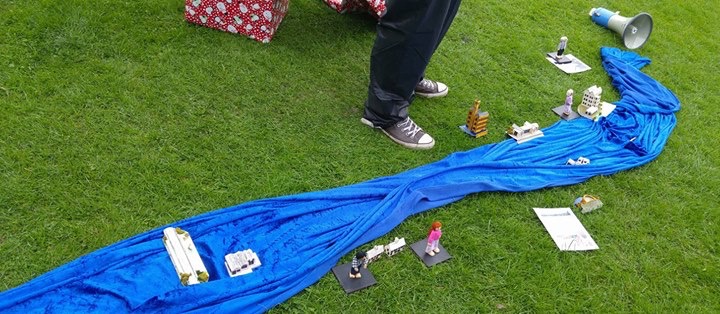 In this shot above, that's Baildon Bridge and Woodbottom club to the left (east), then the four houses of Aire Close, then New Mill, the Boathouse Inn and Roberts Park's Half Moon Cafe and cricket pavilion, then Hirst Mill at the far end (a bit too close to Saltaire because [a] none of this was to scale, and [b] I messed up my placements a bit in this particular run of the show…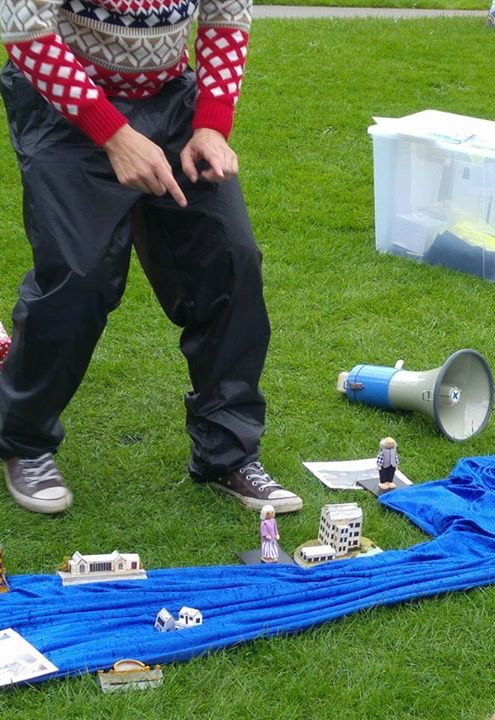 Graham P. Glover: "I wasn't sure what to expect when I saw there was going to be a theatrical/comedic event at the Saltaire Festival around the Boxing Day floods which touched so many people's lives in this area. However I found the event very thought-provoking and poignant. Steve's use of models and the fabric for the flowing and ever expanding river that day worked brilliantly. A very entertaining show with some audience participation – the Christmas jumper and waterproof trousers were just the ideal costume too."  (I was sweating like a pig in those, truth be told, especially the Sunday…)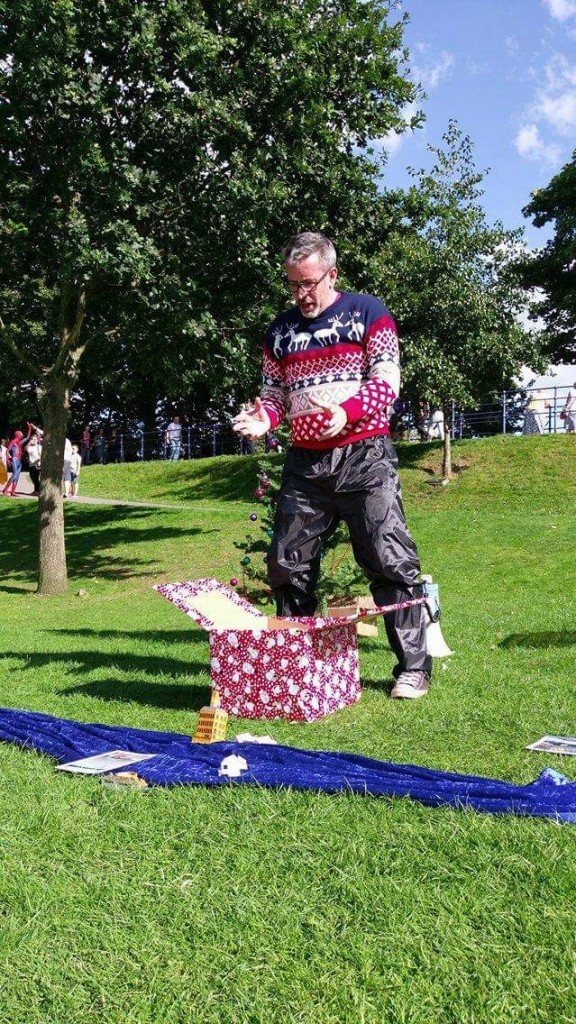 This picture from one of the performances on Sunday (as snapped by Nicola Murray). I'd had to reposition myself because the sun was so bright. On the Saturday I had my mini-Aire directly parallel with the real thing (and the real Boathouse behind me), but on Sunday the sun was burning right above the Boathouse and would have blinded people, so I shifted round so my back was to the path to the footbridge. Anyway, I'm just glad that — title or no title — we were not affected by rain.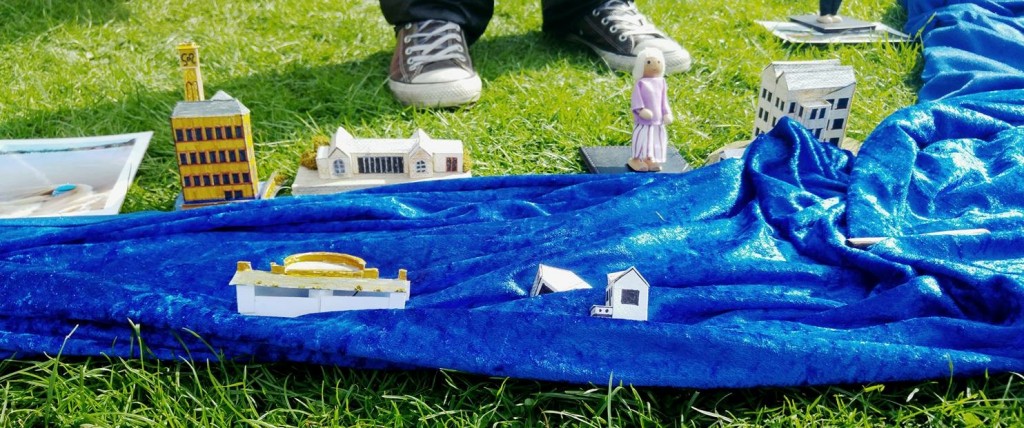 Audience responses on both days were really positive, and I even had a few people asking where they could send donations to flood relief charities. (I recommend Yorkshire Voluntary Flood Support.) Some of my interviewees also turned out to see the show, and it was really great to see them — weird as it must have been for them to hear their personal stories recounted in this way. A huge thanks to all of them.
Thanks too to those people who have been interviewed by me this year, about the floods, but didn't make it into the show at all. I had way too much material, and had to make some tough decisions about what to include and not. But who knows, maybe some of the other material will find its way into another show…
Thanks to everyone who came. It was great to see you all.