This Saturday, 1st April, at Saltaire Brewery – between 4pm and 8pm – we are proud to be co-hosting a special event for residents of the Dockfield area. It's a chance to meet, chat, eat, sample the beer, and find out more about what's going on in the area. There'll be some acoustic music from Eddie Lawler, and a quick plug for This Island's Mine — the short play we've made from our research into the area's distinctive history and identity… Here's the flyer!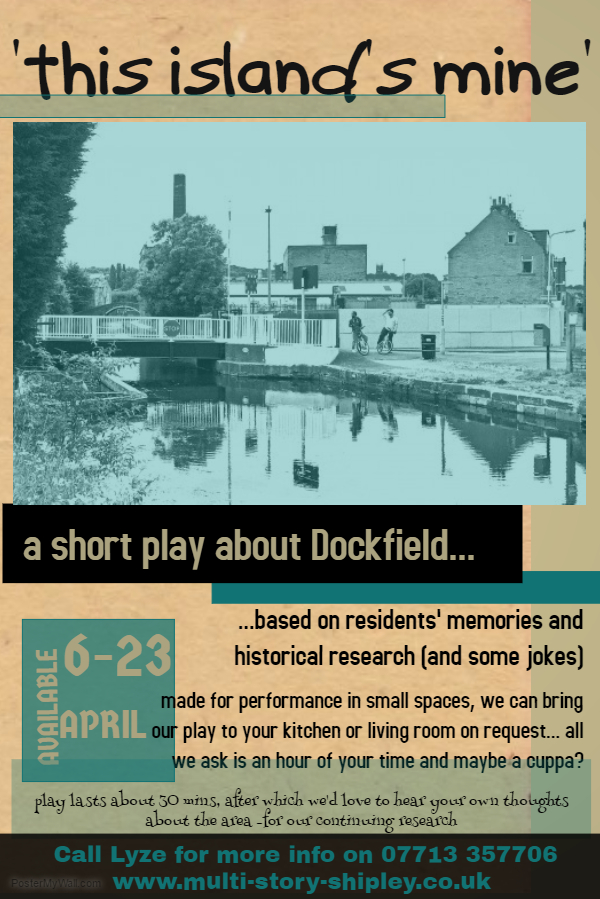 As the flyer says, this is a piece that's been especially made to take into people's homes (although we're also planning a few shows in the 'Brewery Tap' at Saltaire Brewery – details tbc). We wanted to make something that doesn't have the formality of a 'proper play', and that feels relaxed and fun for everyone (kids as well as adults). We figured you're most likely to feel relaxed at home — hence the idea of bringing it to you. It's available on a range of dates in April, and it's completely free of charge! Just call Lyze on 07713 357706 if you'd like to book us in for a visit.
The play features two actors (Steve Bottoms and Kat Martin) whose characters are fictionalised versions of some of the local residents we've met and interviewed. The title, This Island's Mine, is inspired by one person who told us that – as a kid – he always thought of Dockfield as an island (because it's bordered by the canal, the River Aire, and Bradford Beck). Perhaps you've never seen it that way – but in a way that's the point… We're hoping the play will spark reactions and further conversation… Maybe you'll want to share a few memories or stories of your own in response? (or not – up to you!)
This is all part of an ongoing research project into some of the waterside communities in the Shipley area. We're using various events, performances and conversations to share our findings with members of the community, to create a kind of 'feedback loop'. Hopefully we all learn something that way, and have some fun doing it.
We're really interested in your thoughts about Dockfield, and how life here could be further improved. Do join in the conversation!