25th October 2017
For the attention of: Geraldine Howley OBE
Dear Geraldine,
Hello again. Hopefully you'll remember me. Back in August, you were kind enough to meet with me and a couple of my colleagues, in your capacity as Chief Executive of Incommunities (Bradford's main social housing provider). We discussed the housing conditions in the high rise flats off Crosley Wood Road in Bingley. I wrote about that meeting at some length in this blog, and in the interests of balance and "right of reply", I sought your responses before finalising those posts. This time, though, in light of recent developments, I'm writing directly to you in this "open letter" – exercising my rights as a private citizen to express his personal freedom of speech.
You might remember that at our August meeting, you and your colleague Adrienne Reid acknowledged that the condition of the Crosley Wood flats is "less than ideal" (I worried at that phrase in the third part of the previous blog). You also acknowledged that sometimes Incommunities gets things wrong, and that the organisation could sometimes improve on the way it communicates with "customers" (or residents, as I prefer to call them). Unfortunately, though, you have recently provided a particularly grotesque example of such poor communication – in the form of this letter to residents, signed off by Adrienne…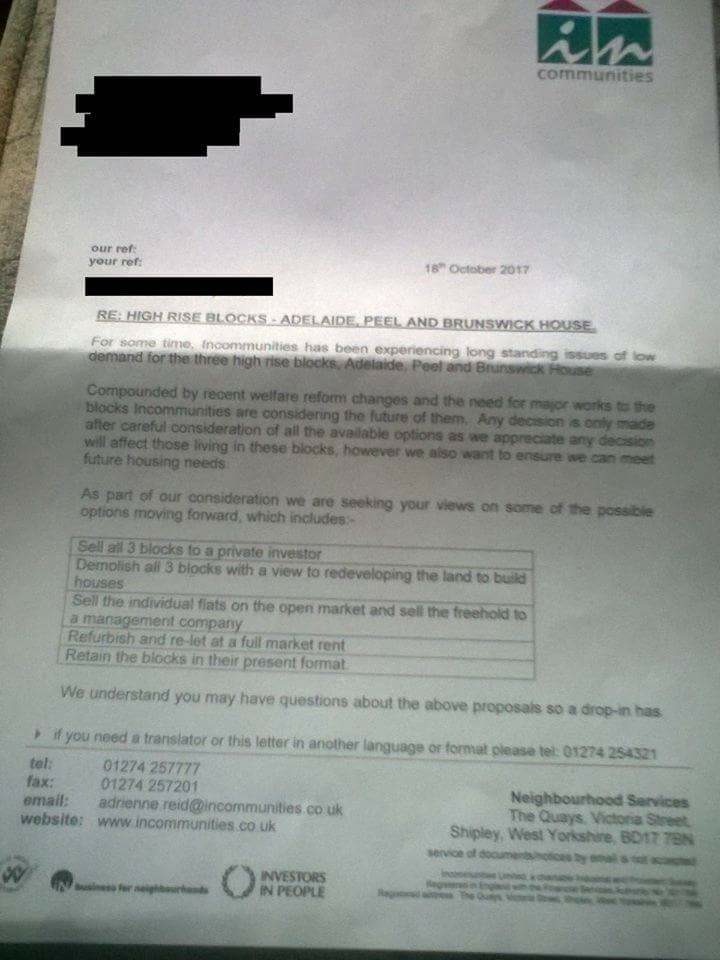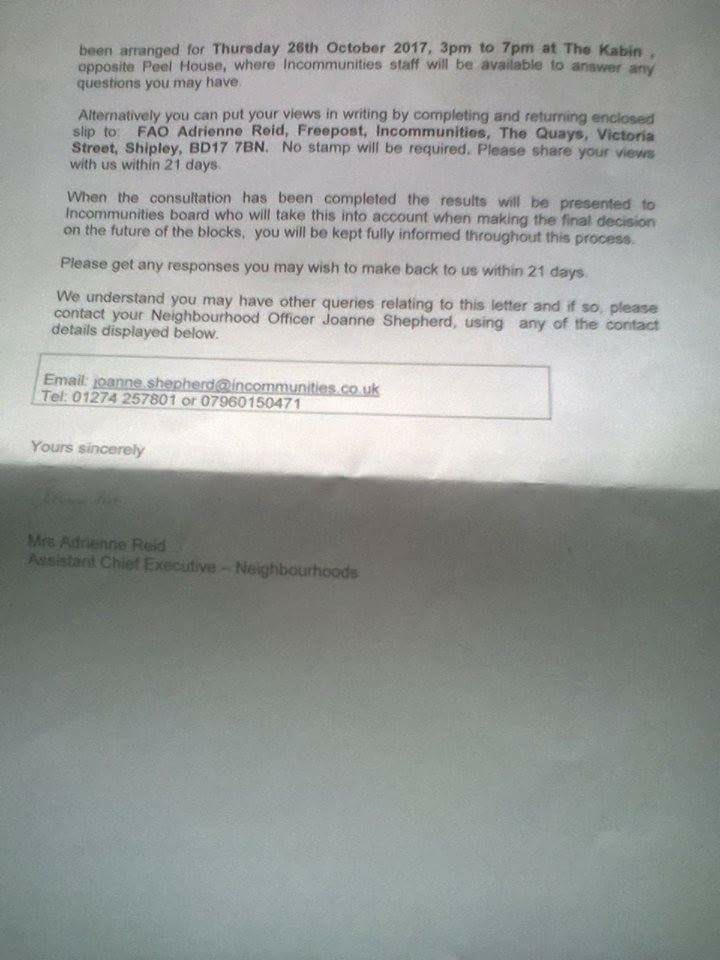 Now, I think I do understand what you're trying to do here. You're trying to acknowledge that the flats are less than ideal. That it's past time that significant improvements were made to living conditions. It would not have taken a rocket scientist to write this letter in a way that sought to reassure residents that you were putting their best interests first:
"We know a lot of you aren't happy," you could have said (or words to that effect), "and we're listening. So now we're looking seriously at what our options might be. We know that some of you have lived in the flats a long time, and that these are your homes, and we need to be sensitive to that. So if there's a strong sense that things should be left as they are, we will respect that, of course. On the other hand, we want to consider all our options, and this might even mean demolishing the flats and rebuilding on the same site. We want to assure you, though, that if we did that, you would be safely rehoused and given the option of returning to Crosley Wood when the work is completed."
There. That wasn't so difficult, was it?
But in the version that went out, what residents have actually been told is — in effect — as follows:
We can't seem to make enough money off these flats because not enough people want to live in them.
Changes to welfare payments have hit your pockets, and so have affected our income too. So…
We're thinking of throwing you all out and knocking your homes down.
Here's a list of five possible future scenarios, but only in the fifth one (i.e. "do nothing") do you get any clarity about where you'll be living this time next year.
Did anyone stop to consider for one second how this letter might land with residents? Many of them are already disadvantaged socially, financially, and in other ways, and don't feel that they have much power in situations like this, when a big, impersonal bureaucracy casually suggests making them homeless… I mean, seriously, this letter could hardly have been more thoughtlessly insensitive if you had been trying to be.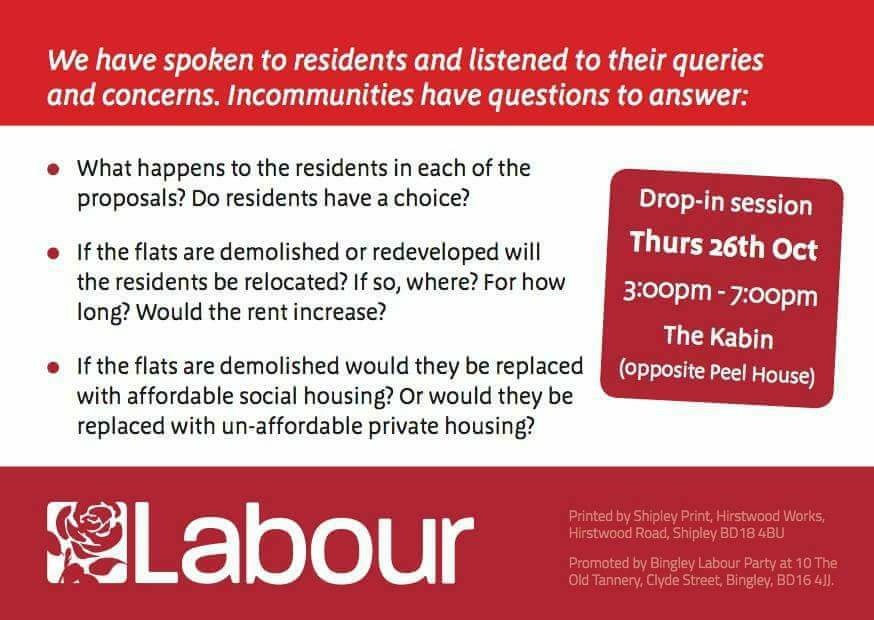 Fortunately, the local Labour Party has been made aware of the situation, and judging by this flyer (with it's three simple, to-the-point questions) they will be present at your drop-in session tomorrow at the so-called "Kabin" community hub. Maybe they'll help residents to find a stronger, united voice against Incommunities' high-handedness. Here's hoping.
Now, Geraldine, I realise that this may all just be a big misunderstanding. As I said, maybe you do just want what's best for the residents, and there's just been a total failure in the letter-writing department. Maybe you all do really care.
Honestly, though, caring shouldn't need to be such a difficult thing to express.
Let me tell you a bit about my friend Ruth Bartlett, for instance. She lives in Shipley, on the Higher Coach Road estate — not far from Crosley Wood, really — and she first heard about conditions in those flats through watching my film High Rise Damp. As an active Labour Party member, she contacted Bingley town councillor Joe Wheatley to share it with him too, earlier this summer. I think that may be part of the back-story to Labour's involvement now. Please note, though: Ruth got involved not because she's a raging political hack, and not because anyone is paying her to take an interest (they aren't), but simply because she cares about people… It's called being a good citizen. "Do as you would be done by", as Charles Kingsley put it in The Water Babies.
Speaking of "water babies", in  her own community at Higher Coach Road, Ruth has been instrumental in getting an art group going for young residents. And earlier this month, because she had met Trevor Roberts from Canal Connections through links she'd made via our Multi-Story Water project, she was able to get him to provide a boat trip on the canal for the young artists… They took a ride up through Dowley Gap locks — up as far as the Crosley Wood estate, in fact… As you can tell from this video link (courtesy of Vicky Christensen, another good citizen), great fun was had by all. And nobody got paid anything. Trevor just happened to have a boat in the area, and he wanted to help support the group. Do as you would be done by.
This is just one simple, recent example of the kind of community co-operation and mutual support that I've seen over and over again during the time I've been working on our research project. In fact The Water Babies has been mentioned to me, on more than one occasion, and by quite different people, as an inspiration in their wanting to help others.
Just read that letter again, though. The one sent out to Crosley Wood residents under your organisation's letterhead. Would you want to receive a letter like that, if you lived there?
Having met you, Geraldine, I really don't believe that you want to seem like the "big bad wolf", huffing and puffing and threatening to blow people's houses down. Next time, could you please make sure that your staff give a little more thought to how these things come across…?
I thought I'd leave you with this Youtube link to a song you might like, by the Scottish band Glasvegas. Here's a sample of the lyrics:
"When you're lost in the deep and darkest place around
May my words walk you home safe and sound…
I will, I will turn your tide
Do all that I can to heal you inside
I'll be the angel on your shoulder
My name is Geraldine, I'm your social worker."
Something to think about, perhaps.
Yours sincerely, till next time,
Steve