This Thursday, I dusted off my one-man show Too Much of Water for the first time since Saltaire Festival last month, and presented it at St. Peter's Church for the October meeting of the Saltaire Women's Institute (WI)…. It was a very thoughtful, attentive crowd.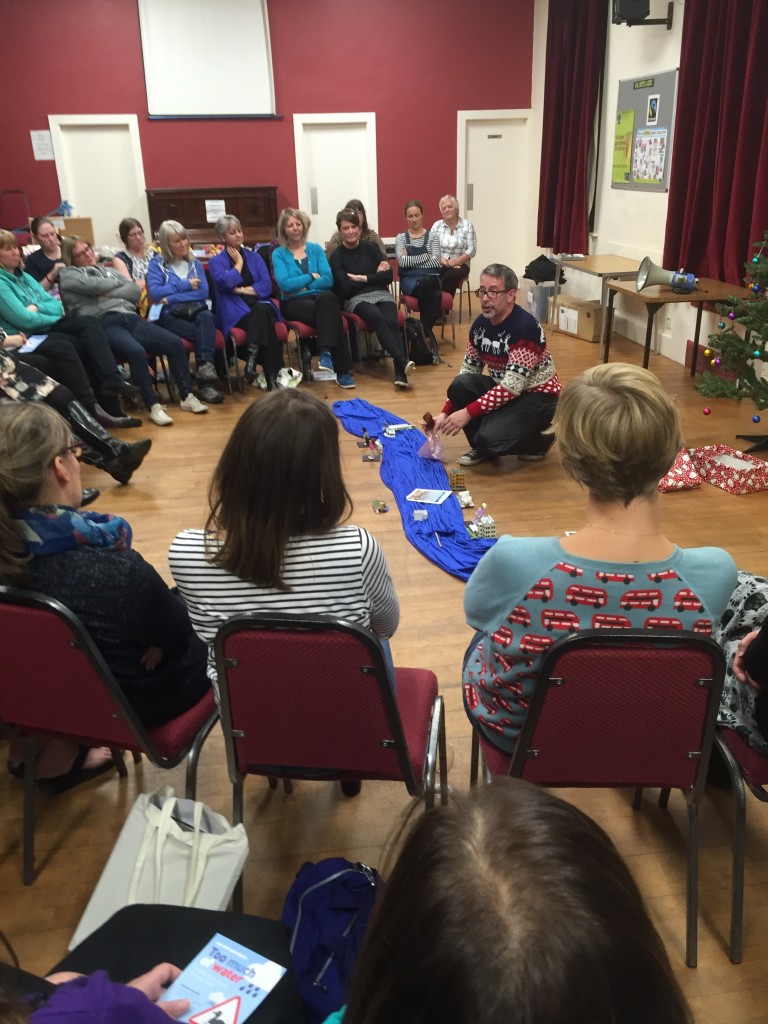 I'd been invited by Ruth Simpson, who is the "Climate Ambassador" for this WI branch — a title which she herself finds rather falsely grand, but which indicates the organisation's commitment to working environmentally, and to do what it can to mitigate climate change. Ruth gave a short but moving talk at the beginning of the meeting, to provide context for my performance — explaining that this is the Climate Coalition's "Week of Action" on climate change. Apparently, the coalition — in which WI is an active partner nationally — used to be called "Stop Climate Chaos" (in fact it still has that name in Scotland and Wales) but was rebranded to de-emphasise the "fear factor" implicit in the word chaos. Instead of playing on fear, the policy now is to emphasise the need for collective action on behalf of the things people love. Ruth spoke about how her own sense of engagement with these issues is motivated by a concern for things she cares about personally — the local, natural environment being prominent among them.
This is where Too Much of Water seemed to fit in well, because the performance — in telling the story of how the Boxing Day floods affected a range of people locally in the Shipley area — emphasises the kind of simple, personal, domestic details that tend to get overlooked in mainstream media coverage of flooding. It also concludes with some verbatim comments from my interviewees detailing their own conversations about how the climate seems to have changed over the years (less snow in winter, more rain, less distinct seasons, etc.). There was audible agreement from the audience on these points during the performance — and afterwards I was told by several people that, although they wouldn't consider themselves "eco-warriors", the piece had really made them think about how local, personal experiences connect with the big picture of the need for action on what is happening globally with our climate. This was pleasing to hear, because Too Much of Water was written with these concerns very much in mind, but — because it was originally a festival piece for the park — I also didn't want to bang people over the head with a "message". I guess the aim is to gently invite people to think further, for themselves, about these issues.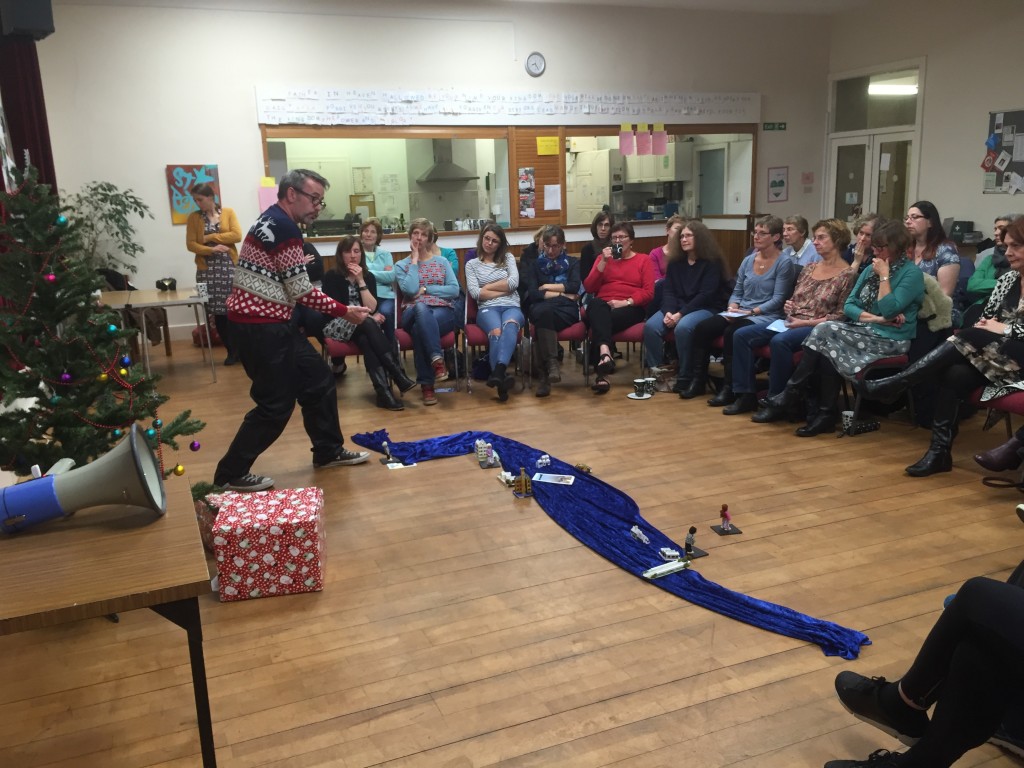 Among the other people present on the evening were Elaine Gilligan, from Friends of the Earth, who briefly spoke to underline some of the points made by Ruth and myself, and engaged in conversation with members during the informal exchanges over refreshments that followed. I hadn't met Elaine before, but we had a good chat ourselves, and she was very complimentary about the performance (always nice to hear!).
A number of WI members introduced themselves to me, including one young woman whose name I didn't get, but who apparently reads this blog regularly! So hello, if you're reading this — do make yourself known by leaving a comment below, if you like! And sorry I got distracted away from speaking to you properly.
I was distracted, I think, by Stewart and Pat Gledhill, of Higher Coach Road, who had been kindly and quietly helping to pack up my stuff, post-performance. Stewart made the wonderful little card models of local landmarks that form an important part of the performance, and since he and Pat had been unable to see the piece at the Festival (they were away in Scotland that weekend), I had invited them along to see it this evening.  I was very pleased to find that they liked the piece a lot! Stewart also took the pics included in this blog. Thanks Stewart and Pat, for everything!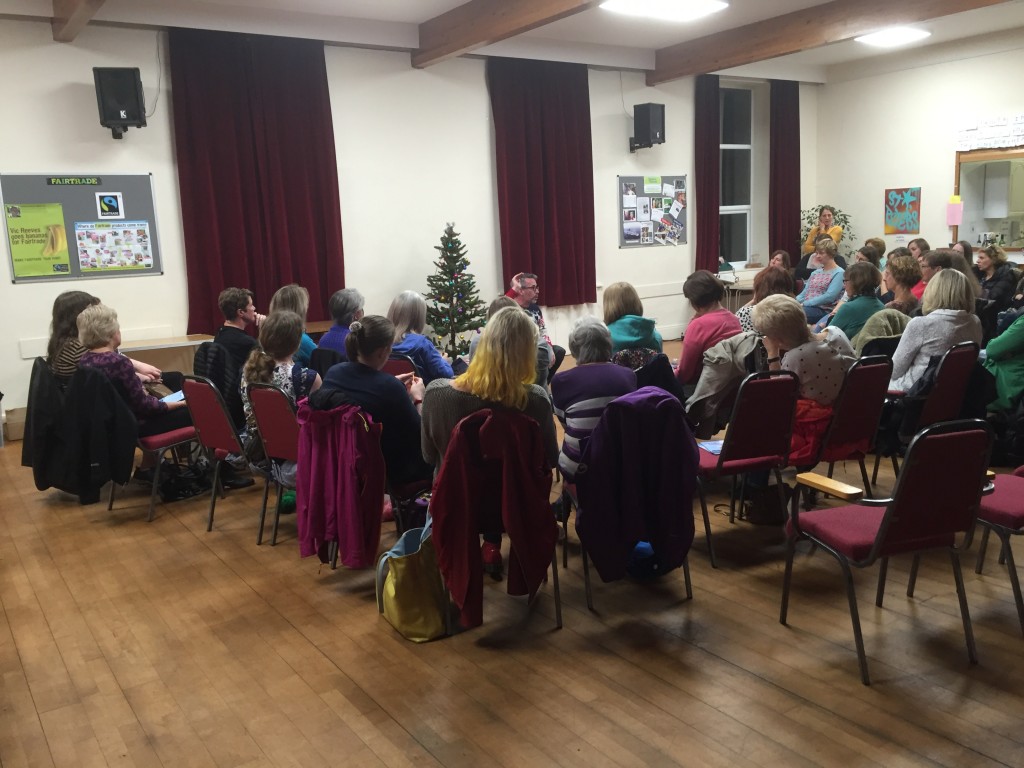 Too Much of Water will appear again on December 6th, at Armley Mills Museum in Leeds, and December 7th, at the John Thaw Studio Theatre, University of Manchester. I also have gigs for it in Exeter and Cambridge in November, so the Shipley/Saltaire story is travelling afar… If you're interested in bringing it back closer to home, just drop me a line (stephen.bottoms@manchester.ac.uk).