There's been a weird sense of deja vu this week, as the persistent rain across large parts of the UK led to flooding particularly in northern Lancashire and Cumbria. As reported in the Guardian and Telegraph and elsewhere, upwards of 70 people had to be rescued, and many homes were underwater, after a new local record was set for rainfall in a 24 hour period… Some of the areas hit were the same ones affected by Storm Desmond just under two years ago, when severe flooding hit the Lake District in early December. That was followed, of course, in good alphabetical order, by Storm Eva — which brought the Boxing Day floods of 2015 to the Aire valley, Calderdale, York, and many other places across the north of England.
Let's hope that history is not about to repeat itself. But river levels on the Aire have been persistently high again recently, just as they were in the run up to Christmas in 2015, and on Wednesday the Environment Agency issued a flood warning for the Upper Aire – west of Keighley. It all seems worryingly reminiscent of two years ago. But maybe we shouldn't even be surprised… maybe this is the new normal.
"I mean the weather we're getting now, it's just totally different from the weather we used to get. You would never, at this time of year, you would never expect to get all these floods. When I was a kid we used to get snow four feet deep. Now it's just rain."
Those are the words of Phillip Moncaster, secretary of Baildon Woodbottom Working Men's Club, when I interviewed him in January 2016, shortly after both the club and Phillip's home had been devastated by the Boxing Day flood. I incorporated them, verbatim, into the script of my one-man show about how the floods affected Shipley, Too Much of Water. It seemed oddly timely to be presenting the piece one more time (and quite possibly for the very last time) last week at Leeds Town Hall. Here I am, in fact, putting Phillip in place next to his (former) home at Aire Close…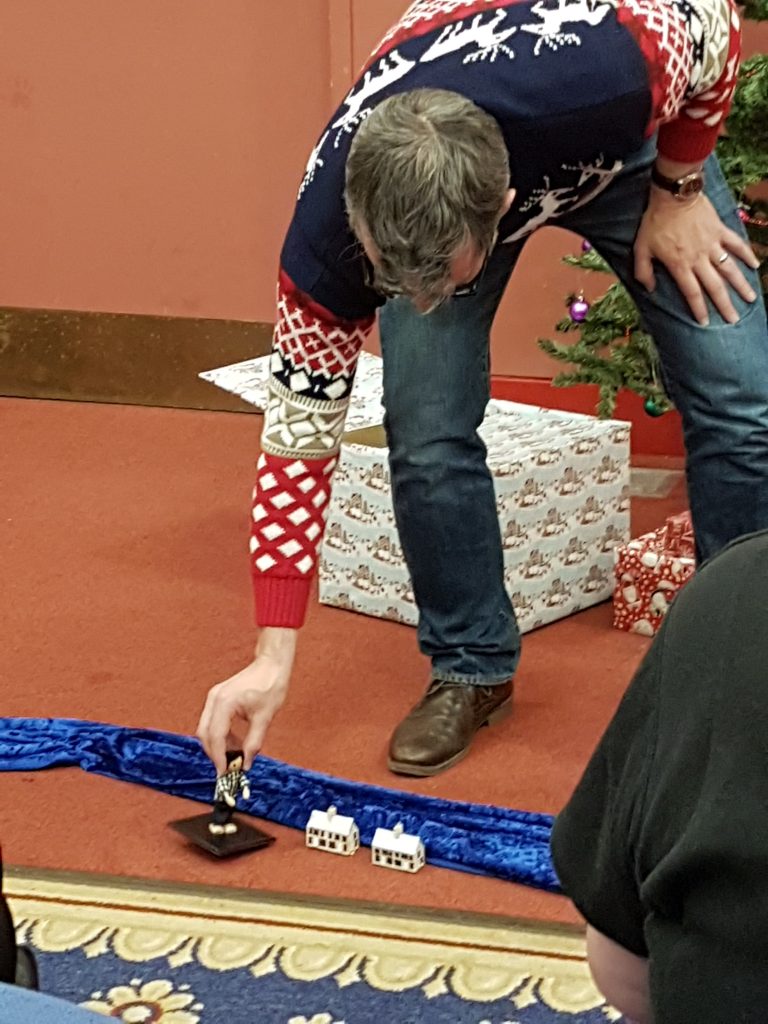 The occasion was a lunchtime meeting of the Insurance Institute of Leeds (or IIL – the local branch of the Chartered Insurance Institute, CII). Normally these lunchtime sessions are lectures by invited professionals on insurance-related matters. It's basically a CPD slot (continuing professional development), and attracts a sizeable audience of folk from Leeds-based insurance companies. There were a good fifty or so people in attendance for the session last week, and this included a good handful from the Shipley/Baildon area, who enthusiastically introduced themselves to me afterwards. One woman announced herself as the person who had dealt with the insurance claim for Half Moon Cafe, in Saltaire's Roberts Park, which was of course badly hit on Boxing Day (and features in the show).
I think the intention of Melanie Jordan, who organised this event, was to get her colleagues to think about flooding more holistically — not just as something they deal with in terms of paperwork and statistics, but from the human point of view. She had initially approached Chris Sharp, a curator with Leeds City Museums, who also then recommended me. We spoke as a kind of double bill: he went first with the more traditional powerpoint presentation, then I did my performance.
Chris had organised the Flood Response exhibition at Armley Mills that ran from last December to May this year. His remit is specifically to curate community-focused exhibitions that draw on contributions from local people, and so he had seen many images and heard many stories about the Boxing Day flood as it impacted on Leeds — particularly in the Kirkstall area. Chris He spoke movingly about his experiences with the community there while preparing and mounting the exhibition, and he also put the 2015 event in context with other, historical floods, that the museum service had records and images about. He gave a fascinating presentation at the front of the hall, and we then asked the audience to literally turn around to face the back wall, where I had set up for Too Much of Water.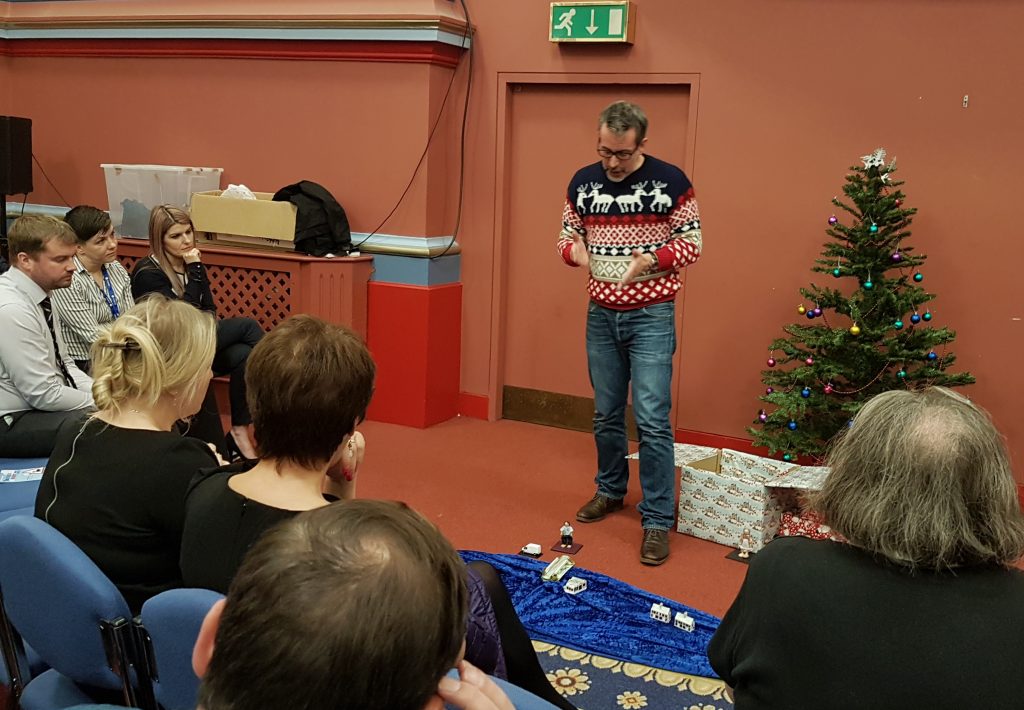 This was an attentive audience, but also a rather quiet one. They seemed unusually reluctant to laugh at what I have come to think of as 'the funny bits' (I've done this show enough now to know when to expect an audible response), so I wasn't quite sure how it had gone down. It was reassuring and heartening, then, to receive written feedback via Melanie this week, which was overwhelmingly positive. Apparently there is a standard online feedback form for these sessions, where respondents tick numerical boxes (Chris and I scored well, it seems), and then can also leave any 'further comments' they feel inclined to offer… The written comments are all reproduced below, in the interests of full disclosure!
There was one person who clearly did not like the unconventional format for this "CPD" session:
"Not really appropriate for a professional audience."
And another whose response is difficult to judge from their deadpan one-line response:
"I am not sure what I was expecting but it was not that."
It was very nice to know, though, that at least one person who was not expecting "that" was nonetheless pleased they had come:
"I have to admit I had not picked up on the fact that this was the story of the 2015 floods told through the medium of drama, and had I had notice I might not have attended, but Stephen's performance really brought to life the human impact of this event. Chris's presentation also helped to tell the individual stories of an event that as an industry we refer to primarily in numbers."
That latter point was also underlined by others:
"It certainly made me think about the insured's position and what it must have felt like to be in that situation."
"It was good to have a 'real life' aspect to the presentation which affected the local area."
And then there's this one, which is the sort of feedback that makes your ears burn:
"I have attended 4 CII lectures now (the last 4 – starting with Ogden) and they have all been excellent but this has been by far the best and I think it stood out because both speakers were not from an Insurance background which gave a nice change of perspective. Both speakers were exceptionally good, their parts of the presentation were well researched and well thought out and they really brought home to you the real human cost of flooding. The performance at the end was inspired and unlike anything I have ever seen before and it was extremely well done. Inspiring. Thank you all."
(You are very welcome.)
Generally, the respondents didn't go into much detail about how the presentations related to their day jobs as insurers, but there were a number of comments suggested that the afternoon is likely to be memorable. Perhaps it will have given a bit of an insight that will help these good people treat future flood victims with even more care and concern than they would have anyway…
Because if this is the new normal, there will be future flood victims, perhaps sooner rather than later.
For the record, here are the rest of the remarks, in the order they came to me, complete with typos. (I've omitted only one, which was moaning about the microphone acoustics in the room.)
"Very different from the standard lectures. It was fantastic to get a local perspective of issues faced and brought to life in such an enjoyable an enjoyable way. Fabulous, definately one I will remember."
"I thought the dramatization lecture was really excellent. Great job in organising That."
"A very different style compared to usual lunchtime lectures and made a welcome change"
"A thoroughly enjoyable lecture, both speakers had very good presentation skills, especially Stephen Bottoms with his performance piece."
"Very different . I guess the next thing I should do is ask my local councillor what Leeds has learned?"
"The event was outstanding particularly Professor Bottom section. More of the same please."
"Very engaging presentation/performance"
"I thought it was a brilliant idea to split the Lecture into 2 Parts. Both parts kept me interested & focused.  The Play in particular was a good way to put us in the shoes of the poor people who suffered in the floods and was delivered in a fun yet captivating way.  Well done CII on bringing us something different yet crucially important."
"Both presentations were well presented and useful in bringing the flood events to life and how these affected people, businesses and the community. Stephen Bottoms in particular was excellent."
"I thought this afternoons lecture was absolutely brilliant."
"Fantastic afternoon"