So apparently this was what Bradford Beck looked like last Friday (Jan 30), running under the railway arches in Shipley…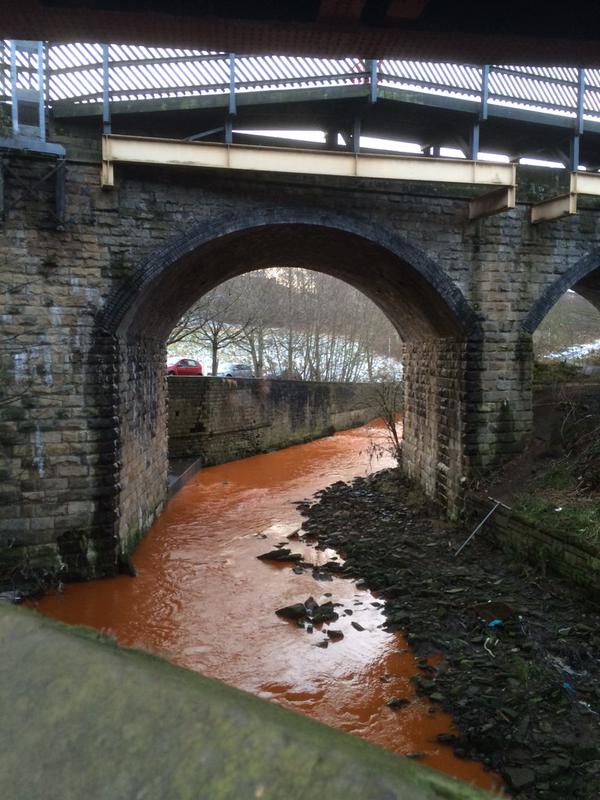 Bright orange water flow… Looks a little apocalyptic! I didn't see this myself (though I wasn't far away that day), but I pinched this picture from the Telegraph and Argus website, which has lots of other images and video too, under the title "Why has Bradford Beck turned bright orange at Shipley?" Of course the headline is misleading: the river turned bright orange across a great deal more of its catchment than the section in Shipley — and the Environment Agency (EA) eventually traced the source of the pollution to Clayton Beck (tributary running through Clayton, obvs.). But given how much of Bradford Beck runs underground through the city, it's only in Shipley that people really noticed the problem!
Barney Lerner, chairman of the Friends of Bradford's Becks, yesterday circulated this explanation from the EA's Stuart Jenkinson:
I can confirm that on Friday 30th January we received several reports of pollution of Bradford Beck. Environment Agency officers attended the scene. It was traced to the vicinity of Clayton Beck. We believe it was due to a 'blow out' of iron ochre from historically abandoned coal workings. We have classified the event as category 1 under our incident classification scheme. That is to say it had a major effect on water quality, albeit for a relatively short period of time. The iron contained in such discharges is largely insoluble and so chemically has little impact on ecology.  Chronic events can however harm the aquatic ecology through their 'smothering' effect on the stream bed. The Environment Agency is aware of disused mineral workings in the Clayton / Queensbury area, however we are not aware of them ever giving rise to such a noticeable discharge. We are not planning to take any enforcement action as result of this incident. In general water pollution from abandoned coal mines is dealt with by the Coal Authority. Treatment plants are expensive however and limited funding is allocated on a priority basis.
So now you know. Big mess, nothing to be done about it.
The problem seems to have gone away now, but I would briefly draw attention to this picture that I took almost 3 years ago now, shpwing a small confluence on the Red Beck tributary in the Norwood Avenue area of Shipley (which flows down into Bradford Beck by Canal Road) …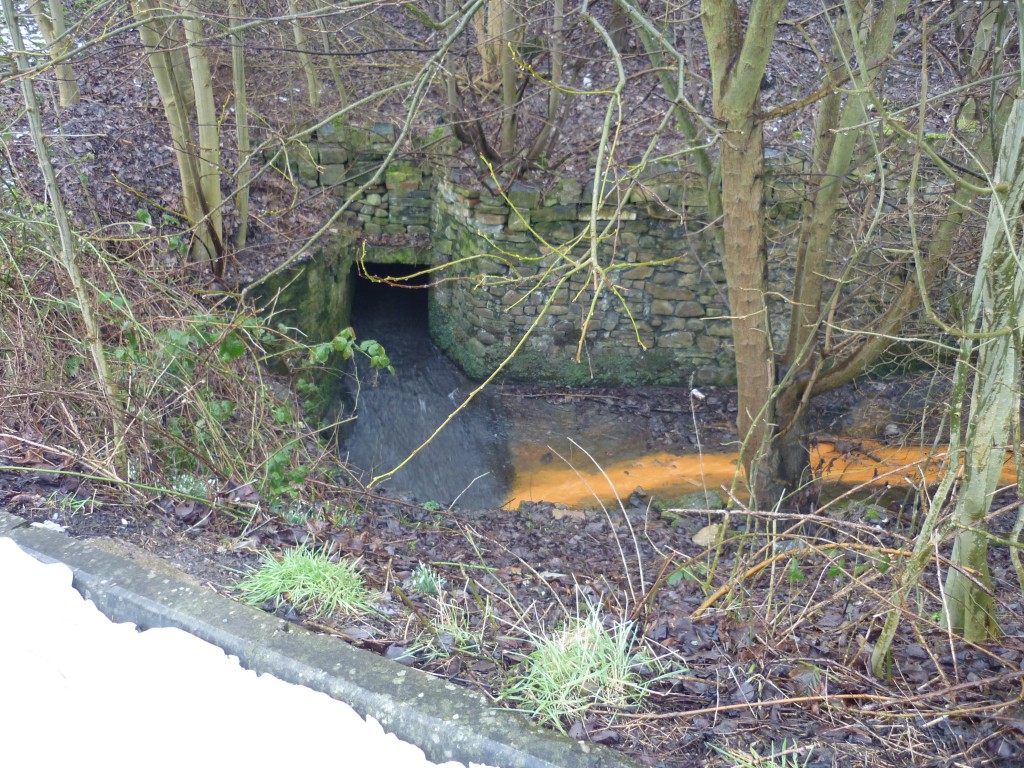 Iron ochre looks to be popular around here…