So this blog is in two parts. The first is a close-up, the second takes a wider angle, but hopefully it connects up. Bear with me as I tell the story, because it has a few twists and turns…  And to begin with, there's also a
Prologue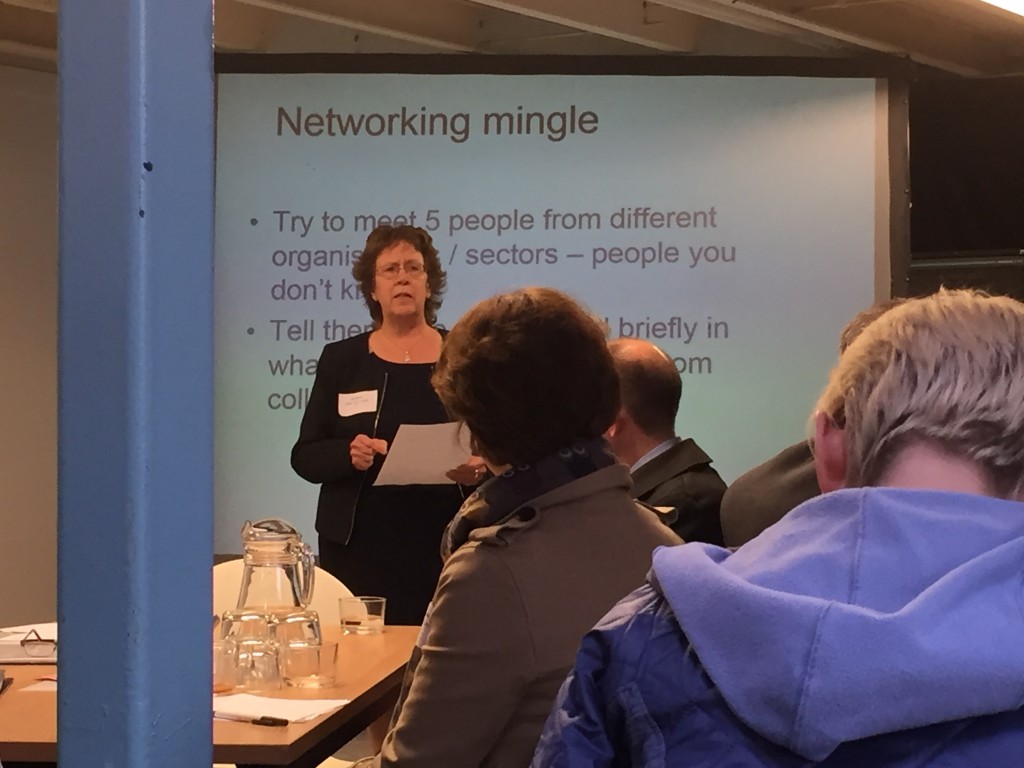 This is Councillor Judith Blake, the current leader of Leeds City Council. This week she said something very interesting indeed, from a Shipley point of view. Councillor Blake was speaking at a special networking event about future flood planning and resilience in the Aire valley, hosted this week at Open Source Arts – an unassuming enterprise unit on Kirkstall Road in Leeds. Open Source was itself flooded at Christmas, but thanks to the tireless efforts of leaseholder Phil Marken, it also became a focal point for the community relief effort and, later, volunteer river clean-up activities. It was thus a rather symbolic (as well as practical) venue for the networking meeting – which was attended by (among others) the key flood risk and drainage officers for both Leeds and Bradford. The goal is greater future co-operation along the Aire Valley catchment… But more of that in a minute. First let me jump us back to Bradford and introduce somebody else…
Part One: Northway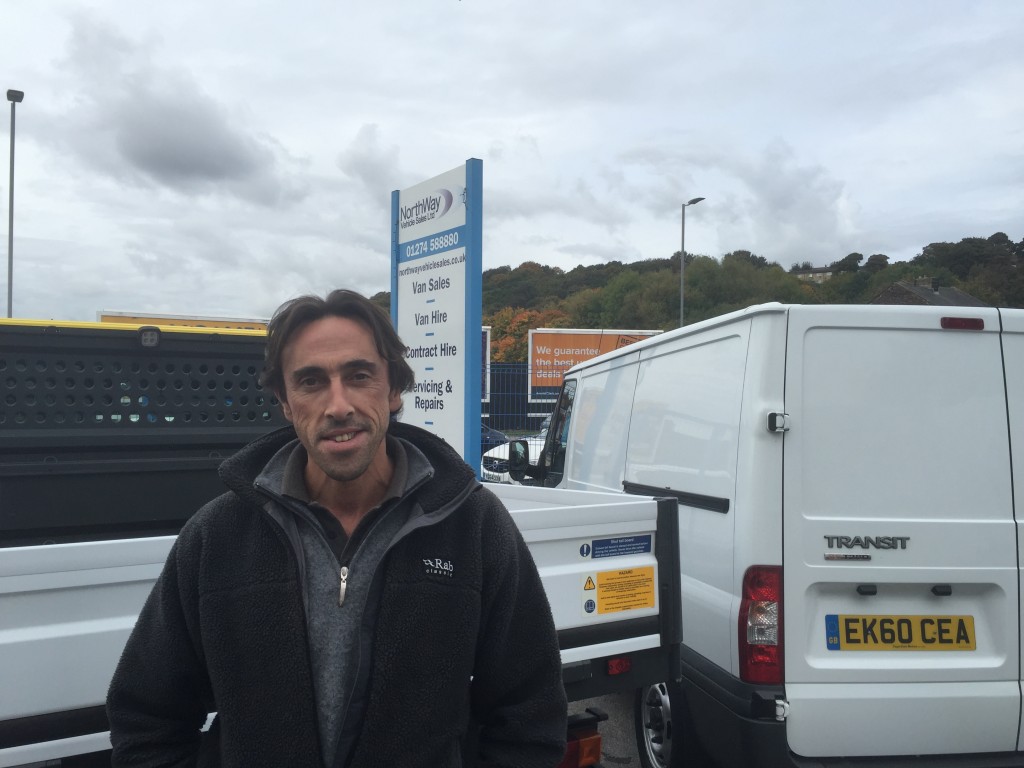 This is Brian Tuxford. He runs Northway Vehicle Sales Ltd., the van hire place on Otley Road, right next to Shipley's Baildon Bridge. I met Brian the other week, following an introduction via our mutual friend Stewart Gledhill, and he toured me round the Northway compound and gave me the lowdown on just how badly impacted the company was by last December's flooding. Northway lost no less than 37 vehicles to the flood water – cars and vans – one of them swept as far downstream as Denso Marston's nature reserve, at Charlestown. Even those vehicles that Brian and his colleagues managed to save in time — by parking them around the corner up Dockfield Road — were stripped of exterior fittings that night by light-fingered visitors, who took advantage of the absence of the usual CCTV cover. Insult to injury.
There was also the small matter of Northway's workshop/garage (pictured above) having a massive hole driven straight through it by the force of the flood water — the end panels blown off. The whole thing has had to be taken down, repaired and re-erected.
Boxing Day flood was a bit of a "perfect storm" from Brian's point of view. Normally, 80 to 90 percent of Northway's fleet is out on hire at any given time, but over the Christmas period they're called back to home base. So they were sitting right in harm's way. On a normal working day, moreover, Brian would be at work at 7am, and would have been in exactly the right place to see the danger to his fleet and take swift action… Instead, he was staying over for Christmas in Huddersfield and only realised what was happening, by around 9am when the water hit, from the CCTV link on his phone. (In her talk, Councillor Blake spoke of how lucky Leeds was that the flood came at Christmas — with the city centre workforce not present, not travelling in or out… But Brian's story is the opposite.)
In the aftermath of the flood, Brian had to lay off Northway's mechanic, who had no work because there were almost no vehicles left to service. And of course Brian couldn't pay him, either, because there was no income from hires. It took six months for a new fleet of vehicles to be delivered (after the insurance claims, and the long lead time for ordering new high-end vehicles). In the mean-time, the loss of operating revenue pushed the company to the limit — Brian and his partner nearly had to close up. And they know they're taking a big risk reopening, because if another flood happens, there's nothing to stop the whole scenario repeating itself…
Media coverage of flood victims typically tends to focus on people whose homes have been hit. This is understandable, given that we can all identify with the horror of having our personal sanctuaries being swamped by filthy water. We hear a lot less about the impact of flooding on small businesses like Brian's, and the assumption can often be, well, business is business, right? They'll claim on the insurance and get on with it. It's not as bad as having your home invaded. And yet, as Brian grimly observes, his entire livelihood is tied up with this business. Fifteen years of hard slog, building it up from scratch on this site by the river. And much as he might want to move the business, since the flood, he can't readily relocate to another site. The Baildon Bridge location is key, both because of the region-specific terms of his franchise agreement, and because many of his core customers need Northway exactly where it is (Saltaire Brewery, for example, just up Dockfield Road). And yet, Brian acknowledges, if they get hit by another flood, that'll be it. Game over.
This year, post-flood, Northway's insurance premiums have literally doubled. That too is putting the future of the business in serious jeopardy.
Now, you might be wondering what all this has to do with the Leeds flood planning meeting I mentioned in my "prologue". Well, Brian's business is specifically threatened by the way that flood water hits his riverside location. As he observes, on Boxing Day the river channel itself never threatened the van hire site. The water that was coming under Baildon Bridge flowed right on past. No, the water that hit Northway was water that had re-routed itself around the bridge…. In high water conditions, the low-lying bridge structure becomes something of a dam, and the river instead heads right out across Woodbottom cricket pitch as far as Green Lane, and then surges across the industrial/retail area east of the bridge, on its way back to the main channel. This happened not just last December but also in 2000 and in 1947. And Northway is right smack bang in the path of the water. The space between the buildings, Brian notes, became like a kind of surging plughole…
All of this raises the question… could floodwater, in future, somehow be persuaded to stay in its channel? If something could be done to re-engineer the bridge, maybe, so it's less of an obstruction…? And if some walls could be constructed upstream to protect the Woodbottom area…? Might the river just surge right on by instead of going all over everywhere? Possibly. In which case, Brian's livelihood would be safe. Or at least, safer.
But… there are some issues here. One is, obviously, the cost of such a defence scheme. Given the relatively small number of homes and businesses that are directly in harm's way in this area, it's unlikely that a "cost-benefit analysis" by government would find the spend worthwhile. (And who are any of us to argue with that, if we don't want our taxes to go up to pay for equally worthy flood schemes on this sort of scale all over the country…?) But the other key point here, which I hadn't fully appreciated until the Leeds meeting this week, is that – strictly from a Leeds point of view – it would be just fine if Bradford has quite poor flood defences. If water ends up sitting around on the Baildon flood plain for days, during a flood incident, well that's just fine from a Leeds point of view. Leeds doesn't really need high water flowing straight on through Bradford, staying in the Aire's main channel, because then — well — it all ends up in Leeds…
Part 2: Scheming for Alleviation 
This was all brought home to me as I stood chatting, during the lunch break, to Andy Judson – who is the project director for BAM Nuttall Ltd on the current, £46m Leeds Flood Alleviation Scheme (FAS). The FAS has involved building a bunch of new flood walls in Leeds city centre over the last year or so, and BAM are now in the process of constructing high-tech collapsible weirs at Crown Point and Knostrop. Mr. Judson is a very approachable, very interesting man, who is – understandably – hoping that BAM Nuttall will get another big slice of contract work on "FAS2", the mooted second stage of the Leeds scheme for which the government offered around £60m in the wake of the Boxing Day devastation. This scheme is intended to do something to better defend Aire valley areas of Leeds like Kirkstall, which was badly hit at Christmas, but for which nothing was provided in FAS1 (which is very much focused on the city centre).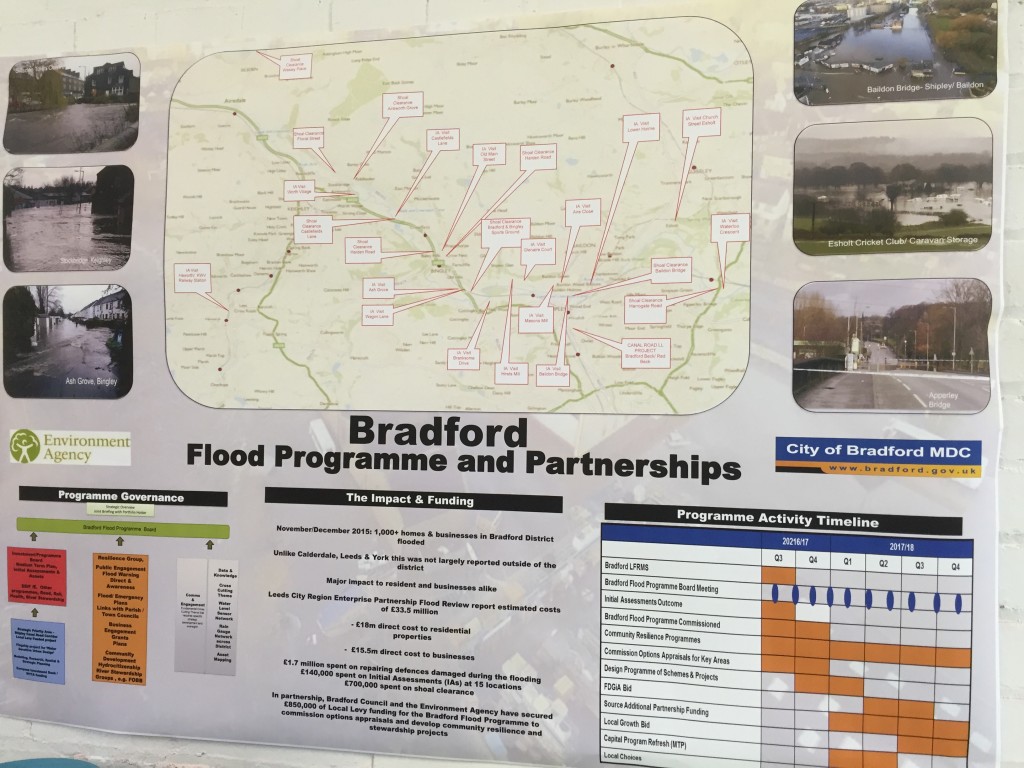 Mr. Judson and I found ourselves standing in front of this big poster about Bradford's current flood risk planning. In the top right hand corner (see below) there's an aerial shot of the flooding around Baildon Bridge at Christmas…. which is how we came to end up talking about it. Andy pointed out what I've just said about how flooding in this area, and many others upstream of Leeds, might be viewed "from a Leeds point of view"…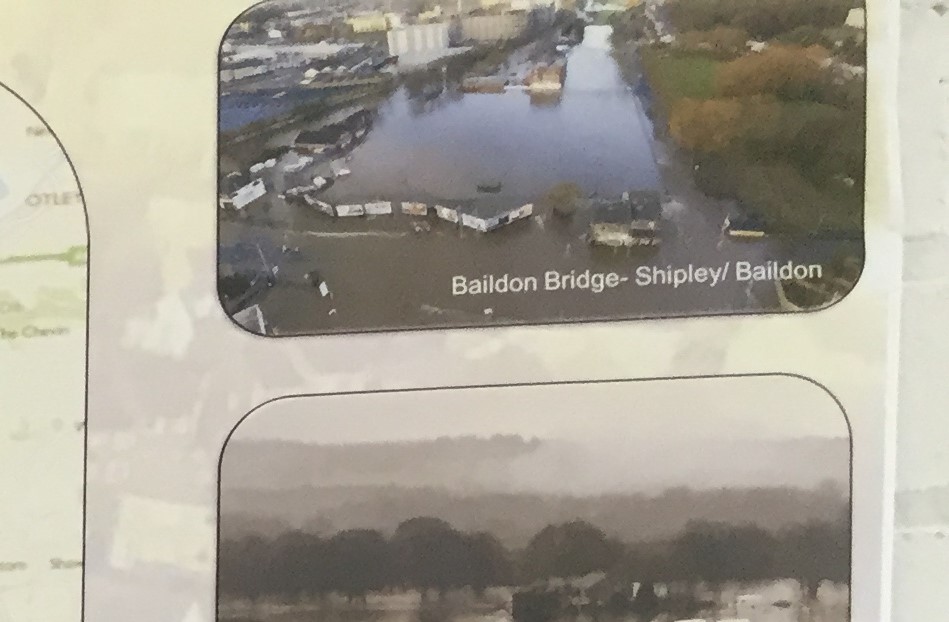 Now, Mr. Judson's job is to undertake the contracting work that is handed to him by major clients such as Leeds City Council and the Environment Agency. On a day to day basis, it's not his responsibility to worry about Bradford. But this is why the networking event this week was so important. Because to give them their credit, LCC and the EA have decided to try to approach FAS2 differently to FAS1. The initial scheme has been dominated by the technical and engineering interests: a scheme was devised and proposed (by the engineering company Arup), funded (via the council, the EA, and central government), contracted out (to BAM and others) – but all in such a way that very few non-technical folk had anything much to say about it. A problem is identified (flood risk in Leeds city centre), a practical solution is proposed (build new walls, devise new weirs), and the construction juggernaut rolls into gear…
Yet the very fact of FAS2 being given a wider brief — to think "beyond" the city centre — has prompted some important reflections on exactly what the problem is that needs to be fixed by the new scheme. How far upstream – or indeed downstream – do we want to try to flood-defend? Putting the problem really crudely… Phil Marken's Open Source Arts space on Kirkstall Road perhaps deserves better protection, but so too does Brian Tuxford's van hire place — which is threatened by the exact same river. Viewed on a river catchment basis, the arbitrary distinctions between what is Leeds and what is Bradford are largely irrelevant – because the River Aire has no respect for political boundaries. In planning for FAS2, then, a "catchment-wide approach" is being adopted — and this includes an innovative attempt to involve as many relevant partners as possible, in order to better answer the flood defence questions (or even to establish what the questions are that need answering).
The workshop at Open Source Arts thus included representatives not only from the EA, the LCC, Arup, BAM, etc., but also senior planners from Bradford Council, and indeed counterparts from as far upstream as Craven (the district that includes Skipton and Malham). But the workshop also included community activists like Phil Marken and Vicki Gilbert (until lately of Yorkshire Voluntary Flood Support Group), as well as representatives from voluntary watchdogs like Aire Rivers Trust, social enterprises like Canal Connections, and even university researchers like me. Don't ask me how the full list of invitees was arrived at – no doubt some significant people were inadvertently left out, as is the way with these things. But the point is that there was a genuine effort here to get people out of their regular boxes and comfort zones — and talking to other people with other perspectives and approaches to the flood problem. Andy Judson and I started speculating, for example, about how a natural flood storage scheme somewhere upstream of both Leeds and Bradford might provide the relief that both cities need… Exactly where or how that might happen is of course anybody's guess (we were just talking…) but the point is that – just by having all these people in the same room – the debate had already moved well beyond the boundaries of Leeds itself. We can reasonably hope that there is going to be some serious partnership thinking going on in the coming months, which might – just might – benefit Brian Tuxford as well as Phil Marken. And, of course, many others like them.
And this brings me back to Councillor Blake. Because at the heart of her opening pep talk to those assembled at Open Source (alongside her own personal, heartfelt reflections on the devastation of the city last Christmas) was the suggestion that community involvement has to be fundamental to the development of FAS2 and any associated initiatives. That was her word. Fundamental. This was a gauntlet, of sorts, thrown down for those present. Because flood risk managers, civil engineers and building contractors are not necessarily the kind of people best equipped or most inclined to engage with or listen to communities. But Councillor Blake was saying it unambiguously: other people need to be consulted. That's the people of Leeds, yes, but also the people of Bradford, of Skipton, you name it… That's the only way we're going to arrive at the best possible solution for the greatest number.
And maybe, in the process, we'll end up not just with more concrete walls, but better, safer, happier, greener places to live in…?
"You may say I'm a dreamer… But I'm not the only one."