I've been so busy lately I haven't been keeping the blog up to date much, but it would be remiss not to give a (belated) salute to all the good folk who participated in the Lord Mayor of Bradford's annual Dragon Boat races last Saturday, May 7th. (apparently the biggest such mayor's race in the country) The event took place on the River Aire beside Roberts Park, on the stretch of the river coming down from Hirst Mill. Here you can see some of the action on the riverbank in the park (looking across to the Boathouse and Salts Mill…).
This year, for the first time, there was a "home team" fielded by residents on the Higher Coach Road estate — which part of the course passes beside on its way to the park. The appearance of the "HCR Dragons" was thanks to the dogged determination of resident Ruth Bartlett (aka Eliza Ronksley), who persuaded the race organisers that there should be a place for a community group boat alongside all the boats from local businesses and others who had the money to pay the sizeable up front entry fee. She worked out a special arrangement that can hopefully set a precedent in future. 
Here's Ruth plotting race strategy with the HCR Dragons' secret weapon, Mark Edwards — who like a few others in the boat is a "friend" to the HCR residents rather than actual resident himself. Mark lives up on Hirst Mill Crescent, and is a rowing coach with the Bradford Rowing Club. So he knows a few things about boat races, though he's more used to travelling backwards than forwards… Note the team's choice of colourful headgear to mark them out from the rest of the crowd…
And here they are getting ready to race! Love that headgear…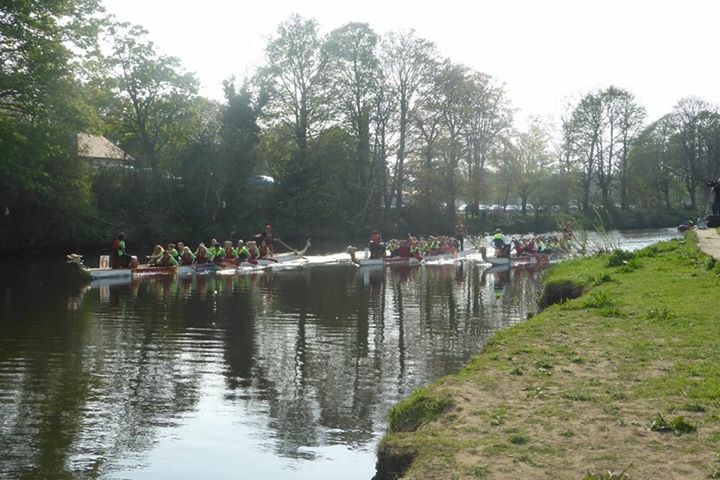 The race is on, coming round the bend by the cricket pavilion!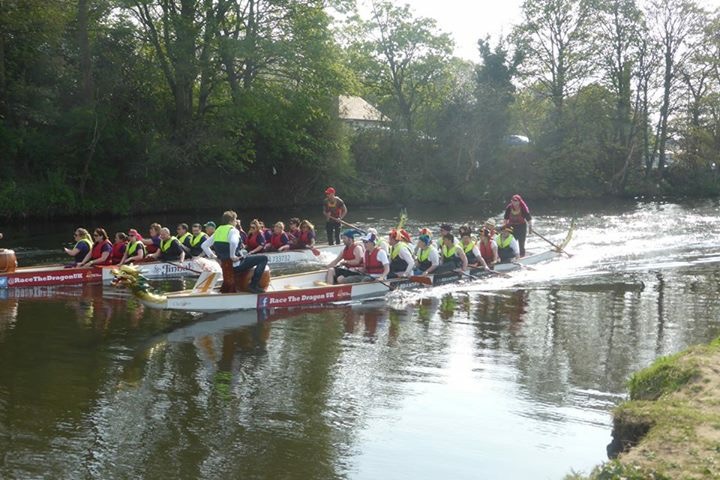 Here come those Dragons!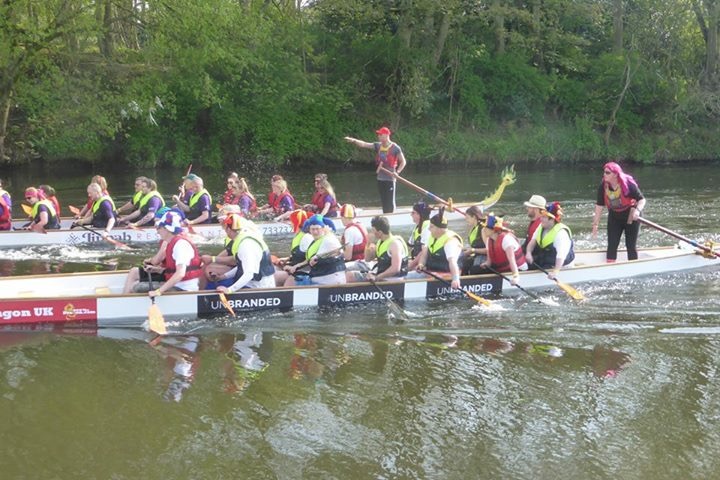 Nearly there!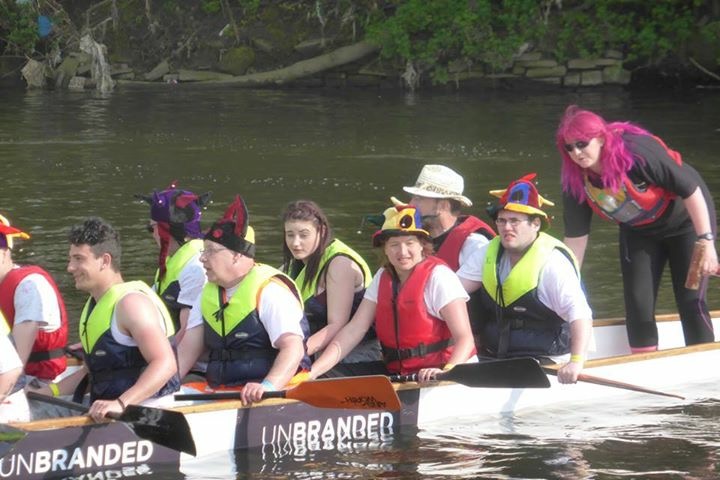 The team gets its breath back after the mad paddling! There's Ruth in the red life jacket, perhaps wondering why she started all this! But well done the Dragons.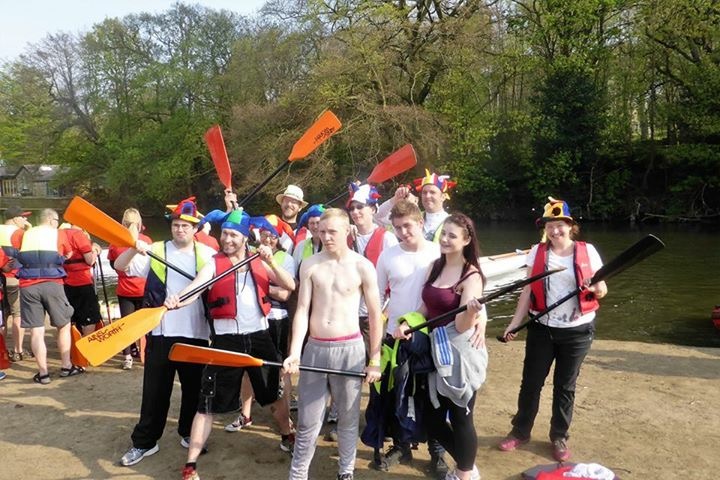 For a team of almost complete novices, most of whom had never got in a boat like this before the day of the races, they did really well! The final scoreboard puts them 16th out of 45, a very respectable showing! And more to the point, everyone had fun…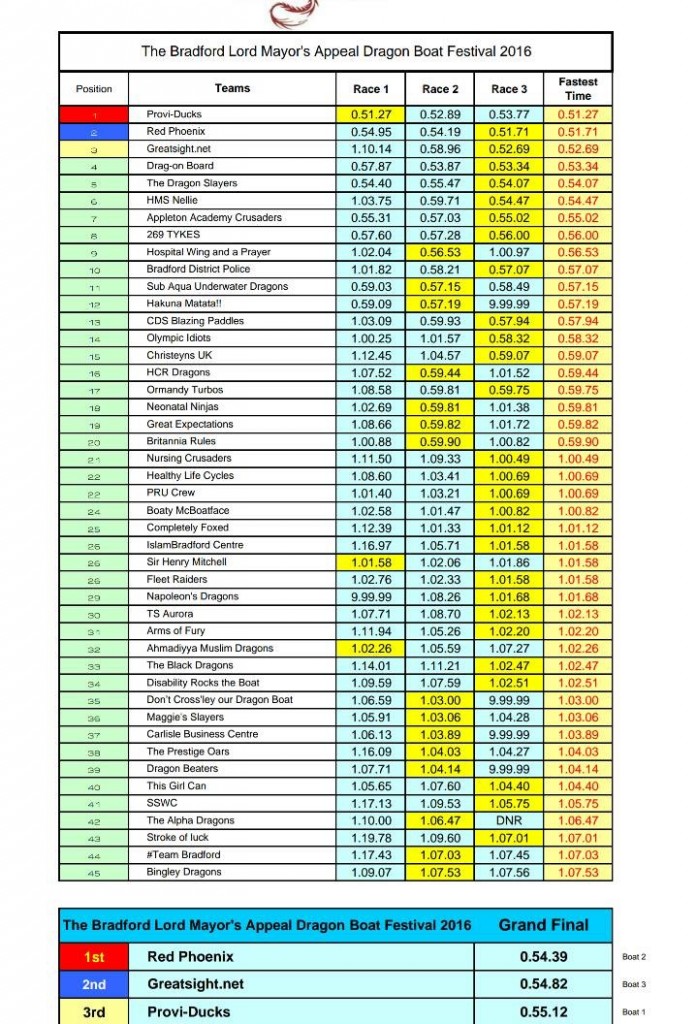 Unfortunately, I wasn't able to be there on the day myself — a shame because I was hoping to do a bit of paddling myself. But it sounds like everyone had a blast. The photos above were all taken by John Milner and posted to the HCR Residents' Group Facebook page — I hope he doesn't mind me pirating them for this post. Well done everyone and onwards to next year! And hats off – especially – to Eliza Ronksley.