On Wednesday 28th September, there's another chance to see After the Flood,   a unique promenade performance that was one of the hits of this year's Leeds Waterfront Festival.
CLICK HERE to reserve an audience time slot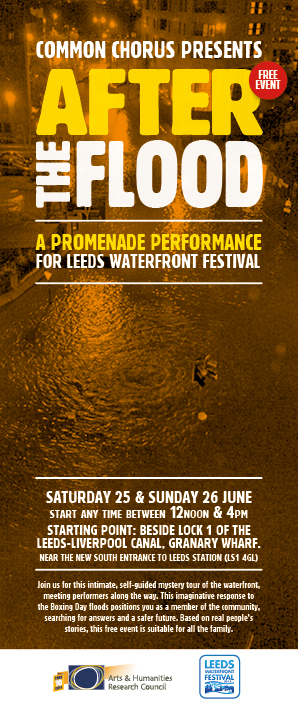 "A brilliant experience!"
"Lovely, interesting, and innovative – and so accurate. A marvellous enterprise."
"Really informative and insightful."
"Absolutely superb."
(from written audience feedback)
Performance running time is 40-45 mins from start to finish.
Please arrive five minutes or so before your scheduled start time.
Starting point: Granary Wharf, Leeds – next to Lock 1 of Leeds-Liverpool Canal
After the Flood is co-produced by Multi-Story Water and Common Chorus Theatre.
Written by Steve Bottoms and Simon Brewis
Directed by Simon Brewis
Designed by Hannah Sibai
Devised with the performers:
   Matthew Bellwood
    Jake England-Johns
    Kat Martin
    Libby Wattis
with Nicholas DeJong, Joe Large, and Pete Freeth
and with thanks to Matt Rogers