[posted by Simon Brewis]

This Friday, May 4th, I had my first day working on Multi Story Water Shipley. I thought I'd start by doing a little research. Rather than head straight to the river I wanted to get some contect of place and how the river might shape local identity. So I decided to spend some time in the town itself and search for evidence of how the river might be present in the town. I was looking for pubs, hotels and road names that referred to the river. I kept my eye out for public art that referenced water. I was almost expecting that at some point I would turn a corner and there would be an embankment or some other public architecture to bring people to the river. However after an hour there was no sign of the impact of the river in the town centre.
I grew up in Bedford, or 'Beda's Ford' in old speak. In Bedford  the river runs through the heart of the town geographically and culturally, so i found the lack of evidence of a river a bit strange. But then I thought about my now adopted home town of Leeds, or 'Leodis' which means 'people of the river' in old speak. Now in Leeds we are barely aware there is a river even though the place is named after it! So perhaps I have come to expect too much? After an hour of searching I finally found something,  this picture on a notice board in the Town Hall: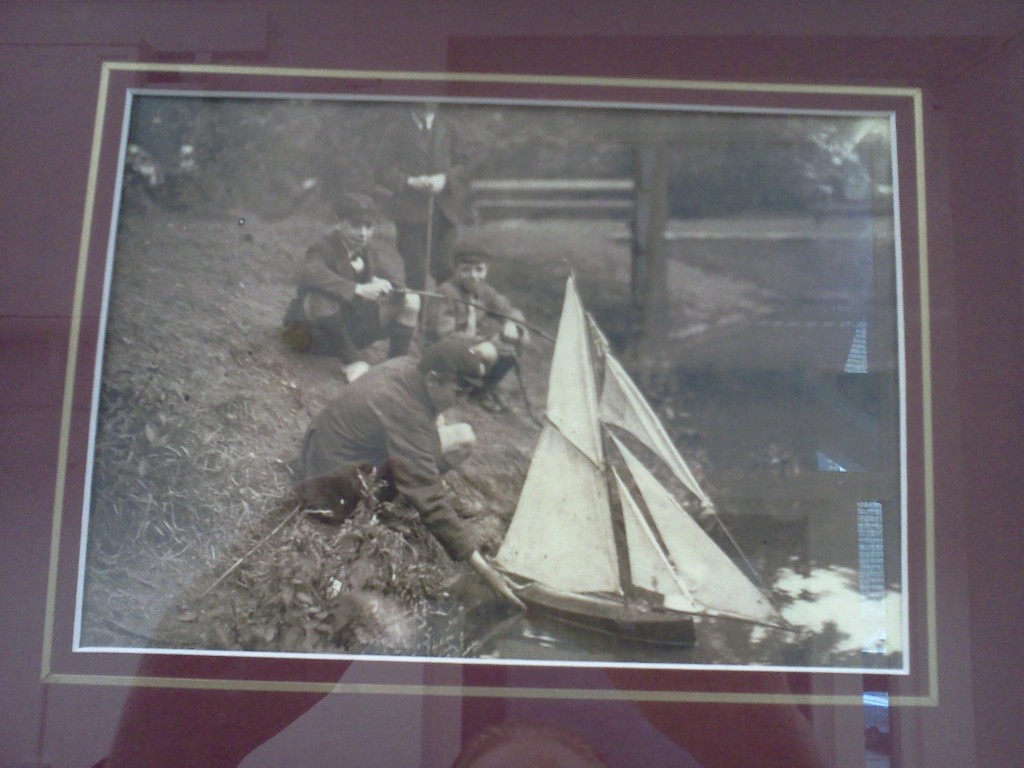 After limited success in my first mission I decided to play another game I sometime enjoy in a new place. I search for maps of a place that are produced in that place. I like this game because I think how the local people map a place speaks volumes about it.
Still in the Town hall I found a brochure documenting good pubs in Yorkshire and there was a map, hooray! But no! Shipley wasn't even on the thing! So I asked a man who clearly worked there if the map was right that there were in fact no decent pubs in Shipley? It turned out that the man was called Chris and he was the caretaker at the town hall. He was very quick to inform me that there were lots of good pubs and he corrected the map for me, here it is: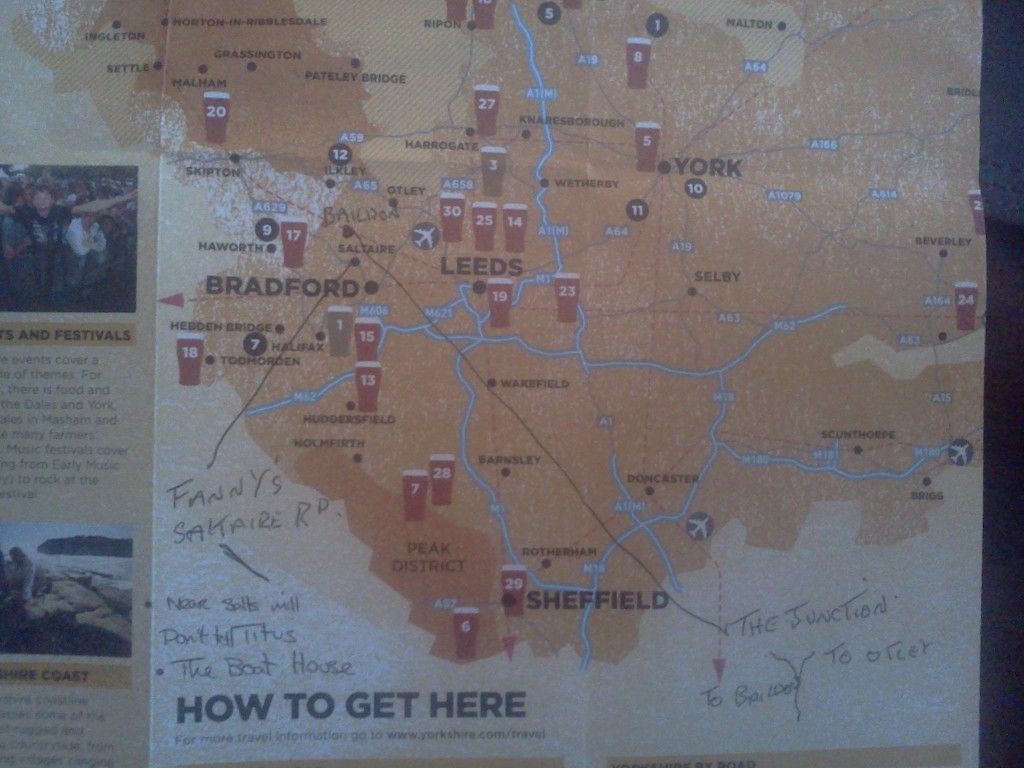 So now I know about 'Fanny's' on Saltaire Road, 'The Junction' in Baildon, 'Don't Tell Titus' (apparently named because the founder of Saltaire, Sir Titus Salt, was Wesleyan and therefore had little love for boozers…so this one was a secret)  and 'The Boat House'. You will notice that Chris also put Baildon on the map…but he didn't go far enough to mark Shipley on it? Apparently Saltaire was good enough? As I kept looking I started to notice a trend that in Shipley…Shipley was often was not marked on a map and that maps of Shipley were nowhere to be found. All I could find were maps and information about Saltaire!?
I braved the drizzle and went in search of the local Library, which was initially difficult to distinguish from the Asda. From what I can tell Asda might have helped build it? Is this a bit of modern day corporate philanthropy? Perhaps I will have to chase this up at some point…I met Sarah and Rebecca who were working on the counter in the Library. They seemed happy to talk, although they seemed slightly confused when I asked about maps of Shipley. However diligently they did find me one in a dusty folder under a desk, but it was still not one I could take away with me (and the river wasn't on it).
I asked them why they thought I might be struggling to find maps of Shipley? Then I asked what, as a visitor to Shipley, what were the points of interest that I should see? The girls looked genuinely quite taken aback by the questions and one of them politely attempted to answer, and her answer contained the word I kept encountering… 'Saltaire'. I quickly followed up by asking why when I looked for maps or points of cultural significance in Shipley that all I find is information about Sailtaire? They explained that Sailtaire is a 'World Heritage Site' which apparently puts it in the same league as the Pyramids!  Rebecca theorised that perhaps Shipley was a 'cultural poor relation to Saltaire?' My instinctive reaction was to feel a bit sorry and perhaps annoyed on behalf of Shipley. Has it had a raw deal? Has its cultural identity suffered because of what is happening next door to it?
Finally I asked Rebecca about the river and whether it was an important part of Shipley's identity? She told me that she had lots of fond memories of the river and particularly ones that related to family outings as a child. She thought the river probably was important to people in Shipley but perhaps subconsciously rather than consciously? I thought that was a really interesting answer and something I want to find out more about. Is the river something that people appreciate without realising it? Rebecca and Sarah were really helpful and considering they are both local I hope I can find some way of engaging them with the project later on.
So as I head in the direction that Chris at Town Hall had told me the river was in I all ready have two questions to answer:
Firstly, is it true that Shipley struggles with itself because of Saltaire? I spoke to a Policeman who told me it didn't really matter because it is all Bradford anyway.
And secondly, just because the river is not immediately celebrated in an obvious way is it still important to people in Shipley and if it is how is it?
If anyone has any thoughts please feel free to leave a comment.