It was a gorgeous, calm, spring day in Saltaire this Thursday, but the weir (epicentre of the ongoing hydro-electric screw debate… see previous posts) bore the evidence of some kind of natural turbulence upstream. This tree trunk was caught precipitously on the lip of the weir, but I've flipped the image upside down to put the sky's reflection back in the sky. (Well, it entertained me anyway…)
Perhaps I'd been put in the mood for messing with angles and perspectives by my visit that afternoon to Shipley College (which is of course located in the heart of Saltaire), where the second year Games Development students have been working for much of this last academic year on creating their own, on-line responses to our Multi-Story Water performances of last September. Divided into three teams, to work in relation to our three routes – Green, Blue and Red – they've been focusing particularly on 3-D graphic renderings of some of the area's iconic buildings, that are connected up by the river and canal. They've also done some complementary 2-D artwork, such as this rather lovely image that collapses together structures in and around Roberts Park…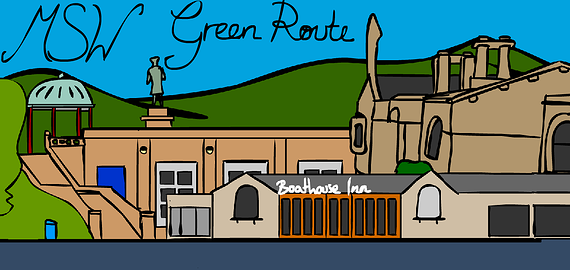 From left, there's the park's gazebo, Half Moon Cafe (with the statue of Titus Salt standing over it, back turned!), the Boathouse Inn across the other side of the Aire, and finally the Park Lodge. This is an image by the Cyberchondriacs team, pictured to the right, whose project website can be found here.
The next image down shows course tutor Mel Baron and myself (Steve Bottoms) along with two members of the wonderfully named Robot Llama team, who have been focusing on Blue Route (i.e. around the canal). Their website is here.
Last but certainly not least, in the image below, there's the Pixelarity team (website here), who have focused on Red Route's river locations downstream in Shipley… although since Red Route was "Mill to Mill" they also seem to have appropriated the Daddy of them all, Salts Mill (which to my mind was on Blue Route, since the canal passes right between the main mill buildings… but not to worry!). Pixelarity are pictured grouped round a monitor displaying one of their 3-D renderings… Scroll down further to see some of the amazing video pieces the students have created!
There are many more draft videos posted on You Tube, in various states of completion, but I've selected and pasted in a few below — to illustrate my "Saltaire inside out" theme. I love the way that the iconic structures from the World Heritage Site have been rendered so that they're both instantly recognisable and yet viewed in completely strange new contexts… Immediately below, for instance, is Pixelarity's extraordinary, kinetic tour around Salts Mill itself… racing along the rows of windows like some hyper-modernist dream; hoving around and above the chimney at angles you'd never normally get to see…

Keep watching and the video eventually moves inside the doors – at which point the fact that Salts is now a gallery space provides the excuse for rendering an entirely imaginary, uber-modern intereior with gallery exhibits drawn from the students' own previous portfolio work! A similar inside/outside twist is also apparent in Robot Llama's version of Salt's Congregational Church – knowingly accompanied here by Doctor Who's Tardis! Because the students couldn't gain entrance to the church on any of the occasions they tried, they've simply imagined their own interior…

Cyberchondriacs' renderings of the structures in Roberts Park are mostly shorter than those by the other teams (this is all still work in progress), but the imaginative twists are no less interesting. This video of the Park Lodge, for example, does some very atmospheric things with trees… while immediately below it is another in which the gazebo is turned into a strangely spooky light source in a darkened landscape (complete with the now-empty plinth of Titus Salt's statue, embedded in the earth like some listing gravestone…).


I very much enjoyed meeting with the students, and will be digging out some sound and text materials from the performances for them to use – as they see fit – alongside their visuals. Their work, very appropriately, will be a featured part of Shipley College's contribution to Saltaire Arts Trail at the end of May… From my point of view it's just been great to see what we did last year on Multi-Story Water being taken as inspiration for an altogether different set of creative responses to the area.