A short-ish post this, to keep the blog up to date on some recent developments… Further to my post about Hirst Weir a couple of weeks back, work is now well underway on repairing the breach, as this photo nabbed from a recent Telegraph and Argus story shows…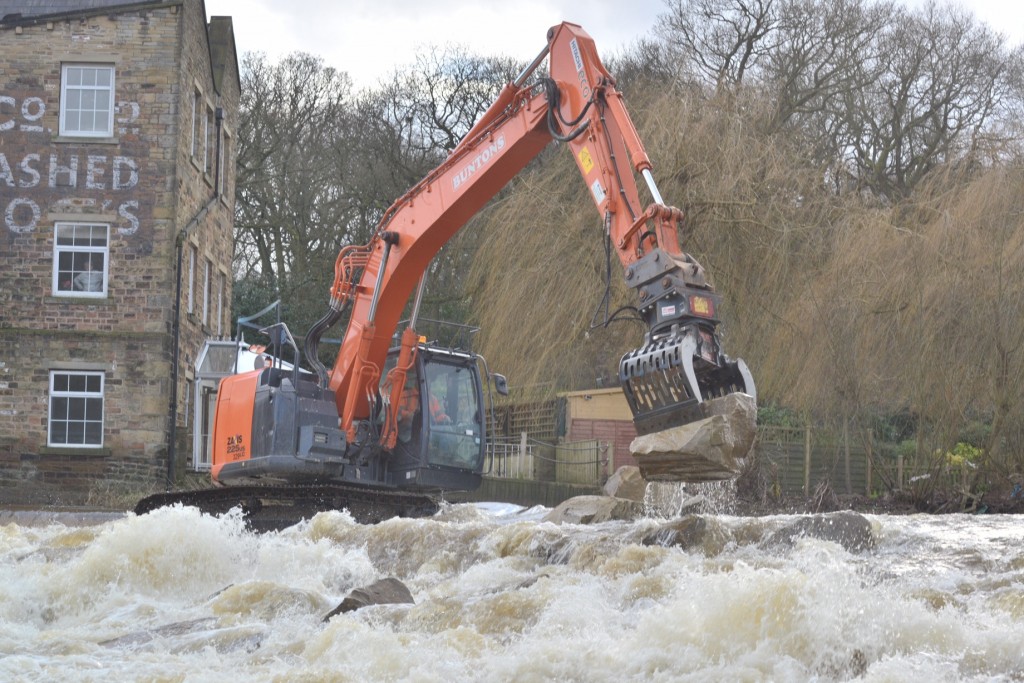 And as you can see, the heavy machinery is in, er, full flow. In my previous post on this, I erroneously suggested that — because the breach in the weir is out in the middle — it was too far out for excavators to get to, and that the repairs would have to be handled manually. But the repair scheme is (of course) much cleverer than that. As Geoff Roberts, of the Aire Rivers Trust, explained to me a couple of days ago, the approach being adopted involves gradually working the machinery out into the river by laying big rocks ahead of it, onto which it can then move. They are constructing a massive "rock ramp" (with massive rocks) downstream of the weir, a full-river-width extension of the temporary repairs carried out on the Baildon side in 2012. This means that the river will flow more gradually downhill after coming over the weir lip, rather than crashing down on the river bottom. By building the rock ramp first, the contractors can then get themselves in a position to fill the actual breach in the weir itself as the final stage of the repair (using a more nuanced version of the same "stick in some rocks" strategy).
Geoff and the Aire Rivers Trust have been working over recent weeks with Bradford Rowing Club, which owns the weir, on two key things:
(1) to raise the money as quickly as possible to carry out the repairs. Between them, they raised the shortfall of £30,000 in two weeks flat, partly through crowd-sourcing. Amazing!
(2) ensuring that the new rock ramp weir will be laid so as to allow fish to travel upstream by slipping between the rocks. This is instead of a more heavily engineered fish pass solution, but is also much cheaper and, arguably, more "natural". Geoff told me that the Rowing Club's much more expensive plans for a permanent design solution to the weir, for which they were raising money last year (target: £600,000) have basically been shelved and superceded by these emergency repairs, but he seems confident that the new solution might even work out better in the long run.
Geoff also mentioned that Buntons, the contractors carrying out the work on the weir (who also did the 2012 repairs), are doing so on a costs-only, not-for-profit basis. This is just one more example of the amazing spirit of generosity and community co-operation that has characterised so much of the public response to the recent flooding. Speaking of which…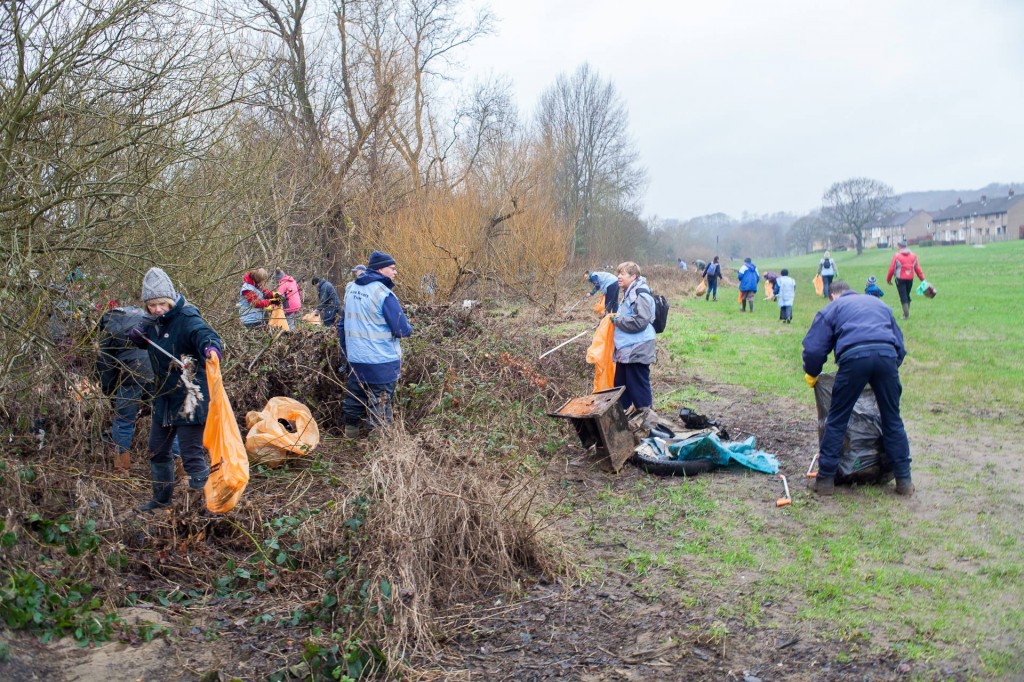 This was the sight last Sunday, January 31st, on the Higher Coach Road stretch of the Aire riverbank (downstream of Hirst Weir). Thanks to the tireless cajoling and publicising of Mat Holloway and his Aire Debris Removal Initiative (ADRI), around 75 people from all around the district turned out on a damp morning and — starting from the cricket pitch at Roberts Park — worked their way west for two hours with litter pickers and rubbish bags supplied by the Council…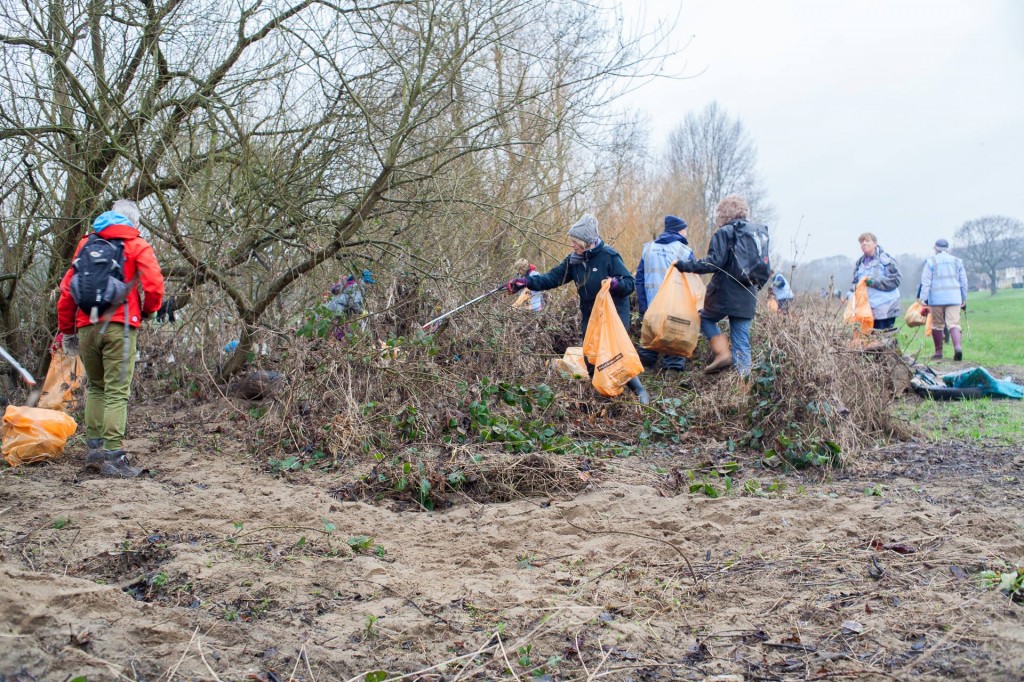 These pictures are taken from ADRI's Facebook page, which is very active and full of images and news updates (I can't keep up with them!). And there are new connections forming too, between different groups… Pictured below is Stewart Gledhill, chairman of the recently-established Higher Coach Road Residents Group, plucking a particularly large piece of plastic debris from the riverside trees…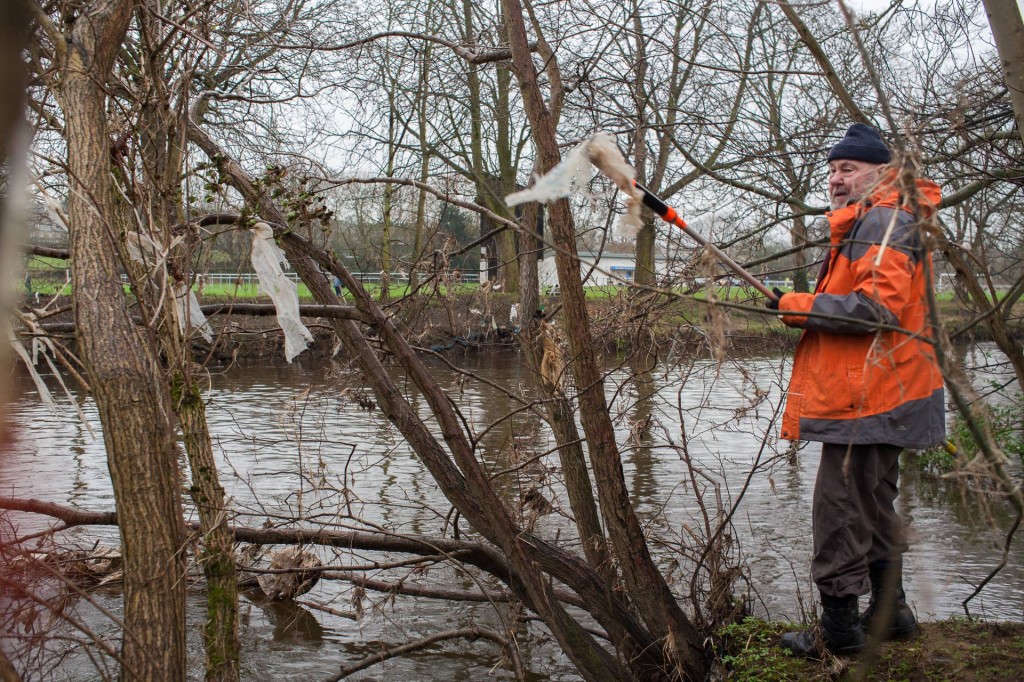 In a matter of just over a couple of hours, the Debris Removal task force collected over 100 bags of debris! Here's a bunch of it left for collection at the Roberts Park end…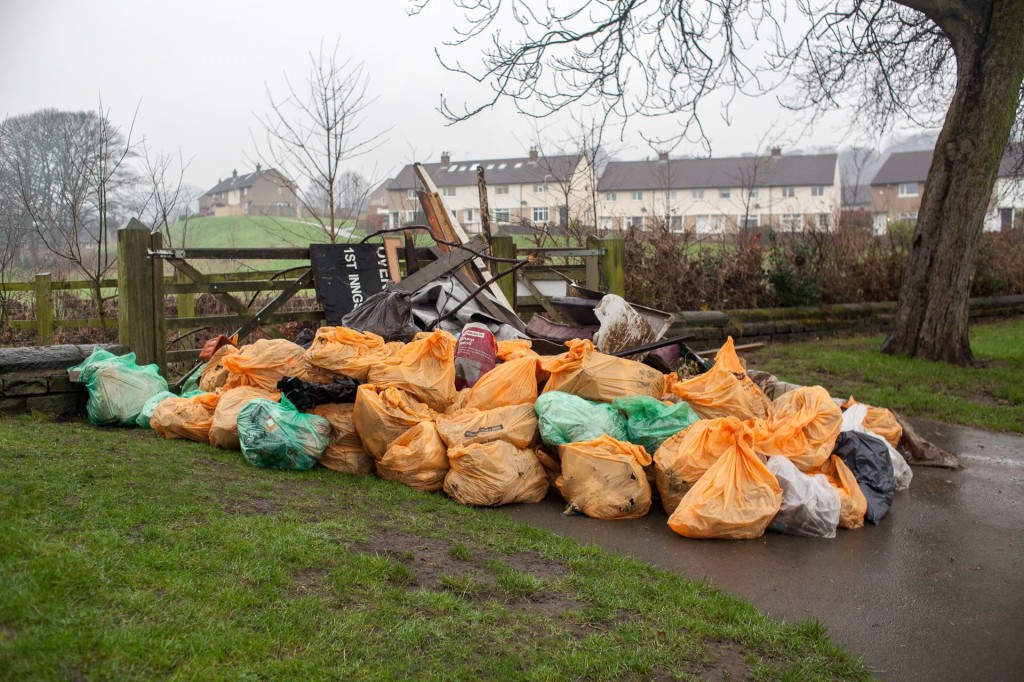 And here's a bunch more left for collection at the far end of the Salts Sports site, by the footbridge across the Aire…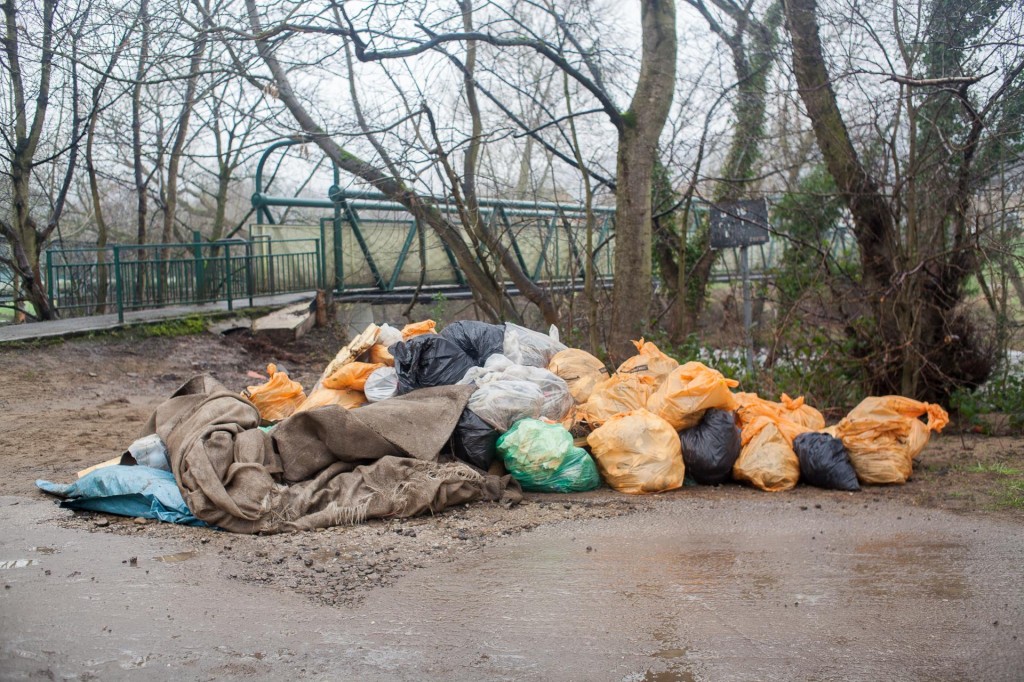 All of the bags were then swiftly collected by the Council trucks, and a job had been well done! Well done to everyone involved (I'm just sorry I couldn't be there myself), and good luck to Mat and ADRI in organising further clear-ups. Unfortunately, the session scheduled for today, Sunday 7th June, down in the Buck Wood area near Denso Marstons Nature Reserve has been cancelled as a precaution, due to the persistent rain this weekend making the ground soft and treacherous underfoot. But hopefully the momentum can nonetheless be maintained into future weeks…