I'm acutely conscious that I haven't been doing a very good job of keeping this blog up to date… what with having been so busy with the planning and scripting of our performance events coming up in September, and dealing with the small matter of moving jobs (from Leeds Uni to Manchester Uni, though that shift doesn't affect this project). So to start to bring things up to date, here's a room I was in yesterday: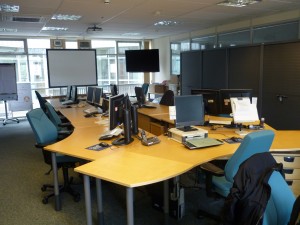 Doesn't look very exciting like this, to be sure, but this is the Incident Room at the Environment Agency's Yorkshire offices at Phoenix House (on the South side of Leeds). So this was the nerve centre of the EA's emergency response during the recent flooding crises in Calderdale (Hebden Bridge, Mytholmroyd, etc.). You must fill in, through your imagination, images of people frantically charging about, sticking post-its on the boards at the back…
I'll say more in another post (promises, promises) about the productive meeting with EA representatives that I had in this room yesterday, but right now I'll rewind back a few days more to last weekend… when I returned from my summer holiday to discover that, while I was off sunning myself in Italy, there had been flash flooding very close to Shipley… just to the South in Frizinghall. See this BBC report. In fact, the Frizinghall area falls at least in part within the Shipley ward, and it was very much on our radar when we started this project (see the "Photo Tour" page of this site and scroll to the bottom) — partly because EA flood maps for the area indicate a clear risk of flash flooding on Red Beck, a tributary of Bradford Beck. Red Beck comes down a fairly steep incline, and is largely culverted underground, so if you stand on the streets it runs under or between (Redburn Road [!], Wharnecliffe Rd. and Norwood Avenue) you would never know you were in a flood risk area… It's certainly not on a 'plain', and there's no sign of water. Which is kind of intriguing, but the area's geography also made it very tricky for us to build effectively into this project — largely for aesthetic reasons (there's little sense of visual spectacle or intriguing history to work with in this area, in creating a performance event), but also partly for reasons of sensitivity: nobody here is going to thank us, we thought, if through performance we draw public attention to this place as a potential flood zone… because people might well worry that such exposure might affect property values, insurance premiums, etc. So we decided to focus our project's attentions on the Aire's journey through Shipley (where flood risk should be self-evident)…  But now, of course, Frizinghall has had public attention drawn to it anyway.
There's an irony of some sort in here… But since I'm not sure what it is, let's instead scroll back slightly further to that Italian holiday I mentioned. We were in Tuscany, which is a bit of a tangential leap from Shipley, in terms of site specifics, but this project was still on my mind of course. Which is why I was intrigued to discover this map in the Palazzo Vecchio in Florence…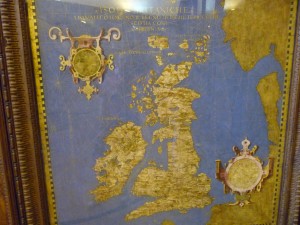 Palazzo Vecchio is the former seat of the Medici dynasty, the building that Michaelangelo's David stands at the doorway to (well, it's a replica David now – they moved the original safely indoors a while ago). Inside is the 'map room', right next to the room that was once Niccolo Machiavelli's office… It contains maps of every part of the known world – as it was known back in the 15th Century – so like that EA office it's a kind of panoptic incident room – an expression of the Medicis' power of surveillence over the known world. And if you look closely at this rather wonky map of the British Isles…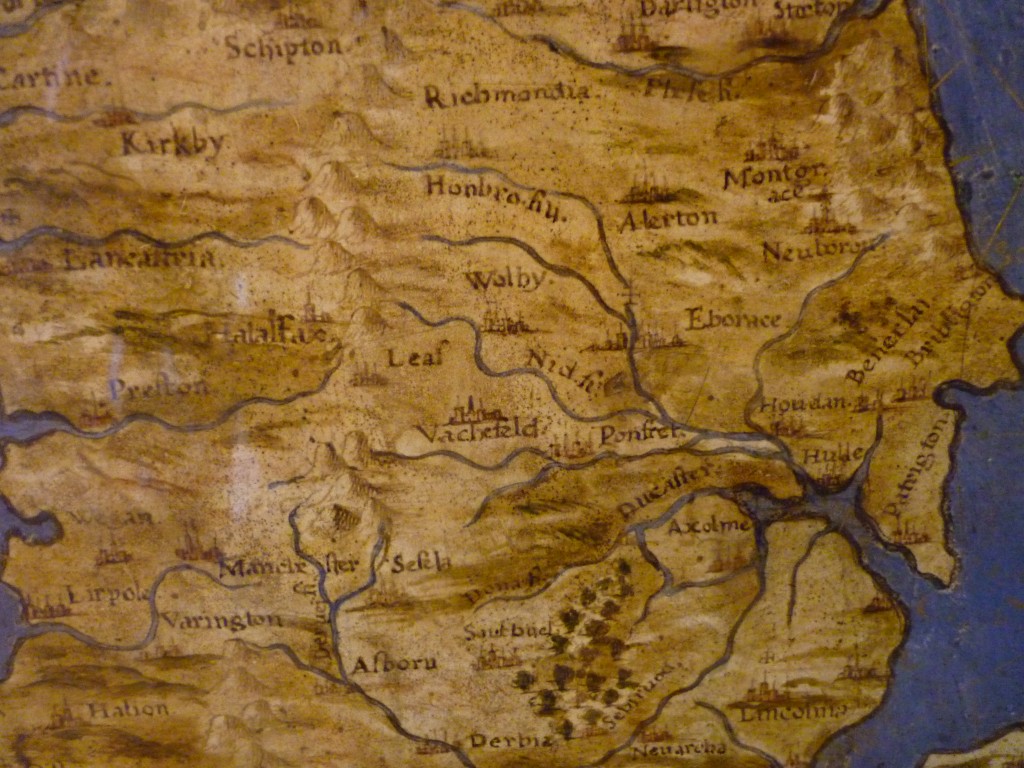 The word "Leaf" in the middle is presumably Leeds, "Vachefeld" is Wakefield, and it doesn't take a genius to work out what "Halaifax" is (even if it has become rather oddly proximate to Preston!). Weirdly inaccurate as the mapping certainly is, you can see how the Humber catchment is the key way in which the North of England has been mapped (presumably by people travelling on boats upriver, given that15th C. roads would have been a bit ropey…). The Humber catchment of course includes the Aire, and there it clearly is, disappearing into the Pennines past "Leaf"…
Of course in Florence, the river is the Arno (which has four letters and starts with A, so I'm claiming a Radio 2 link to the Aire), which features very prominently on Renaissance representations of the city…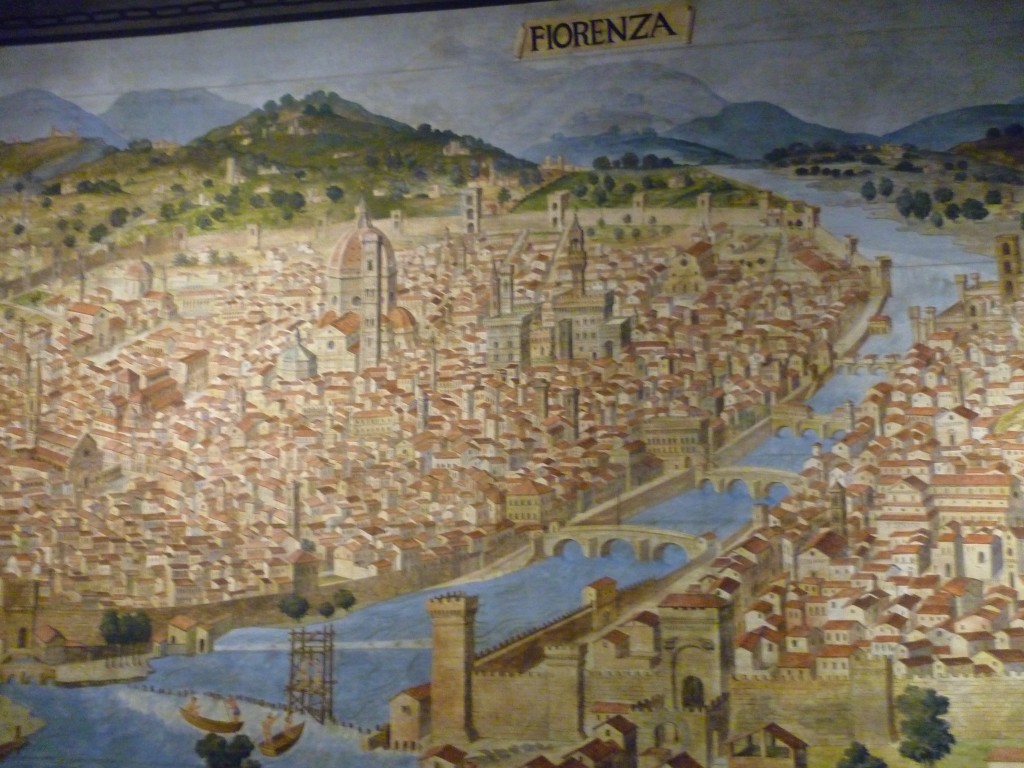 As you can see from this drawing, the city's very flat… It's very much built on a flood plain (even despite all those medieval hilltop towns in the area…), as too is Pisa — which is further downstream on the Arno, as it widens to meet the Mediterranean. It turns out that the leaning tower of Pisa, which (I can confirm) really does lean…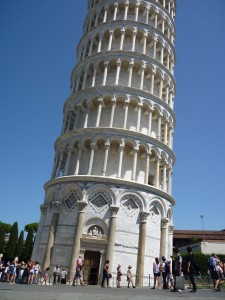 … is so tilting because it's built on the flood plain (even though it is quite a distance from the river), and thus on land which is basically alluvial silt. Apparently it took them centuries to realise that the architecture of the tower wasn't the problem, just its footprint on this very squishy bit of earth. Just within the last twenty years they completed work to stabilise the tower by sucking up earth from underneath the north (non-load-bearing) side, so that the building sat back on itself by a few degrees. They could have kept going, apparently, and turned it into the Non-Leaning Tower of Pisa, but they figured that would be bad for the tourism.
Regardless, this puts in a funny kind of perspective the 1950s housing estate that Shipley Council built on Coach Road next to the Aire, also on alluvial silt… The architects realised that if you put too much weight in any one spot then the buildings would sink, so these houses were built without foundations or basements. Basically they're constructed on concrete 'rafts' that are, in effect, floating on the surface of the land, with the rafts distributing the weight of the building across the whole surface area rather than at particular pressure points. Under people's carpets is a layer of asphalt, which is smeared onto four and a half inch thick concrete slabs, and below those is a bed of hard core, and that's it… The houses are floating, but at least they ain't leaning…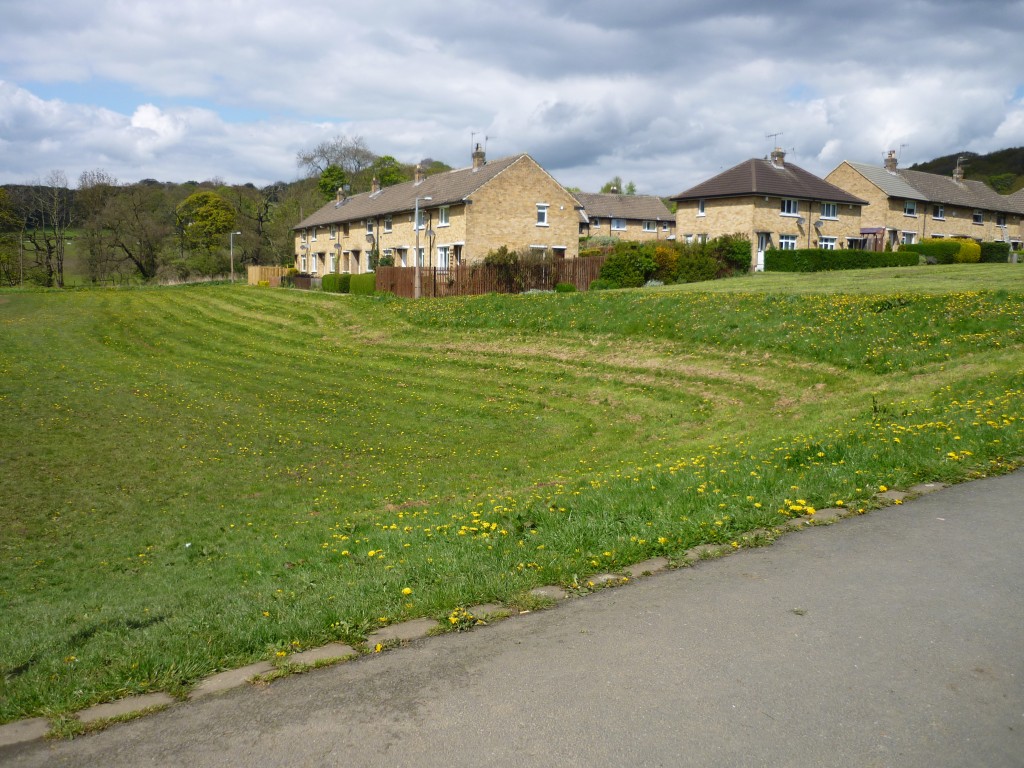 By the way, if you're wondering why I know so much about the precise widths of concrete in the floors, well…. that's for another posting…