Tomorrow afternoon, from 2.30pm at Kirkgate Centre in Shipley, the Multi-Story Water project is hosting After the Flood – a community conversation event to discuss what happened in the Shipley area on and after Boxing Day… Please do come along and share your thoughts. We want to hear from as many people as possible!
Our event marks World Water Day (actually Tuesday 22nd), but it also comes just days after Chancellor George Osborne's budget statement — in which he announced £700 million, nationwide, for new flood defence and resilience schemes. This is to be paid for, according to this government website, by 0.5% being added to insurance tax… a cost which insurers will apparently pass on to households, and yet — it says — the average household will only be £1 worse off per year… Since there are clearly not 700 million households in the UK, I'm not quite sure how this adds up. But anyway, the point is that this money will include around £150 million for Yorkshire — to be spent mainly in York, Leeds, and the Calder Valley.
This is good news, but there's also a sense of "too little too late", when one considers that it was Osborne who slashed planned spending on flood defences when the Conservatives came to power in 2010, as part of his austerity drive. Moreover, according to this Yorkshire Post article — the estimated cost of necessary flood defence work in Yorkshire is currently estimated at around £180m, so there's still a shortfall.
And of course there is no money for Bradford… Those in this area who were flooded at Christmas can feel justifiably aggrieved at this omission. But when there is not enough money to go around… or rather, when not enough money is being offered (because this government has an ideological commitment to budget surplus by 2020 — something that no serious economist thinks is even necessary!), then the available cash is always going to be targeted at areas perceived to be in the most need — and that basically means "where the most people are". In fact DEFRA (government's Department for Environment, Food and Rural Affairs) has a system of cost-benefit analysis that is applied to any proposed flood defence scheme, and which calculates population numbers benefited in relation to amount of money spent. That approach will always skew things heavily towards major urban centres, and so it's no surprise that Osborne (who, tellingly, visited Leeds the day after the budget announcement!) is promising to support "Phase 2" and even "Phase 3" of the planned Leeds Flood Alleviation Scheme. Phase 1 has been being built since last year — affecting mainly the city centre. You can see a big crane right now down at the Royal Armouries, working on a new weir construction as part of this…
… but the irony is that "Phase 2" (i.e. further upstream in the Kirkstall area, for instance, which was hit badly at Christmas) was always supposed to be covered by the earlier scheme anyway — the one that was scrapped in 2010.
The funding for work in Calderdale does not quite stack up in relation to the cost-benefit analyses — I've been told — because the population figures in places like Hebden Bridge and Mytholmroyd are not nearly as high/dense as in a city like Leeds. But given that Calderdale has been repeatedly hit by severe flooding in both 2012 and 2015 — causing total misery for local people and some very dramatic pictures on the national news — it's perhaps not that surprising that a PR-conscious government would decide that something visible needs to be done.
Unfortunately, it would seem, Shipley figures pretty far down on the priority scale, since (a) the numbers of people living directly in the flood-risk areas is relatively low, and (b) the national media coverage has been relatively minimal (apart from that caravan spectacularly hitting the footbridge at Dockfields/Lower Holme… that got a lot of airplay!).
This means that in Shipley, Bingley, Keighley, Apperley Bridge, it is really the "lead local flood authority" — ie. Bradford Council — that needs to step up and be seen to take action. And the Cameron/Osborne government has of course massively slashed Bradford's working budget over the last few years… greatly limiting what can be spent by the city. But now there is a row brewing about the Council's lack of a coherent flood defence strategy. According to this T&A article, the opposition Tory group is gunning for the council's Labour leader, and she is trying to deflect blame for the lack of planning to the council's officers rather than its councillors. But officers take their lead from politicians, so that's a pretty poor excuse. And certainly, from what I've been hearing in various different contexts lately, Bradford Council has simply not been stepping up to play its part in the flood recovery effort. (Although it must be said that a lot of individual officers and councillors are doing their very best to do a good job and facilitate local people's efforts, despite the lack of a joined-up strategy.)
Amidst all this doom and gloom, though, I was heartened this week to be sent the link to this short film — which is centrally concerned with the work that Chris Utley — who grew up in the Dockfields area of Shipley — has been doing in his current job down in Stroud, in Gloucestershire. (You can watch either the 3-minute "taster version, here…)

(Or there's the full, 20-minute version here:)

As the film shows, there are novel experiments happening in locations like Stroud, to diminish flood risk by slowing and spreading the flow of water in what they call "upper catchment areas" (upstream), using comparatively natural methods. This works out much more economically than building big engineering structures downstream in the towns and cities affected (though that may be necessary too). What George Osborne needs to do, perhaps, is look less for the eye-catching, cash-splashing headline, than for innovative solutions like this one — which if applied more widely could make a big difference.
Conversations this week with people at the Environment Agency and the Aire Rivers Trust have brought my attention to the fact that much work is being quietly done to try to encourage landowners in the upper catchment of the Aire valley to embrace these more "natural" flood defence schemes. Notice, though, in Chris Utley's video, how the big landowner they're dealing with in Stroud is the National Trust — a charitable organisation that owns massive amounts of land and tries to be pro-active with new land management initiatives. When land is owned by a much more diverse patchwork of farmers and landowners — as in the upper Aire — there is a lot more work to be done bringing lots of different people onside. Let's hope this proves successful, as it could make a big difference for people further downstream — in Bradford and Leeds alike.
The difficulty is, of course, that landowners don't necessarily want water being retained in their own land, rather than draining off downhill. Historically, drainage ditches have been dug in upper catchment areas precisely to make land more farmable by removing water from it. And this brings to mind, also, one further story that caught my eye this week — one involving none other than American mogul and presidential candidate Donald Trump.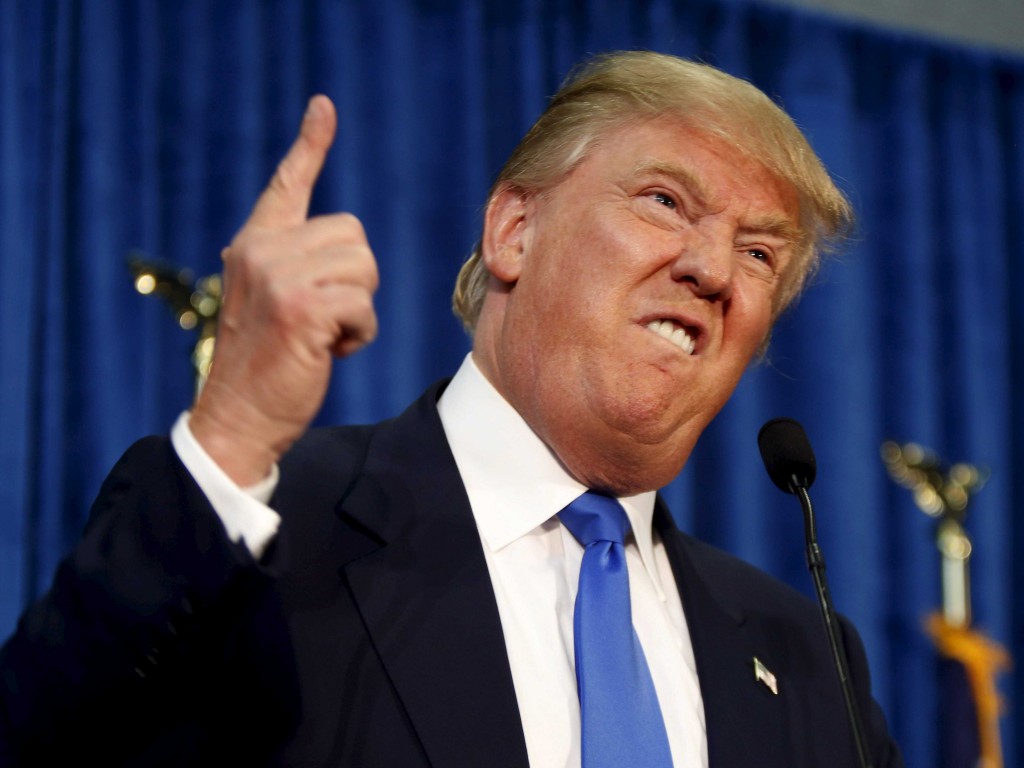 Trump is currently being sued by a town in Westchester County, New York state, for illegally and intentionally (they claim) altering the drainage system on his golf course so that water would drain off it quicker. This was designed to fill up the ponds on the course, to make them more aesthetically pleasing for golders, but has had the side-effect (so the town claims) of increasing their own degree of town centre flood risk. They were hit by flooding in 2011, but are suing now… which means that either (a) it took them a while to figure it out, (b) it takes a long time to get anything done legally in the United States, or (c) someone is out to raise negative publicity about Donald Trump. Or (d) all of the above. Who knows. We can rest assured, though, that Donald Trump's house will never flood.
Update: according to this BBC news report (25 March), the sums needed by local government to pay for the flood repair and defence work now needed are considerably higher than anything being offered by government.